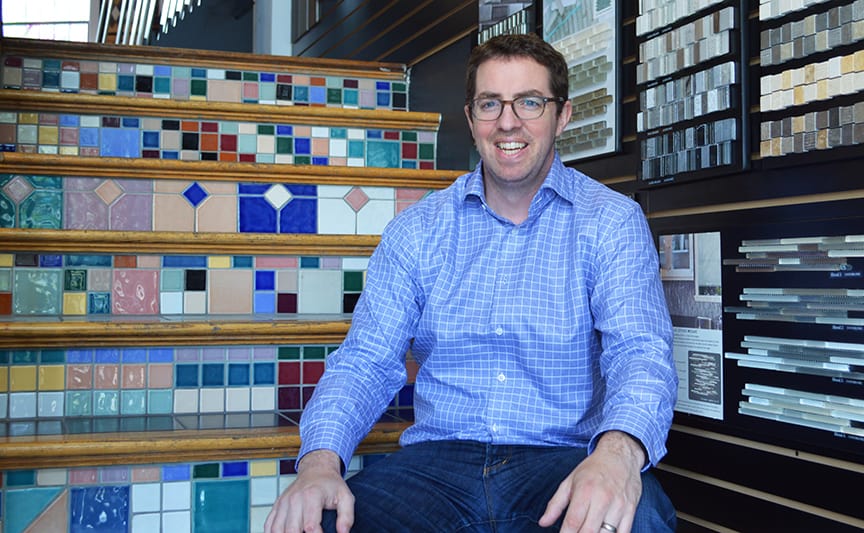 Broadly Q&A: Art Tile
Broadly Q&A features our local business partners. This week, we are sharing our conversation with Patrick Feely, owner of Art Tile, in Oakland, CA. Feely has deep expertise in the natural stone industry, and has managed manufacturing facilities, supply operations, distribution centers, and retail stores throughout his career.
How did you come to own Art Tile here in Oakland?
My wife is from this area, so we moved back to be closer to her family. The store itself is 25 years old, and I took it over two years ago.
What were your biggest obstacles when you bought Art Tile?
The store wasn't doing well, because the construction business had taken such a hammering during the recession. During that time, Art Tile had let go the majority of its staff, and what was left was mostly the owner, who was not an experienced tiler. My first goal in taking over Art Tile was to hire a staff with very strong tiling and design backgrounds. I think it makes all the difference – we have experts in stone (I'm an 11th generation stone cutter), tiling (Gary has 30 years in the industry), and Marta (our master design consultant, with 8 years in the company). Now customers and contractors come to us for our expertise, and we see our store becoming a destination for tiling projects big and small.
What is unique about the tile business?
With tile, it's an intensive purchase process – you're looking for knowledgeable people. ln this business, contractors are the influencers – but the check is written by consumers, often in the retail shop. Contractors want to work with a store they can trust to supply their order accurately, reliably, and on time in an easy-to-pickup location. When I took over the store, we set up the contractor desk and warehouse at a location around the corner on 40th street. This gives them the service they need, and they are happy they can be in and out quickly. This also allows our showroom to be dedicated to Designers and consumers who can focus on their project, without contractors walking through with bags of grout.
What sets Art Tile apart in your market?
Service, experience, and depth of choice. In the showroom, people need to feel like they've seen a wide variety of choices, so that they can create the unique look that they are trying to achieve. We have added many choices as well as many vignettes, so that they can visualize how different tiles look after they are installed. Customers also rely on our knowledgeable staff.
Why do consumers shop at Art Tile?
They shop with us for our depth of selection, our knowledge and our expertise. Our traffic and sales are growing every month as the word gets out. At the end of the day, in the East Bay tile community, you can do a lot thru word-of-mouth when you offer something special. It's all about delivering what our consumers, designers and contractors want.
How do you proactively get the word out about Art Tile?
Our marketing is really simple – we build word-of-mouth thru local businesspeople and we work with Broadly. The only other place that I spend on marketing is with local schools, by donating a voucher for fundraising auctions. They recognize that we are part of the community, and want to do business with us.
How do reviews factor into your marketing strategy?
Many of our customers say they came in because of our reviews. Also, people are becoming more savvy about recognizing fabricated reviews. Broadly helps make sure our reviews are authentic customer reviews, which adds credibility to our word-of-mouth efforts.
How else do you evaluate the success of your partnership with Broadly?
We're great at selling tile, but we do not specialize in marketing. Broadly carved out word-of-mouth on the internet, and manages that whole process for us… not only in terms of getting us reviews, but also in helping us identify problems. If there's a problem to solve, customers can give feedback to us directly. It's always nice to have a partner to help manage that. That's one of the values that Broadly provides.
Want to learn more about how Broadly can help turbocharge your business's reviews and online presence?
See what Broadly can do for your business in just 30 days