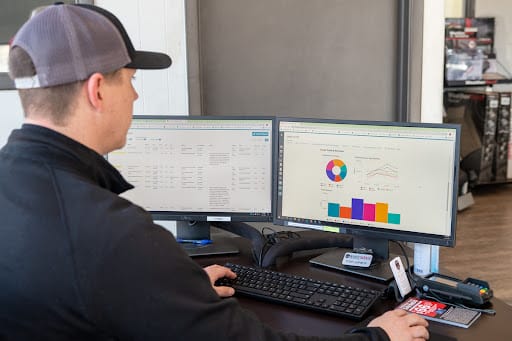 4 Traits to seek in the best auto shop management system
*This post was written by Lois Tuffin, Content Writer at Shop-Ware.
Every auto repair shop owner goes into business to make money or at least break even. Many automotive businesses struggle to achieve enough profits so their owners can slow down and enjoy the money they have earned. Instead, they work long days in the shop and then spend nights going over the books.
Investing in automotive shop software to make a shop more modern is a great first step. However, buying the one that will turn your automotive repair shop into a more profitable one is even better.
Free Guide: How To Overcome Top Challenges For Auto Shop Owners in 2023
When shopping for an auto repair shop software, look for these features: ease of use, efficiency, quality of life for owners of auto repair businesses, and integrations with other services your shop needs.
Ease of use for shop owners and staff
No one wants clunky automotive repair software that replicates the paper processes that an auto repair business could have used a generation ago. After all, you bought auto repair shop software to make your shop work better.
At the same time, you want a shop management system that staff can learn quickly, resulting in less downtime. That way, you can all focus on fixing cars while spending fewer minutes per job on administration.
How Shop-Ware shops rank this software solution
See how auto shops who use Shop-Ware everyday rank this auto repair software on the review site G2 for auto shop software:
9.8 out of 10 for ease of use compared to an industry average of 8.4
9.8 for quality of support while others average 8.2
8.8 for ease of setup, exceeding the 8.3 ranking across the industry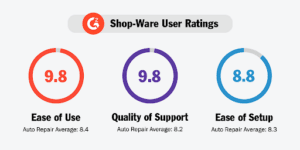 At Shop-Ware, our onboarding process ensures a successful and easy transition. You have a dedicated Customer Success Specialist assigned to work with each auto repair shop based on that shop's specific needs. As a result, on average, Shop-Ware's auto repair shops take only 30 days to onboard and see an efficiency gain of 20%.
"Shop-Ware is VERY easy to learn and makes it very easy to communicate with customers," says shop manager James Dechman. "Great tech support makes creating repair order estimates a breeze. Support is an email and phone call away, where you always get to talk to a real person."
When Caliber Auto Care signed a contract with Shop-Ware in January 2022, its 32 locations went live 8 weeks later. They transferred all their data and kept their operations running smoothly during the switch of the new auto repair software to its entire family of auto repair shops.
After such a successful switch, they worked with our team to prepare a guide on how to replicate their model. That auto repair software onboarding guide is available for free for any shop owner to download.
Auto shop efficiency
You do your best work when your auto repair shop is productive, not just busy. But how do you find the right balance? Ideally, shops have a full day of repairs without booking so many they find themselves in disarray.
When you have the right tools within an auto repair software, you can easily track productivity and make more money per hour and repair order.
Running at capacity
Wouldn't it be ideal to see every repair order in progress and see if a tech has time to take on a job that arrived unannounced? With the Capacity dashboard in Shop-Ware's auto repair software, each green dot represents an hour in your shop.
Each auto repair tech has a certain number of hours, which show up on the screen like an egg carton. In short, you want each spot in this part of your auto repair software to fill up during the day.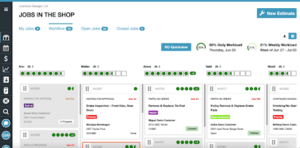 With one glance, a service advisor can see which auto service tech is open for more work and who is booked solid. This means no more running back and forth between the front counter and the shop to see who is free.
Have parts been ordered? Check. Has the customer been contacted? Check. Shop-Ware follows every staff member's activity on every repair order and every parts purchase to get answers and guide management decisions.
Making sure customers show up
When a customer forgets or misses a repair, an auto repair shop loses out by:
Wasting time waiting for and trying to contact them
Missing out on the chance to serve another customer
Giving up that revenue
However, when you use an automated scheduling system within your shop management software, you prevent those problems. Your customer picks an appointment time and receives alerts to remind them when to drop their vehicle off.
By using these friendly prompts, an auto repair shop can maintain its relationship with the customer while ensuring smooth workflows. Shop-Ware works with Broadly to reduce auto repair no-show appointments.
In the end, everyone wins. The customer gets the repair they need, and the shops earn the revenue they planned.
Canned jobs and past services
If an auto shop has fixed four Dodge Caravans in the past month, why are service writers starting a repair order from scratch each time? The smart ones leverage their auto repair software to save time. Instead, they click a couple of buttons and get the car into a repair shop bay sooner.
Canned jobs begin with a template within the auto repair software where basic information is already prepared. Auto shops can create as many of these as needed, based on their specialties or common vehicle types.
Meanwhile, past services tap into the vehicle repair history to see what customers have been offered in previous visits. That way, service advisors don't waste time drafting estimates that customers have already seen.
The staff at Autowerkes Maine found this really paid off for their auto shop. "With canned jobs and past services, I'm writing up $4,000 tickets in minutes when it used to take me more than an hour," GM Mike Bergeron says.
Make the most profit off every auto part
Since parts make up half the profits for successful auto shops, shop owners win when the Parts GP Optimizer sets the right price for every part they sell.
While many auto shops use a parts matrix to set their pricing, the Optimizer's algorithm uses artificial intelligence to ensure you hit your targets every month. Just set it up with your goals and invest your brain power in growing your business in other ways.

Also, Shop-Ware is the only automotive shop software that allows shops to pre-order parts before a customer even shows up. With supply chain delays, this allows your shop to keep humming along. Meanwhile, other shops have cars—and techs—sitting and waiting for parts.
Offer a Digital Vehicle Experience (DVX™)
Auto repair has evolved far more than most vehicle owners realize. Shop-Ware leads the way in auto repair eCommerce with its immersive DVX. It elevates the customer journey by offering a higher level of transparency and convenience. DVX takes the best of the "Amazon experience" and weaves it in with repair shop management software.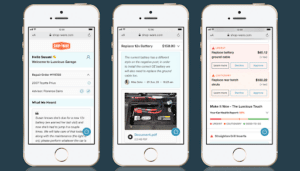 On the auto shop side, DVX combines all communications into one seamless thread. Its Messenger function shares notes, photos, videos and service recommendations between the customer, tech and service advisor.
By offering this approach, auto shops reflect the professionalism that the trade deserves. Once customers see WHY their vehicle needs a repair, they click "yes" 89% of the time, making the time to prepare an estimate really pay off. With approvals this easy, shops experience average increases of 20% in revenue, gross profit and shop efficiency.
This streamlined solution makes everyone's day more productive and hassle-free.
Parts catalog all in one place
Finally, Shop-Ware's Native Parts Catalog allows users to view and order auto repair parts based on fit, price and availability. Now, service advisors can compare vendors and pricing at a glance, building accurate quotes in seconds instead of minutes.
In short, repair shops can order parts across multiple aftermarket parts distributors—PartsTech, WorldPAC speedDIAL or another vendor—all from within Shop-Ware's auto repair software.
Quality of life for auto shop owners
Once you start earning more profits, you will want to get out of the shop to enjoy them. Yet, you may struggle to break the habit of working long hours and want to stay connected to your business, even as your shop brings in more money.
First, you cannot get away unless you invest in auto repair software that is cloud-based. It frees you up from in-shop servers so you can check in from home, the parking lot or the beach.
These tools make it easy for you to let go at the end of the day:
Analytics: Having robust auto repair analytics shows the numbers that drive profits and help get ahead of problems. They also tell you if it's time to specialize or expand.
End-of-Day Payments: Walk out of the shop stress-free, knowing you can easily check your balance. Shop-Ware's EOD Payments feature gives you that peace of mind with a simple yet complete summary.
Auto shop management software for multiple auto shops
If you run more than one shop, you'll need auto repair software to stay on top of key performance indicators. The impact of those numbers multiplies when you have more bays and locations in your operation.
Even with multiple locations, your staff can see one unified customer history without switching shops or requiring excessive permissions. Stop wasting time gathering and aggregating data. Instead, get a consolidated view of all of your shops and employees in one place.
Integration with other services shops need
Smart shop management systems work with equally beneficial partners to get the best out of each software. Shop-Ware offers 37 integrations, the most in the industry, to help its shops succeed. These include links to business software solutions, marketing, diagnostics, social media apps and much more.
For example, a critical part of any automotive marketing strategy is convincing prospective customers to go from knowing your name to dropping their car off at an auto shop. Once you get them in the door, you can dazzle them with the best auto repair service.
If it sounds like a lot of work, it could be—unless you use automation software to track each lead that comes into contact with your repair shops and reach out to them in the appropriate way. Shop-Ware works with Broadly to follow up with leads and increase conversions so your auto repair shops earn more loyal customers.
Streamline auto shop operations
To sum up, the automotive aftermarket has all the tools you need to earn more profits from your auto shop. You just need to find the right repair shop management software that offers a complete package. Look for the features and benefits listed above to get the most out of your team.
"The reporting, analytics, ease of use, constant improvement and overall experience for our shop and clients are several reasons we love Shop-Ware!" adds Kurt Leipzig, a technician in a small shop.
Shop-Ware continually stays ahead of the curve by innovating to keep up with consumer needs and the auto repair shops that serve them. And working with the best integration partners in the automotive aftermarket makes all the difference.
See what Broadly can do for your business in just 30 days