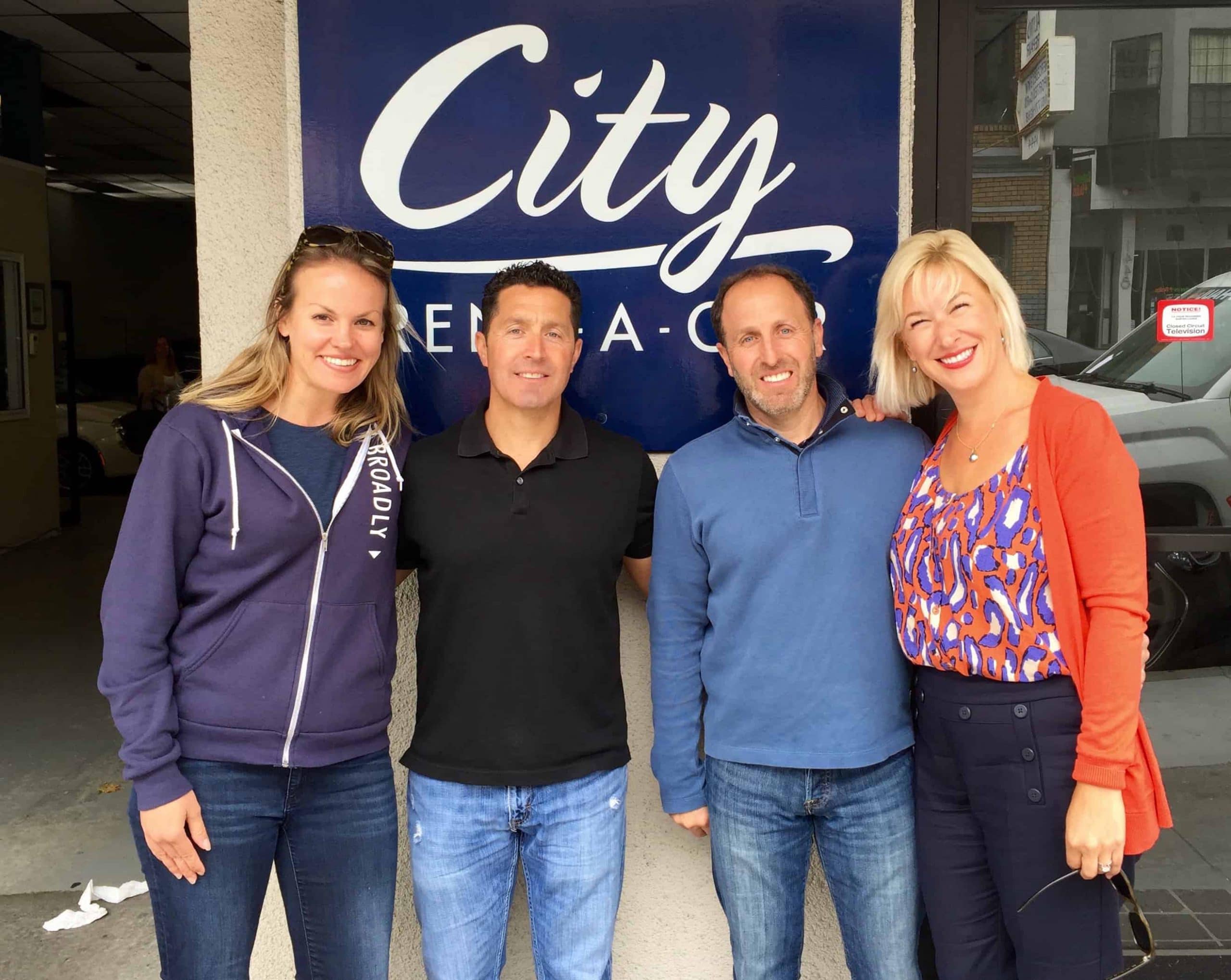 Broadly Q&A: City Rent-A-Car
Broadly Q&A features our local business partners. This week, we are sharing our conversation with Joe and Paul Blandino, who own and manage City Rent-a-Car in San Francisco, California.
Pictured above (from left): Laura Nelson (Broadly), Paul and Joe Blandino (Owners of City Rent-a-Car), and Tiffany Lindsey (Broadly).
How long have you been in business?
We've been in business 20 years. We started City Rent-a-Car from scratch, originally on Folsom and 13th Street, before we moved here.
Where do your customers come from? Why do they choose City Rent-a-Car?
We have a lot of tourists and local customers – about half and half. With the larger rental companies, we've seen lines out the door, around the block. The experience at City Rent-a-Car is more personal. We've been doing it a long time, and people here know what they're doing. Our staff sticks around – they're having too much fun!
How's the business doing?
In the past couple years, we've seen more competition in the area. We're now competing with Uber and other types of rental services. We used to rent cars for people to go shopping, but people aren't doing that anymore. Most people don't rent cars at the airport as much – they come to town and use Uber to get around. That helps us on the weekends, as tourists will come to the city and rent a car for day trips to places like Napa and Monterey. A lot of people return their cars at the Holiday Inn nearby. They pick up in the morning and return at night, so they don't have to worry about parking.
How are your customers finding City Rent-a-Car?
Our customers are looking on Yelp and Google, and also learning about us by word-of-mouth. I talked with a lady yesterday, and she said "You have more reviews than anyone else. They're all 4.7 stars and recent." We have the most reviews of any company around, including Enterprise. Broadly has definitely helped.
Do you do anything else for marketing?
We've tried other stuff, but it wasn't worth it. We've tried magazines, newspapers, even Yellow Pages and AT&T. We go around to hotels and form relationships with concierges and pay them a commission for referring customers to us. We stick to what really earns the business.
Want to learn more about how Broadly can help your business attract new customers and grow?
See what Broadly can do for your business in just 30 days