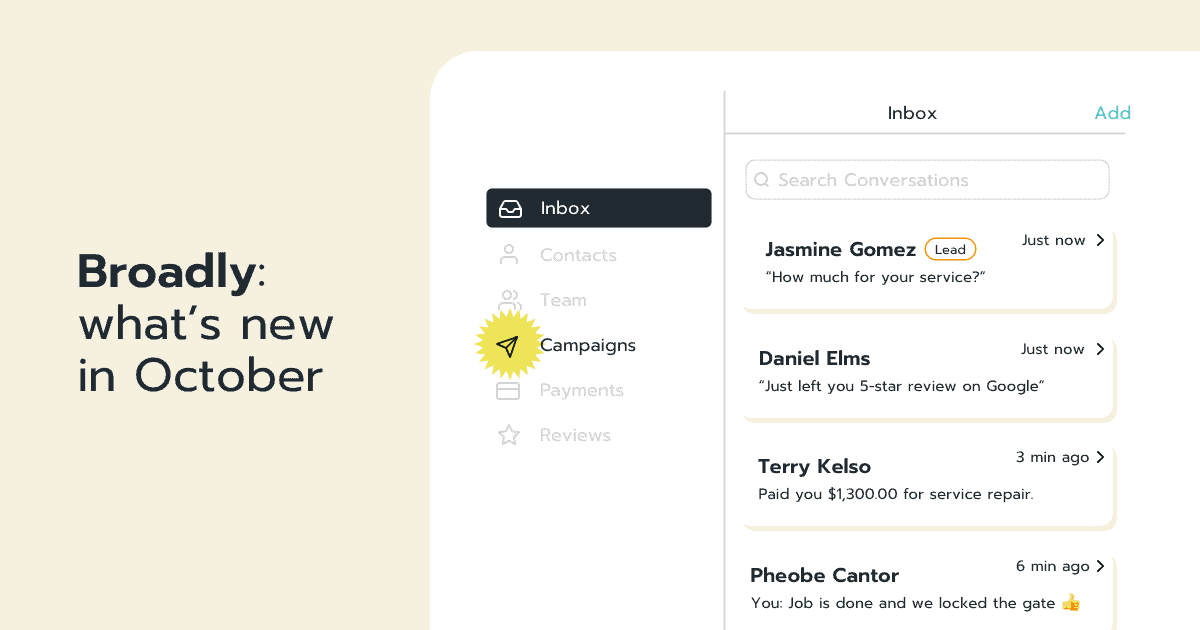 New features elevate your business's customer experience and make life easier
October 13, 2020
By Mindy Lauck, CEO, Broadly
Think about the last time you purchased a product or service and had a great experience as a customer — it made you happy, right? That's because great customer experience is focused on treating you, the customer, well during every interaction you have with the business: Your questions are answered, your needs and pain points are listened to, your perspective is validated, your wants are prioritized, your satisfaction is top of mind. As a customer, that feels really good.
Here at Broadly, we're obsessed with helping local businesses provide great customer experience and making their customers feel really good. But first, what do we mean when we talk about "customer experience"? 
Customer experience is how customers cumulatively perceive each and every interaction they have with your business. Whether it's becoming aware of your brand for the first time, making an appointment effortlessly, being satisfied with a service, sending a payment, or dealing with issues that arise, every exchange between your customers and your business has the potential to build — or damage — the relationship. If you consistently meet and exceed expectations at every step along the way, well, simply put: THAT is a great customer experience.
So, why do we think customer experience is so important? When a customer has a great experience, they are more likely to come back and recommend your business to family and friends. Having loyal customers who are engaged with your business and want to promote it to others is critical to business success.
Broadly's features are designed to help local businesses deliver meaningful customer experiences. Whether it's making it easy for prospective customers to find and contact you with engaging website design and Web Chat, streamlining all communication so nothing falls through the cracks with Inbox or giving customers a safe and easy way to pay with Contactless Payments, businesses who use Broadly create memorable interactions with their customers, ultimately forging strong, life-long relationships and ensuring business success.
And now we're debuting several updates to make Broadly work even harder. These include improvements to Messaging and Dashboard, and we're introducing a brand new feature, Campaigns. Read on to see how these improvements will help your local business continue to attract new customers and provide an incredible customer experience that will have them coming back again and again.
Google My Business messaging
As of October 2020, Broadly is partnering with Google to bring Google My Business Messaging into Broadly's feature-rich offerings. This means that when a person finds your business on Google Search or Maps, they can easily message you directly from Google. Broadly can help you open up this low cost lead channel and integrate this and other messaging channels into the Broadly app.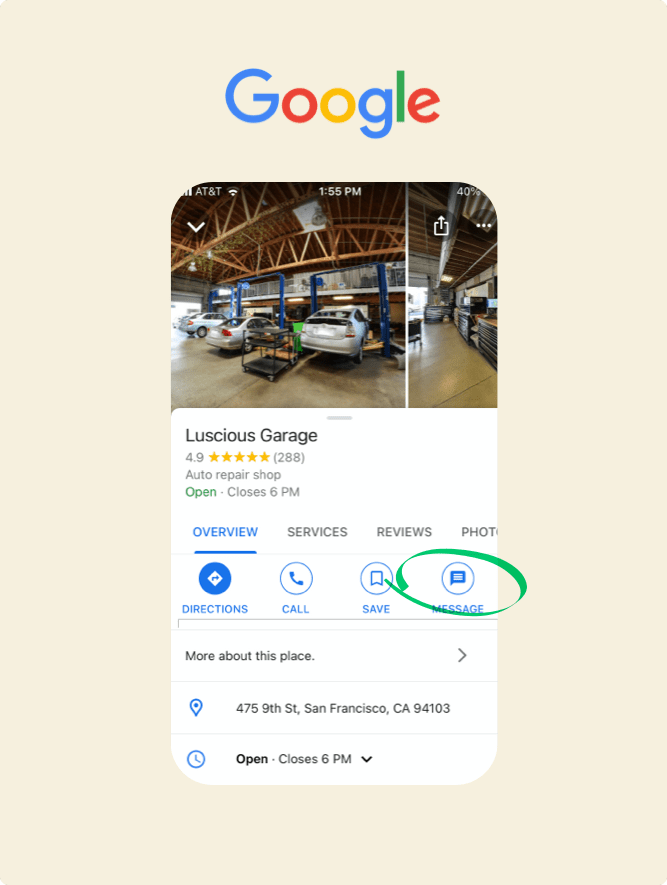 Dashboard
Broadly's Dashboard feature provides businesses with key insights to maintain a positive customer experience and online reputation. Thanks to the Dashboard updates, you now have visibility into team performance, including which team members are generating the most online reviews for your business.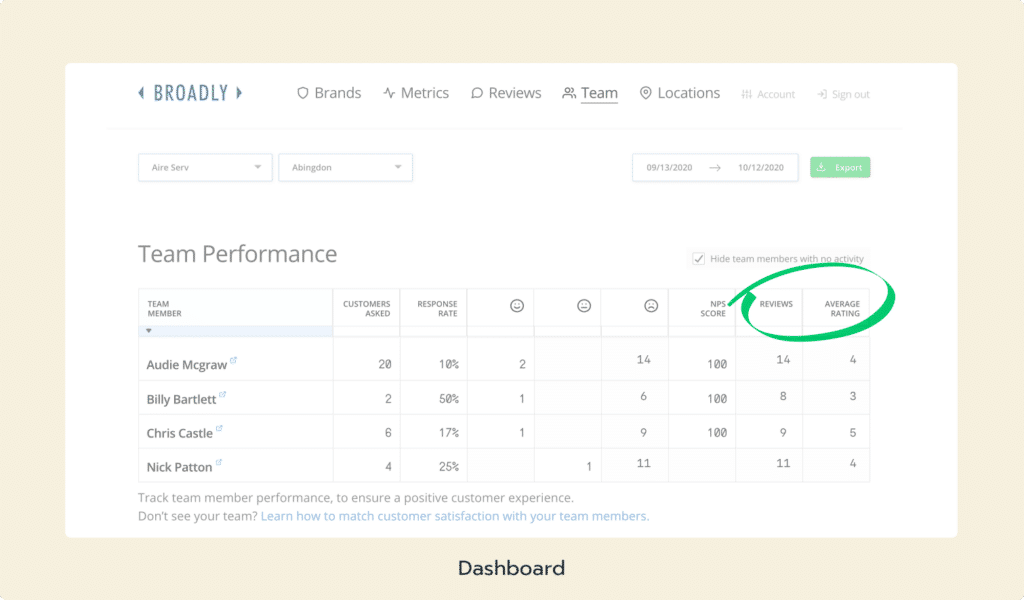 Here's how you can make these actionable insights work for you to increase team morale and retention: By tracking how customers are reacting to your team's performance, you can quickly identify team members who may not be measuring up to expectations and offer them training or assistance to get them back on track. Alternatively, you can identify team members who are going the extra mile, highlight their work, and make them feel valued. You can even make your internal review process something of a game, creating weekly or monthly contests to encourage your employees to advocate for customer reviews.

Another Dashboard update is the ability to respond to Google reviews right from the Dashboard. You already know how important responding to reviews — good AND bad! — is for your business. It demonstrates to prospects that your business cares about its customers and their experience. Plus, responding regularly to reviews — especially if your responses include keywords related to your business's services — boosts your SEO, helping you appear higher in search rankings. Now, it's easier than ever to respond and you can do it from two convenient places: the Broadly app and Dashboard.
Campaigns
If your customers feel emotionally connected to your business, they will be more likely to promote it to their network and demonstrate loyalty. Broadly's new Campaigns feature is one of the best ways to keep them engaged.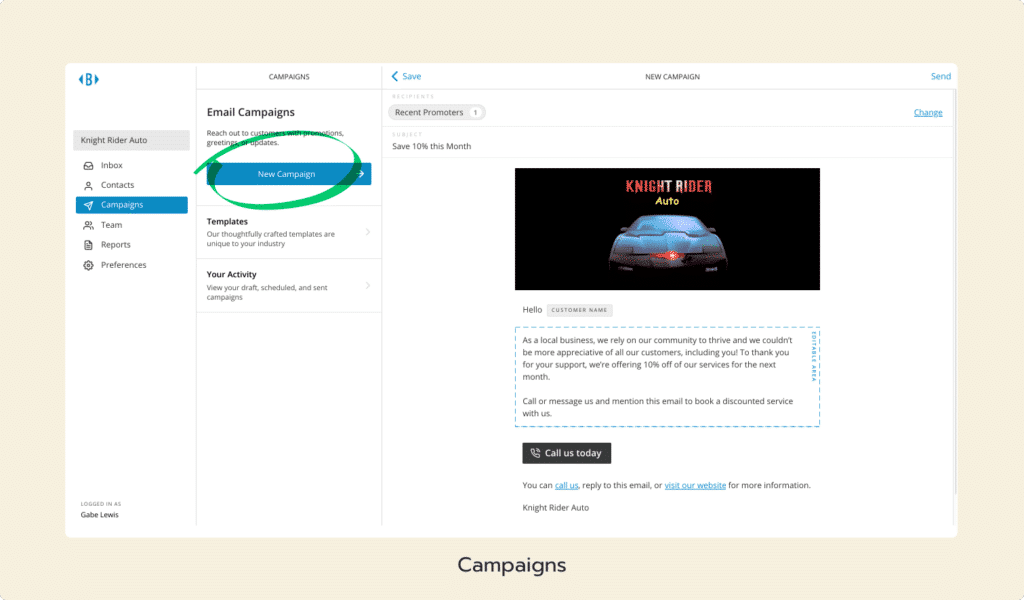 It provides your business with a fast and simple way to email your customers offers and the latest news about your business. Plus, Broadly's sample templates and the ability to preset your recipient lists mean you can spend less time and effort on email marketing and more time on running your business.
An easier shop-ware integration
Automotive business owners and employees often have to toggle between multiple software applications. With an eye toward increasing efficiency, Broadly has made it easy to move from its app to Shop-Ware and back again.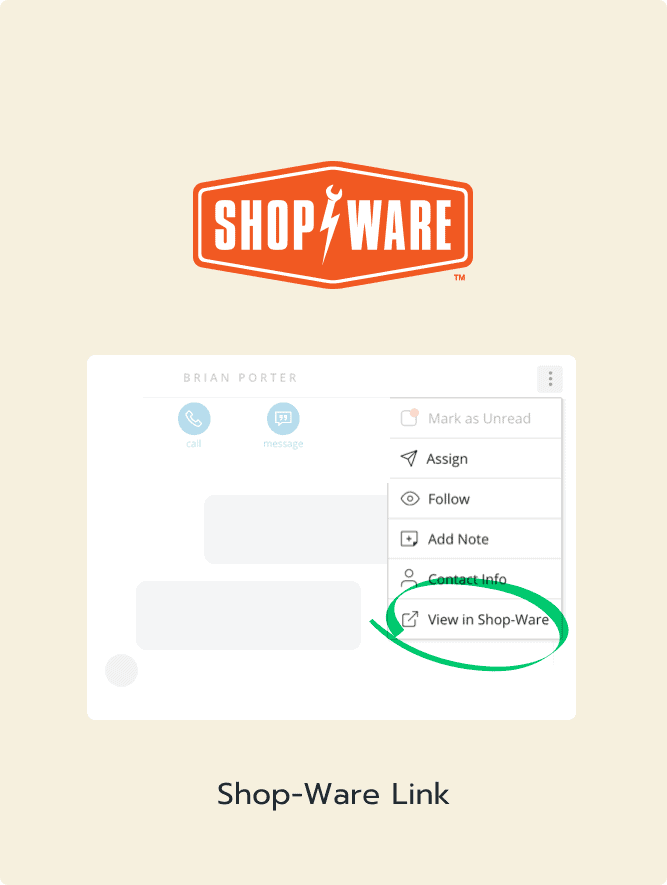 Now, if you're viewing a contact profile in the Broadly app just look for the link to seamlessly transition to the corresponding profile in Shop-Ware — easy! This is the first of several integrations Broadly hopes to implement to reduce the friction between different management systems.
See what Broadly can do for your business in just 30 days