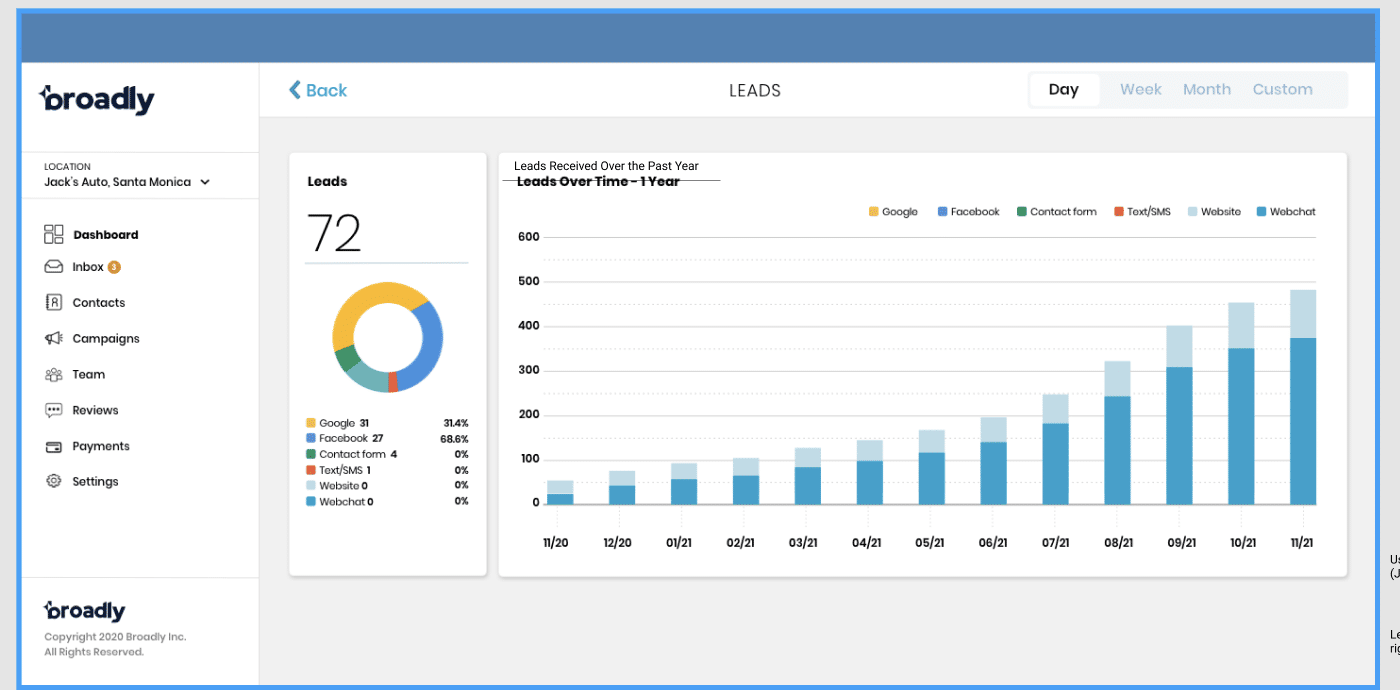 Introducing the new Broadly dashboard – here's what it can do for you
Here at Broadly, our goal is to help your business succeed. The best way to accomplish that is by helping you provide exceptional customer service to existing customers to leave positive reviews that will attract new customers. 
We have made some significant improvements to the Broadly Dashboard, our reporting feature that allows you to analyze customer engagement and team performance to understand where you're doing well and where you need to make improvements. 
How does the Broadly Dashboard help your business?
The Broadly Dashboard makes reputation management easier to grow your business faster. 
The Dashboard offers easy-to-digest data for business owners who struggle with overwhelming reports, so you can spend less time trying to make sense of the numbers and more time taking action to keep your business growing.
Franchise business owners can take an inventory of each of their locations, assessing review growth and team performance over time across locations.
Dashboard data is specific to each feature on the Broadly platform, so you can quickly pinpoint what's working and what may need a few tweaks.
It removes the guesswork so businesses can adjust their marketing spend and efforts to double down on what's working.
It establishes a single source of truth for customer engagement insights so you can easily estimate the return on investment (ROI) of using Broadly.
Bottom line: Broadly's Dashboard was created to provide direct consumer engagement and performance insights for business owners looking for no-nonsense statistics, allowing them to maximize their return on investment as they grow their business. 
Broadly is committed to helping you grow your small business
As a business, performance data is critical to your success. If you don't know how you're doing, you can't grow. If you don't know where you started, you can't measure how far you've come over time.
Our goal is to eliminate those challenges through the Broadly Dashboard. With it, you'll get real-time updates, location-specific insights (for all your locations), team performance reports, and a summary of your success with Broadly features in a visual, user-friendly interface. 
We care about our customers and their ability to take care of your customers. We've now made it easier for you to manage your data and make more informed decisions about the best tactics to grow your business.
Ready to see the Broadly Dashboard in action? Current customers can view their dashboard here. 
See what Broadly can do for your business in just 30 days