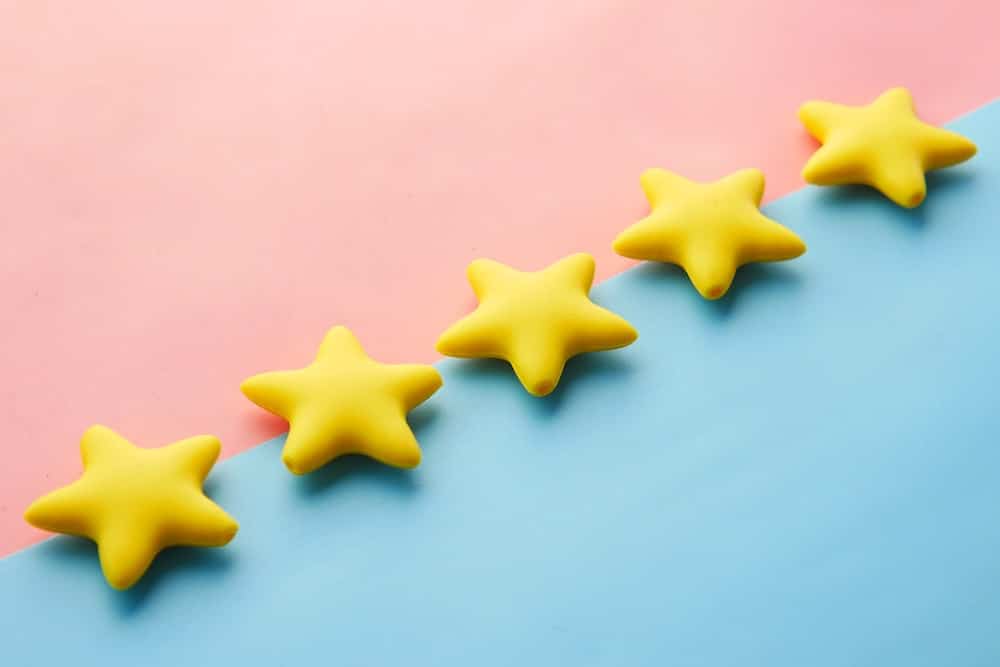 Why you should display reviews on your website
Online reviews are one of the most important factors influencing a consumer's purchase decision. In fact, studies show that over 70% of consumers say that positive online reviews make them trust a business more. Unfortunately, many businesses don't take advantage of this valuable marketing tool.
If you're not displaying reviews on your website, you're missing out on a huge opportunity to build trust and credibility with potential customers.
In this piece, we'll share some of the top reasons you should display reviews on your website.
See what Broadly can do for your business in just 30 days
Key benefits to having reviews on your website
Here are the key benefits of having reviews on your website:
Improve SEO rankings
One of the main benefits of having reviews on your website is that it can help improve your SEO rankings. This is because Google and other search engines place high importance on online reviews when determining where to rank businesses in their search results.
Studies have shown that businesses with positive online reviews are more likely to rank higher in search engine results. In one study, companies with a 4-star rating saw a 110% increase in click-through rates than businesses with a 3-star rating.
Build trust and credibility
Customer reviews show that other people have had positive experiences with your business, which makes potential customers more likely to trust you. This is why customers are more likely to trust a business with positive reviews from other customers than your marketing material. According to a study, over 90% of consumers say online reviews influence their purchasing decisions.
Increase sales
Positive reviews are a form of social proof for new customers. Like a satisfied customer will tell their friends and family about their positive experience, potential customers are more likely to purchase a business with positive online reviews.
A study by BrightLocal shows that 84% of people trust online reviews as much as personal recommendations. For your business, this means that having positive online reviews can lead to more sales and revenue.
Increase customer loyalty
In addition to increasing sales, displaying customer reviews on your website can also help increase customer satisfaction and loyalty. This is because potential customers can see that you value customer feedback and are committed to providing a great experience. Further, if you respond to negative reviews and promptly resolve issues, it shows that you care about what your customers have to say. In the long run, this will lead to increased customer satisfaction and a higher retention rate.
How to embed and display customer reviews
Let's look at some of the best practices you should follow when displaying customer reviews on your website.
Use a testimonials widget
One of the best ways to display customer reviews on your website is to use a testimonials widget. A testimonials widget is a piece of code you can add to your website, which will display customer reviews in a designated area. Further, using the testimonials widget, you can embed reviews from multiple social media platforms and review sites, like Google My Business, Facebook Reviews, Amazon, Angie's List, TripAdvisor, Yelp and TrustPilot.
If you are using WordPress, you can simply add a plugin, which will directly import all the reviews from different review websites.
Tip: Here's a step-by-step guide to add Google reviews to your website.
Choose the right reviews
When choosing which reviews to display on your website, it's essential to select reviews that are relevant to your business, and that will resonate with your target audience. For example, if you're a B2B company, you'll want to select product reviews that stress on your product or service's impact on a customer's business. On the other hand, if you're a B2C company, you'll want to choose reviews that focus on the customer's personal experience. You should also select different reviews for each campaign.
Make sure to also select positive reviews, as you don't want to display negative customer experiences on your website.
Use rich snippets
Another way to make your customer reviews more visible and impactful is to use rich snippets. Rich snippets are a piece of code you can add to your website, which will display customer reviews in a designated area. For instance, you can display the customer's name, location, and rating next to the listing in the search results.
Rich snippets are a great way to make your customer reviews more visible and impactful because it emphasizes that the review is from a real person. This can help increase your click-through rate, as potential customers will be able to see that your business has positive reviews from real people.
Managing your online reputation
Here are the key steps that businesses should take to manage their online reputation:
Monitor Your Reputation: The first step is simply to be aware of what people say about your business online. You can set up Google Alerts for your business name or a reputation monitoring tool. Further, you should also keep yourself updated on different review platforms. The key is to be aware of everything being said about your business online so you can quickly address any negative reviews.
Engage With Customers: Another critical step is to engage with your customer testimonials, both the ones that leave positive reviews as well as the ones that leave negative reviews. Thanking customers for their positive reviews shows that you're paying attention and helps to build a relationship with that customer. Responding to negative reviews shows that you care about your customers and are willing to address their concerns.
Encourage Reviews: One of the best ways to get more reviews is simply to ask your customers for them. You can send follow-up emails after a purchase has been made or by displaying a call-to-action on your website. Asking customers for reviews makes it more likely that they'll actually leave one.
Invest in Reputation Management Software: If you're serious about managing your online reputation, then you should invest in reputation management software. This software can help you more easily monitor your online reputation and quickly respond to reviews.
Build customer trust with Broadly's review management system
If you are struggling to get reviews, or if you are concerned about the negative reviews that are already out there, Broadly is here to help. We offer an all-in-one business dashboard that makes it easy to gain organic reviews, manage your online reputation and be in touch with your customers at all times.
See what Broadly can do for your business in just 30 days