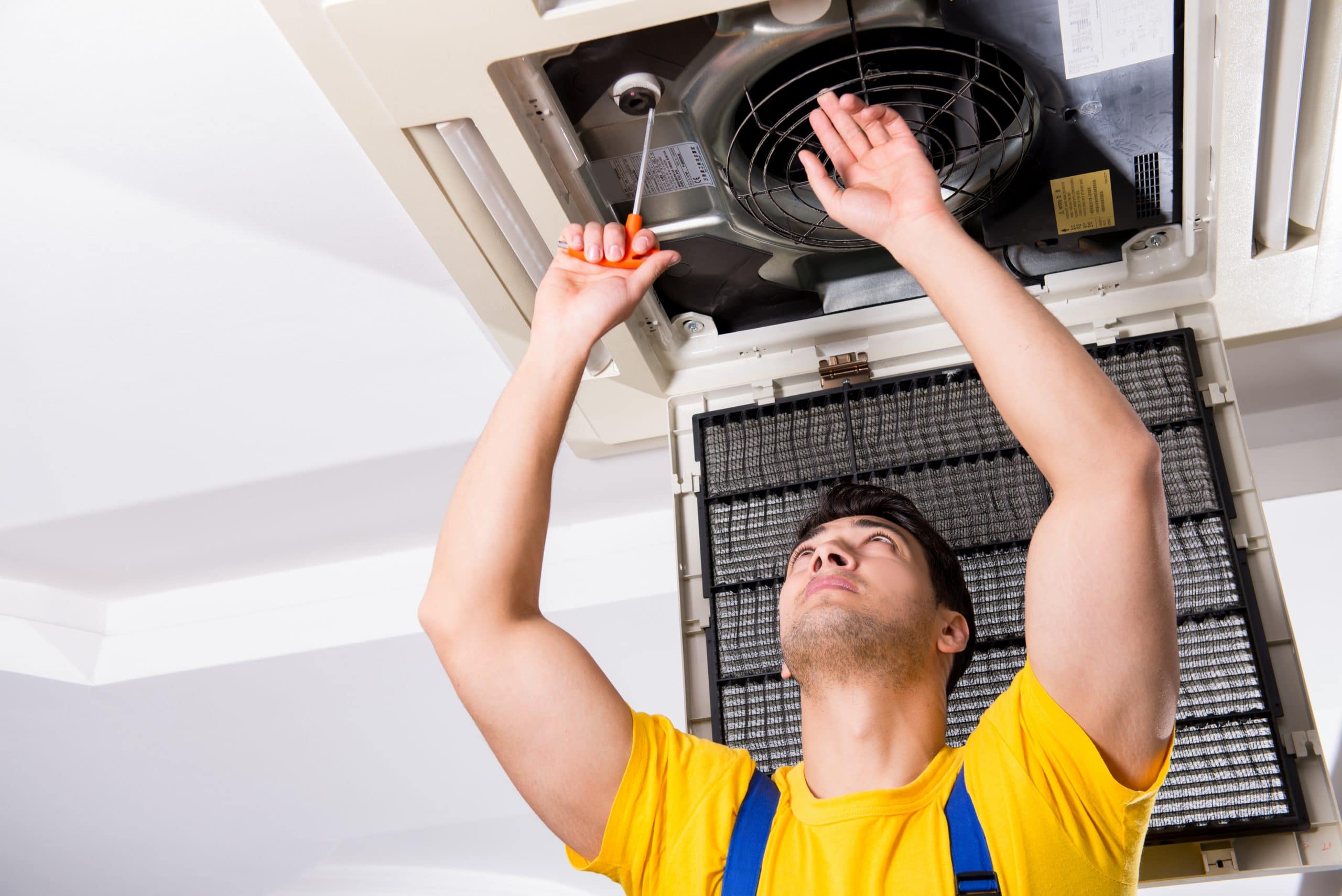 5 Negative Google reviews of home service companies and ways to respond
Whether you run a plumbing, HVAC or other home service business, you know how important it is to maintain positive online reviews. Having the most reviews and the highest star rating on Google, Yelp and other review sites goes a long way in attracting new customers and maintaining a favorable reputation in your community.
We know how hard you work to bring in positive reviews, which is why those one- or two-star reviews can be so frustrating. But there's an often-overlooked silver lining to getting occasional negative reviews: It gives you a chance to show off your professionalism under pressure.
Free Guide & Checklist: How To Respond To Reviews
How to respond to negative reviews
According to a survey, 81 percent of consumers read online reviews of local businesses to guide their buying habits. Consumers also viewed a company more favorably if a business owner addressed all of their customer reviews.
Ultimately, how you respond to negative reviews can offer potential customers a sense of your company's integrity, values and willingness to fix your mistakes.
At Broadly, we help small businesses providing home services obtain more five-star Google reviews. Over the years, we've seen our fair share of positive and negative reviews, along with stellar business responses. Here are five examples of customer reviews that detail a bad experience and terrific responses from home service businesses.
Example #1
Even a bad review can have positive qualities. In this example, the customer complained about the price, but they praised the business owner for being responsive and professional.
Two tips based on this response from the owner: Keep your replies undefensive and offer direct contact information. Creating multiple response templates could help you save time.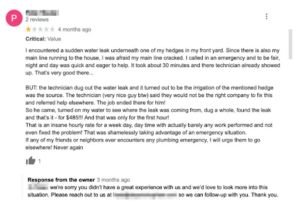 Example #2
When you take responsibility for a mistake and offer a sincere apology, your company lives up to its values and shows integrity. The business owner provides their personal number and lets the customer know they can speak directly on a phone call. This shows leadership from the top.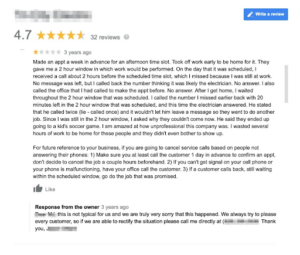 Example #3
Sometimes people leave online reviews for the wrong company. Even if this is the case, these negative online reviews become a good opportunity to show you're willing to listen.
In this Google review, the business owner gave their name and phone number and offered to make the situation right.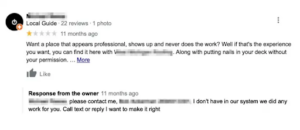 Example #4
Even when you know your company is in the right, using an accusatory tone could hurt your online reputation. Focus on taking the high road and sounding professional at all times when you respond to negative reviews.
In this example, the local business explained the situation without being overly defensive while also standing up for their customer service rep — a tricky balancing act.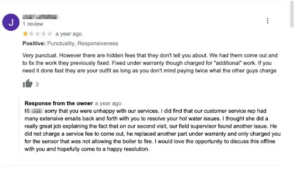 Example #5
When you have the contact information of the person sharing their customer experience, take the conversation offline. This negative review response example shows the company reached out to fix the situation, and, as a result, the previously unhappy customer changed their star rating from one star to four.
A potential customer reading this online review will see a small business that has high standards and does its best to make things right.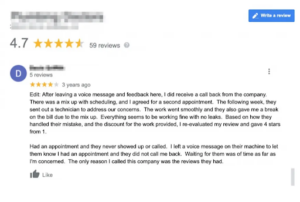 Key takeaways: the best way to respond to negative reviews
Good reviews are nice, but your professionalism and problem-solving skills truly shine when you manage negative reviews with grace. As shown in the examples above, compassionate responses to negative feedback allow prospective customers to see a business in a better light.
Overall, social media and review sites have the power to influence how customers view local businesses. Handling customer feedback with care, whether they're describing a positive or negative experience, can really affect your bottom line.
When faced with negative reviews, empathize with the upset customer and offer to take the conversation offline through a phone call or in person. Correspondence through direct messages could be enough to improve the customer experience.
As much as you might want to remove negative reviews, constructive criticism and professional responses to customer feedback could ultimately benefit your business.
Broadly makes it easy to manage your online reputation
Streamline how you connect with your customers using Broadly's online reputation management software solution. Save time by reading and responding to customer feedback from one intuitive dashboard that consolidates reviews from Google, social media platforms and other review sites.
Plus, with a few clicks of a button, you can automate the process of requesting business reviews from happy customers. Stand out with an unmatched customer experience.
Want to take charge of online reviews, build a solid online presence and grow your local home service business?
See what Broadly can do for your business in just 30 days