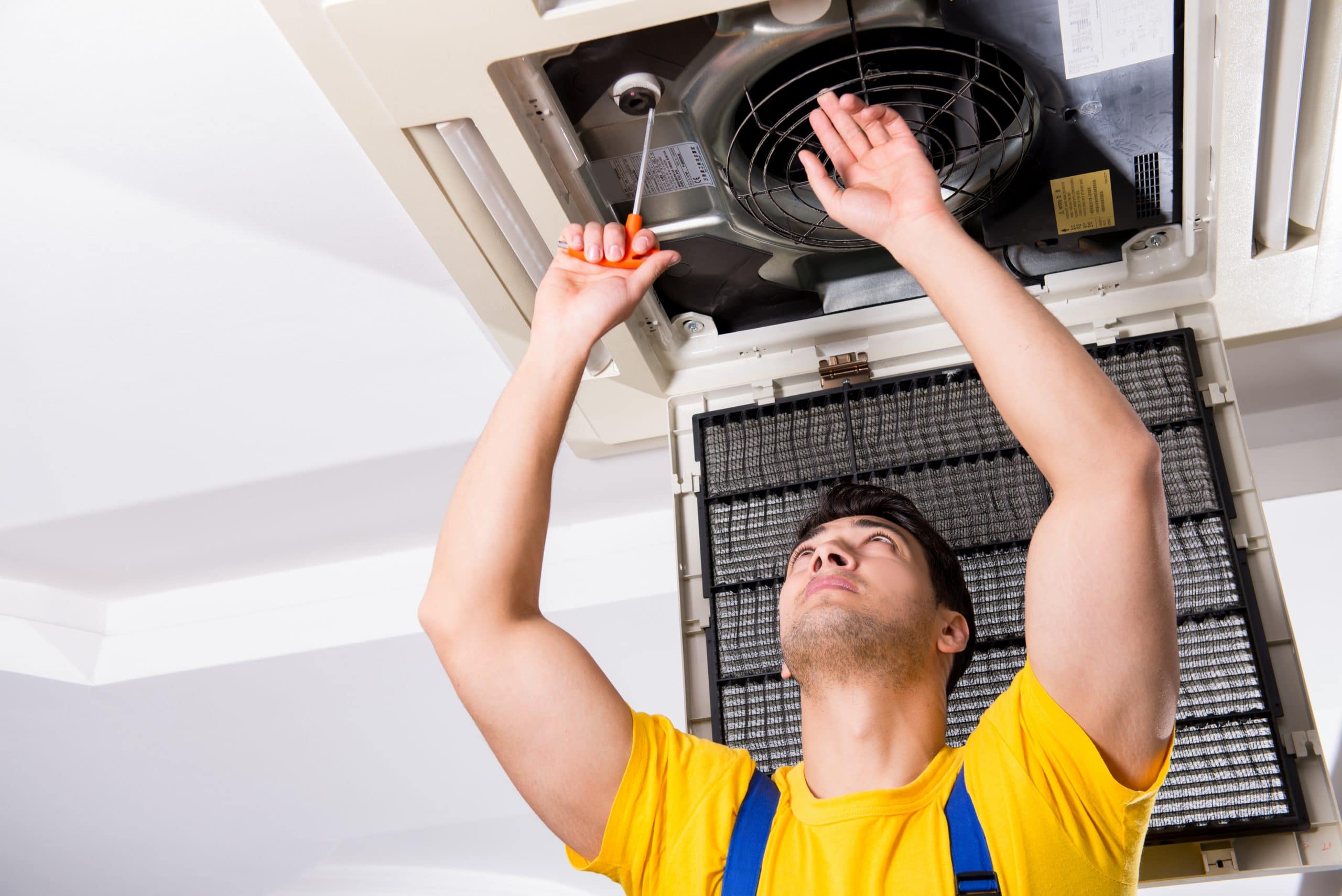 5 Negative Google Reviews of Home Service Companies and Ways to Respond
Whether you run a plumbing, HVAC, or other home service business, you know how important it is to maintain positive online reviews. 
Having the most reviews and the highest rating on Google, Yelp, and other review sites goes a long way to bringing in new customers and maintaining a positive image in your community. And we know how hard you work to bring in new positive reviews, which is why those one or two-star reviews can be so frustrating.
But there's an often-overlooked silver lining to getting the occasional negative review: It gives you a chance to show off your professionalism under pressure.
Do you need help getting more reviews and earning more business? Broadly can help. Schedule your free demo today.
According to a survey, 96% of people who read reviews of local businesses also read the business's response. Quality responses to negative reviews can give prospective customers a sense of your company's integrity and values and your willingness to fix your mistakes when they do happen.
At Broadly, we are here to help home service companies obtain more five-star Google reviews. Over the years, we've seen our fair share of positive and negative reviews and stellar business responses. Here are five examples of negative reviews and useful responses from home service businesses. We'll point out why we believe their responses might help prospective customers see the business in a better light.
Example #1
Even a bad review can have positive elements. In this example, the reviewer complained about the price but praised the company's responsiveness and friendliness of the technician. 
Two tips based on this response from the owner: keep your responses non-defensive and offer direct contact information.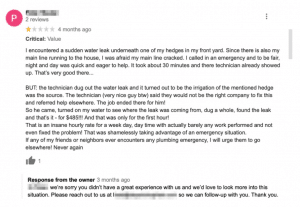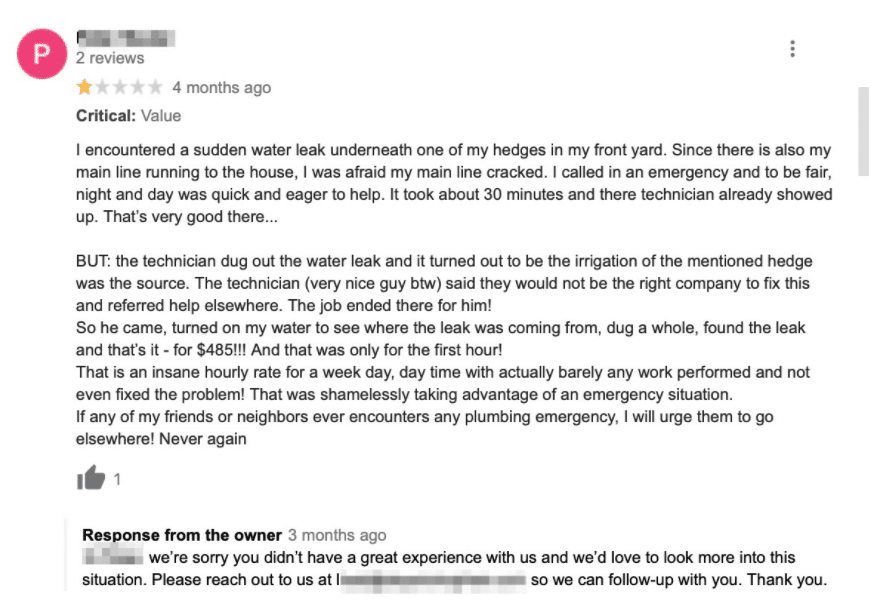 Example #2
Owning up to a mistake and offering a sincere apology can show your company's integrity. The business owner offers his personal number and lets the customer know they can call him directly. This shows leadership from the top down. 

Example #3
Sometimes people leave reviews for the wrong company. Even if this is the case, these reviews become a good opportunity to show you're ready to listen. In this example, the owner offered his name and phone number and offered to make the situation right.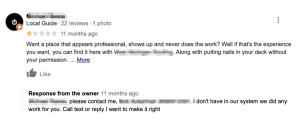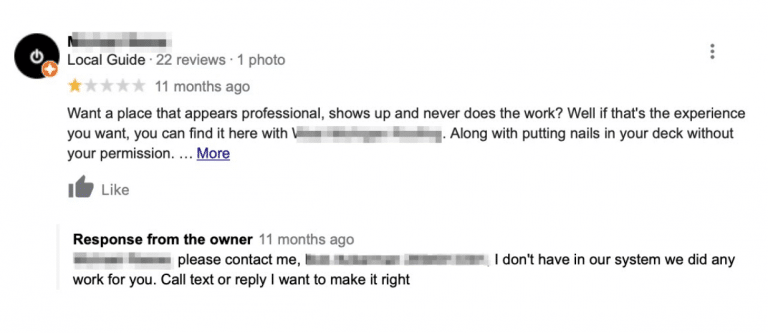 Example #4
Even when you know your company was in the right, you never want to come across as sounding accusatory.
In this example, a representative from the company managed to explain the situation without being overly defensive, while also standing up for their customer service rep — a tough balancing act.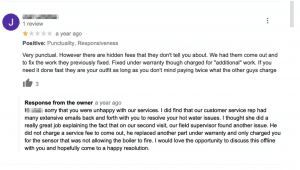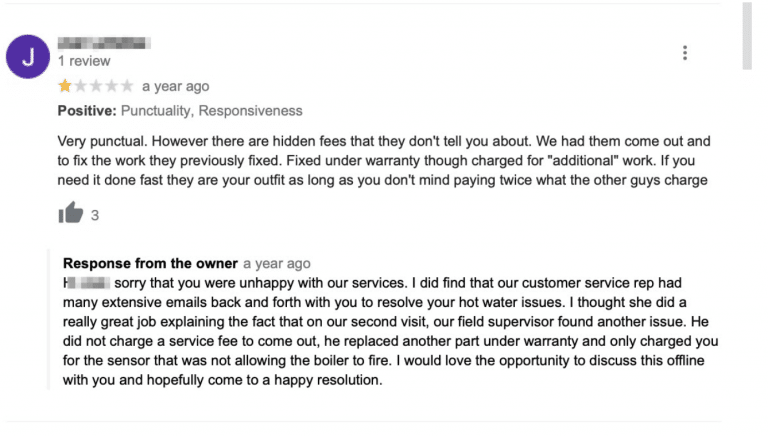 Example #5
When you have the contact information of the person leaving a review, you shouldn't just respond online. In this case, the company reached out to fix the situation and, as a result, the reviewee changed his rating from one star to four. 
A potential customer reading this review will see a company that does its best to make things right.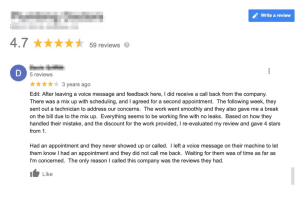 Are you looking for more information about how to take charge of online reviews, build a strong online presence and earn more business for your shop? We're offering a FREE resource: Responding to Reviews Guide & Checklist: How to Take Charge of Your Online Reviews and Earn More Business.