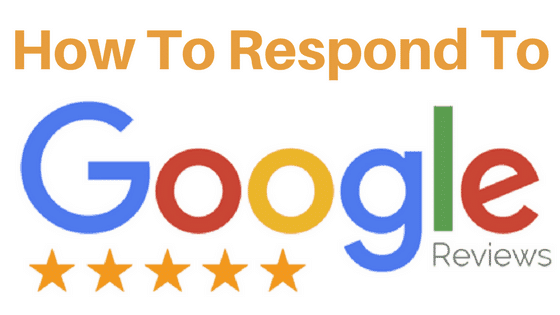 How to Respond to Google Reviews
Getting your business to show up on Google is one of the most important things you can do for your company if you want to be found online. Not only do reviews from past customers help you win over new customers, but Google Reviews also improve your search ranking. Improved search ranking means you're more likely to show up in top search results on the web. Learn how to score more Google Reviews here.
The next step on the list for outshining your competitors online is learning how to respond to Google Reviews. It might sound simple at first—you just reply, right?—Well, no. There are a few things you should know before replying to your Google Reviews, and this article will go over every single thing. We will cover the following:
How To Respond To Google Reviews
Check your Google Accounts for reviews
Evaluate the reviews
Respond to positive Google Reviews
Respond to negative Google Reviews
Responding to your online reviewers is crucial—no matter if they're negative or positive—because this is what your potential new customers see. If consumers see you ignoring poor reviews, they may think that you won't be attentive to them as a customer, and won't give you a chance. They may go to your competitor who has responded to their negative reviews, made things right with the customer, and turned the bad situation into a good one. Don't miss out on all the business you're pushing away simply by not responding to reviews.

1) Check Your Google Accounts for Reviews
Before you reply to your business's Google Reviews, you'll need to know where to find them! If you're not sure how to get to your Google Reviews, here is what you do.
Sign into your Google My Business account by going to business.google.com.
Click the three horizontal bars to get to the menu, then select "All Locations."
If you have more than one business location/account, choose which one you want to manage reviews for and click "Manage Location."
Once on your page, go to the "Reviews" section.
Click the blue box that says "Manage reviews."
And, boom—you're in. This is where you can see all the reviews for that specific location. Now, it's time to sift through them.
2) Evaluate Your Google Reviews

Start reading through your Google Reviews. Take note of the not-so-pleasant ones… these will take a little more effort. As you notice the negative reviews, you may see that some seem a little weird. These could be fake reviews.
Unfortunately, the internet is not completely adept at filtering out spam robots or ill-willed consumers being paid to write bad reviews. This is where you come in as the business owner and become diligent in your search for the truth. (O.K., it's not that serious, but fake reviews should not be tolerated!) If you think you have some fake reviews on your hands, follow these steps to flag them and remove them. There is no need to respond to fraudulent reports.
Once you take care of the fake reviews, you will be left with just two options: the good and the bad. There may be some middle-ground reviews, the three-star wonders, which compliment you while criticizing you… But, for the most part, you'll get a feel for who your loyal fans are and who will tell everyone on Facebook not to use your services/purchase from you. There is a finesse to responding to each kind of review.
3) How to Respond to Positive Google Reviews
Chances are you're pretty flush with happy reviews. Good job! Go you! But your work does not stop there. To keep these satisfied customers happy, you need to acknowledge that you appreciate the time they took out to say nice things about your company. Think about it: People love to complain, but it takes something really great to inspire someone to rave about a company. Your biggest mistake would be to ignore those kind comments about your business.
Responding to positive Google Reviews is luckily very simple. Here are a few things to keep in mind when replying to a nice review:
Respond in a timely manner. Nothing says "I don't care if you spend your money here ever again" quite like a thank you dated two years after the review was left. To hold onto that happy customer, try to respond as soon as you can to stay top of mind.
Thank the customer. Just using your manners can go a long way—whatever positive thing they said, thank them for it. Nothing fancy here.
Be authentic. You could copy and paste your positive review response and use it for every nice review, but people are going to notice you took the easy way out. Instead of replicating the same exact response, just change it up a tad by adding a personal detail that connects it directly to the reviewer. Thank the reviewer by name or comment on something they mentioned in their review. The smallest effort here can make truly the biggest difference.
Invite them to take action. While you're making friends, invite your new fan to spread the love. You cannot receive without asking. Just remember to play it cool and be polite—don't make the reviewer feel like they owe you anything.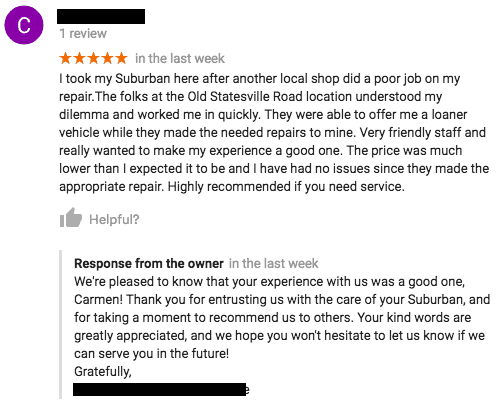 4) How to Respond to Negative Google Reviews
Ugh, here we are. The part of the article where we talk about getting our hands dirty and dealing with the nitty-gritty. Negative Google reviews are not fun for anyone, but, unfortunately, ignoring them is not the best way to handle them. In fact, ignoring a negative review can be even worse than ignoring a positive review! If you want to take control of the situation and do some damage control, the best thing to do is respond to the negative review. Responding allows you to take control of the narrative, save face, and possibly reconcile a relationship with unhappy customers.
Though the context of negative reviews can vary greatly, the nature is still the same. So, when you're ready to pull up your sleeves and respond to your negative Google Reviews, here are some tactics to keep in mind.
Acknowledge the problem. No good apology starts by undermining the problem or blaming the reviewer. You have to swallow your pride, even if you think the reviewer is wrong, and acknowledge the fact that there was an issue. You might even thank the reviewer for bringing this issue to your attention.
Take responsibility and apologize. The worst thing you can do is get upset and respond with a huge paragraph full of excuses. You are in customer service no matter your industry, so as soon as you realize that, the better off you will be. With that being said, it's so important to take responsibility and apologize for whatever it was that bothered the customer. Again, let your pride take the back seat if you ever want to manage your reputation effectively.
Explain if necessary. Some nasty reviews might actually warrant some type of explanation on your end. If you can explain the situation from your side without being rude or accusatory, then try to do so in your response. If you have nothing nice to say, take your mother's advice and skip this part.
Compensate accordingly. To make things right with the reviewer, offer to pick up the tab for their next meal or next appointment. A small gesture that doesn't cost a lot to you can mean so much to the customer. Offer to appease the situation with some sort of compensation to sweeten the apology.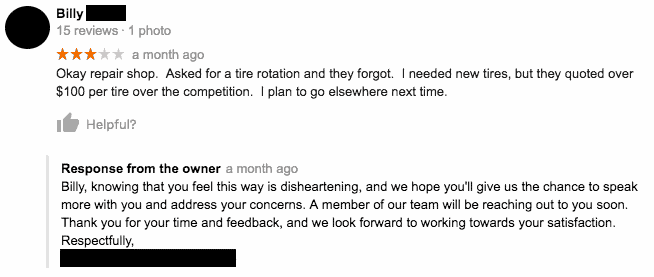 If you're not sure how to craft your negative review response, we've come up with some response templates for you to go off of. If the review is not accurate you can also flag Google reviews to possibly have it removed.
Managing your online reputation can be difficult at times, but it is worth it once you realize how much business you can get simply by gaining a lot of Google Reviews. Just remember to be timely in responding to them and handle each reviewer like you would an in-person customer. A little attention and care can go a long way… right into your pockets.