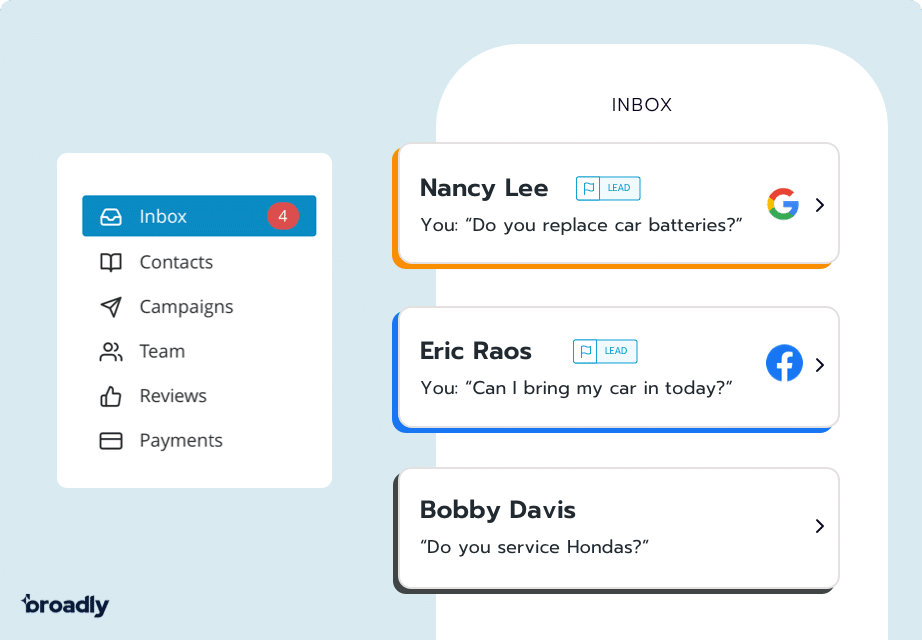 Google my business and Facebook messaging is now available in the Broadly App.
We are excited to announce that you can now access Google My Business and Facebook Messaging through your Broadly app.
Before this update, you could text and get messages from your website visitors in the Broadly app. Now you can easily and quickly respond to Google, Facebook, website inquiries, and texts from one place, the Broadly app Inbox.
Let's zoom out for a second to get the full picture of why this is important. As the pace of life gets faster, consumers are turning to messaging as a more convenient way of communicating with businesses. This has led many popular platforms, including Facebook and Google, to develop messaging services. These are known as Google Business Messages and Facebook Messenger for Business, respectively.
However, each of these messaging services has its own app that you would need to familiarize yourself with, login information you would need to keep track of and have another inbox you would need to monitor. We've heard from many of you that it's overwhelming for businesses, especially those with limited staff, to keep up with all these communications when they are in multiple different places.
We make it easier to meet your customers where they're at by allowing you to centralize your Google, Facebook, and website inquiries into a single place.
Benefits of connecting Google and Facebook messaging to Broadly:
Grow your business without breaking the bank
Google and Facebook messaging are free. When you turn on messaging, Google and Facebook will add a convenient button to your profile that will allow people viewing your business page to get in touch.
Mobile messaging is used by 76% of people who have smartphones. By opening up this new way to contact your business, you'll be targeting a previously untapped, ever-growing customer base that prefers communicating through messaging.
But say you're not a social media person or really don't want to learn another new platform – that's where Broadly comes in. We can help you get Google and Facebook messaging connected to your Broadly app so all your customer communications are in one, familiar place.
Save time
When it comes to local service businesses, it's clear that time is the most valuable resource. We want to help you protect yours!
Anyone on your team with a Broadly account can help you manage communications in real-time. For example, if you have a meeting, your front desk person can take over a customer conversation on their own Broadly desktop or mobile app without any interruption on the customer's side. Or, if you're on the sales team and a request comes in for customer support, you can assign the conversation to your teammate in that department.
These time-saving benefits are compounded when you take advantage of Broadly's full services and consolidate all customer communications into a single place. All your website inquiries can be funneled into Broadly through Web Chat and by connecting your website contact form to Broadly. Additionally, you can easily text and email your customers out of Broadly so that all written communications can be centralized in this one, collaborative inbox.
Consolidating your customer communications into Broadly will give you confidence that messages aren't slipping through the cracks and save you time.
Improve your customer experience
Your customers are also dealing with overflowing inboxes and too many apps competing for their attention. Because of this, being easy to communicate with is a "make or break" for modern businesses.
82% of customers expect a response within 10 minutes to marketing or sales questions. Centralizing these leads into the Broadly inbox enables you, with the support of your team, to minimize the time it takes to get that response.
Additionally, you can easily transition from messaging to texting and emailing customers while still having convenient access to the entire conversation history in your Broadly inbox. This gives you and your whole team access to the context necessary to provide the personal touch we all know keeps customers coming back!
So whether you are looking to add a new organic lead source, save time or improve the experience you provide your customers, Google and Facebook messaging is a great place to start.
To connect Google and Facebook messaging to Broadly or to set up a call to learn more, contact us at support@broadly.com .
See what Broadly can do for your business in just 30 days