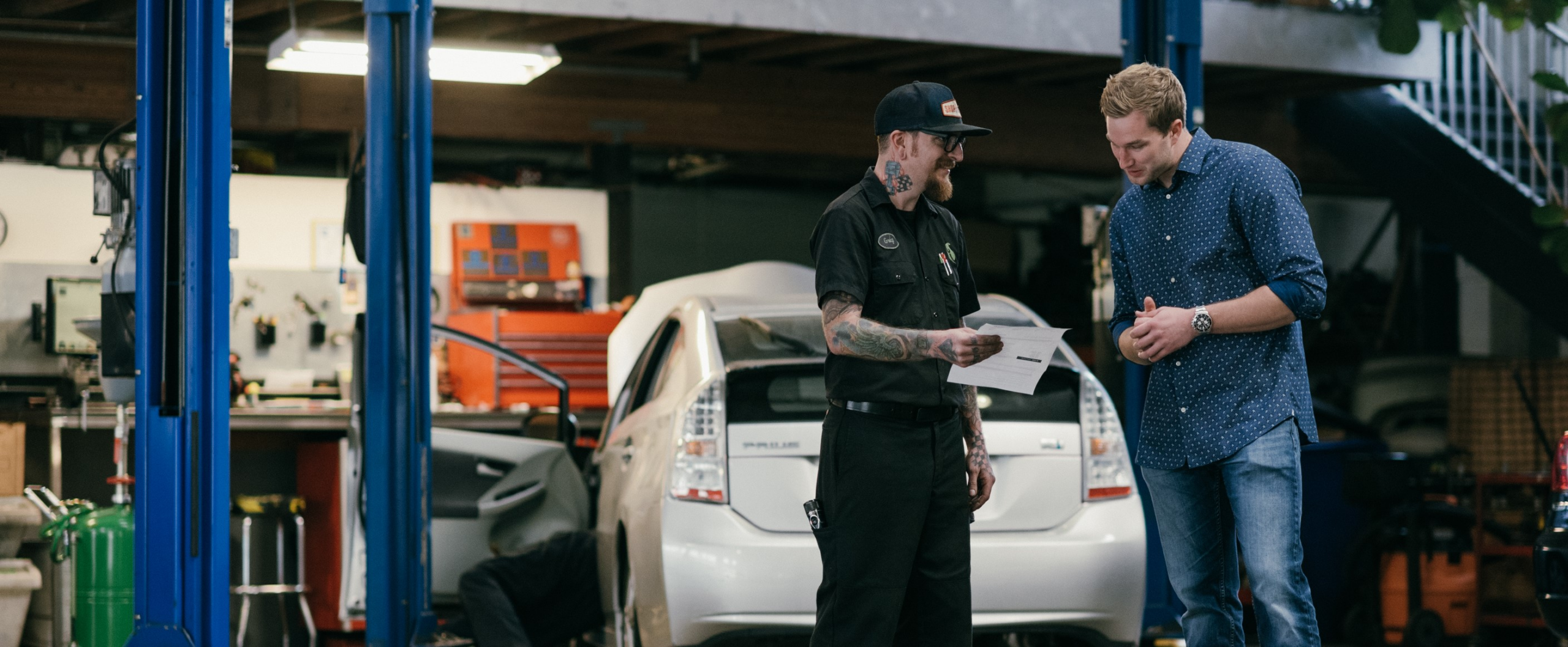 How to use transparency to improve customer service
*This blog post was written by our friends at Shop-Ware. Enjoy!
In the auto repair industry, customers have always demanded transparency for the work done on their cars. These days, however, auto repair shops build relationships by sharing EXACTLY what goes on with vehicles and how bills add up. This is key to providing excellent customer service.
How automotive repair shop staff handle that curiosity can make all the difference in customer retention for a repair shop.
The value of business transparency
How much do you think it costs to draw in a new customer? This forum on Automotive Network Management's website estimates that value at $17 to $148, depending on a business' approach.
Those numbers should inspire shops to create a great auto repair customer experience. That way, they keep their current customers and make them even more loyal to their shops.
Customers want complete transparency not only in the pricing of repair services but in the services performed on their cars. Auto shop software bridges that gap by delivering more information clearly with images that earn loyal customers.
Transparency equals integrity to many customers
Customers worry that auto repair shops exaggerate the need for repair or charge more than they should. The antidote to this doubt is to deliver more transparency than customers expect.
Thankfully, interactive automotive shop software can do a number of things for an auto repair business. It helps with organization and tracking business operations.
A variety of reporting tools and analytics make it easy to track the metrics surrounding any efforts in increasing transparency. This kind of customer service changes the game.
Show, don't tell, auto repair customers
Of course, anyone can tell a car owner that their brake pads are shot, but showing them the worn parts will send a more clear message. Visual cues stick in customers' memories more than any words they'll hear over the phone.
Even better, it takes a fraction of a second for their eyes to take in the information and feed it to their brain. Suddenly, they have a clear understanding of WHY they need an auto repair shop's help to solve their problem.
To earn their trust, send photos or even videos to customers' phones so they can check it when they have free time. This type of transparency is priceless to a busy person who wants to understand why they pay for professional expertise.
It also allows customers to receive information in a way that works for them. Face it, some customers want email while others prefer to receive an update via text. Others can use Shop-Ware exclusive live chat Messenger platform to view notes, photos or videos from a repair order.
Not every shop management software offers this type of communications platform. Shop-Ware has led this field with the Digital Vehicle Experience (DVX™) that takes eCommerce to a new level. It replicates the Amazon experience of showing photos and communicating via a live chat service and builds stronger customer loyalty.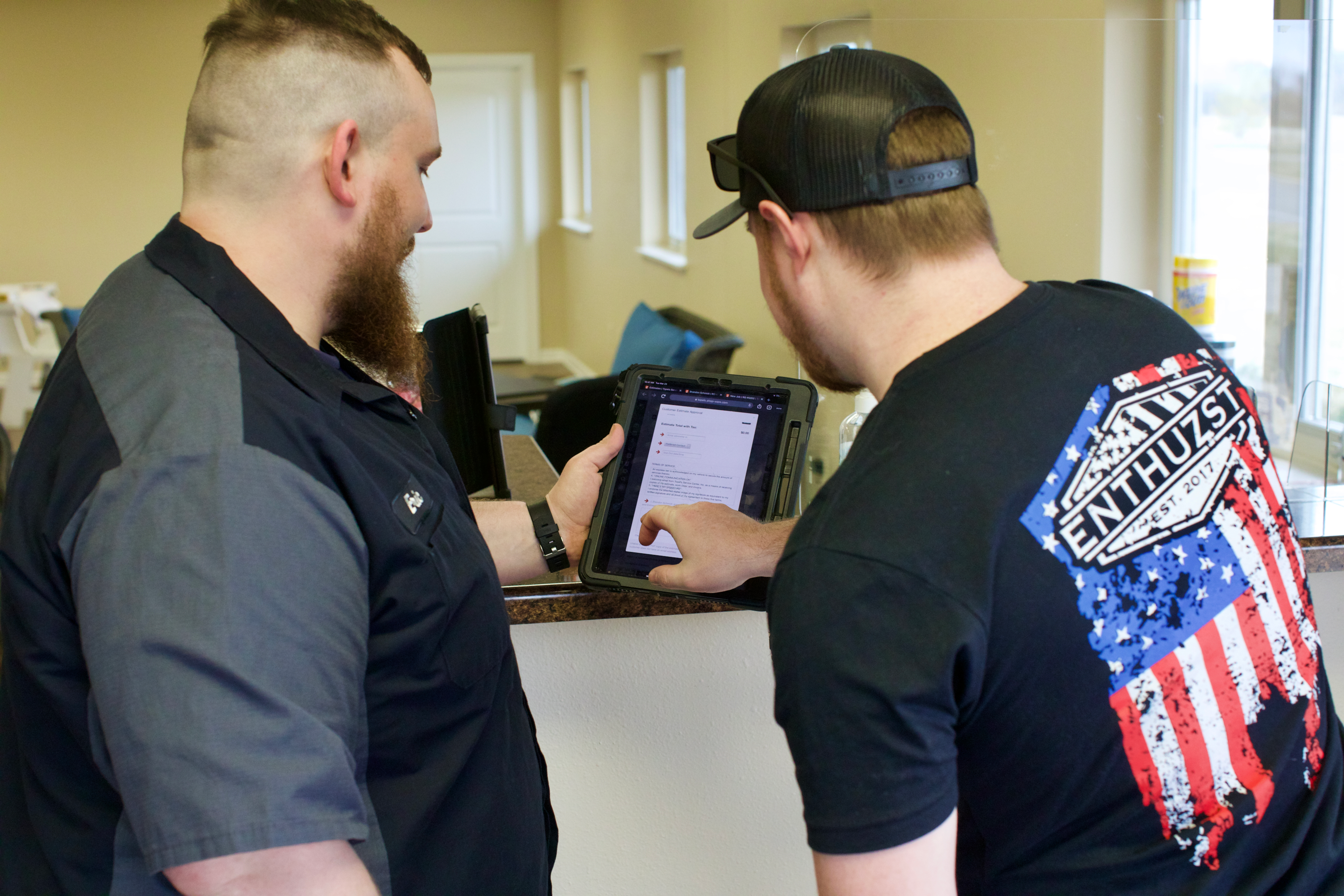 Make photos transparent too
Adding precise notes will help the customer see what technicians see but nothing works like a well-lit photo. On that note, take time to train technicians to take photos that clearly tell the story.
This ultimate guide to taking a good photo from diagnostics expert Scott Brown can help improve this technique. It helps employees focus in on the real problem without making the customer guess what is wrong.
Most customers don't know how their car runs or the level of expertise to fix it. Once they see the complexity of the systems within a car, they will value an auto repair shop's services more than ever.
Communication via text or email also saves a team from spending valuable time to talk on the phone, explaining how a car should work. Instead, when employees send a recommendation with parts pricing and images, they put the decision back in their hands before they purchase services.
With fast auto repair estimating software, employees can include any level of detail. If a customer wants a quick scan of the job and its cost, they can see it quickly and easily.
However, if they want to go deeper to justify the expenses by looking at the dollar value of each part, it's there too.
This also gives them the chance to show an estimate to a friend or family member who is more car savvy. When they reinforce a business's professional advice, it makes the organization look even more professional and trustworthy, earning another loyal customer.
Stop pitching and focus on fixing
In the past, service advisors had to decide how much work to upsell to a customer without going too far. Now that employees can share a full report of what is needed, it allows the customer to choose.
After being on Shop-Ware for a full year, on average, shops saw a revenue and gross profit increase of 19.8%. That happens because customers approve more repairs than advisors would have suggested.
Ultimately, the business puts the customer in the driver's seat so they don't feel pushed into making a decision. That translates into great customer satisfaction!
This type of customer rapport is all about creating trust and a more transparent brand for a business.
Share customer experience stories
When automotive technicians fix a car, they're not just doing it for the money. Ultimately, they're trying to save the customer from getting stranded at the side of the road or from further expense later.
One of the best ways to focus on better service arises from positive reviews from previous clients. For example, many consumers point out how a change made their car run more efficiently. They may write about other benefits, such as keeping their aging car on the road much longer than expected. Either way, employees come across as the heros who saved the day!
While staff may feel shy at first, many businesses thrive when they ask for reviews. That's just the first step in the process.
Don't hold back from highlighting these messages once they roll in. Post them in the waiting room, all over a website and on social media channels. Nothing earns trust faster than having someone talking up a shop while employees stand back and humbly accept praise.
Best of all, these reviews are typically free and they arise from people who actually pay their bills.
Elevate the customer service experiences with extras
People love comfy couches, nice music and fresh coffee when they come to a waiting room. However, most want to get back on the road with a clear understanding of their purchase. That's why the full circle of a rich customer experience relies on having the right tools when a business sells services.
Shops who adopted digital payments systems say they cannot imagine how they would have operated during COVID-19 without them.
Overall, it takes great team and industry partners to create a customer experience that is memorable for the right reasons.
Turn to experts when needed
If a business is ready to change the way that it does business and give people the speed and solutions that they deserve, contact Shop-Ware today.
Shop-Ware's digital experience prepares a repair shop to provide transparent, efficient service to all customers, increasing profits and reducing operating costs and wasted expenses. It also taps into the expertise of partners like Broadly to provide so shops can ask for payments professionally
With our responsive, mobile-friendly design, shops can achieve customer communication instantly on their devices. Customers receive repair approvals digitally and approve them in no time, cutting back on outbound calls.
Our digital workflow helps reduce human effort and eliminates mistakes. Shops will get cars through faster, saving time and increasing the bottom line.
See what Broadly can do for your business in just 30 days