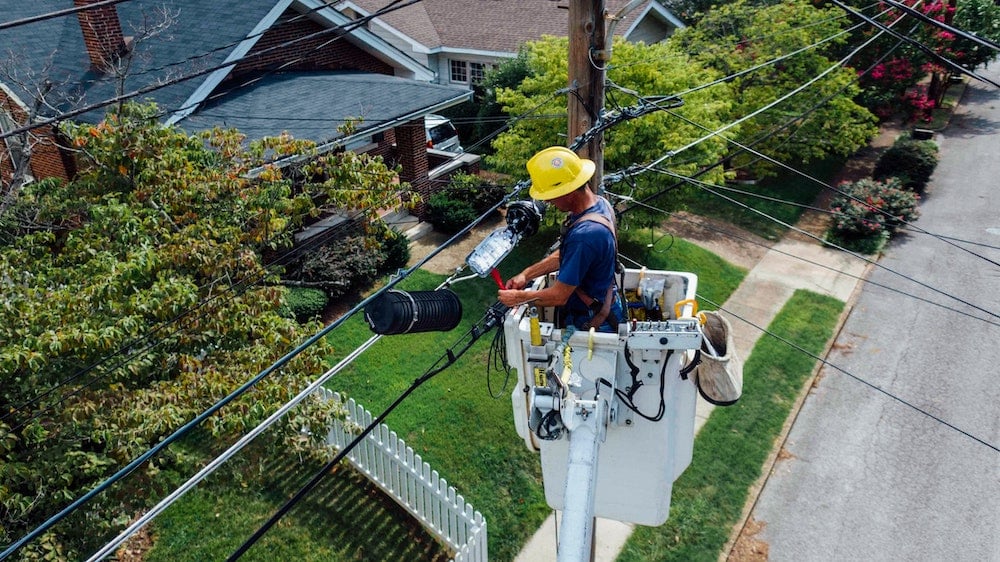 5 Marketing tips for electricians you can't live without
A solid marketing strategy separates a successful electrical company from an average one. Take charge of driving revenue growth and attracting new customers by taking advantage of social media marketing and establishing your brand's online presence. 
Let's brush up on business essentials and dive into marketing for electricians.
How do I promote myself as an electrician?
From acquiring electrical licenses and certifications to working thousands of hours in the field, you've earned your stripes in the industry. However, extensive knowledge itself isn't enough to grow your business. This is where marketing skills come into play.
Does your business show up when you search Google for electricians in your area? If not, create an account on Google Business Profile (formerly Google My Business). This way, your company name can appear on the results pages when potential customers conduct a Google search for electricians and electrical contractors. 
In addition, sign up for a business profile on social media platforms such as Facebook, LinkedIn and Yelp. Add your contact information, phone number, website and email address so prospects can easily get in touch. 
Consistently monitor these pages and update when necessary. Social media makes it easy to advertise your services, as well as engage with prospects and existing customers regularly.
5 Marketing tips for electricians
To truly thrive in this competitive landscape, local businesses that offer electrical services need an effective marketing plan. The world of digital marketing is vast, involving tools like pay-per-click (PPC) advertising and search engine optimization (SEO). However, with marketing for electricians, a few tried-and-true best practices stand out.
1. Optimize your company website for mobile
Though a website could appear polished and professional on a laptop or desktop computer, the user interface may differ when viewed on a smartphone or tablet. From a cluttered look to unreadable text and unclickable buttons, many problems can arise when a landing page isn't optimized for mobile. 
More than half the world accesses the internet from a mobile device. Resolve common issues with a responsive design that automatically adjusts the web page depending on the screen size. It's critical to provide a user-friendly experience to potential customers searching for electricians on their smartphones – they could be suffering without electricity and in the biggest hurry!
2. Maintain a business profile on social media
Social media channels such as Yelp and Facebook assist with increasing your online presence and promoting your electrician business. You can post content, videos and pictures showcasing current projects or specials as part of marketing campaigns. This allows your followers to see and share your content, further expanding your reach. 
3. Leverage positive customer reviews
Online reviews can help convert leads into customers. On your website and social media, highlight positive customer reviews and testimonials to prove your expertise and attract new clients. The feedback also improves your local SEO, allowing prospects to find your company effortlessly when searching Google. 
4. Lean into your current customer base
A loyal customer base can lead to repeat business and referrals. Best of all, existing customers may passionately advocate for your brand through social media and word-of-mouth, which effectively reduces your marketing and advertising costs.
5. Network with local businesses and homeowners
Support fellow business owners and the community at large by attending local events. Always keep your business card on hand in case anyone you meet is in the market for electrical services. Potential clients will trust and prefer to do business with someone they've interacted with at a local fundraiser or festival.
How can I grow my electrical contracting business?
Whether you manage a team of electrical contractors or operate solo, continue to hone your skills and learn the ins and outs of electrician marketing. Determine which marketing channels are most effective for your service area and establish a robust marketing strategy. 
For example, you can use email marketing tactics, such as sending weekly or monthly newsletters, to reach your target audience and keep your brand at the top of their minds. 
Take the guesswork out of marketing with Broadly
Streamline your electrical company's marketing efforts to be more efficient with Broadly. 
If you need to revamp your website design to optimize it for mobile devices, the team is ready to provide high-end results at a reasonable price. With an innovative software solution like Campaigns, you can communicate with customers — both prospective and current — through text messages and email with a few clicks of a button.
Plus, easily manage your online reputation from a single intuitive dashboard that consolidates customer reviews from across social media platforms, including Facebook and Google. 
See what Broadly can do for your business in just 30 days