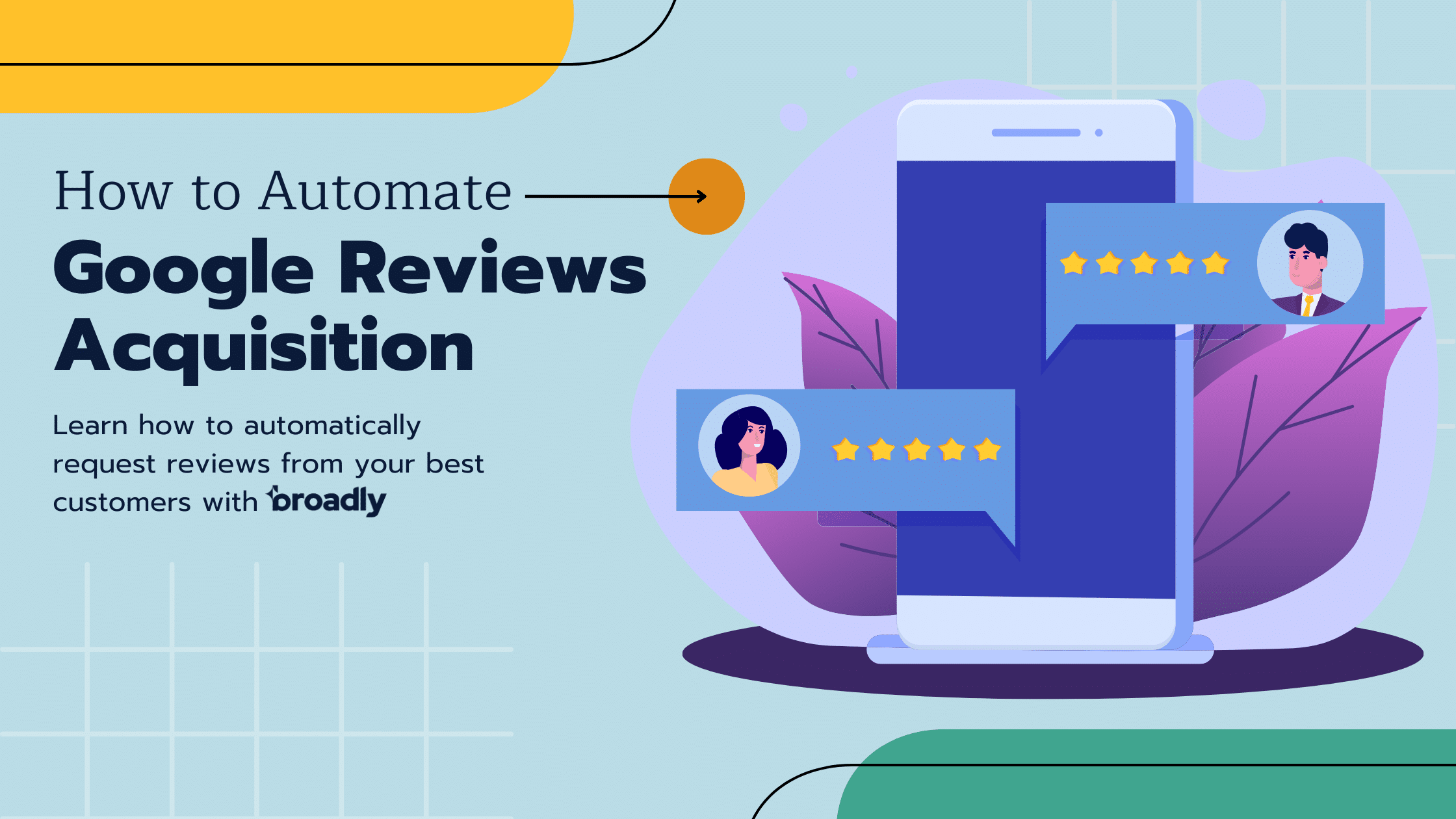 How to Automate Google Reviews Acquisition
There's no argument that online reviews can make or break a business. Glowing reviews from happy customers enhance credibility, attract new patrons, and improve your chances of showing up in local search rankings. However, for local businesses trying to grow, collecting these reviews in the first place can feel daunting. That's where automating your Google review acquisition strategy comes into play.
In this article, we dig deeper into why you should automate Google reviews, what aspects you should and shouldn't automate, and how Broadly can simplify the process.
Key Takeaways
Accumulating Google reviews is crucial for building trust among customers and improving local SEO.
Automation can simplify collecting, responding to, and monitoring reviews, saving you time when managing feedback.
Automated alerts can deliver consolidated real-time feedback in one app, helping you quickly respond and engage with users.
What is Google Review Automation?
Google review automation involves using technology to streamline and simplify the management of your business's reputation on the Google Business Profile platform (GBP, for short). This process aims to make requesting, responding to, and monitoring reviews left on Google more manageable for business owners. That way, you're never out of touch with what people are saying about you online.
Benefits of Automating Google Reviews
Delivering good customer service no longer stops when the shopper leaves the store. Potential buyers might have questions about what you offer; a recent customer might not understand how to assemble a product; or a client might not be happy with how long they had to wait for their hair appointment. As your business grows, the amount of feedback you receive grows too. Harnessing automation for your GBP reviews ensures you can serve your customers' needs faster while still delivering a personalized experience.
Below are some of the many benefits companies receive when they automate Google reviews.
Streamlined Review Solicitation
The great thing about automating the process of requesting Google reviews is that it ensures consistency in how you ask for feedback. By using these tools, you can automatically send review requests to your customers after they've made a purchase or received a service. This increases the likelihood of receiving reviews from satisfied customers.
Real-time Monitoring
Automation allows you to stay on top of new reviews as they come in. Real-time alerts ensure that you're notified quickly about feedback—good or bad—so you can respond promptly to concerns and better engage with your happy customers.
Centralized Review Management
With automated tools, you can manage all your Google reviews in one app. This makes it easier to keep track of reviews, respond to them, and make improvements based on the feedback your customers share with you.
Improved Local Search Rankings
Google takes into account the quantity and quality of your reviews when determining local search rankings. (Google) That's why it is important to have a consistent flow of positive reviews streaming into your business's GBP listing and know how to flag and fix an inappropriate Google review.
Enhanced Trust
A high number of positive reviews makes it easier for potential customers to do business with you. Think about it, would you take your car to a mechanic that has less than 4 stars on Google or one that has no reviews at all? By automating the review process, navigating bad reviews, and consistently gathering positive feedback, you can create a more trustworthy online image for your local business.
What to Automate Regarding Google Reviews
Alerts for New Google Reviews
If a constant stream of feedback is what you are after, you might be wondering how to keep track of all your Google reviews once they come in. We're glad you asked. Utilizing automation for your Google review acquisition strategy can help you stay informed about the reviews being posted about your company instantly. This tool sends you notifications whenever a new review is posted about your business, ensuring you're always in the loop.
Automated Google Review Requests
Your plate is overflowing, and reputation management might not be your strong suit, but getting Google reviews from your happy customers doesn't have to be a hassle. With a little automation magic, you can make the process super simple. 
Imagine this: after your customers leave with smiles on their faces, an automatic email or text message is sent their way. It's a friendly note thanking them for choosing your business and kindly asking if they'd share their thoughts with a review. The message even throws in a direct link, so leaving that review becomes a breeze. 
With automated Google review requests, there's no need to worry about remembering who to ask and when. You can even customize your messages for different types of customers, whether they're first-timers or regulars. Automation can handle the heavy lifting while you focus on doing what you do best—delivering top-notch products and services that make your customers happy.
Automating Google Review Responses
Responding to reviews is a great way to maintain customer engagement and show that you care, but sometimes it can be hard to know what to say. With tools like Broadly, you can create templates for different types of reviews—positive, negative, and neutral—to ensure the responses you give are consistent and timely. While automation can help speed up the process, it's equally important to personalize your messages to keep things authentic.
Here are some examples of responses you can use for your customers:
Positive Review Example
Hello [Reviewer's Name],

Thank you so much for your kind words and for taking the time to share your positive experience! Your feedback is truly appreciated, and it inspires us to continue delivering top-notch [product/service] to all our valued customers.

We look forward to serving you again soon!

Warm regards,

[Your Name]
Negative Review Example
Hello [Reviewer's Name],

Thank you for sharing your experience with us. We apologize for any inconvenience you may have experienced. We're committed to improving and would appreciate the chance to make things right. Please contact us at [customer service/email] so we can address your concerns directly.

Best regards,

[Your Name]
Neutral Review Example
Hello [Reviewer's Name],

Thank you for taking the time to share your feedback. We appreciate your honest review and insights about your experience with our [product/service].

Your feedback is valuable to us as we continuously strive to enhance our offerings. If there's anything specific you feel we could improve upon, please don't hesitate to reach out to us at [customer service/email].

We hope to have the opportunity to serve you again and provide you with an even better experience.

Best regards,

[Your Name]
How Broadly Can Help Automate Google Reviews
Broadly is a powerful platform designed to simplify automating Google review requests. With Broadly, you can easily request, monitor, and respond to Google reviews, all from one centralized app.
With tools like Broadly, the journey to a great reputation has never been easier, giving you back the time you need to focus on what matters most, running your business.
See what Broadly can do for your business in just 30 days