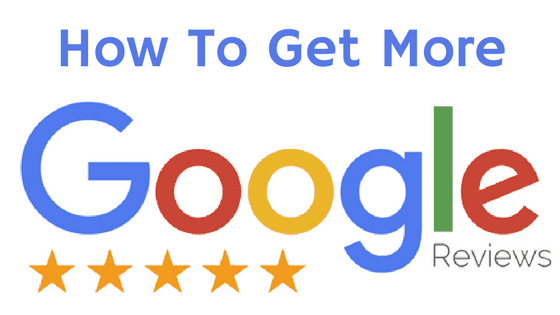 How to Get More Google Reviews for Your Business
As the internet becomes more and more a part of each of our lives the more important it is that your business has an online presence. Many customers will search online for a trusted company; it doesn't matter if you're a dentist or a pet groomer,  having an impressive online presence is vital if you want to capitalize on acquiring these customers.
A big part of gaining new customers to a business is word-of-mouth marketing, and having happy customers say good things about you online is a big trust factor! Since Google is the largest search engine in the world, having positive Google reviews can really impact your business online. Also learning how to flag inappropriate Google reviews is important which we cover in another post.
The rest of this post we will explain why Google Business reviews are important and how you can get more.

Why Google Reviews Are Important For Your Business
More Visibility in Google Searches
Although any online review is a good start, Google Business reviews specifically can be very powerful.
When customers leave positive reviews of your business on Google, over time your business can receive better visibility when people search for your service or product. Lots of Search Engine Optimization (SEO) experts work their tails off trying to crack the Google algorithm to get websites to rank better in search results, and gaining Google Review can help fast-track your business to the top.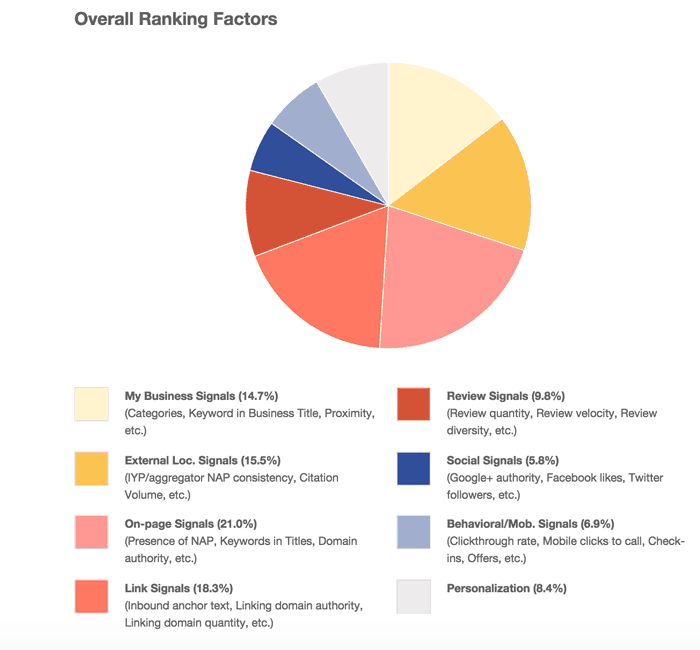 In fact, the above diagram by Moz shows that Google reviews account for almost 10% of your Google ranking chances. This study also mentions that review sites like Yelp, YellowPages, and others provide link and location signals that also greatly improve the chances of your business showing up in local search results.
How Review Sites Improve Business Visibility on Google
10% – Reviews impact on your Google local ranking chances
15% – External location signals impact on your Google local ranking chances
18% – Link signals impact on your Google local ranking chances
Builds Trust With Potential Customers
As we mentioned earlier, word-of-mouth is very important to a business's success. When someone searches for a company or service provider, they want to see the positive experiences that Patty Q., John F., and Jezebel W. had while working with them.
These past customers may mention things like how efficient your communication was or just how much they enjoyed their overall experience. Seeing real people vouch for you allows potential customers to get a feel for what it would be like to work with, buy a product from, or book you.
Social proof builds trust with those potential customers who are comparing options. Did you know 84% of people trust online reviews just as much as a personal recommendation from a friend?
Think about it: If your office had a 4.5-star rating and plenty of positive reviews, and another competing company had a couple of mediocre reviews, who do you think the customer will pick? You, of course.

Tips For Asking Customers For Google Business Reviews
Now that you know just how important Google Reviews are, you may be wondering how to to get them.
The number one tip for getting Google Reviews is easier than you might think.
Have to ask – Yep, it's that simple. 70% of people will leave a review when asked.
Ask when your customer is the happiest. This may seem like a no-brainer, but a customer is much more likely to praise your business when he or she is still extremely happy with the experience. A happy customer may not leave such a great review weeks after the service is done. Don't let a beaming customer slip away without kindly asking them to leave a review.
Don't ask for 5 stars, just ask for feedback. No one likes being told what to do, and if you're begging for a 5-star review, you could leave a bad taste in your customer's mouth. Instead, tell customers you would really appreciate it if they could leave some feedback on their experience. They will feel much more inclined to compliment you in their own words and they won't feel forced, which could lead to negative reviews.
Explain how reviews benefit them. Although reviews benefit you, the business, they also benefit the customer. Tell customers how their review can help you improve their experience next time around.
Ways To Get People To Your Google Business Page
So now that you know how much Google Reviews matter and you've brushed off the nerves about asking customers to leave a review, there's only one part left to skyrocketing your online visibility.
You've got to get those people to your Google Business Page! They can't leave you a review if they don't know how to do it. Here are some great ways to help bring people right to where you want them: your Google Business Page.
Email Method
When to use it:  After appointments, service, or annually
How often: After each appointment, service, or annually
How to do it: The best way to use the email method for getting Google Reviews is to use an online review management service like Broadly. Broadly sends a follow-up email asking how the customer's experience was, then the good reviews are pushed to your Google Business Page so it can appear there. The bad reviews are sent to your customer service department so you can help resolve them. A bonus is this system is automated, so you save tons of time.

Direct URL Method
When to use it: With any printed materials such as invoices, direct mailers, business cards, etc.
How often: After each appointment, service, or annually
How to do it: You will want to create a direct URL for your customers to go to. Google has all the steps to do so right here. Once you've created that unique link, you will want to shorten it to make it easier for customers to use it. Just copy and paste it in the designated space here, and it will automatically shorten. Using the Google link shortener also gives you insight as to how many times your link was clicked.
Review Page On Your Website
When to use it: It's always there for your customers to leave a review.
How often: This is up to the customers when they want to use it, but having a place is helpful.
How to do it: To give customers the option to leave a review whenever they want, simply create a new page on your website listing all the places you would like to receive reviews. Popular options include Yelp profile, Facebook, and Google. Just make sure the links to the review pages are as direct as possible—you don't want your customer clicking the link then aimlessly trying to find the place where they can leave a review. Link directly to the page where they can leave the review. You want to make it as easy as possible to receive feedback!
How to Link Directly To Your Google Business Page
With all this advice suggesting you link to your Google Business Page, you may be curious as to how exactly to do that. Here are the steps for you to grab your Google Business Page link for people to leave reviews.
Step 1. Google your company name
You will see your company pop up on the right-hand side.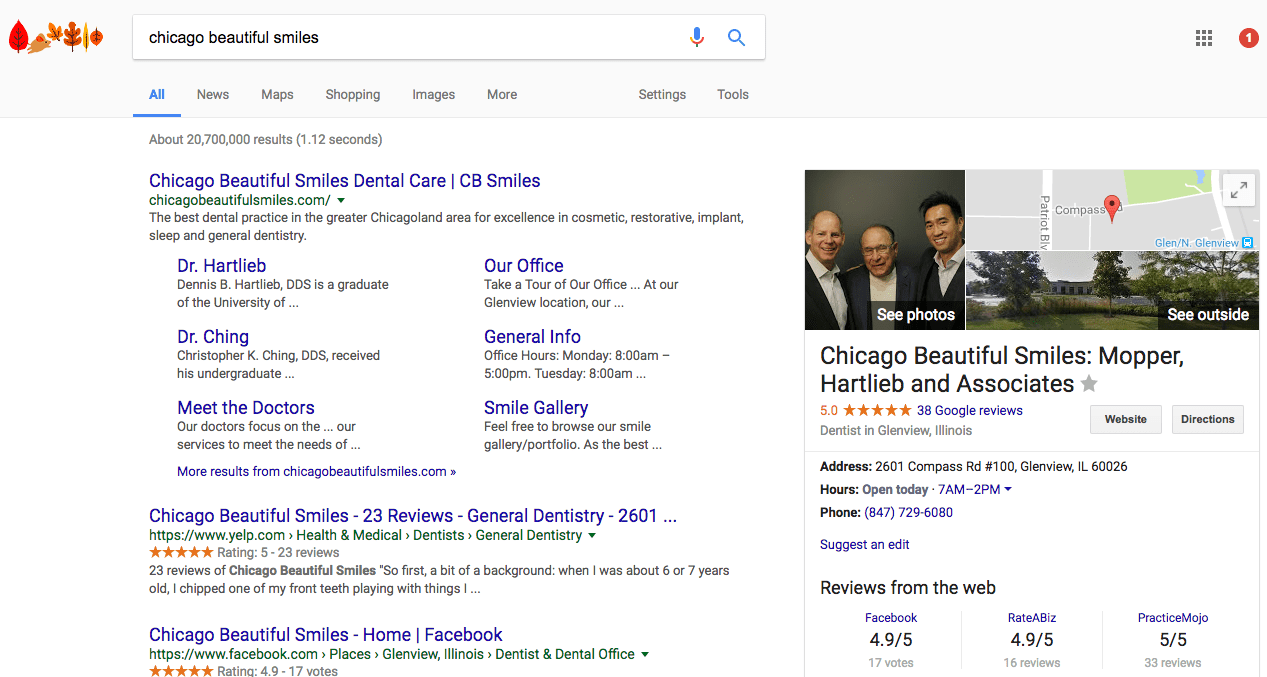 2. Click "Write a Review" Button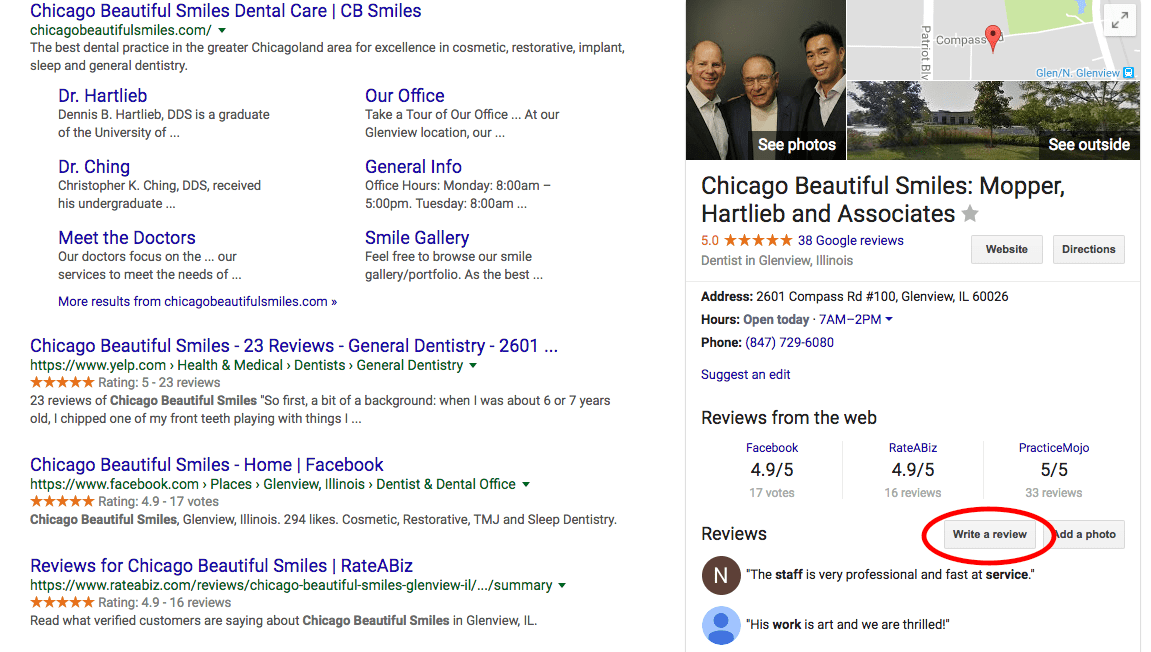 3. Copy the URL that appears
Upon clicking "Write a Review," a Google review box will appear. Copy the URL from that page's address bar.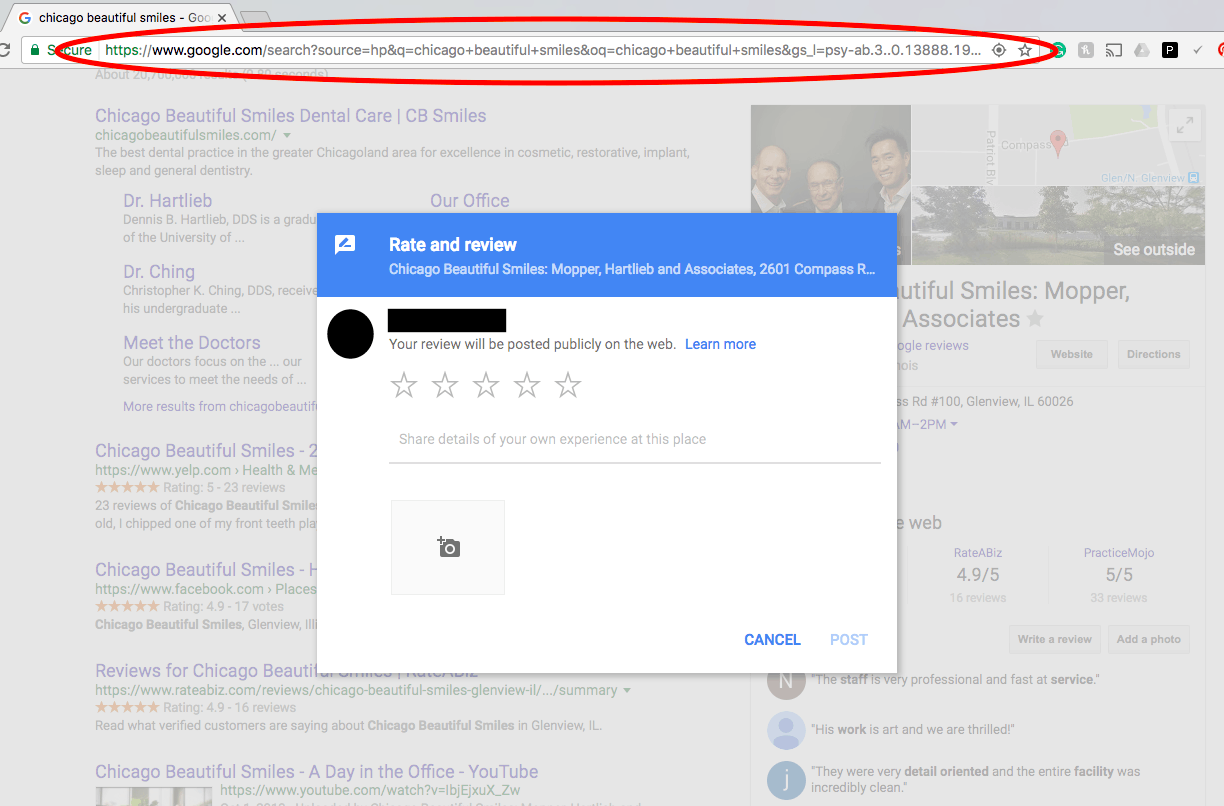 4. Setting URL for 5 Star Review
Now, the URL you have should be very long and confusing!
Ending with something that looks like the following
,3,,
The only thing we are concerned with is that final number 3 and the commas surrounding it. The 3 is the part that prompts the review box to open. If you replace the 3 with a 1, for example, it will instead open a pop-up window that shows all your reviews. But what we want to do is leave the 3 there, then add a 5 in between those last two commas like this:
,3,5,
Now, not only will the review box pop up, but the stars will automatically start at 5 stars. This makes it super easy for customers to rate you as high as possible!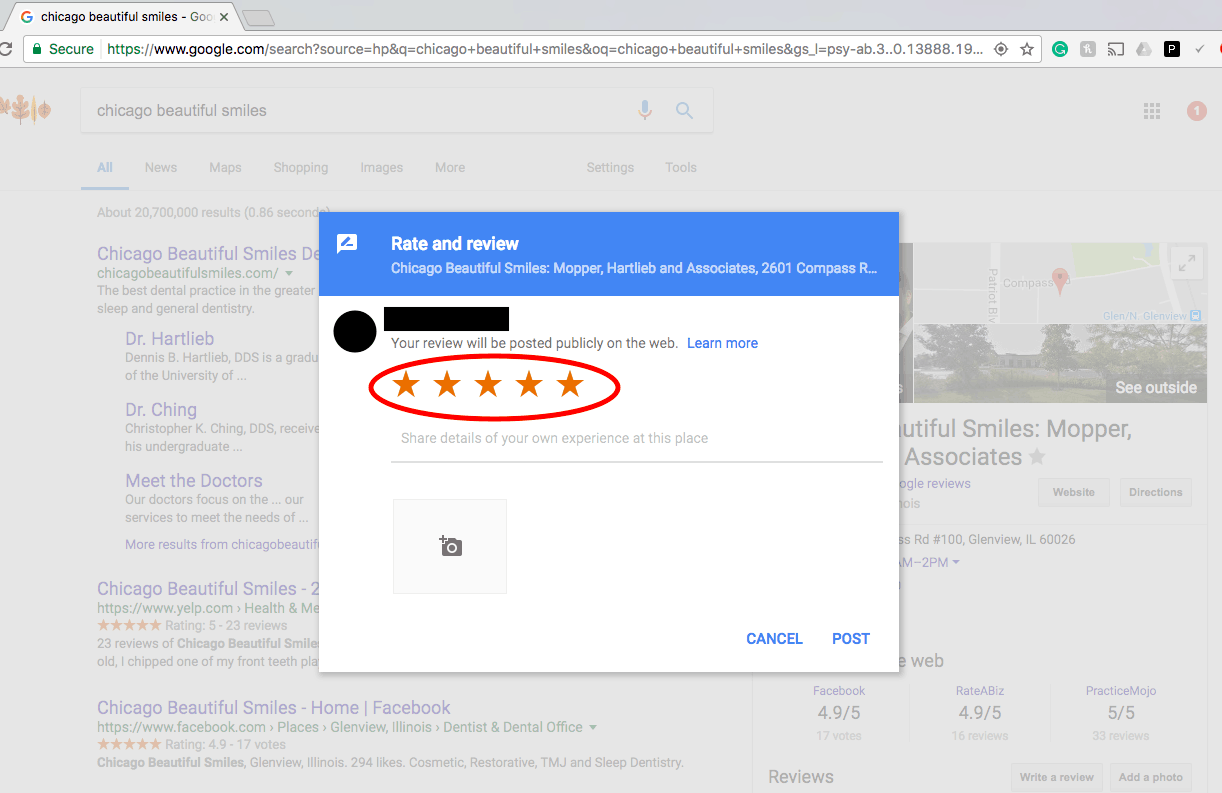 5. Shorten the URL
As you may have noticed, the URL you get is pretty long. To clean this up a bit, just follow the steps in the Direct URL method above, where you enter the long URL into Google's link shortener, https://goo.gl/. Once you get your nice little URL, you are ready to start sending it to clients!
Ready to Get More Google Reviews?
The strategies outlined above are some of the top ways you can start getting more reviews online. Especially if you use an online review management software like Broadly, you can automate the process and minimize your to-do list. Since Broadly alerts you of unhappy customers and automates email sending, you will have more time to do what you do best—whatever it is that may be.