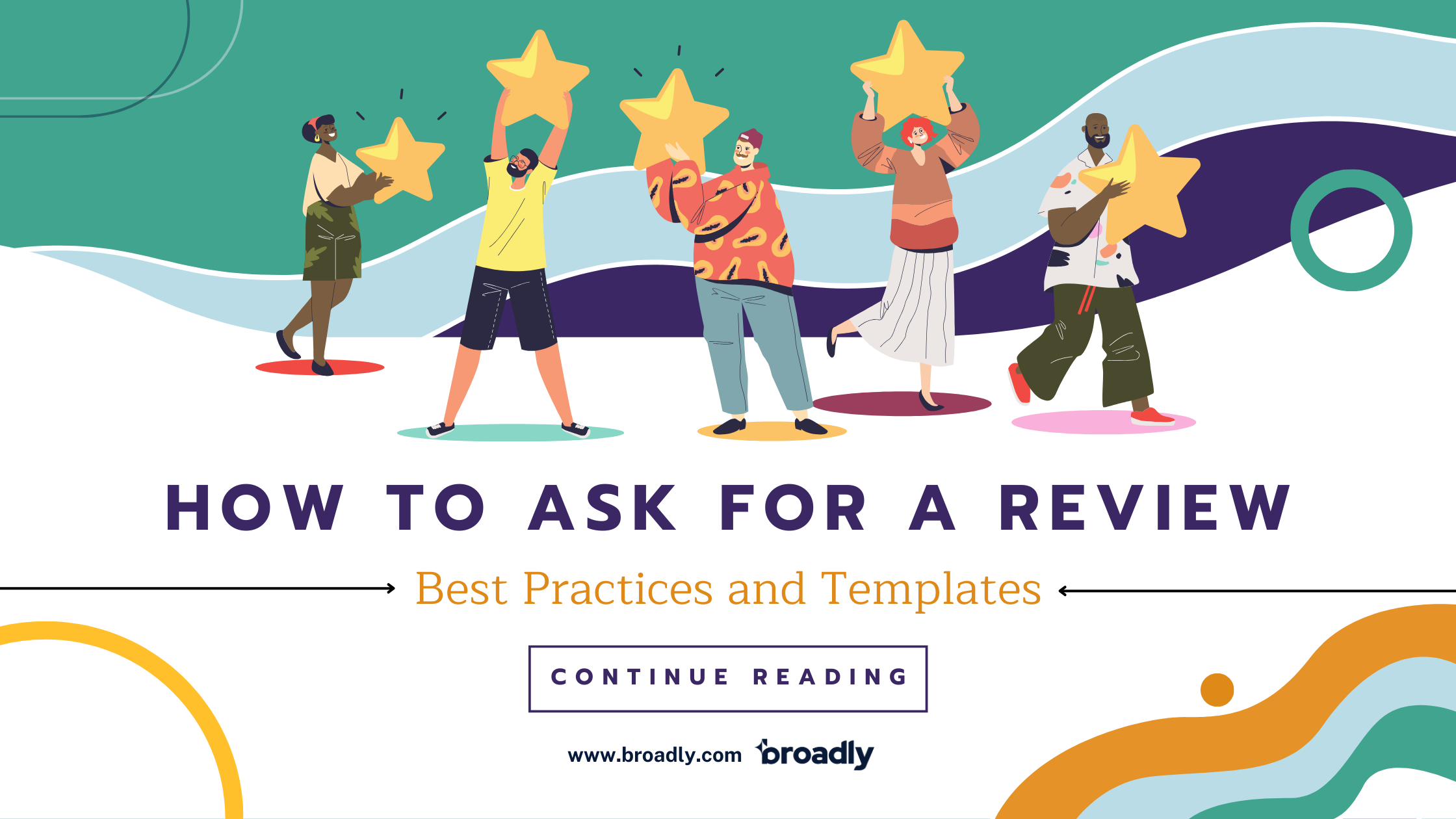 How to Ask for a Review: Best Practices and Templates
Learning how to ask for a review is an essential skill that's critical for long-term business success. Businesses looking to attract new customers through influential platforms such as Google, Facebook, and Yelp need to practice the art of asking for reviews.
We're here to help with tips on how to ask for customer reviews. Plus, using our review request email templates to follow up with happy customers can help you secure compelling testimonials. 
Catch the eye of potential customers and boost your conversion rates across relevant social media channels and review sites.
Dive in — Table of contents:
See what Broadly can do for your business in just 30 days
How Reviews Drive Business
Generating buzz about your products and services via online review platforms is an important part of any effective marketing strategy, even for local small businesses. After all, nearly all customers (87%) say they check out reviews.
Here are ways positive reviews empower businesses and marketers to drive growth:
You can identify promoters: These are super fans who conduct word-of-mouth outreach on behalf of a given company, helping to increase overall Net Promoter Scores (NPS), which​​ ask how likely the customer is to recommend your business to friends or family on a scale from one to 10.
You can attract new customers: By offering the social proof today's information-hungry customers seek before committing to a new product or service for the first time.
Build your online reputation: Positive ratings serve to build credibility for first-time customers.
How to Ask for Online Reviews: Tips for Success
With as many as 47% percent of customers saying they post reviews as frequently as once a month, you want to snag those important reviews for your company as a small business owner. 
When is the best time to ask for a review?
Looking to get more positive reviews and wondering when to ask a happy customer to leave a review? The ideal time to ask is soon after a customer has made a purchase and has had a positive customer experience with the product or service.
For companies offering products: Ask within one to two weeks of when a customer has had a chance to use the product.
For service businesses: Ask right after performing the service.
How do you politely ask for customer feedback?
There is a certain finesse to asking for reviews that can increase your chances of receiving more reviews and future happy customers. Follow these suggestions to ensure successful review requests.
Ask for feedback first, so you can help if they have had a poor customer experience. 
Asking for customer feedback instead of a review can be much less intimidating for the customer. It shows you care about their experience. If they are unhappy about their customer experience, you have the chance to resolve any issues first before they post a poor review. 
Explain the benefits of customer reviews to your small business and potential customers.
When satisfied customers take the time to verbally thank you for a great service or product, follow up and explain that by sharing their customer experience via Google review, Yelp review or on Facebook, they can help potential customers find the right product or service — and help you grow your small business.
How to Ask for Reviews in Person
Asking for feedback in person can feel intimidating, and it takes a bit of nuance to get it right. It's all about genuinely connecting with your customers and making the act of leaving feedback as natural a process as possible. Here are some practical tips to help you get started asking for reviews in person.
Choose the Right Moment
Pick a moment when your customer is genuinely happy with your product or service. It could be right after a successful transaction or when they express their satisfaction in passing as they stop by on another occasion.
Be Friendly and Polite
Approach them with a smile and a warm thank-you for choosing your business. Politely ask if they'd be willing to share their feedback.
Offer Clear Instructions
If they agree to leave a review, make it as easy as possible for them to do so. Provide clear, simple instructions on how to do it. Consider giving them a card with review platform links they can follow, or have on hand a QR code that directly sends them to your preferred review platform.
Consider Incentives (Optional)
Some businesses offer little incentives like discounts or freebies to customers who leave reviews in person. Just make sure you're following ethical guidelines and reviewing platform policies.
Follow Up with Gratitude
After they've left a review, send a thank-you message. This not only shows your appreciation but also strengthens your connection with them.
Remove Yourself Entirely from the Process
Sometimes the best strategy is to let customers do it themselves. Sometimes patrons don't have the time to talk or respond poorly to being approached about leaving feedback. One way you can circumvent this is by strategically placing review request posters, stickers, or other signage around your establishment. That way, customers can scan the QR code on your sign and leave a review without having to talk to a human while browsing clothes in your boutique, eating a meal in a restaurant, or waiting for their hair to dry at the salon.
Remember, the key is to keep the process natural, hassle-free, and respectful of your customers' time.
Related Topics:
How to Ask for Reviews on Social Media
Leveraging social media for reviews can be a game-changer for your business. Here's how to request reviews effectively on the platforms you already utilize:
Choose the Right Platforms
Are you noticing your loyal customers engaging with your brand more often on Facebook than on TikTok? Identify where your target audience hangs out most on social media and concentrate on collecting review requests on those platforms. That way, you can prevent yourself from being stretched too thin.
Craft Engaging Posts
Create visually appealing posts with persuasive language that encourages users to leave reviews. Follow those up with eye-catching visuals, such as short, well-edited videos. 
Hashtags Matter
Incorporate relevant hashtags to increase the visibility of your review requests. Research popular hashtags in your industry for even better reach.
Here are some example hashtags you can try in your social media posts:
#ReviewUs: A straightforward hashtag that encourages users to leave reviews for your business.
#FeedbackFriday: A great option for Fridays when you want to encourage customers to provide feedback.
#CustomerFeedback: Use this hashtag to signal that you're interested in hearing from your customers.
#LeaveAReview: A clear call to action for your followers to leave reviews.
#TestimonialTuesday: A catchy hashtag for Tuesdays when you want to highlight customer testimonials.
#RateUs: Encourage users to rate your products or services with this hashtag.
#ShareYourExperience: A warm and inviting hashtag to prompt customers to share their experiences with your services or products.
#TellUsWhatYouThink: Make it personal and encourage customers to share their thoughts and reviews.
#ReviewRequest: Use this to let your followers know that you're actively seeking reviews.
#CustomerLove: Show your appreciation for your customers and encourage them to reciprocate with reviews.
#HappyCustomers: Highlight the positive experiences of your customers who have left reviews.
#YourFeedbackMatters: Emphasize how important customer feedback is to you and how you want your customers' voices to be heard.
#ThankfulThursday: Express gratitude for your customers and encourage them to leave reviews on Thursdays.
#ReviewChallenge: Turn leaving reviews into a fun challenge for your followers.
#ReviewRewards: Promote any rewards or incentives you offer for leaving reviews.
Share Positive Reviews
Showcase the positive reviews you've received on your social media accounts. It not only highlights customer satisfaction and shows your gratitude for their business, but also inspires others to leave reviews of their own.
Engage with Responders
Respond promptly and appreciatively to customers who leave reviews on social media. It shows you value their input and encourages more participation.
Consider Contests (Optional)
Contests or giveaways tied to review submissions can be effective options for quickly collecting a large number of reviews. Just make sure they comply with the platform rules.
How to Ask for Reviews via Text
Text messaging is a direct and convenient way to ask your customers for reviews. Here's how to do it naturally:
First, Ask Permission
Always make sure you have your customer's consent before you contact them via text for review requests. Each text you send should also mention how the customer can opt out of text messages at any time.
Keep It Simple
Craft a friendly and concise text that expresses your gratitude for their business and kindly asks for a review.
Include Review Links
Provide direct links to review platforms like Google or Facebook to make it effortless for customers to leave a review.
Personalize Messages
Whenever possible, add a personal touch by using the customer's name. It makes the message feel more human. You can set up templates with autofill sections to take some of the gruntwork out of this task.
Show Gratitude
After they agree to leave a review, follow up with a thank-you message once the review is posted. It shows your appreciation and maintains a positive connection.
Related Topics:
What to Avoid When Asking for Reviews
While gathering reviews is important, it's essential to do it ethically and organically. Here's what to steer clear of:
No Incentives for Fake Reviews
Avoid offering incentives for fake or dishonest reviews. Platforms like Google and Yelp strictly prohibit this.
Avoid Pressure and Spam
Don't pressure or spam customers with multiple review requests. Respect their choices and privacy.
Keep It Positive
Refrain from using negative language or being confrontational when requesting reviews. Keep the tone positive and appreciative.
Never Buy Reviews
Stay away from buying reviews or engaging in unethical practices to boost your review count. Rather than helping, it can damage your reputation instead. Platforms and users alike employ review scanners to detect the legitimacy of feedback left on review sites.
No Fake Reviews
Never post fake reviews about your own business or leave damaging reviews on your competition's listings. Partaking in these types of activities can lead to temporary or permanent account suspension, and your business reputation could be caught in the crossfire.
By following these guidelines and avoiding these pitfalls, you can collect reviews that genuinely reflect your business's quality and reputation while maintaining a natural and respectful approach.
How to Ask for Reviews Over Email: Best Practices
While some customers may take the initiative to write reviews about your company on their own, you can help inspire potential submissions by emailing review requests to your customers directly. 
Before messaging your customers, it's important to keep these best practices for crafting an email that requests a review in mind:
Personalize the email: Address your customer by first name, and sign off by including the first name of the customer support team member who is reaching out.
Make it easy for the customer: Include a link to the page you're requesting a review for, such as Google or Facebook.
Keep the email short: You don't want to overwhelm your customer with a lengthy request.
Review Request Email Templates for Google, Facebook, and Yelp
Below are simple review-request email templates that you can use to send to your customers. 
These templates should help you avoid negative reviews altogether by generating positive buzz about your business right from the start. Be sure to tweak these templates as needed to better reflect your business.
How to ask for Google reviews
Did you know that 59% of customers go to Google to read reviews and view it as a trusted authority? That's where you want to start to build a stellar online reputation.
If you have a Google My Business Page (and you should), you should be seeking out Google reviews. Google reviews increase your visibility when people search for your services or products via Google and can also help improve your local SEO.
Here's an example of a review request email template you can use as a guide and send to a customer via email or text message:
Subject line: Share your customer feedback

Dear [CUSTOMER'S NAME]

We want to thank you for your business and are committed to delivering the highest quality to our customers. In today's digital world, online reviews are very important to companies like ours. 

Will you take a moment of your time to jot down some feedback on our Google Business Page <insert direct URL>? It's a quick and easy way for you to make a difference.

Please feel free to give us a call should you have immediate feedback or concerns about your [product or service purchased]. We want to hear from you and are happy to answer your questions.

Thank you for your time and business!

[YOUR FIRST NAME]

[BUSINESS NAME]

[PHONE NUMBER]
Don't forget to check out this resource to create a Google review link!
How to Ask for a Facebook Review
Facebook is a powerful avenue for small businesses to gather online reviews because 1.84 billion people already log in to the site every single day. Most customers have a personal Facebook account, and this makes the task of getting reviewed easier. Roughly two out of three Facebook users check out a local business page at least once a week.
If your company wants to generate more Facebook reviews, use this review request template to grow your social media reputation.
Subject line: Will you write us a Facebook business review?

Hi [CUSTOMER'S NAME],

Thank you for choosing [business name]. Would you be willing to write us a Facebook review? It should only take a couple of minutes and would make an immense difference to our company.

If you are willing, you can follow [this link] to submit your Facebook review.

Please let me know if you are not pleased with [product or service], and we can speak about it personally so your customer feedback is heard.

Thank you again for your business and your time!

Best regards,

[YOUR NAME]

[BUSINESS NAME]

[PHONE NUMBER]
How to Ask for a Yelp Review
Ninety-two percent of customers visiting Yelp are already loyal; they are looking for a business they can return to. That means if you get your fair share of positive reviews on Yelp, your business is set up for success.
Regardless of whether you work for an eCommerce website or restaurant or are a lawyer, consultant, or contractor, your company can greatly benefit from generating positive Yelp reviews. 
However, Yelp's review policy clearly states, "Don't ask customers, mailing list subscribers, friends, family, or anyone else to review your business." 
While you can't ask for reviews directly, you can provide a link to your Yelp profile page in an email as a follow-up after a recent purchase and nudge the customer in the right direction. (And if you're wondering why Yelp filters some reviews, check out this post, which explains what you can do about it.)
Hi [CUSTOMER'S NAME],

I see you've recently visited our establishment, [business name]. I wanted to follow up with you to check in on your experience. Did you enjoy everything?

We are committed to providing our customers with a fantastic experience, and your feedback helps us make that possible.

LINK TO YELP PROFILE

Thank you for your time,

[YOUR FIRST NAME]

[BUSINESS NAME]

[PHONE NUMBER]
When using these review request templates, be sure to adapt them and use your company's voice. Good luck with your outreach and with getting new online reviews!
How Broadly Can Help You Get More Reviews?
We work with small local businesses to help you get more reviews through automation. Our products can also help you better communicate with your team and your customers or revamp your website—so you can focus on running your business.
See what Broadly can do for your business in just 30 days
Related Reading:
This article was updated on September 25th, 2023.