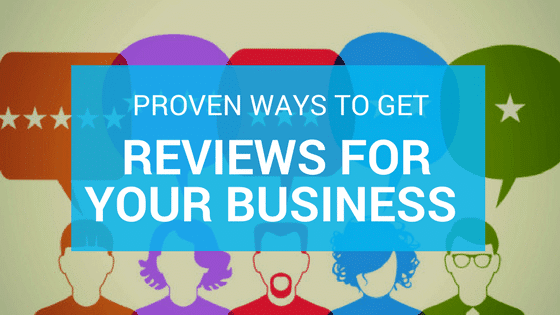 Get more online reviews for your business
Online reviews are critical for local business success, no matter your business size or industry. As more consumers than ever do their own online research before making a purchase, reviews from other customers are often one of the first things they look at — in fact, 84% of people trust online reviews as much as personal recommendations.
Many online platforms, such as Google reviews, Facebook and Yelp, offer the ability for your customers to share their experience with you as the business owner. These reviews also provide feedback to help potential customers decide whether to purchase from your business.
Overall, there are many ways that online reviews and rankings can help your business grow — let's look at how you can make them work for your business.
In this article, we'll review the following keys to online review management success:
Why online reviews are essential for your business
How to request online reviews
Wrong ways to ask for reviews
See what Broadly can do for your business in just 30 days
Why online reviews are important for your business
According to social media expert Brian Solis, online reviews are critical for your business in today's changing world:
"Welcome to a new era of marketing and service in which your brand is defined by those who experience it." 
You know reviews are critical — but you may also struggle with the same challenge as many other business owners: How do you start building an online review generation process?
How do you get your customers to review your business?
If you're uncertain about how to get your customers to review your business, you're not alone. But don't worry, it doesn't have to be complicated.
To get started, use these tips to start building your online review process.
Ask your customers to leave a review
While this sounds self-explanatory, an impressive seven out of ten customers will leave a review if you just ask them!
As long as you are tactful and they don't feel pressured, asking for a review is an easy way to kick off your online review generation efforts. By letting your customers know that their opinion is helpful to you and potential future customers, you confirm that you genuinely value their feedback.
Ask for a review when they are happiest
Customers are usually most enthusiastic right after a purchase or service is complete. Because of this, it's best to strike when the iron is hot and ask for the review right away to take full advantage of your happy customer's experience.
To get the most from your online reviews and help prevent negative reviews before they are left, it's best to check in with a customer about their experience to resolve concerns before sending them to one of your review sites.
If they had a negative customer experience, follow up immediately and try to rectify the issue. Don't be afraid of bad customer feedback! A customer who had a negative experience addressed by the business will often express a greater level of customer satisfaction than a customer who had a positive experience up front.
Explain how reviews benefit them
As a business owner, you know it's key to ensure your customers know appreciate them. By asking for their review, you can further express how much you value their feedback.
Using online reviews to seed your company's improvement process can be done by addressing customer pain points or further expanding on positive themes. Ultimately, your customers will see themselves as a trusted partner to help improve your company and make their next experience even better.
How to ask for online reviews
There's no denying how vital online business reviews are, but how do you actually get them? You can use several tactics you can use, ranging from direct one-on-one to more scalable options. Read on for some of our best tips.
Include a review request on your receipts or invoices
At the end of any sale or service process, your business will generate a receipt or invoice for your customer. Take advantage of this existing opportunity and ask your customer to leave a review.
Many invoicing and point-of-sale systems include the option to include this type of call-to-action, which can help funnel customers right to your review platforms. Review templates can be helpful for you to find the perfect language if you're not sure what to write.
Reach out to repeat customers
Your repeat customers can be a goldmine for positive reviews. It's always a best practice to reach out to them, as you know they are already loyal to your brand.
It's critical to remember that just because they like your service doesn't mean that they have already written a review. Politely remind them that prospective customers would love to hear about the experiences of returning customers.
Have a review page on your site
Once customers visit your website, it's a good idea to take advantage and have a page easily available for them to click on review links.
To make it as frictionless as possible for a customer to leave you a review, you can add the icon to the footer of your website that leads them to a page featuring reviews and details on leaving a review. Provide instructions on leaving a review and leave links to the review pages that you'd like them to use.
Ask your newsletter recipients
Your business may have an email newsletter or mailing list that you use to communicate with your customers. Within a promotion or company newsletter, you can include a review request.
It is a best practice to pre-screen your review requests with a quick survey, allowing you to proactively address concerns from dissatisfied customers before they leave a review. Broadly's software automates this and makes it seamless.
Run a retargeting campaign
In a digital world, you likely have a customer relationship management (CRM) system or email addresses for your customers who have purchased. You can use this information to create a retargeting campaign through your Google Business Profile or your Facebook page.
Using your customer data list, you can target those customers directly and request that they leave a review on a platform they are already using.
Get their attention with a postcard
If you are already using a postal mailing list for periodic coupons or birthday cards, you can use this same approach to request a review. A QR code is a simple and easy way to add a quick link to your review process on an existing piece of marketing material.
With many businesses shifting to online marketing outlets, such as email or digital advertising, using a postal mail piece can be a pattern-breaker and get people's attention.
Make your email signature work for you
Depending on your product or service, you are likely already sending emails to your clients or customers. A simple and effective way to consistently ask for reviews with no effort is to include a request link in your email signature. This can be extremely beneficial if you're sending a personalized thank you or follow-up email post-purchase.
Request from your callers
Any time your company representatives end a customer service call, they can use the opportunity to ask for a review. Especially with positive customers, this can be a quick and direct ask to have them share their feedback.
You may end the call with something along these lines: "We hope you enjoyed your experience with our company. If you'd like to share your feedback, please leave a review!" As noted above, this is where having a review link on your website can be extremely handy and make it easy for customers to follow through.
Send requests through live chat
Like phone calls, customer service chats are also an opportunity for a request for a review. This can be a rating request, or you can include the link to your review page on your website to simplify the process.
Search for mentions
Mining social media can be an easy way to solicit new reviews and is relatively easy on many platforms.
For example, on Twitter, you can search for mentions of your business, looking for customers sharing their experiences or photos from your company. If you see positive sentiments shared, you can reply directly with a tweet requesting they leave you a review.
Depending on your business's location and clientele, this can be a very effective strategy to handpick customers you already know are satisfied with your service. Customers often respond positively to engagement by the business, increasing the likelihood they'll leave good reviews.
Do not offer incentives for online reviews
While trying to incentivize customer reviews through loyalty programs or punch cards can be tempting, this is not recommended. Depending on how you compensate your customers, it may actually be illegal under U.S. federal and state fair advertising practices. Depending on your industry, there may also be federal- or state-level industry associations that have trade practices governing reviews.
In the U.S., the Federal Trade Commission (FTC) doesn't look kindly on businesses that misrepresent or suppress reviews. In one recent case, the FTC levied a $4.2 million fine against an online retailer for suppressing reviews that were less than four stars.
Incentivizing false reviews can also jeopardize your ability to sell online. Review websites such as Google, Yelp and TripAdvisor penalize companies that reward reviews. Some of them even limit your ability to use their platforms.
While it can be tempting, there are a lot of pitfalls to collecting false or embellished reviews. A better best practice is to collect authentic reviews from happy customers, keeping you in compliance and good standing with all your stakeholders.
Don't buy reviews
While it seems intuitive that genuine reviews are the key to success, many business owners wonder if they should buy reviews. The answer? Definitely not.
Many review sites, including Google, are extremely advanced and have systems in place to determine if a review is legitimate. It can assess whether the reviewer seems like someone who would visit your business or if it's from someone who has been paid for a review. Other sites, like Yelp, use on-site education to curb behavior it determines to be below the board.
Even if you think you might be able to pull it off and pad your numbers, it may not be worth it — most review sites penalize you for fraudulent reviews and may even ban you from the platform. Ultimately, even if the review platform doesn't catch it, the average customer is savvy and will likely have a strong gut instinct about whether a review is authentic.
Don't spam customers for reviews
What about actual customers who would leave a review but forget to do so? It's critical not to spam them with review requests. Many customers will review your business after a sale or service or when you ask them to.
Repeatedly asking for reviews can turn customers off, so it's a best practice to space out reminders. If you do request more than once, it's a good idea to use a mix of direct and indirect reminders, such as in an email signature or your newsletter, to give a friendly nudge to a customer with good intentions without annoying them.
Manage online reviews with Broadly
It's clear there are significant benefits to generating online reviews for your business. They are a great way to attract new customers, establish brand loyalty and encourage repeat purchases.
While receiving a few negative reviews is an inevitable part of doing business in a digital world, the more important aspect is to have a plan to consistently earn positive reviews. Broadly's review management software will help you develop an online review generation process to drive a solid online reputation.
See what Broadly can do for your business in just 30 days