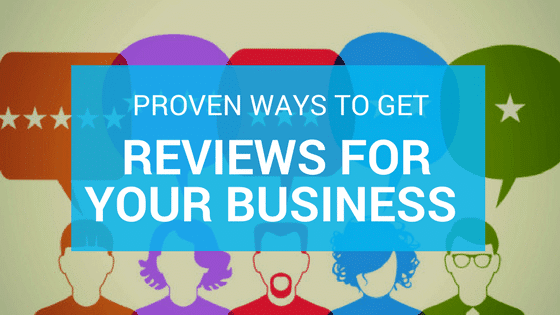 Get More Online Reviews For Your Business
For a lot of local businesses, online reviews are the first thing that potential customers look at. In fact, 84% of people trust online reviews as much as a personal recommendation.
Review sites (like Google, Yelp, and Facebook) provide a place for your customers to tell you about their overall experience. These reviews also provide testimonials for future visitors to read, evaluate, and decide whether or not they'll work with your company.
Simply put, there are many reasons why online reviews and ratings will help your business grow, so let's take a look at how you can make them work for you.
In this post we are going to go over the following:
How to ask for reviews
Where to request online reviews
Wrong ways to ask for reviews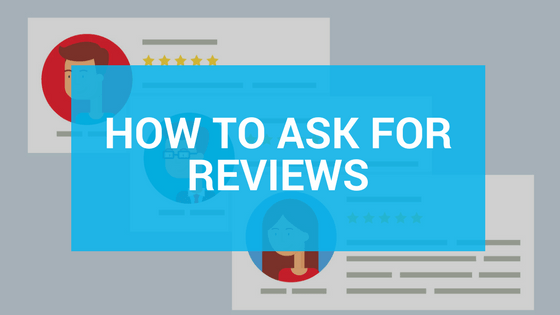 How To Ask For Online Reviews
Social media expert, Brian Solis had this to say about the importance of reviews:
"Welcome to a new era of marketing and service in which your brand is defined by those who experience it." Many business owners struggle with one thing: they don't know how to ask for reviews from their clientele."
How do you start getting your customers to review your business?
You are not alone, this is a question that many business owners have. Don't worry, it doesn't have to be complicated.
Start with these 3 tips to ask customers for online reviews properly:
Ask your customers to leave a review
Ask for a review  when they are happiest
Explain How Reviews  Benefit Them
You Have To Ask For The Review
It turns out that seven out of ten customers will leave a review if you just ask them! As long as you are tactful and they don't feel pressure, asking for a review shouldn't cause an issue. Let them know that their opinion is important to you so that they feel valued.
Ask Them When They Are Happiest
Customers are usually happiest as soon as the service you provided is complete. This is one of those situations where it's best to "strike when the iron is hot." As time passes, your customers forget about your service and become less excited to leave a review.
Before requesting a customer to leave a review be sure to check with them to see how their experience was.
If they had a negative experience follow up with them immediately to see if you can resolve the issue, and turn the negative sentiment into a positive review.
Once you know they had a good experience, ask them to leave a review on review sites like Google, Yelp or Facebook.
Explain How Reviews  Benefit Them
Help your customers understand that you truly value their feedback and that leaving a review is an opportunity for them to improve your company.
All of these reviews allow you to do a better job for your customer the next time.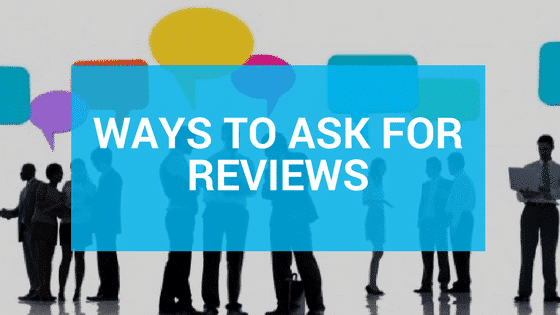 Where To Ask For Online Reviews
Alright, now let's discuss a few tactful strategies on how to get reviews from your customers. Some of these strategies are more personal while others are more scalable.
Request to Review in Your Invoicing
If you want to get paid, you likely have an invoicing process.
When you send out an invoice, consider asking your client to review your services at that time. If their experience was positive you can direct them to leave a review on a site like Google or Facebook.
It's as simple as adding a field to your invoice that says something like: "How are we doing?"
Adding this call-to-action funnels customer reviews to a specific place, allowing you to push customers to the credible review sites.
Reach Out to Repeat Customers
The repeat customers that regularly come to you for a service can be a goldmine for positive reviews. It's always a good idea to reach out to these customers first because they are already loyal to your brand.
It's important to remember that just because they like your service doesn't mean that they've already written your business a review, so nudge them in the right direction.
Have A Review Page On Your Site
You can take advantage of the visitors your website already has by adding a review request page or footer to your site.
To do this, you can simply add a review icon to the footer of your website that leads them to a page where they can leave a review of your company. You can provide instructions on how to leave a review and leave links to the review pages that you'd like them to use.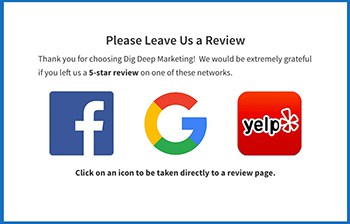 Ask Your Newsletter Recipients
Many businesses have mailing lists set up that will reach out to a customer in order to announce a promotion or company newsletter. In one of these emails, you can ask them for feedback on your company.
We recommend you pre-screen your review requests with a survey; this way, any angry or dissatisfied respondents are screened out. Broadly's software automatically takes care of this for you if you're wondering if someone can help.
Send a Postcard
If your customers are on a mailing list. When you send a postcard with coupons or birthday greets you can also use this same opportunity to request a review. Using a QR code on the postcard can send them directly to the page you would like to receive reviews on.
Again postcards provide a great visual reminder that is easy to remember and is a very effective method of gaining reviews.
Utilize an Email Signature
Another simple method of getting online reviews is to include a request for a review in your email signatures. This is perfect when a customer is receiving a follow-up email after a sale or service has been completed.

Send Requests Through Chat
Sometimes, your customers need help from your reps, and increasingly, many customers are getting this type of help through chat programs built into their websites.
If you have live chat support, have your reps request a rating after the support session has come to a close. This can lead to them being directed to leaving a review of your company on another review website
Phone Call Review Requests
At the end of your customer service calls, your phone reps should ask for a review, especially when you have a satisfied customer. Each call can end with an ask like, "We hope you enjoyed your experience with our company. If you'd like to leave feedback, please leave a review! Link your review pages to your website, and let your customers know they can find the pages there.
Search for Mentions
When your business is mentioned on social media platforms like Twitter, Facebook, or Yelp it is a good opportunity to connect with customers and ask them for a review.
If a customer mentions your salon business on Twitter, this is a great opportunity to ask for a review. If they say something like, "I'm at @(your business) with some friends"  you know they already endorse your business.
Reply to them with something like, "@(customer name) Thanks for your business! We hope you enjoyed your service. Rate your experience with us at (link)."
This engages your customers directly, which has a tendency to encourage them to leave a positive review.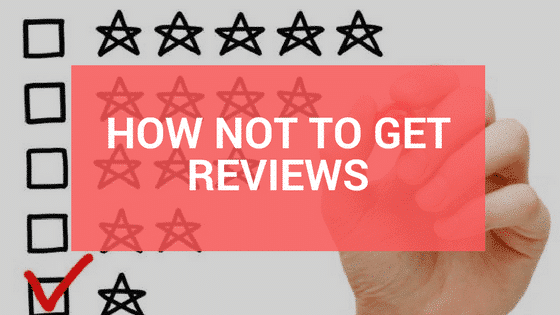 The Wrong Way to Ask for Reviews
Now that we've covered the right way to get and ask for reviews, let's also look at some techniques to avoid when trying to bolster your online reviews.
There is nothing wrong with trying to get more reviews, but doing any of the following strategies can cause your business being kicked off of review sites like Google, Yelp, and Facebook or even get in trouble with the Federal Trade Commission.
Do Not Offer Incentives For Online Reviews
While things like loyalty programs and punch cards are nice incentives for your customers, do not use things like this to bribe customers into leaving positive reviews.
An example of how this can go wrong is in the case of AmeriFreight, a company that offered their reviewers a $50 discount for positive reviews.
The Federal Trade Commission came down pretty hard on this company and didn't say exactly how much they fined AmeriFreight, but your business can be fined up to $16,000 per a violation!
In addition to this, sites such as Google, Yelp, and TripAdvisor discover that reviews are incentivized, each company has a penalty for those reviews and your company.
Don't Buy Reviews
If you should not incentivize real customers for reviews than it should be obvious that you should not buy fake reviews!
Review sites like Google are pretty advanced and have ways of detecting fraudulent behavior when it comes to online reviews. We weary – you can be penalized or even kicked off the site for this behavior!
Google, for instance, will notice if you a specific group of people reviewing your business, and it has algorithms in place that can quickly detect if a review has been paid for. When these paid reviews are detected it can actually hurt the business who purchased them.
Yelp was at the center of a major review-buying scandal, and as a result, they have adopted a very hard-nosed approach to any purchased reviews. When it's detected, Yelp actually employs pop-ups that'll outline the shady behavior and quickly drives potential customers away from your business.
Don't Spam Customers for Reviews
Lastly, nothing will annoy your customers more than spamming them with too many requests to review your business. As a general rule, if they want to review your company, they will when you ask them after the service is completed or after you prompt them to.
Repeatedly asking customers for reviews will only make them more prone to leaving your business with negative or inappropriate reviews. It can take a happy customer and turn them into a sour one if you annoy them.
Final Thoughts
Online reviews are a great way to bring in new customers, establish brand loyalty, and encourage repeat business.
While bad reviews are inevitable, having a plan to consistently gain positive reviews will help you build your business a strong online reputation.
Let Broadly help you get started in getting more online reviews for you today!