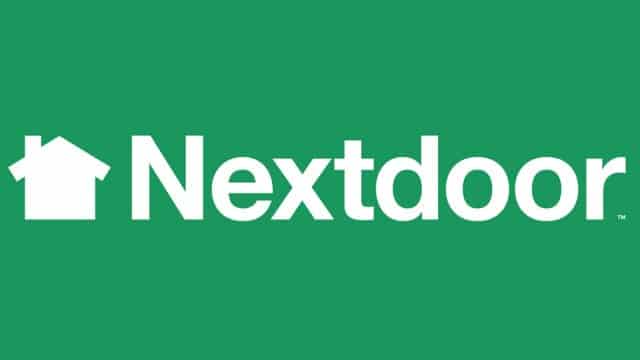 Nextdoor Reviews: How They Can Help Your Small Business
If utilized correctly, Nextdoor could be a great opportunity for your business's growth! Nextdoor is a social network for neighborhoods requires a physical address and confirmation for you to be accepted. Once you're in, you receive updates about just about anything you'd ever want to know about what's going on in and around your neighborhood.
As a small business, your local consumers are your lifeblood. Getting on Nextdoor is a savvy way to reach your neighbors and get them to trust you—especially considering today's consumerism trend of buying local. Even compared to a review service like Yelp, Nextdoor believes there is more power in a recommendation from someone in your community than from a stranger on the internet. This is where Nextdoor's buying power for your business lies.
Steps To Promote Your Business On Nextdoor
Determine if your business will benefit from NextDoor
Claim your business page on Nextdoor
Optimize your Nextdoor business page
Get Nextdoor recommendations
Manage your Nextdoor recommendations
Step 1: Determine If Your Business Will Benefit From Nextdoor
Just like any form of social media or marketing platform, not everything makes sense for everyone. The truth is, certain types of platforms work better for certain industries. The same goes for Nextdoor. Before listing your business on Nextdoor, think about whether or not people would turn to this hyper-local platform to search for your business.
An online marketing business, for example, probably wouldn't fare as well recommendation-wise as an auto shop down the street with great tire prices. Evaluate the audience and determine whether your business would fit into the types of businesses people are recommending. Generally, home service companies such as roofers, cleaning companies lawn services will be pretty popular search queries on the community-focused website. We've also seen great success with car services, medical offices, child-care recommendations, and restaurants, to name a few.
You can see under the "Recommendations" tab here the types of top categories Nextdoor suggests for people to leave recommendations for.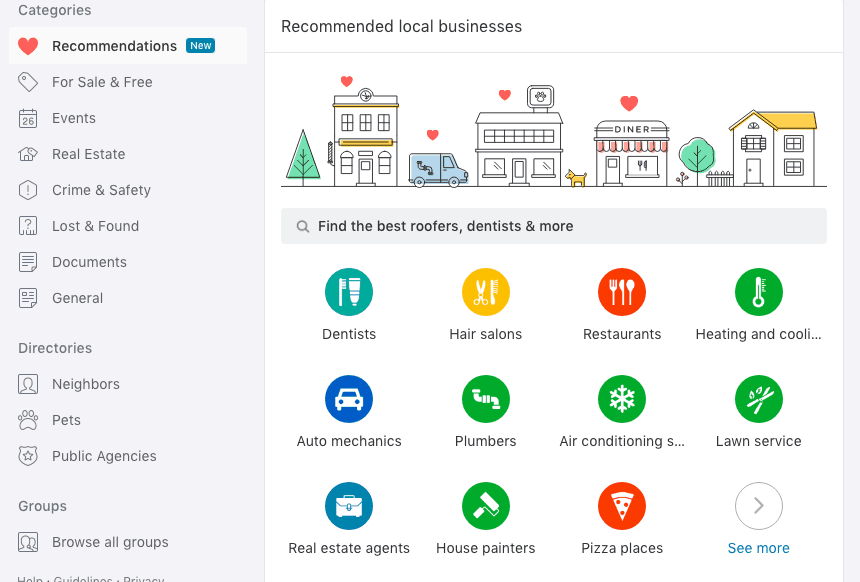 Just below that, you will also see that Nextdoor lists the top three local businesses that have the most recommendations in their categories. Imagine how much more business you could get if you managed to make it to the top three in your industry just by receiving personal recommendations!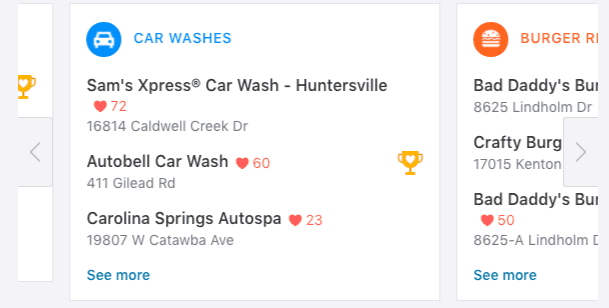 It's safe to say that if you have a locally focused small business, you will do great on Nextdoor. Veterinarians, daycares, etc. will all have a place on Nextdoor recommendations.
Step 2: How To Claim Your Business Page On Nextdoor
If you've decided your business belongs on Nextdoor, your next step to getting visibility is to make sure your business is on there to be seen! There are Nextdoor Local Pages for any individual or business that either sells something or provides a service (that's you).
In order to claim your Local Page on Nextdoor, you must be either the owner, an employee or an authorized member of the company.
Search for your company name in the Nextdoor directory here
When options pop up, click "Claim" next to your company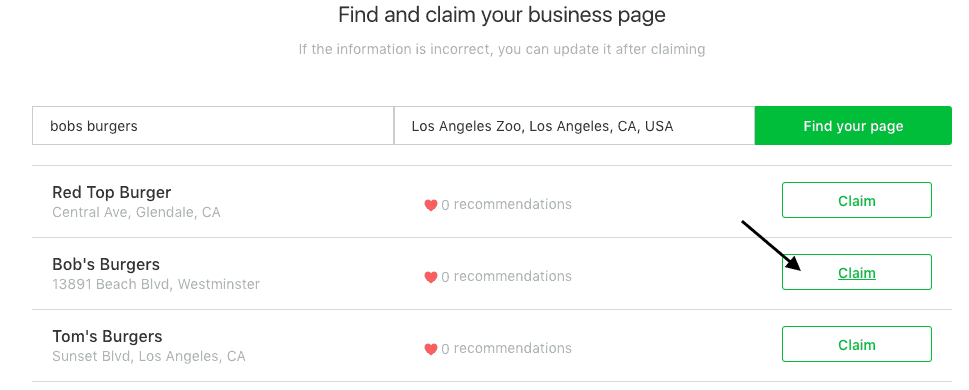 3. Claim your company as either a business or an individual (depending on what name you operate under)
4. Enter the name, email, and password you would like to use for the business account. You can also sign in from your personal Nextdoor account (if you have one) and claim your business through that. However, we don't recommend this method if you'll need help managing the Local Page because you will need to share your personal email and password with your employee.
5. Once you claim your page, Nextdoor will call the phone number you provided to verify it. You will be asked to enter a verification code, and boom—you're in!
Step 3: Optimize Your Nextdoor Business Page
Now you're ready to start converting neighbors into customers. If people click on your business page from a recommendation or via search, you want them to be able to retrieve any type of information they are looking for. Imagine if your business page had no contact information! You would lose every single potential customer that comes across it simply because they don't know how to get in touch with you.
The vitals you'll definitely want to include on your business page is your address, contact information (preferably a couple options), and the services/products you offer. Tell people exactly what they need to know in order to hire you or buy from you. Your local business page is basically an extension of what you would have on your website, so don't be shy about making it robust with helpful information. In addition, be sure to add a clear, approachable profile photo! People are much more likely to trust a company they can visualize than just a grey square of mystery.
Step 4: Network To Get Recommendations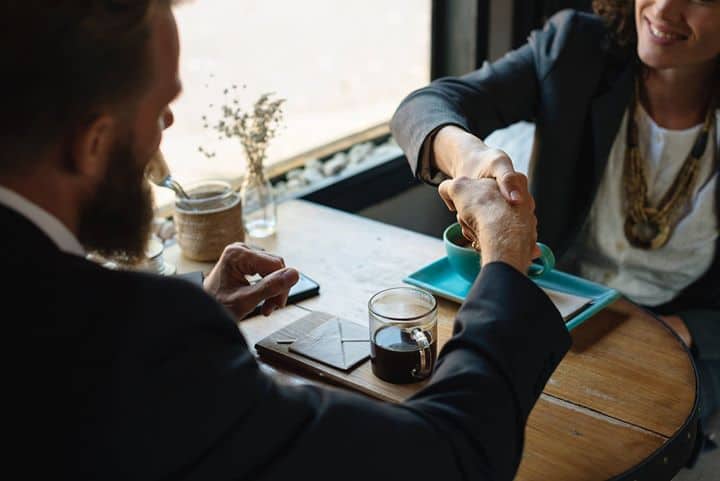 Even though you listed your business page, it won't actually show up to people who search until you have recommendations.
One way your business can get recommendations is when people ask for recommendations on a post. Then, friendly neighbors can comment on their personal recommendations of a business that fits the bill—if they type in your business name, Nextdoor will help them a link to your business's Local Page.
The other way to get recommendations is for people to leave them directly on your business page. This is where you can be proactive and ask for recommendations from your trusty local neighbors. How can you ask for recommendations, you might be wondering?
You have to ask.
Just like collecting reviews on any other review platform, the same tip applies for Nextdoor. If you want more reviews or recommendations, you need to ask for them. Luckily, though, there are quite a few ways to go about doing this. Some of our favorites are below:
Send a well-crafted email to your past happy customers and politely ask for a recommendation. We've crafted a few email templates to help you get started; you'll just have to customize to fit your business and the language that makes sense for Nextdoor (using the word "recommendation" instead of "review).
Ask for customer feedback in-person after the customer has paid for the service or product. It can be as simple as, "Thanks again for choosing us for _____ today. If you have a minute when you get home, we would really appreciate your recommendation on Nextdoor!"
Put company sales/events in the Events Calendar to stay on people's radar and market your business without being pushy. Keep in mind you cannot post about events in the regular newsfeed, so keep them in the Calendar to avoid getting your account locked.
Reply to people's posts asking for recommendations, tagging your business, but be sure to disclose your relationship to the business. You can make it personal by saying, "Hi ____, I'm the owner of _____, and we would be happy to help you with your _____. Please give me a call or email me at _____ whenever you're ready so we can get you taken care of!"
As with any review service, being polite is the key to asking for Nextdoor recommendations. As long as you keep the customer's needs at the forefront of your Nextdoor strategy, you will learn how to reach your neighbors very effectively. And once your neighbors have full trust in you, there's no limit to the number of positive recommendations you can receive. Who knows, maybe you'll even make it on Nextdoor's "Favorites" list for 2018!
Step 5: Manage Your Recommendations
As a business owner, you are busy running your business that it can be hard to stay on top of checking your online reviews on all the platforms like Google, Yelp, Facebook, and now Nextdoor.
Using a reputation management tool like Broadly allows you to check and respond to all of these platforms in one place. Also, the Broadly platform can help in automating asking and promoting customers positive reviews to the all of these platforms.