Review response examples & templates
As more and more people turn to the internet for answers, having a good online reputation is vital for businesses that want to succeed. One of the keys to building a great reputation online is getting online reviews. Reviews show your potential customers what to expect if they buy from or work with you. In this article, we will go over everything you need to know when it comes to online reviews including some of the online review statistics, how to ask for reviews, and how to respond to both negative and positive reviews.
Free Guide & Checklist: How To Respond To Reviews
How to ask for reviews
If you're not in the restaurant business, it's more uncommon to receive reviews without asking. Many times, customers don't realize that their voices are important to your business's success, and all they need is that little push. Especially if you have loyal, long-term customers or overly happy ones, it's important for you to get their praises in writing so you can use them to market yourself. In order to do that, you're going to have to ask.
7 out of 10 people leave reviews if you simply ask. However, you have to keep in mind that each review platform has its own nuances and ways of obtaining more reviews. Think about the etiquette that's standard for those platforms when asking
Generally, when asking for reviews, we like to remind people that you should ask when the customer is happiest. This means, immediately after a product was purchased or service was completed. The best way to sum up this advice is to strike while the iron is hot. Additionally, if you have an unhappy customer, instead of directing them right to your reviews, ask for feedback—this helps you learn more about what you can do better without airing the dirty laundry online where future potential customers can see it.
To make it easy for you, we compiled six email templates to ask for reviews. There's one for Facebook reviews, Yelp reviews, and Google reviews, among other specific reviews asks.
Check out these templates on how to ask for reviews.
Example:
Hi [FIRST NAME],
Thank you for [describe client relationship, whether loyal, new, etc.]. It has been my pleasure helping [service you provide].
Reviews help our business build an online presence and helps others learn about us. We value your opinion, ould you be willing to take a few minutes to leave us a review?
You can click this link <direct URL to whatever review service you use> to leave us a review.
Thank you so much for taking time out of your day, we appreciate you!
Best regards,
[YOUR NAME]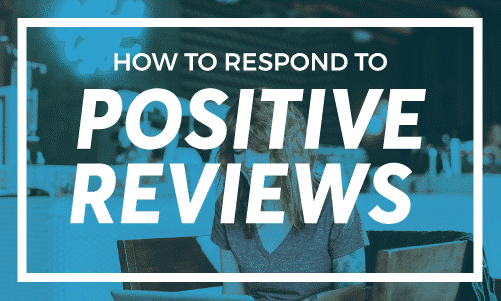 How to respond to positive reviews
Ask and you shall receive. Once you start getting reviews, you don't stop there. This next step is probably one of the most important because it really helps you build street cred with past customers, encouraging them to continue buying from you.
Getting positive reviews is especially exciting. You're reminded that all your hard work was worth it, and you have a real human praising your company—it's some of the best marketing there is! To capitalize even more on your positive reviews, it's imperative you respond to them in a timely manner. Make sure you first thank the reviewer, but then make your message a little personal—you want to let them know there's a human responding and not a robot. Doing so will open up more dialogue and make them feel more connected to your company.
In your positive review response, while keeping it concise, you will also want to ask the reviewer to take action. Whether that's sharing their great experience with their friends or scheduling another appointment, invite them to take one step further. Because you're being so authentic and courteous, they are more likely to do so.
Example: Thanks for the great review, Pat! The team at _____ is thrilled you're so happy with your haircut. Jill really is a fantastic stylist; we feel so lucky to have her. Maybe you'd like to share with your friends who are due for a trim, too? We'd love to continue making hair dreams come true for awesome customers like you. Thanks again! -MG
Check out these templates on how to respond to positive reviews.

How to respond to negative reviews
With the positive, unfortunately, comes the negative. Ugh. If you've to experience the blight of a negative review, you know it can feel like a punch to the gut. It feels personal. And sometimes it doesn't matter how great your company is—everyone has received a bad review at some point or another. While ignoring it might be your first instinct, it's much more beneficial to actually address it.
One negative review can, on average, cost you 30 customers, so it's better to nip it in the bud and try to alleviate the situation by providing support and input from your side of the computer. When you're responding to negative reviews, it's best to put your ego aside and practice good 'ol customer service. Even if you don't think the customer is right, acknowledge the issue and thank the reviewer for bringing it to your attention.
Now you're in a position where a solution may be possible. Of course, apologize, for whatever the complaint was about. Sometimes you will have to explain yourself; just remember to take the high road, look at it from their perspective, and use an even tone. Some people complain just to complain, so ultimately, there's only so much you can do. Offer to compensate the disgruntled customer accordingly, and then invite the reviewer to discuss the issue offline so no more foul words about your business are circling the web.
Example: John, we're sorry to hear you did not have a great experience. Thank you for letting us know about the poor service you received. We will handle that issue on our end. It is our priority to ensure every patron leaves with a happy stomach and heart, so please contact us at [email or phone number] to discuss the matter in more detail so it doesn't happen again. We would be happy to credit your complimentary meal. Thanks – Jen, manager
See more negative review response examples here.
Getting and responding to online reviews are two simple but impactful steps you can take to grow your business online and, in turn, offline. With these templates and informational articles, you should have everything you need to boost your business's online presence with online reviews.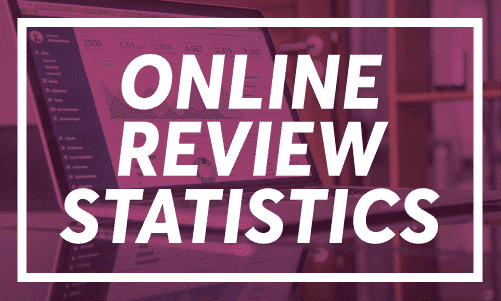 Online review statistics
It would be silly to give you the low-down on online reviews without showing you the data to back it up. Here is where will we outline some of the most important reasons you need online reviews.
They attract customers. More than half (54%) of people will visit a business's website after reading reviews.
They build trust. Not only do 84% of people trust online reviews as much as a personal recommendation, but 87% say a business needs a rating of 3-5 stars in order to use them—that's a lot of business riding on the trust of reviews!
They increase sales. When a business has excellent reviews, customers spend 31% more.
Of course, there are plenty more statistics you might want to see, like how just one negative review can affect your sales and where customers are reading your reviews most often. For all those stats, we created this handy infographic to break it down.
Check out all the online review statistics here.

Online review & reputation management software
Need help managing your online reviews and reputation? The Broadly team is always here to help! Sign up for a free demo and we can show you how easy managing your online reputation can be.
See what Broadly can do for your business in just 30 days