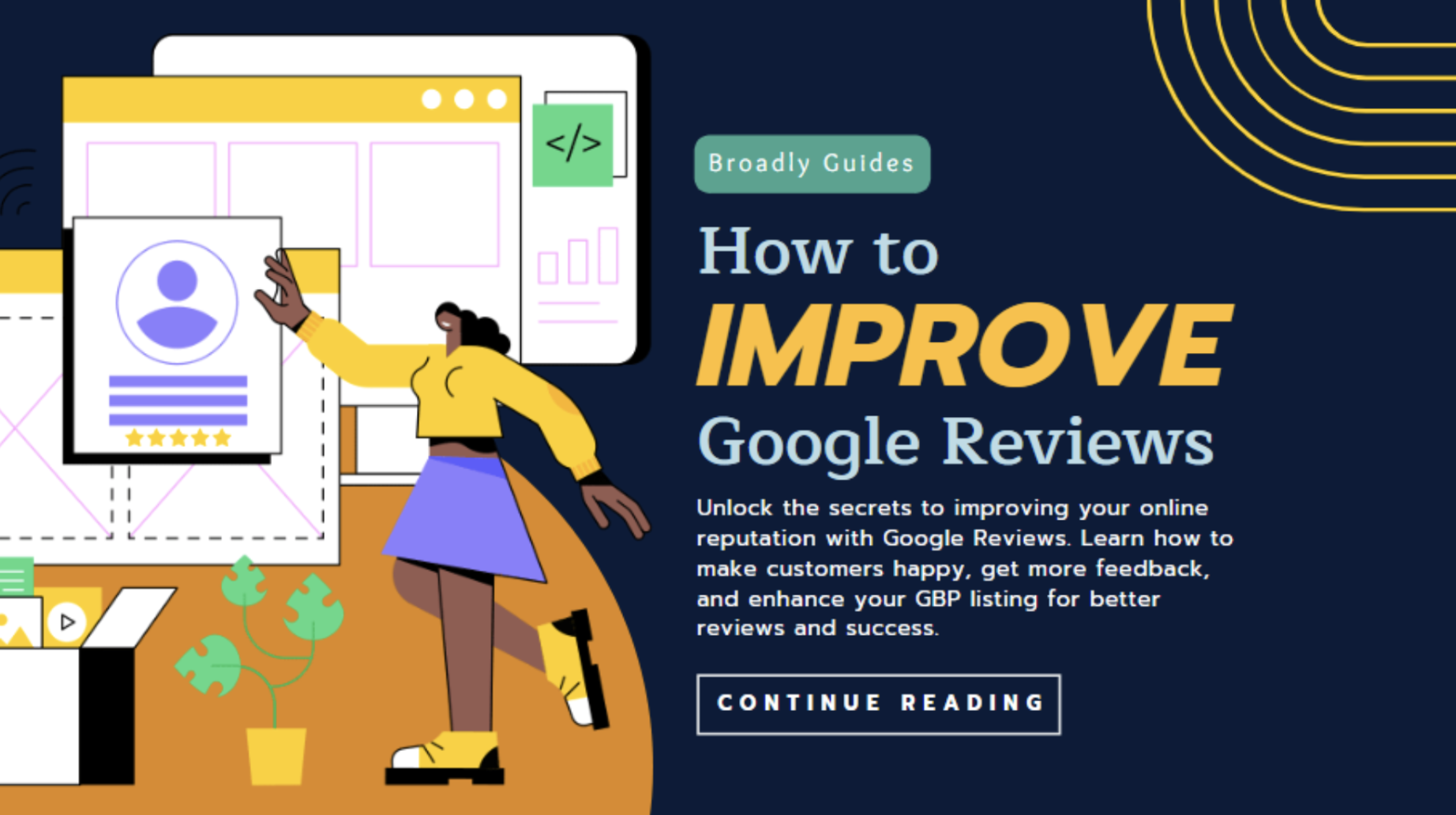 How to Improve Your Google Reviews
What other people say about your business really matters. When someone's thinking about trying your product or service, more often than not, they will first look at what others have said about it online, especially on Google. That's because Google reviews can have a big impact on whether or not you land a sale.
We want to lend you a hand and show you exactly how to improve Google reviews for your business. Find step-by-step processes below.
Generate 5-star Google reviews for your business automatically
Why Google Reviews Are Important
Before we get into how to improve your Google reviews, let's talk about why they're important.
When people are thinking about buying something or hiring a service, they first want to know if it's any good. Google reviews help with that because they're like little reports from people who have already tried it. They give others a sense of what to expect. The more good reviews that lament how great your products or services are, the more likely you are to acquire new customers—and potentially repeat business.
How to Get More Positive Google Reviews
Here are some easy ways to improve Google reviews for your local business:
1. Provide Excellent Customer Experiences
Deliver Great Products or Services
Make sure what you offer is consistently top-notch. People are more likely to leave positive reviews if they're happy with what they receive every time they visit.
Offer Top-Notch Customer Service
Treat your customers well. When they feel valued, they're more likely to say nice things about your business.
Go the Extra Mile
Sometimes, doing a little extra can leave a big impression. Going out of your way to show that you care can lead to reviews that have the potential to go viral, like the Target employee pictured below, who took time out of his day to help a teen prepare for an interview. While it's not guaranteed to get thousands of likes and shares, doing good for others can help you stand out from your competition in the eyes of your customers.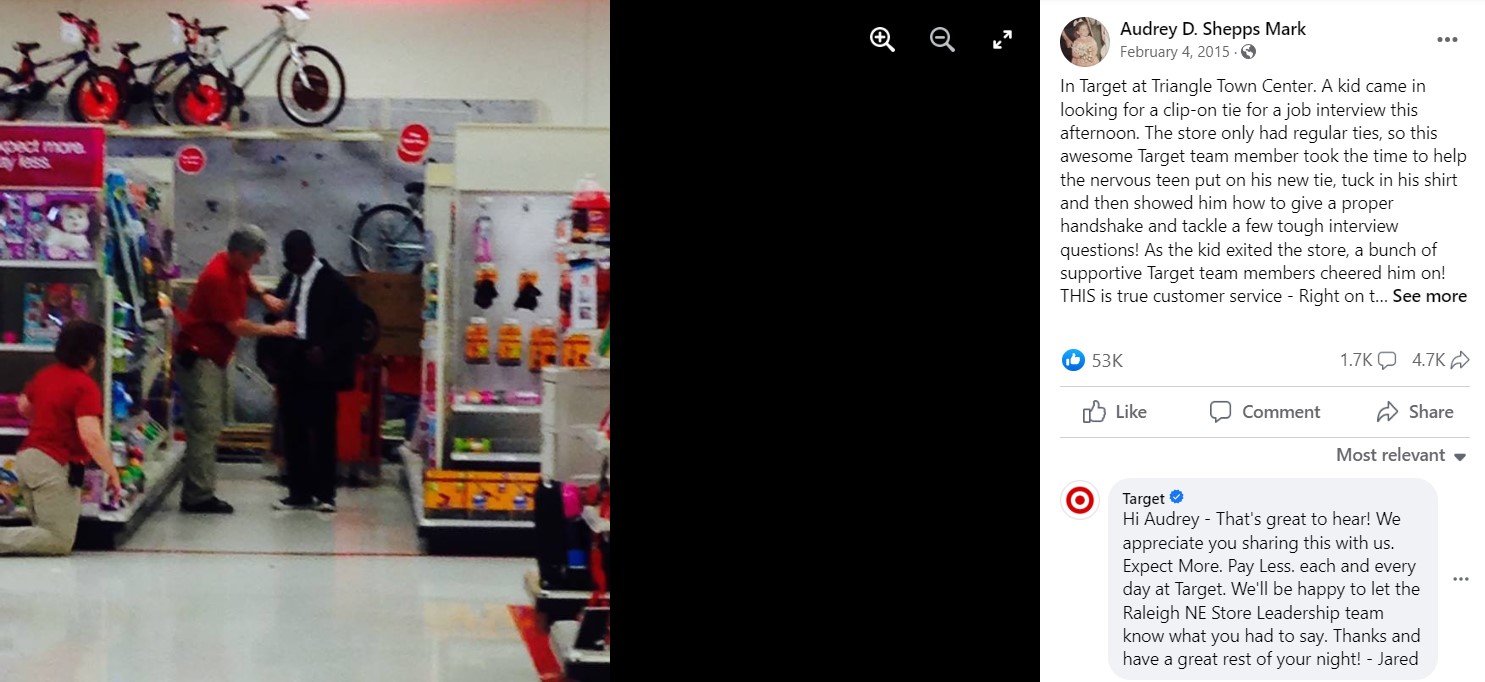 (source: Facebook)
2. Ask for Reviews (Politely)
Ask Happy Customers
If someone seems happy with your product or service, this is a great chance to ask them if they'd consider leaving a review.
Choose the Right Time
Don't ask for a review right after something goes wrong. Wait until your customer is fully satisfied before you decide to ask for feedback.
Try Different Ways
There are many options available to help you improve Google reviews for your local business. Besides asking in person, you can try through social media, your website, or review request automation.
For more great tips and tricks (including templates), check out our article on how to increase your Google reviews.
3. Respond to Google Reviews Professionally
Reply to All Reviews
Respond to as many reviews as you can, whether positive or negative. While thanking happy customers is straightforward, addressing critical feedback requires tact and professionalism.
According to a study by Bazaarvoice, when people see a business respond to a negative review, they are 116 percent more likely to buy something from that business. Despite the challenges, making amends with a dissatisfied customer can be beneficial in the long run, as it bolsters your integrity and commitment to great customer service.
For tips and templates, check out our article on how to respond to Google Reviews.
Write Thoughtful Responses
When you respond to reviews, be polite and sincere. It shows you're committed to making customers happy or feel heard. Depending on the context, positive review responses should be longer and mention your business's name to help improve the feedback's relevancy in search rankings. Negative reviews should be short, omit mention of the business name, and encourage the user to take the conversation to a more private place, such as over email or a phone call. 
4. Make Your Google Business Profile Shine
Complete and Update Your Info
To improve your Google reviews, the first place you should start is with your contact information. Always keep your business details up to date. If you have recently moved or changed your phone number, make sure your Google Business Profile is the first place you update it so your customers can continue to find you.
Add Appealing Photos 
How many times has a good photo swayed your decision to eat somewhere? Whether it be the ambiance, or Instagram-worthy snaps of food, photos are a great way to encourage customers to dine with you. This works for other industries too! Regularly update your business listing with photos of completed client projects, happy employees, and other types of appealing company-related photos to show your local business in the best light.
Highlight What Makes You Special
Show off what sets your business apart from the rest. You know what makes your business unique, but customers might need some help. Mention on your listing if you offer 24/7 emergency plumbing services, catering for last-minute events, or even price-matching guarantees on new tire sets. The more ways you can show your competitive advantage, the better.
Take, for example, this popular plumbing business. They clearly highlight their hours and the communities they serve. Just below their website, they also include a list of all the services they offer to their customers.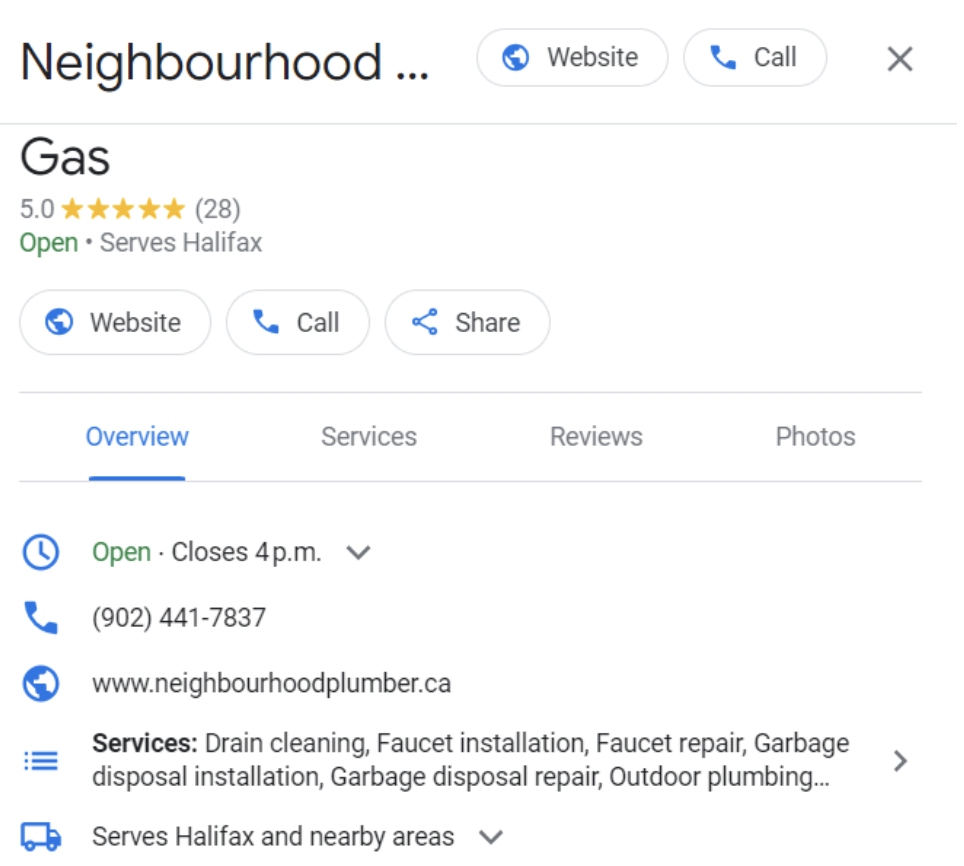 (source: Google)
When you scroll a little lower, you can find the most relevant review left for the business (notice how it is a glowing review and has bolded text). A little further down, you find a detailed description of the business to help users understand their offerings and what makes them unique. In this case, they mention how they are a family-owned business that specializes in in-home plumbing, heating, and gas services in the Halifax and Dartmouth areas.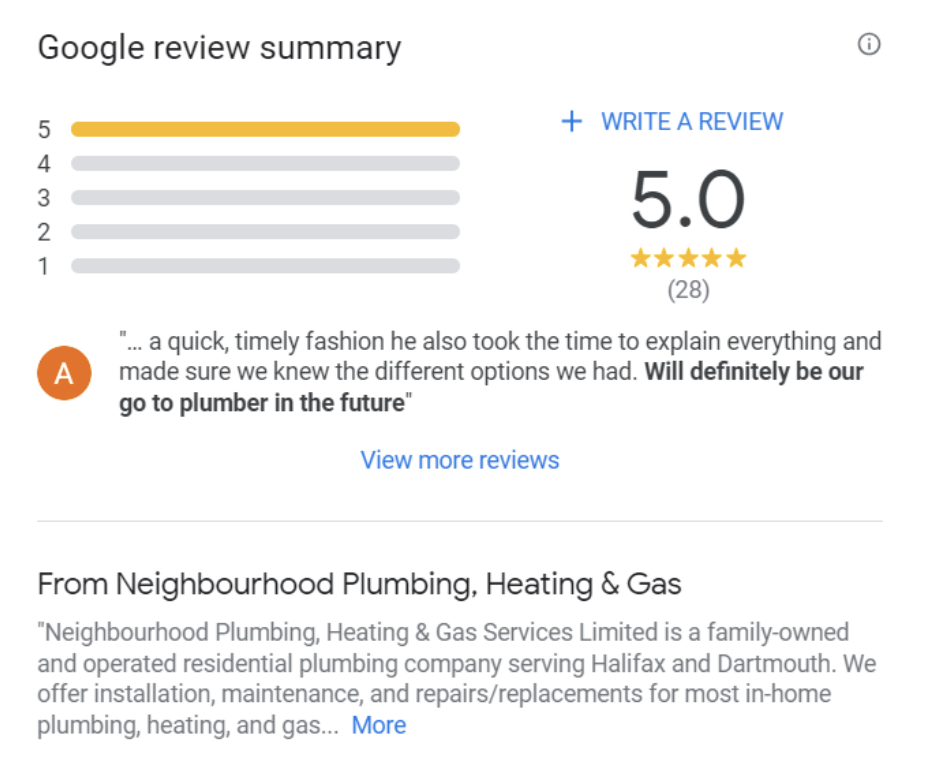 (source: Google)
From this listing, we can deduce that this plumbing business fully knows how to tailor their listing to be in accordance with Google's SEO preferences, and they have a strong understanding of how to manage negative reviews and secure positive reviews from their clients. 
Post Regular Updates
You may be surprised to learn that Google will remove business listings if they become inactive. This can happen in as little as two years in some cases, according to Google's recent policy update. Keep your profile fresh with regular posts about your business, respond to reviews or questions left by customers, and add new images often.
5. Share Your Google Reviews
Share Good Google Reviews on Social Media 
When someone leaves a glowing review, share it on your social media channels. This way, more people will see it. Focus this effort on popular platforms that deliver the most engagement for your business. Depending on the industry you work in, this could include Instagram, Facebook, X (formerly Twitter), LinkedIn, or even TikTok. 
Put Reviews on Your Website
Learn how to do this in our blog on adding Google Reviews to your website.
Use Email and SMS Marketing
Include links to your Google Reviews page in emails and SMS messages to your customers. Even better, get permission from happy customers to share their feedback, and include it in your marketing efforts, such as this glowing review from our partner, Elania, from At Your Door Pool Service: 
Link to video on YouTube: https://www.youtube.com/shorts/OpyhUZdX7Yg
6. Keep an Eye on Your Reviews
Watch for Trends 
Look at what people are saying in your reviews. Are there any words or phrases that commonly stick out? Keeping a close eye on trends can help you spot where your local business is excelling and where to improve.
Use Feedback to Get Better
Genuinely listen to what your customers are saying online and use their feedback to make your business even better. Did a customer bring up a really good piece of advice that you ended up implementing? Don't be afraid to thank them and let them know that you have made changes to your product or service offerings. 
Tools for Review Monitoring
You are a local business owner, not a reputation management guru—and that's okay! Review monitoring can be a full-time job, and when resources are tight, there are some great online tools available to help you offload some of the burden. There is software perfectly tailored to fit every industry and budget, so compare your options to find the best one for your local business.
7. Train Your Team
Explain to Your Team Why Reviews Matter
Make sure your staff understands why reviews are important, so they get a clear picture of why you are making efforts to improve your online reputation. 
Customer Service Training
We have all seen reviews on listings about how a certain employee influenced a customer's experience. How a team member approaches feedback can leave a strong impression on the customer—both good and bad. That's why you should train your team on how to handle this feedback to ensure you can make the best of even the most difficult situations.
Encourage Team Members
Encourage your team to ask happy customers for reviews. Give employees sharable materials, such as business cards, brochures, or stickers with QR codes that link to your Google Listing. You could also offer your employees incentives, like bonuses, perks, or discounts, to motivate them to ask customers for feedback.
8. Offer Incentives Where Appropriate
Give Rewards for Reviews
Similar to the way you incentivize your staff, you can also sweeten the deal for your customers to help you improve Google reviews. It is not uncommon for businesses to offer small incentives for client feedback, such as a small discount on their next purchase; just make sure you do so per Google's review policies. 
Encourage Honest Reviews
When giving incentives, make sure your customers know that you are requesting their honest feedback. Be transparent with them, and let them know that regardless of the opinion they give, you will honor their review with the discount or other perk you promised.
How Broadly Can Help
Getting more positive Google Reviews for your business doesn't have to be complicated. By following these easy steps, you can improve your online reputation, gain more customers, and make your business even better. But remember, you don't have to tread these waters alone!
At Broadly, we make it easier for you to collect and manage Google Reviews for your business. To find out how Broadly can help your business in just 30 days, start your own 30-Day Free Trial.
See what Broadly can do for your business in just 30 days