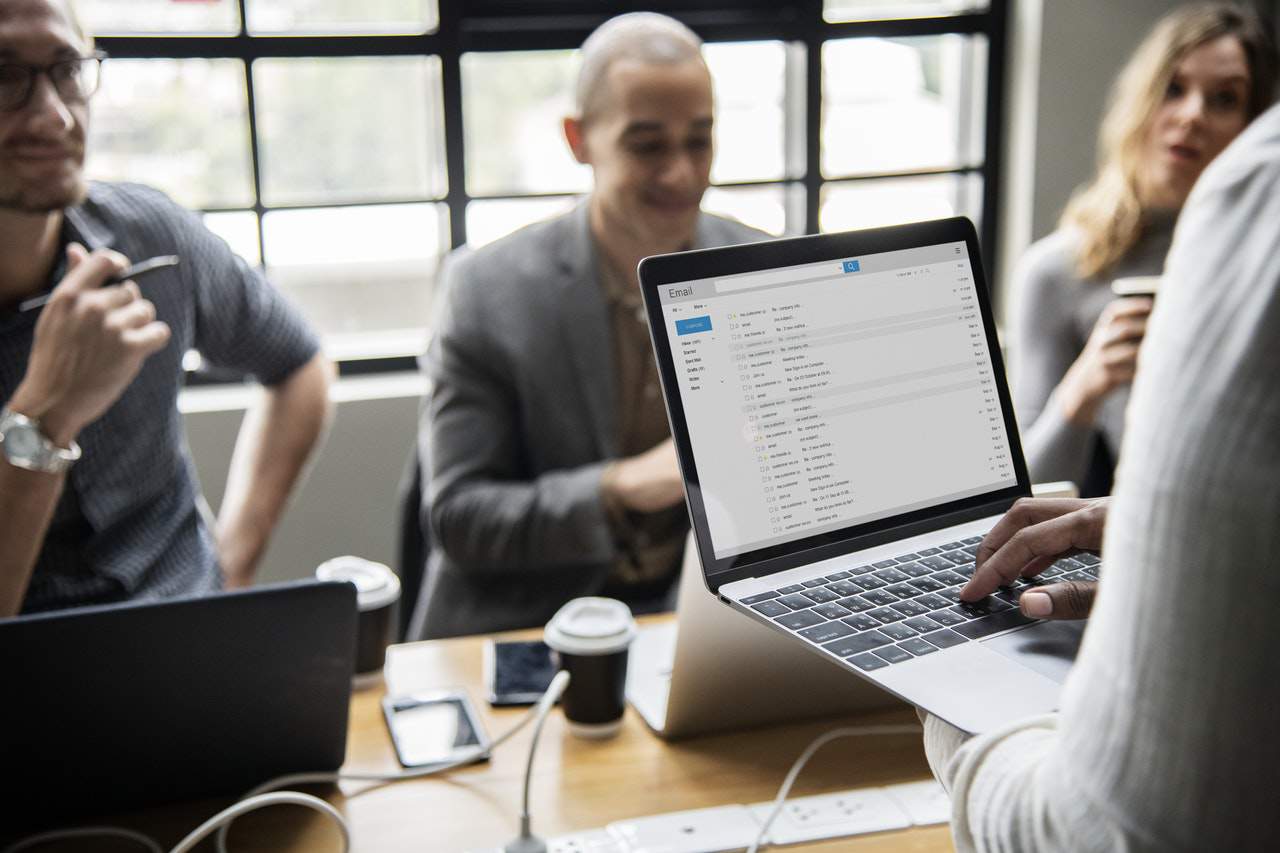 How to create a business email
Since email is a preferred communication tool for many consumers, having a business email account can be incredibly useful for many reasons. Email can help manage customer service, add security to your communication, and can improve sales overtime.
But what type of email should you use? A personal email address or a business address, and why does that matter?
Before we get into the benefits of using a business email address, let's discuss the difference between it and a personal email address.
Personal email address vs business email address
A personal email address is an email associated with your personal correspondence. In other words, it's likely what you'd use for online shopping, social media, and keeping in touch with family and friends.
Personal email addresses are usually given from public email domains such as Gmail, AOL, and Outlook. These domains are free to create and use, but don't offer the same level of security or customer service that a business email address does.
A business email address, on the other hand, is an email address used to communicate with customers, clients, or vendors on behalf of your company.
A business email address is typically associated with your company's website domain name. This looks more professional than a personal email and can help build trust with customers.
If you don't yet have a business website, Broadly can help. With Broadly, you can get a custom, inexpensive, sophisticated website built to suit your business and brand and optimized to help you grow faster.
Benefits of having a business email
Add instant professionalism and credibility
Be more trustworthy, and less likely to be filed in a spam folder
Get better security and privacy settings (depending on your host)
Use your email account for life
In this article, we will go over how to create a professional business email in 5 easy steps. Let's get started!
Step 1: Find an email host for your business email address
Creating a professional email is similar to setting up a website. You will need something similar to a web hosting server, but for emails. This can be done through a number of hosting platforms.
If you currently have a website, see if your host has a feature for business emails. If your current website hosting company doesn't offer an email service you can look at places like GoDaddy, Namecheap, or Google's G-suite which will charge a minimum amount.
If you are in the beginning stages of your business and haven't set up your website yet, again, Broadly is available to help you get started.
Step 2: Choose a business email address
If you are a small business, you will want your brand's business name repeated as often as possible.
It can look unprofessional if you send an email from a @Hotmail.com, or @Yahoo.com email address. These types of email addresses look like a personal email and could go straight to spam, which really puts a damper on your marketing campaigns.
Step 3: Decide about email forwarding
Once you have set up your email host and email address, the next step is to decide if you want these business emails forwarded to another email account.
Some like this idea of keeping all their emails in a single email inbox, as they can still use the familiar Gmail account to check and send messages from. Each email and hosting provider is different, so talk with those providers to learn the easiest way to set up email forwarding.
Step 4: Add some credibility
Adding something personal to an email like a picture, signature, logo, or phone number adds credibility so customers know the face or a name they are reaching out to, rather than a robot.
For example, George Palomino from TripAdvisor has a professional signature is a picture and ways on how to contact him with every email he sends.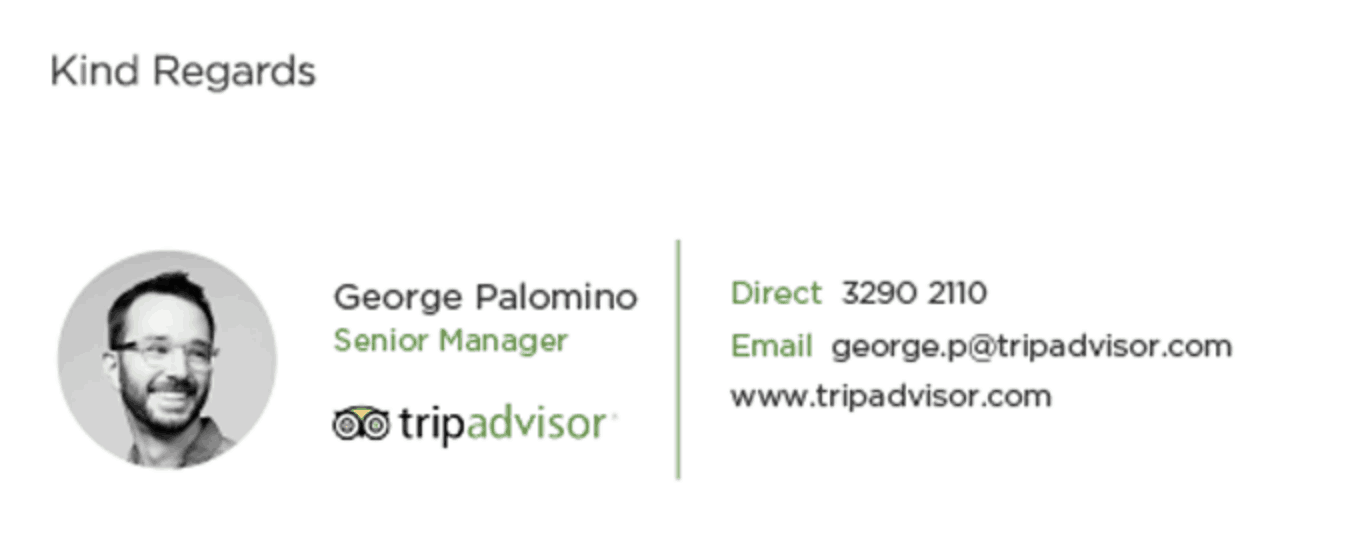 As Dmitry Dragilev found out adding a photo can increase response rates by over 300%.
Step 5: Secure your business email
There is nothing worse than having your business email hacked. There are a few things you can do to secure an email.
Create a complicated password –This might seem obvious, but having your favorite football team as your password, or your child's name, is easier to guess for hackers. Choose a random and complicated password.
Two-step verification – This means that not only do you have a password to enter your email, but another step is taken as an extra precaution in order to access your email and information.
Keep healthy internet practices – If you get an email that doesn't end in a .com or .org, do some homework before clicking on the link. You can even hover over the highlighted section and see where the link is going. Never give out private information over email.
Conclusion
Having a professional email is essential for your organization. It is your communication lifeline and needs to be treated as such in order to get positive customer feedback.
To get a professional email address, you can use your a Web hosting service, a 3rd party, or you can have Broadly set up your website and email domain for you.
Make sure your email is secure for protection from hackers. Last, of all, remember to check and reply to each email in a timely and professional manner.
All this will ensure your business is taken to the next level.
See what Broadly can do for your business in just 30 days