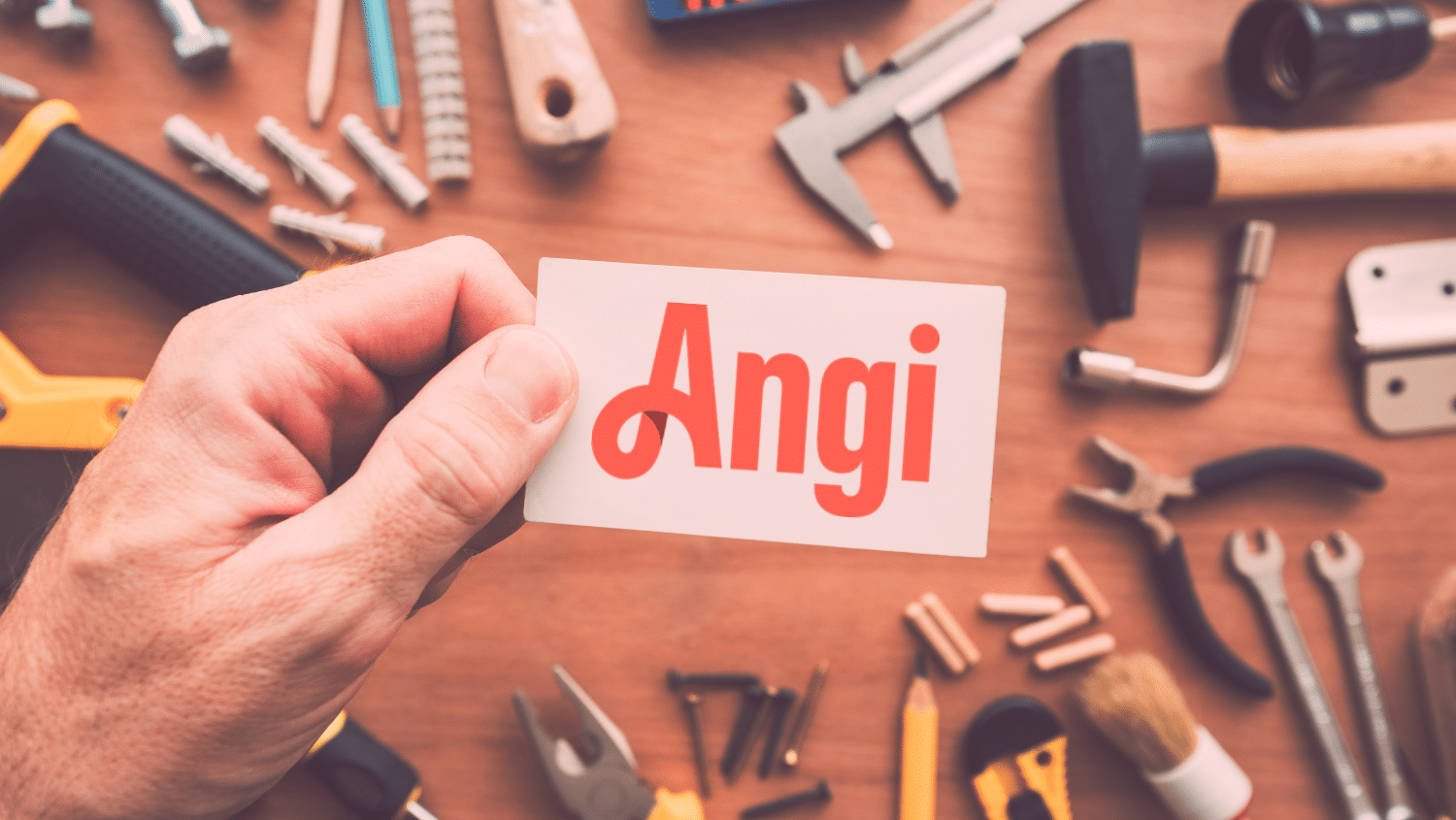 How to get on Angi: A comprehensive guide for home service businesses and professionals
Are you a U.S-based home services professional or small business? Then you need to see these statistics from a 2020 BrightLocal survey:
90% of consumers use the internet to find a company in their local area
82% read online reviews during a local search
On average, consumers spend over 13 minutes reading reviews before making a decision
The internet is a powerful way for consumers to find home services providers, so your online presence must be on-point as a provider.
More importantly, your business must be listed on Angi.
Angi – which was known as Angie's List until March 2021 – is a U.S-based home services marketplace that connects homeowners with home services providers. If you are a home advisor or home services business, listing your business on Angi can get you in front of millions of new customers.
This detailed guide will tell you everything you want to know about Angi, including how to sign up, how to advertise, and how to get customer reviews.
Let's get started!
See what Broadly can do for your business in just 30 days
What is Angi?
Founded in 1995, Angi is a popular business directory and customer review-based search engine for home services across the United States. Millions of homeowners use Angi to search for, compare and connect with home service pros like:
Plumbers
Electricians
House cleaning
Pest control
Painters
Woodworkers
Handymen
Locksmiths
Moving companies
Roofing experts
Consumers can use Angi to:
Discover, compare and book providers who are licensed, bonded and insured
Schedule home repairs, improvements, cleaning and other kinds of services
Check user reviews to gauge professionals' quality of work and make informed hiring decisions
Make payments knowing that they're getting fair pricing and accurate cost information
Look for financing options
How does Angi work?
For many years, homeowners had to pay to access the list of Angi Certified professionals and use their services. 
But since March 2021, consumers can use Angi to research local pros, view business ratings and reviews, request quotes and book services from qualified local home services professionals – all for free. 
Angi users can also pay an annual fee to access discounted home services. Angi earns its revenues from these paid memberships and service professionals who pay to advertise on the site.
Why should i list my business on Angi?
If you are a home services provider, you should get your business on Angi. Here's why.
Consumers are moving online.
Consumer demands and expectations have evolved dramatically over the past decade, and more so since the outbreak of the COVID-19 pandemic. 
National lockdowns and social distancing norms have pushed millions of consumers online, which means they now expect comprehensive solutions, quality products and personalized services to be available at their fingertips.
Until a few years ago, most deals in the home services sector still relied on word of mouth. But now, this sector is also moving online. Angi aims to tap into such shifts in consumer behaviors so you can reach more potential customers than you could with word of mouth alone.
To boost awareness of your business and services.
According to Angi's investor relations website, the company has a vast network of over 250,000 pros and has served more than 150 million consumers with their home improvement and servicing needs. 
Thus, Angi can help you reach a wider audience for your home services business. By joining the platform, you can increase awareness of your business and boost your sales and revenues.
To help consumers make informed decisions.
Ratings and reviews are an essential element of the Angi marketplace. After hiring a professional through Angi, consumers can rate the provider on a 1-to-5-star scale, based on factors like:
Price
Quality
Responsiveness
Punctuality
Professionalism
Consumers can also see the ratings that other local consumers have left for professionals in their area. This can help them make informed hiring decisions.
For businesses, ratings are a great way to communicate the quality of their work and get more calls from interested customers. 
To garner trust.
In addition to ratings and reviews, you can prove your trustworthiness on Angi in two ways:
Earn a Super Service Award
You can get a Super Service Award from Angi if you:
Obtain three or more reviews during the review period
Can prove that you delivered outstanding service during the year
Maintain an excellent current and lifetime rating on Angi
Complete Angi's background screening
Angi also screens every business that applies to join its network. It performs a thorough background and criminal check on the business owner/principal, checks that the company has the appropriate state-level license and asks for confirmation that they carry the proper local license.
Other benefits of a business listing on Angi
Some other benefits of listing your business and advertising on Angi are:
Build a solid online business presence
Improve lead generation, and track and follow up with each lead to increase conversions
Build and send job quotes
Showcase your work
Communicate with customers and leads via Angi's messaging platform
With Angi's tools, you can also send invoices on the go and track and manage payments with QuickBooks integration. You can measure your ads' value on Angi and get insights into consumer behaviors to tweak your advertising strategy and maximize your ROI.
How can i get my business on Angi?
To get your business on Angi, keep in mind these aspects:
Signup and listing on Angi is free
You can sign up on Angi for free. Angi also provides a free business profile to display your company information, services and offers.
Advertising on Angi is not free.
You need to pay to advertise on Angi's website, magazine, and call center with:
Coupons
Discounts
Other promotions
You must also maintain an average rating of 3 stars or higher, which tells consumers that your business meets Angi's standards. Finally, you must become Angi Certified to also assure quality service to consumers.
You can lose your Angi Certified status and become ineligible to advertise on Angi if your business' owner, principal or relevant manager cannot pass a criminal background check every two years, and if your business:
Cannot continually meet Angi's certification standards
Cannot maintain a 3-star or above rating
Doesn't work with Angi's complaint resolution team to resolve complaints
Doesn't have all required licenses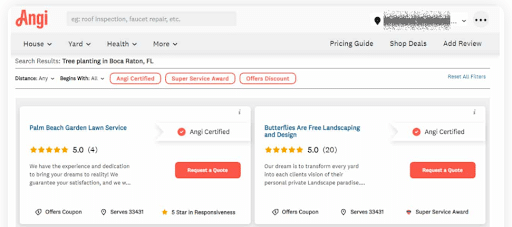 Advertising on Angi is optional, and it won't affect your ratings or reviews. However, it can give you increased visibility and exposure, so you might want to consider it.
The site does not provide information about ad types, time periods or costs, so you'll have to contact Angi directly via phone or email to get a custom quote.
Being Angi Certified improves your search results
When a consumer searches on Angi for a type of provider (e.g., "plumber") in their zip code (e.g., "99950"), they will see Angi Certified Pros above other service providers.
If you choose not to participate in the Angi Certified program, your business will appear in search results below Angi Certified pros. Only your business name and overall grade will be displayed. When consumers click on your profile link, they can see full details, including ratings or reviews.
How to sign up on Angi
Here's the step-by-step process to sign up as a business/service provider.
Step 1: Create a business profile
Go to Angi's website and click on "Join Our Pro Network." On the professionals page, click on "List my Business." On the registration page, specify your service type and ZIP code.

Step 2: View the monthly opportunities in your area
Angi will show you the number of opportunities submitted in your area during the month.
Click on "Next."
Step 3: Provide more details
Add more details, including contact information (a valid phone number) and ZIP code.

Step 4: Create your Angi account
Add a valid email address and strong password that you will use to log into your Angi account. Also, check the box to agree to the terms of service. The box for receiving special offers and discounts from Angi is optional.

Step 5: Write a business description
Create a detailed and unique description of your busines to make a strong impression. To build trust and a good reputation, also include details like:
Customers served
Years of experience
Awards or other accolades
Certifications

Step 6: Choose more business categories (as applicable)
If your business functions in more than one category, add multiple categories to get more exposure and get the right customers to contact you.

Step 7: Select your service areas on a map
Click on all the areas where your business provides services to ensure that your business will appear in searches in those surrounding areas. When you click on each section, it will then turn red.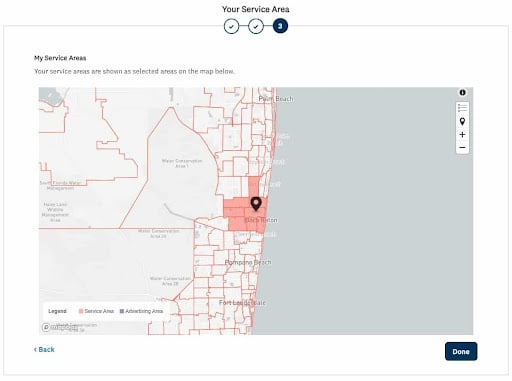 Step 8: Download the Angi app (optional)
Download the Angi app for iOS or Android if you are frequently on the road completing orders and want an easy way to track leads, send quotes, manage payments, etc.
Step 9: Access the Angi dashboard
On your Angi dashboard, you can see details like:
Deals
Quotes
Messages
Reviews
If you signed up for the Angi Certified program, you'd also see any deals, discounts, or promotions you offer on this page. You can communicate with other Angi members and request reviews from customers through the dashboard.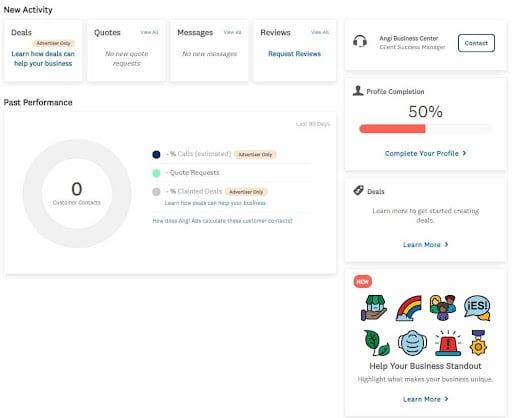 To help your business stand out, highlight any special features about your business, such as whether you:
Speak other languages (e.g., Spanish)
Are black- or woman-owned
Offer emergency services
Wear masks when working with clients
Offer 24×7 services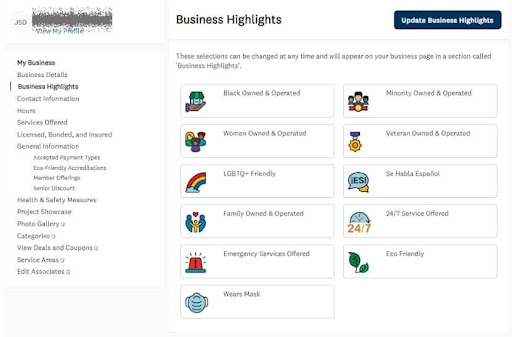 Finally, you will see your profile completeness level. The more complete your profile is, the more likely you are to impress consumers and win new jobs.
Getting added on Angi via customer reviews
Another way to get yourself added to Angi is by asking customers to post reviews about your work. Once they do this, your business will be visible to other consumers who may be interested in hiring you.
The following section explains how you can get reviews on Angi.
Strategies to get reviews on Angi
You can request a customer to provide a review from your Angi dashboard.
Here are some good practices to follow.
Call them before requesting a review.
When you request a customer for a review, they will receive a link. They must provide basic information and agree to the Membership Agreement and Privacy Policy to leave a review. Make sure to call the customer first to let them know about these requirements, so they're not blindsided.
Assure them of their privacy.
When customers leave reviews on Angi, their names and addresses are not posted, so if they're worried about privacy, make sure to let them know their person information will be hidden. 
Offer a discount for the next project.
One way to get reviews on Angi is to offer customers a discount on a future project. If they're already happy with your services, they might be willing to leave you a review. The discount will give them an added incentive to re-hire your company in future.
Motivate them by focusing on your business' size.
Most people want to support small, local businesses in their community. Remind them that their reviews can make a massive difference to your business's visibility and growth.
Make the request authentic and personalized.
Instead of sending out a mass email, send a personalized request to each customer. If customers feel valued, and if your request is authentic, humble and appreciative, there's no reason why they won't give you a review.
Show them how reviews can help them.
Encourage customers to leave reviews by reminding them that reviews help customers find the most reliable service businesses in their area. Also, let them know that you use reviews to gather feedback, improve your services, and tailor your offerings to better fit their needs.
Other important points to keep in mind.
Do follow up on review requests with gentle reminders, but don't be a pest! 
If someone leaves you a less-than-positive review, view it as an opportunity to improve your business. And whether you get negative reviews or positive reviews, always send a thank you note to acknowledge the customer's time and effort.
Make review management part of your business strategy. Finally, remember that good work may not always result in good reviews, but bad work almost always results in bad reviews. Focus on the quality of your work, and over time, you will receive many positive reviews that you can proudly display on Angi.
Let Broadly help build your online reputation.
Your online credibility and reputation matter a great deal in the digital age and Angi and its tools can help you build a strong online business presence. 
Angi also prevents fake business reviews to help you manage your reputation on their site. For instance, it doesn't accept anonymous reviews, allows members to flag suspicious reviews, and prevents businesses from (poorly) rating their competitors. 
But all these benefits are only limited to Angi's website and app. If you need support to build and boost your overall online reputation, Broadly can help.
Broadly offers a range of tools to analyze your online presence, monitor customer feedback on review sites, and get insights into critical customer experience metrics. We can also help you monitor and respond to reviews to boost your SEO ranking and increase your overall business.
See what Broadly can do for your business in just 30 days