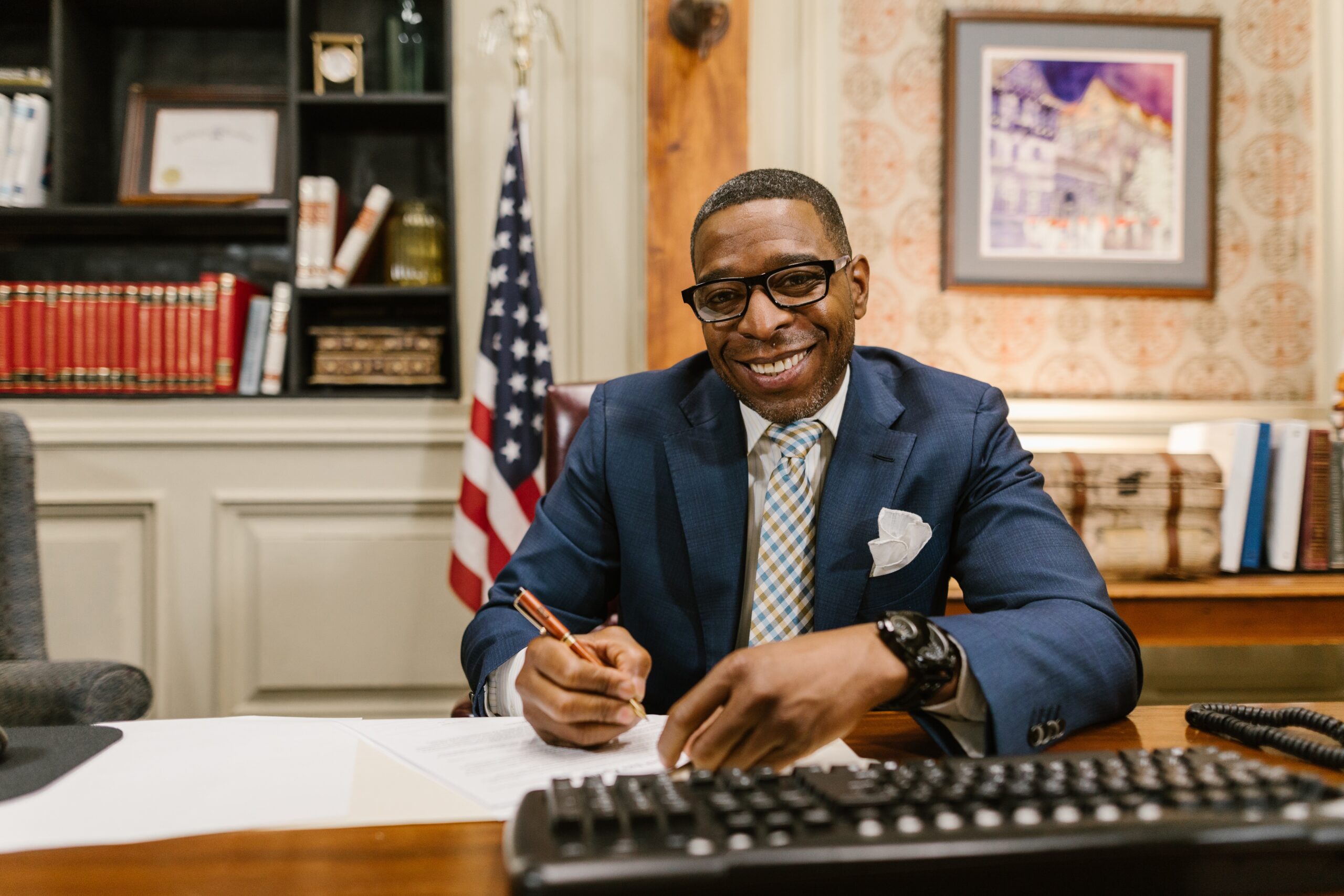 Marketing for immigration Lawyers: 101
As an immigration lawyer, marketing may not be at the top of your list of priorities. To build a successful law practice, it's crucial to understand the basics of effective marketing to inform your strategy. After all, a good marketing plan is an essential part of any business, and immigration law is no exception.
Whether you specialize in family immigration or employment-based immigration, these straightforward approaches to marketing for immigration lawyers can help expand your business.
How do immigration lawyers get clients?
Immigration attorneys may acquire clients through networking, content marketing and word-of-mouth referrals. In addition, from improving search engine optimization (SEO) to producing blog posts, the following attorney marketing tactics can help grow an immigration lawyer's client base.
See what Broadly can do for your business in just 30 days
1. Network with industry professionals
Attend industry conferences, local events and meetings to build relationships with other immigration lawyers, potential clients and referral sources.
You can also join professional organizations, such as the American Immigration Lawyers Association (AILA), which offer networking opportunities, resources and continuing education. Staying up-to-date on industry trends and developments helps you better serve your clients.
2. Maintain a professional website
Your website functions as your digital business card, and it's how potential clients find you online. If you focus on improving your local SEO, your firm may come up on the top of the first page when someone Google searches "immigration lawyer near me." Optimize your website for search engines by including relevant keywords on your landing pages and blog.
For example, if you specialize in a particular area of immigration law, include related terms and phrases on your website to attract clients who need help with specific types of legal cases. Ultimately, keep your website design simple and user-friendly. Potential clients should be able to easily navigate your site on their desktop or mobile device to find the information they need.
3. Write helpful blog content
Increase your online presence and build brand awareness by writing blog content for your own website or guest posts for other blogs and sites. Blog posts can improve your SEO through backlinks, which is when a website links to a different website's page.
Choose blog topics relevant to immigration law, such as the various visas available or your opinion on a current hot-button immigration issue. Aim to provide valuable information that's helpful to readers by writing clearly and concisely.
Whether the blog is a guest post or on your own page, include a short bio and a link to your website so the audience can learn more about you and your legal services. This could compel readers to contact you for assistance with their own immigration case, leading to client conversions.
4. Get online reviews from clients
When potential new clients are considering which attorney to hire, they may turn to online reviews for lawyers to see what others have said about your practice. After all, research shows that online reviews influence 95% of consumers when it comes to spending decisions.
Additionally, client reviews are important for lawyers since they can build trust in your community and reassure prospective clients that your practice offers reliable and effective services. Send reminders and review links using email, social media or other marketing tools to encourage clients to leave feedback on Facebook, Google and popular lawyer review sites.
5. Take advantage of social media
Leverage social media channels to reach your target audience and connect with other immigration lawyers and professionals on social media. This can help you build relationships and grow your referral network. Cultivate your social media presence by sharing immigration law news and articles related to your practice.
Maintain active profiles on social media sites such as Facebook and LinkedIn, which make it easy to network, find potential clients and increase your overall web presence. These platforms also allow prospective clients to check out an immigration lawyer's credentials, such as their work history and education.
6. Invest in PPC marketing campaigns
Pay-per-click (PPC) advertising on relevant websites and social media platforms is another approach to effective online marketing for attorneys. PPC advertising is a form of digital marketing where you pay when someone clicks on your ads appearing on search engine results pages (SERPs) or other websites. You can easily stay within your marketing budget by setting weekly or monthly limits on campaigns.
PPC campaigns can effectively reach potential clients who are actively searching for an immigration lawyer on Google or social media. The ability to target specific audiences is the primary advantage of PPC advertising over organic listings. For example, you can target individuals who need legal representation by their demographics, interests and location.
You can also include testimonials from happy clients in your ads. Remember that selecting the right keywords for your ad campaigns is essential to maximize your return on investment. This can be done by using tools, such as Google Ads Keyword Planner, which recommend high-traffic keywords relevant to your business.
Where can I advertise legal immigration services?
One of the most common traditional advertising methods is print advertising. This can include placing ads in local newspapers, magazines or other publications that cater to your target audience. Another option is to distribute flyers or posters in strategic locations around your community.
For digital advertising, use social media marketing, paid ads and online directories. List your practice on directory websites such as Google Business Profile (formerly Google My Business), Avvo, FindLaw, Justia, Lawyers.com and Nolo. These directories allow you to claim or create a free profile that includes your contact information, practice area and details about your legal services.
Certain directories also offer paid listings that give you more control over your profile and help you stand out from the competition. For example, with a paid listing on Avvo, you can add photos, videos, client reviews and presentation materials to your profile.
How do I get more immigration clients?
There is a wide range of different legal marketing tactics that immigration lawyers can use to reach potential clients, though not all of them will be effective for every law firm. Consider your goals and target audience to find the right approach for your business. Here are a few tips for developing a solid digital marketing strategy for your immigration law practice.
1. Define your target audience
Who do you want to reach with your marketing efforts? Are you targeting individuals who are seeking legal help with their own immigration case? Or are you hoping to attract businesses that need assistance with hiring foreign workers? Once you know who your target clients are, tailor your marketing messages and choose the right channels to reach them.
2. Create compelling content
High-quality and visually appealing content can make a positive impression. Whether you're writing blog posts, creating videos or designing ads, your marketing materials should capture attention. Plus, authoritative content on immigration law shows potential clients your knowledge and expertise in the field.
3. Use SEO keywords strategically
Another effective attorney lead generation tactic is to improve your SEO strategy. If you want people to find your content online, use relevant keywords throughout your website and blog posts. Use location-based keywords like "immigration lawyer New York" or "Los Angeles immigration attorney."
Other keywords that potential clients might use when searching for an immigration lawyer: "visa," "green card" or "naturalization." With your list of potential keywords, review your website to see where you can incorporate them. Use these terms and phrases in the titles and body text of your blog posts and landing pages as part of your immigration attorney marketing strategy.
Grow your immigration law practice with Broadly's marketing solutions
With innovative software solutions, Broadly empowers small businesses by streamlining their immigration lawyer marketing initiatives. Leverage a variety of user-friendly marketing tools with a single intuitive dashboard that allows you to efficiently manage your client reviews and online reputation across many platforms, from Facebook to Google.
Additionally, take advantage of advanced web design services to create a high-quality, responsive immigration law firm website that can boost conversion rates. Whether you need help with lead generation or another marketing service like email campaigns, find out how Broadly can help.
See what Broadly can do for your business in just 30 days