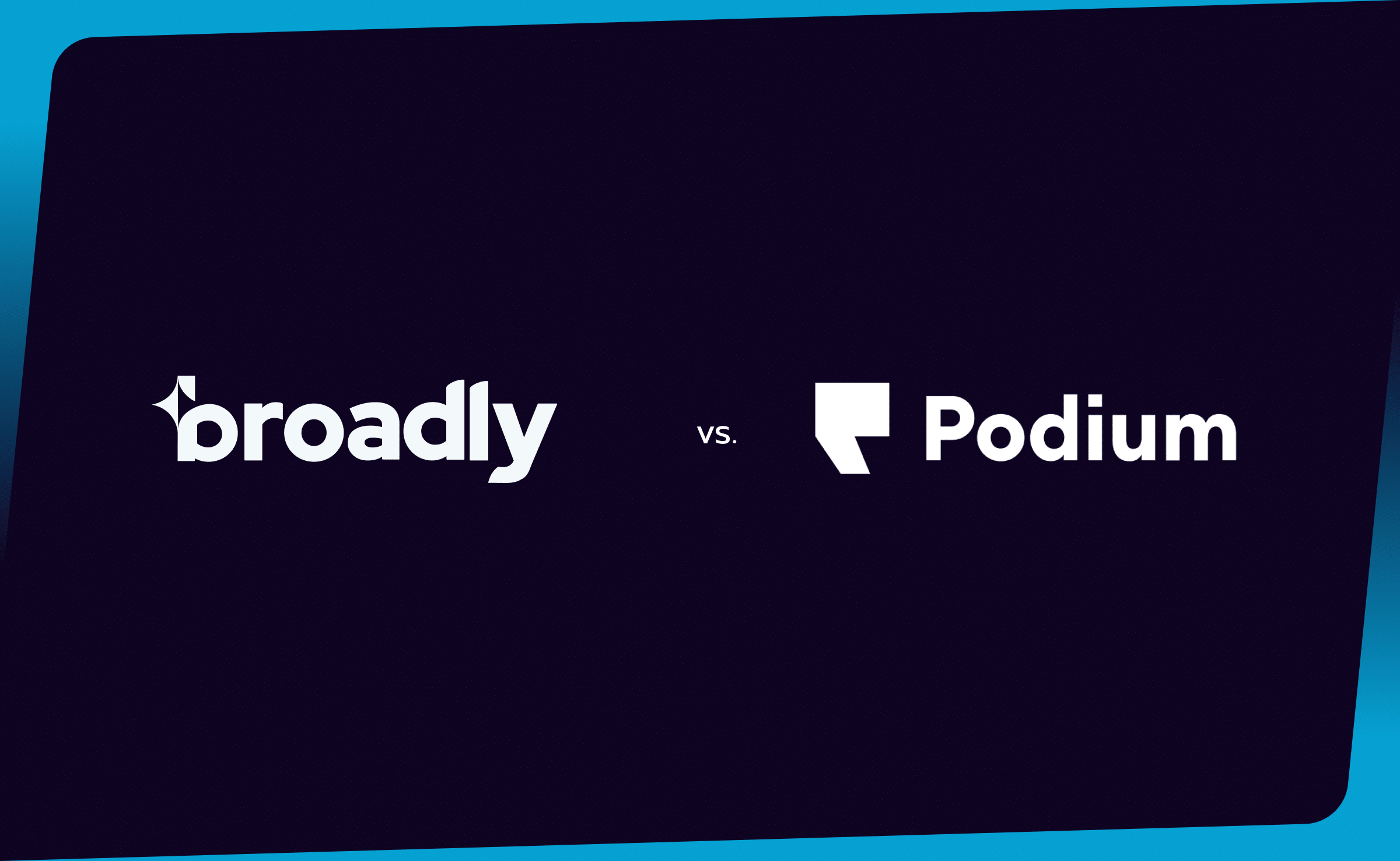 Podium vs. Broadly: Which is best for your local business online reputation?
Online reviews are the backbone of many local businesses. A positive online reputation can help attract new customers and boost sales. However, managing customer feedback and responding to reviews can be challenging for businesses with limited resources.
This is where a reputation management tool comes in. It helps local businesses stay on top of their online reputation, build trust with customers, and gain insights into customer sentiment.
You might be using a reputation management tool like Podium already – we are here to tell you to consider switching to Broadly. Broadly is focused on nurturing long-term customer relationships and working together to achieve success for your company.
Let's delve deeper and see what sets Broadly apart.
See what Broadly can do for your business in just 30 days
Broadly offers a full suite of features
We don't just help you get more reviews. Broadly helps with lead generation and creating an outstanding online presence with features like automated review requests, Web Chat, text and email campaigns, and customized message templates. Your team doesn't need to remember to ask for another online review with our automated review requests.
Broadly strives to integrate your entire team and ensure all the information is available in one place for a better customer experience. This is key for on-the-go businesses, such as plumbers, electricians, or handymen, where team coordination is critical.
Without live team coordination, this can become a daunting task. Broadly's Team feature enables you to seamlessly communicate and collaborate with your team and get all the answers in one place.
Broadly can build your website
At Broadly, we want to help your business grow from the ground up. We go the extra mile to solidify your online presence. Broadly helps ensure your business appears at the top of local search results with a website that is modern, mobile-friendly, and search engine optimized.
With Broadly's dedicated website designer and developer, you can quickly build a website that reflects your business and helps you stand out from the competition.
Broadly prioritizes the customer relationship
Broadly is a customer-first company and our focus is to develop and nurture relationships with customers. Broadly offers personalized support designed to understand customer needs and drive customer success. We are with you every step of the way, helping guide your strategy with our comprehensive platform.
We don't want to blow our own horn—let Broadly's customer reviews speak for themselves and take a look at what Podium's customers say before making an educated choice.
Take your online reputation and customer experience from "Meh" to "Wow" with Broadly
When it comes to managing your local business's online reputation and customer relationships, Broadly is the better choice for businesses looking to make a sustainable impact.
With its comprehensive features and customer-first approach, Broadly supports over 6,000 local businesses, taking their online reputation and customer experience from "meh" to "wow."
Broadly will help your local business thrive with tools like:
Unlimited review requests
Automated Web Chat
Consolidated team Inbox
Text & email communication
Saved Replies & templated messages
Itemized quotes and invoices
Text-to-pay mobile invoicing
Pay Over Time customer financing
Dashboard & Reports
Excited to give Broadly a shot?
See what Broadly can do for your business in just 30 days