For many years, consumers have gone online to discover and choose local businesses on various platforms. When consumers have a problem that they need answered, they look online. The typical thought process is as follows:  
Need to locate a plumber in an emergency?

Start with Google.

In the mood for the best Mexican food in your area?

Check Yelp.

Seeking a five-star experience in Rome?

Visit TripAdvisor.
These days, a growing number of consumers are also going online to research and evaluate healthcare providers – from primary care physicians, oral surgeons, specialists, pediatric care providers, and more. According to a survey conducted by Software Advice in 2016, 77% of patients use online reviews as their first step in finding a new doctor.
Concurrently, patients are increasingly sharing their experiences with these same providers on platforms like Google, Yelp, and Facebook.
What are the benefits to this rising trend? What are the risks?
Reviews provide insights about the patient experience
Whether consumers are conducting a search for a new provider – or following up on a recommendation from a friend – online reviews provide valuable insights into the patient experience with individual doctors, clinics, or entire healthcare systems. For instance:
Did the doctor provide compassionate care and answer all of her patient's questions?

What was the practitioner's bedside manner?

How long were patients expected to wait before a consultation with a doctor or nurse?

Was the patient's insurance accepted, or were there surprises in the billing process?
Online reviews provide a wide range of first-hand feedback on what prospective patients can expect. They might also affirm whether she is making the right healthcare choices for herself or for her loved ones.
However transparent platforms like Google, Yelp, and Facebook may seem, consumers must keep in mind that online reviews sometimes represent the experiences of a select few patients. For example, the fewer reviews present on any one page, the less likely they are to represent the average, or true, patient experience with a provider or healthcare system. As more reviews appear, common themes may emerge that offer proof of quality care – or, perhaps, the lack thereof.
Positive patient reviews help providers attract more patients
Healthcare providers are increasingly aware of the rising popularity of online reviews among prospective patients. In fact, some have gotten proactive by allocating more resources to collecting patient reviews and leveraging feedback to provide the best possible experience.
For example, UPMC is the top ranked hospital system in Pittsburgh. In addition to patient care, UPMC is known to share a wealth of information, including reviews, on its website. Doctors have their own pages, where patients share feedback: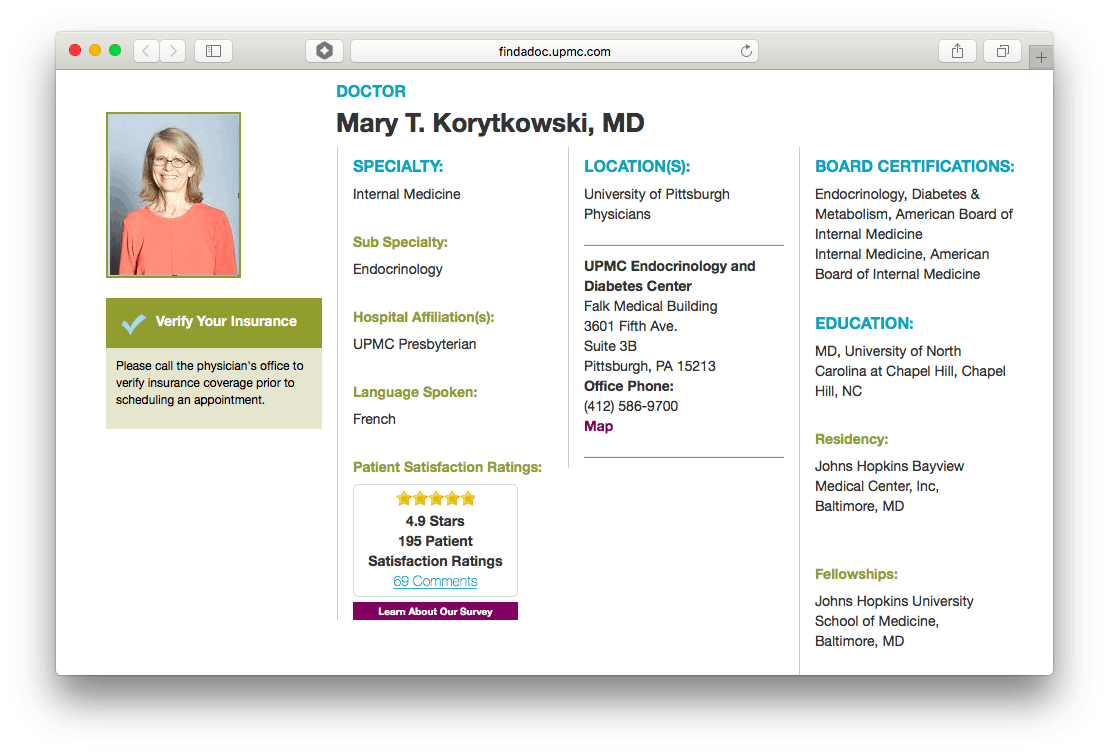 Here's how UPMC explains its patient survey process:
"Patients treated by UPMC physicians and advanced care providers are randomly chosen to fill out our patient satisfaction surveys. Surveys are sent by email and mail to offer patients a chance to provide feedback about their experience with their provider. Each year, almost 180,000 of UPMC's patients respond. Results are shared with departments and individuals for continuous opportunities to improve care."
In the case of UPMC's program, patients can provide public comments that are published to individual provider pages. Dr. Mary T. Korytkowsk (pictured) has earned a 4.9 star rating (out of 5) across nearly 200 patient surveys. Patient comments on Dr. Korytkowsk's page provide additional context: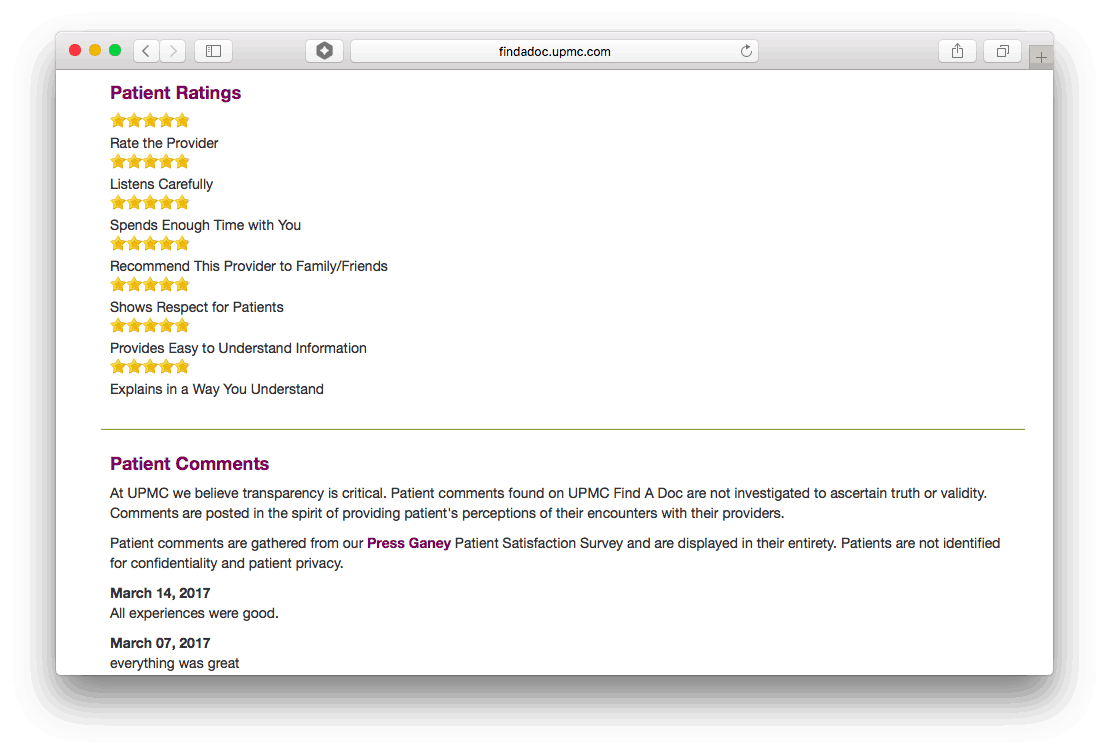 Healthcare systems like UPMC know that prospective patients are reading – and relying upon – patient reviews to make informed choices. They know  that online reviews are here to stay, and that continuous feedback not only helps them improve, but also helps inform and attract new patients.
Providers must comply with HIPPA laws when dealing with healthcare reviews
While the rise of consumerism in healthcare provides more transparency into the patient experience, providers must be aware of – and comply with – legal regulations, when it comes to interacting with patient feedback on public platforms. The Health Insurance Portability and Accountability Act (known as HIPAA) forbids providers from disclosing protected health information, which can be interpreted very broadly, and include even basic information, such as whether the review writer was actually a patient.

As a result, providers must sometimes tread carefully between active solicitation of feedback, and interaction with patient comments – especially when something has gone wrong. This can be frustrating for providers, who possess a certain level of medical knowledge, but may not have the same opportunity to present their perspectives in an open forum.
Healthcare providers and their staff members need not become experts in online reputation management to mitigate these issues. An investment in and partnership with a review solution like Broadly can help providers streamline the online review generation process, navigate privacy concerns, and stay compliant with the law.
The Broadly reviews solution is HIPAA compliant, and designed to protect patient privacy at every turn. Additionally, the Broadly team is trained on the most current HIPAA procedures, and is available to train and collaborate with healthcare providers, so that they can focus on what's most important – providing the best possible care for patients.
If you'd like to take a more proactive approach to building an online presence for your practice, clinic, or healthcare system and generating more patient reviews, get in touch with our team of experts.