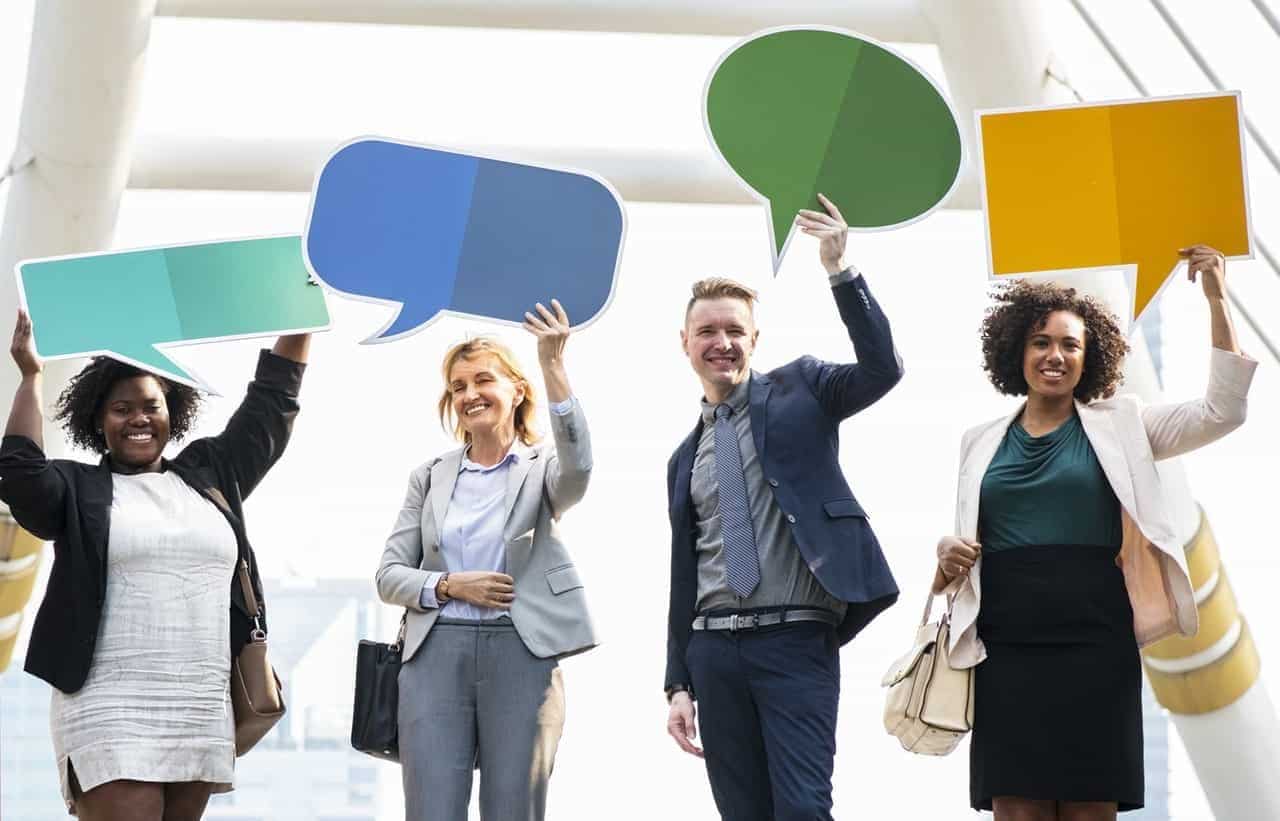 9 Ways to promote your customer testimonials
Whether you're shopping online, going into a store, or even picking up the phone to learn more about a product or service, I'm willing to bet you did your due diligence and read some customer reviews ahead of time.
Customers are more empowered than ever before – and this isn't just referring to Amazon.com. The rise of additional review platforms like Yelp, TripAdvisor, Google, Groupon, and G2 Crowd, have led to more informed buying decisions across a variety of industries.
Customers rely on honest, transparent reviews before pulling the trigger on purchasing a product or selecting a service. As a matter of fact, 93 percent of consumers stated they read reviews at some point along the buying process – with 35 percent saying the presence of online reviews is an absolute must before engaging with a brand.
It's time for marketers to respect the power of customer advocates, and put those positive reviews and hard-earned testimonials to the forefront for other potential customers to see. Lucky for you, we compiled a list of ways to promote your customer testimonials.
Free Guide: How To Optimize Your Google Business Profile
1. Feature them on your website
This may seem like an obvious one, but you'd be surprised by how many businesses aren't displaying customer testimonials on their websites.
There are a number of ways to do this, but perhaps the most common way is by using the reviewer's picture (if applicable) and pulling a compelling quote from their testimonial.

Here's an example of a simple review of Hubspot CRM, a piece of software used to manage customer relationships.
Varun's review is everything you should look for when pulling testimonials. He thoroughly explains how the CRM software tracks his daily productivity, helps him understand business-crucial data, and is easily accessible on mobile.
While that is an example of a G2 Crowd review, there are also easy ways to embed customer reviews from places such as Google, Facebook, and Yelp directly onto your website. This how-to article from Broadly does a great job of showing step-by-step how to embed a Facebook review into your website or blog.
For B2C or e-retail reviews on a website like Amazon, the user should be able to explain what drove them to purchase the product and what they enjoy most about it. For example, words like "durable," "high-quality," and "long-lasting" are testimonial-worthy descriptions.
Bonus points for what we refer to as a "verified review," also known as reviews that are proven to be authentic and from a real user of the mentioned product or service. Verified reviews are a great way to filter out spam or fake reviews – reassuring potential customers.
While verified reviews are specific to G2 Crowd, other review sites have similar measures. It can be as simple as having a photo and social network attached to the review.
Certain review websites have a stronger commitment to authenticity and weeding out the bad reviews. Sticking to the more reputable review sites will help with overall trust.
2. Design a testimonial page
Want to get even more creative with your customer testimonials? Instead of simply featuring them on your website, you can dedicate an entire webpage to testimonials.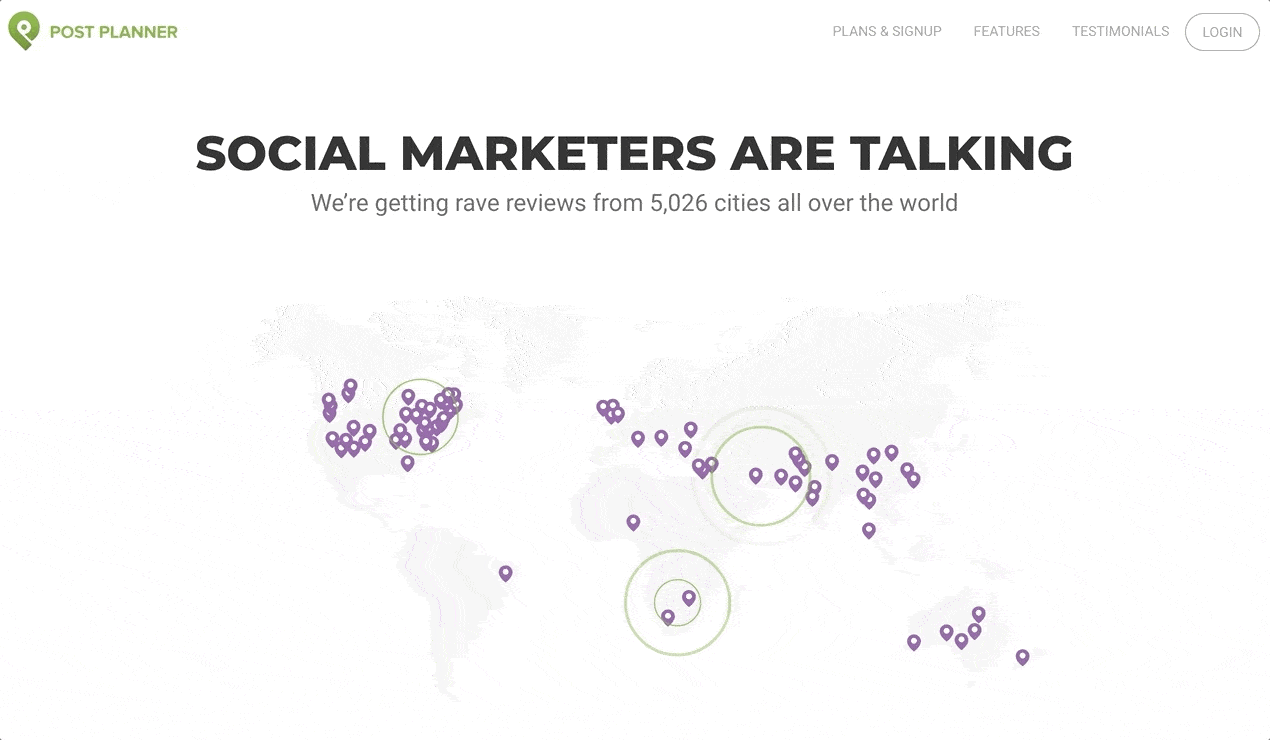 Post Planner decided to leverage multiple testimonials and paired them with interactive graphics on a single webpage. Toward the bottom of the page, Post Planner also showed the influence of their product on different social networks.
A testimonial page allows for further exposure of your product or service. While building these pages obviously requires some time, resources, and attention to detail, it could serve as a great reference for potential customers.
3. Utilize case studies
Looking to take those customer testimonials to the next level? Let me introduce you to the power of case studies.
While case studies are typically considered "further-down-the-funnel" types of content, they're great at getting those on-the-fence prospects across the line.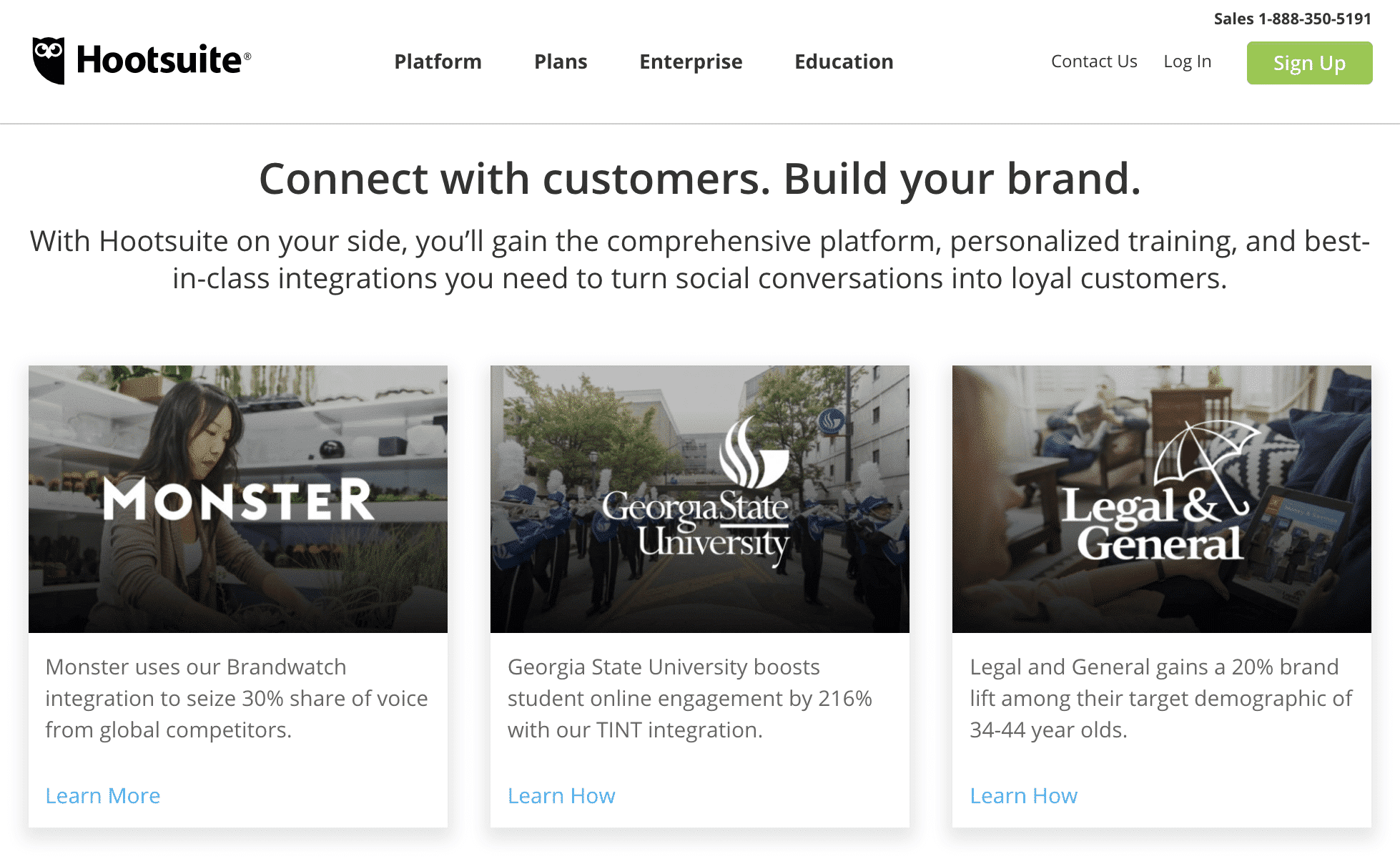 The benefit of writing a case study is that you're able to get into the nitty-gritty of how exactly you went above-and-beyond to help your client succeed.
Feel free to share any relevant metrics in your case study. For example, Hootsuite conducted a case study on how its product integration helped Georgia State University boost online engagement by 216 percent.
The combination of relevant metrics and customer testimonials shows potential customers two things: The value of your product or service, and how helpful your company is at nurturing a relationship.
Hint: Before writing a case study, it's important to make sure your customers are on board with you using their name, title, and testimonial. You want to keep your advocates informed the whole way through. Plus, they may be willing to provide extra quotes and data to add even more detail to your case study.
4. On your Facebook cover photo
A Facebook cover photo, really? Actually, plastering a powerful customer testimonial on your company's Facebook cover photo is one of the more unique strategies we've seen at G2 Crowd.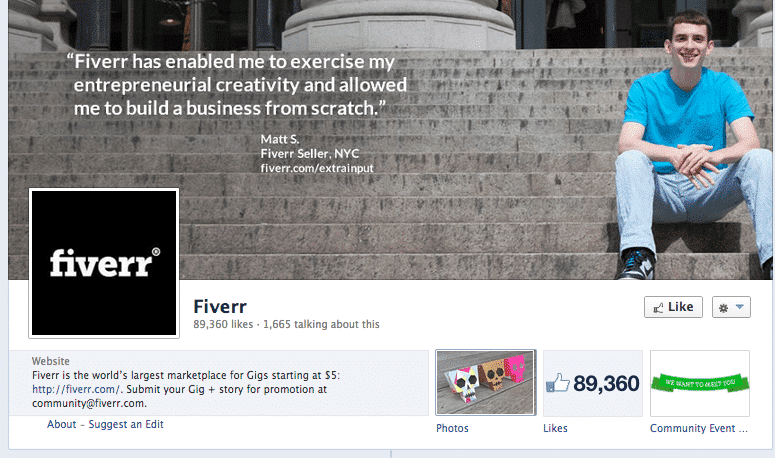 Fiverr, a digital hub for freelancers, once highlighted a user by using both their testimonial and photo on its Facebook cover.
What's the benefit of replicating Fiverr's strategy? Well, the cover photo is one of the first things a customer will see when visiting your social media profile – which 62 percent of consumers do to get more information about a local business.
Now customers don't have to go fishing for testimonials; you put one right in front of their faces. By putting your users at the forefront, it also helps humanize your brand.
5. In your email signature
This may not be the most conventional approach, but showcasing a few customer testimonials and linking to them (if applicable) in your email signature can be a neat way to boost your brand.

In this case, performance artist Dave Ruch leveraged testimonials from a few industry professionals to establish his own credibility. He also made sure to link to his professional social networks for further engagement.
If you're contracting, consulting, or self-employed, then promoting testimonials in your email signature is especially effective. Just be sure to get permission to use people's names and titles!
6. Through social media
Facebook, Twitter, Instagram, whichever you prefer. Social media is an incredibly powerful avenue for promoting your brand, so why not use it to promote your customer testimonials?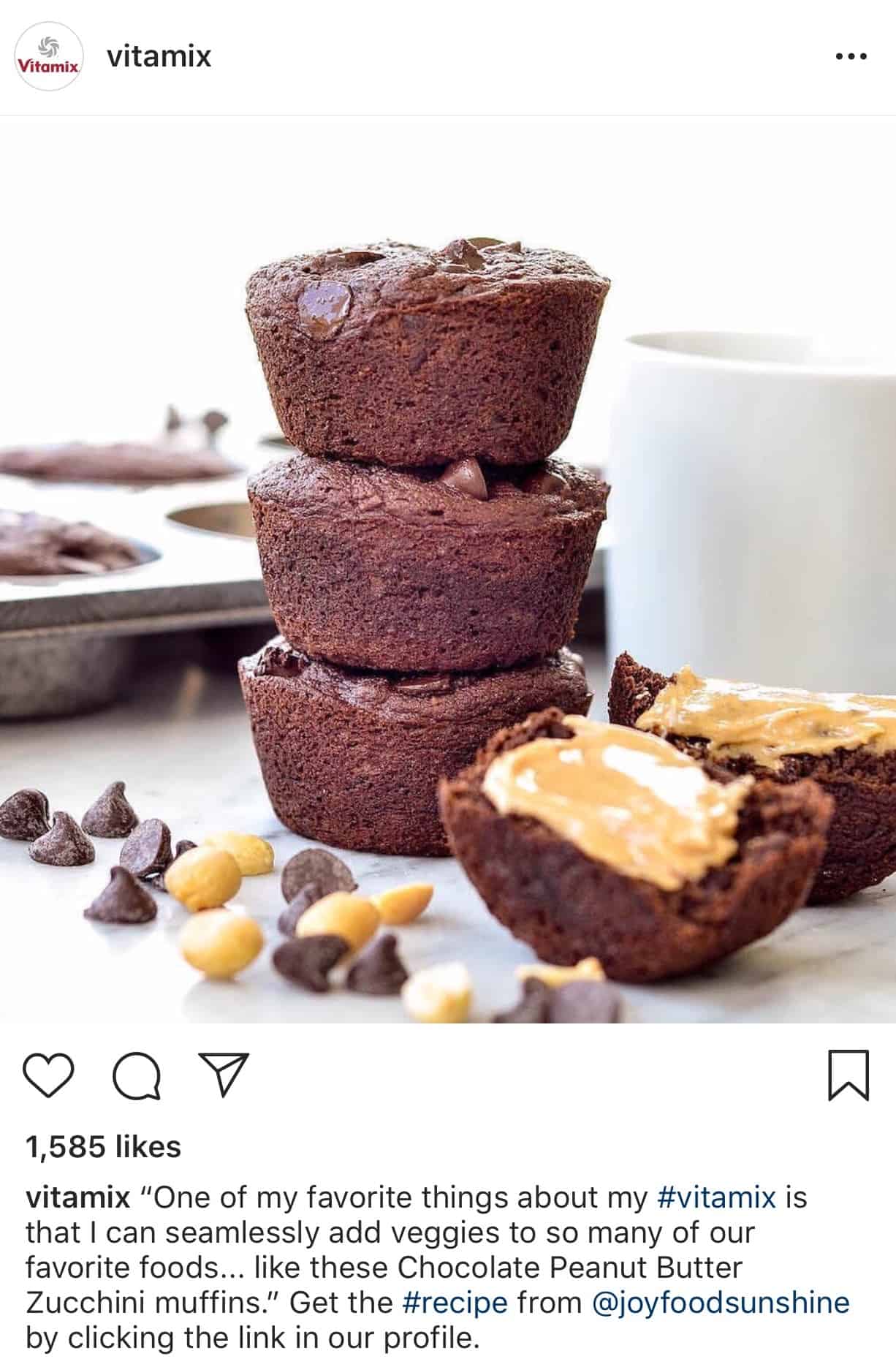 Try not to get too distracted by how great these muffins look, and focus on how Vitamix quoted a satisfied customer in their Instagram caption. Also, take note of the use of hashtags throughout the post.  Utilizing hashtags helps establish brand recognition, and enables your post to reach wider audiences.
In the case of Instagram marketing, pairing high-quality photos with testimonials might be all it takes to convert potential customers.
7. Video testimonials are powerful
The purpose of promoting customer testimonials is to ultimately convince other customers to convert, right? Well, one of the leading ways to convert customers is through video content placed on landing pages – an 86 percent increase compared to text-based testimonials!
Now we understand that video testimonials aren't doable for everyone. But for those with the resources to do so, video is a seriously powerful form of content.
Some best practices regarding video content:
Keep it short! These testimonials should be no longer than one minute.
High-quality videos (with clear audio) are optimal.
These testimonials shouldn't autoplay. This could actually inhibit the user experience of potential customers.
8. Write a blog post
A great alternative to video content is writing a long-form blog post around a customer story and their testimonial.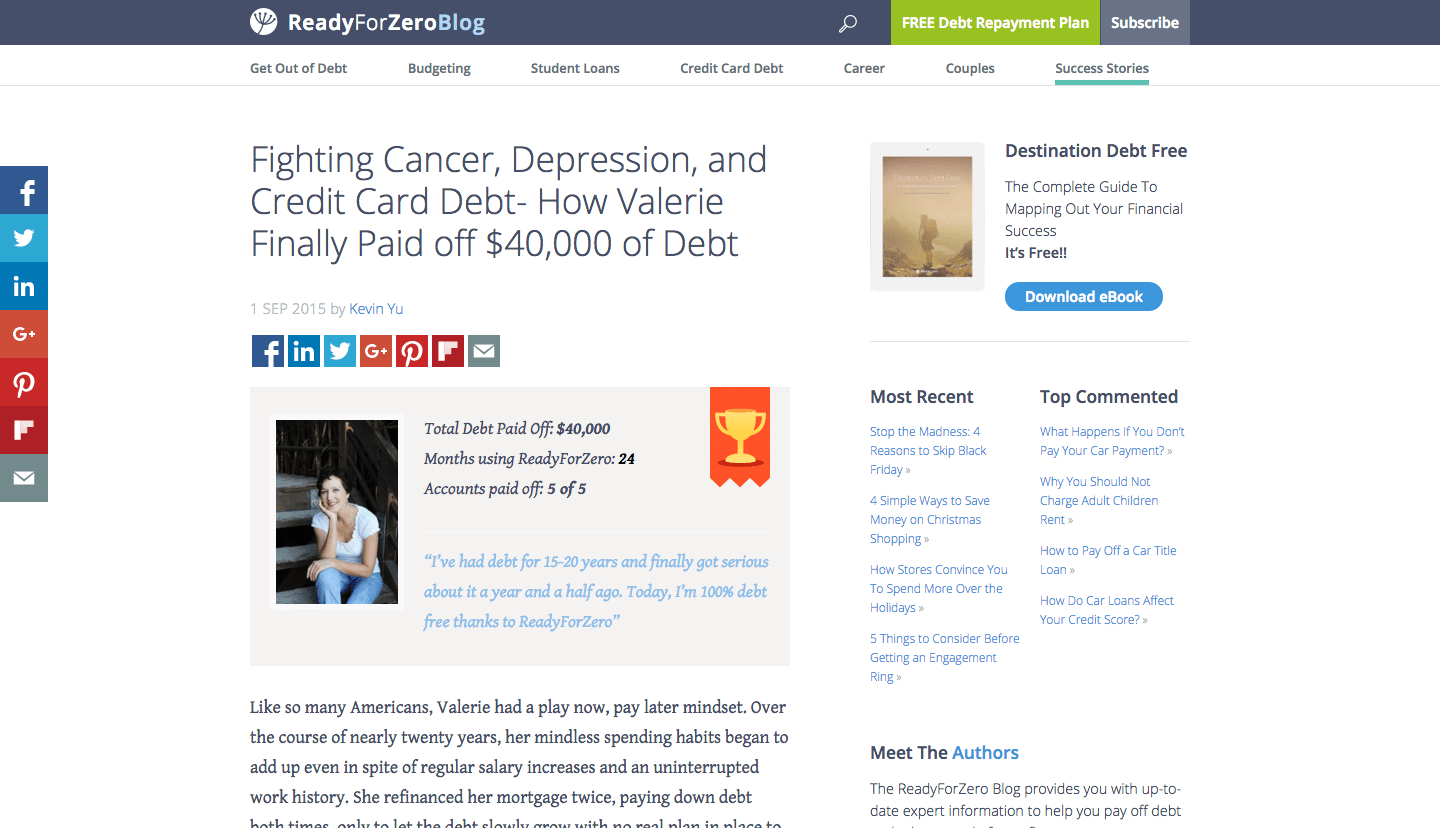 The example above from ReadyForZero guides the reader through Valerie's hardship facing $40,000 of credit card debt. It's a story that a variety of readers can relate to, and it's a headline that prompts an emotional response.
The blog eventually leads to how Valerie discovered a debt-relief solution through ReadyForZero, and it did so in a way that wasn't overly reminiscent of a sales-pitch." Your solution, whatever it may be, should come across as customer-centric.
9. Feature them in-person
Videos, blogs, and social media are highly effective ways to promote customer testimonials, but let's not underestimate the power of promoting them in-person.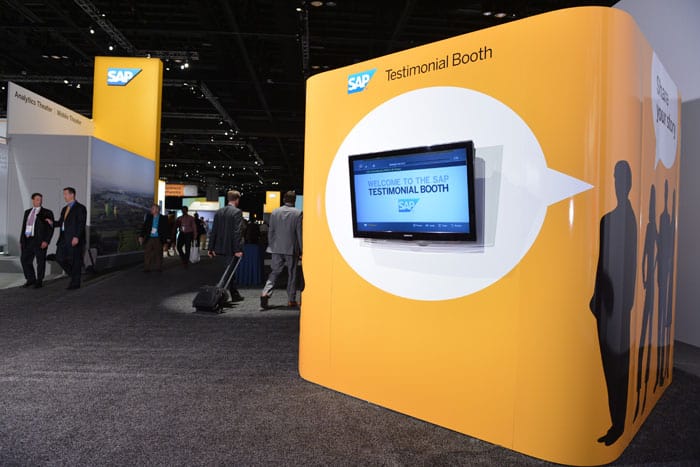 SAP, an enterprise software corporation, took a unique route to acquire and promote customer testimonials in-person. The photo above shows a neat video booth they set up at a recent conference.
Since video booths are a costly investment, you can easily slap customer testimonials on your conference booth itself. Have a G2 Crowd badge or a Yelp sticker from garnering great customer reviews? Might as well show that off too! 
You earned them, now promote them!
Acquiring positive customer reviews is one thing, but turning those reviews into powerful testimonials is the work of a savvy marketer.
Be actionable, and always look for unique and effective ways to promote your customer testimonials. Customers are constantly researching and educating themselves, so it's important to utilize those who advocate for your product or service.
See what Broadly can do for your business in just 30 days
---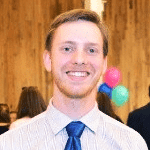 Devin Pickell is a Content Marketing Specialist at G2 Crowd, generating content for its Learning Hub. He has experience marketing for early-stage startups out of Chicago's booming tech community. You can follow him on Twitter at @Devin_Pickell and on LinkedIn.