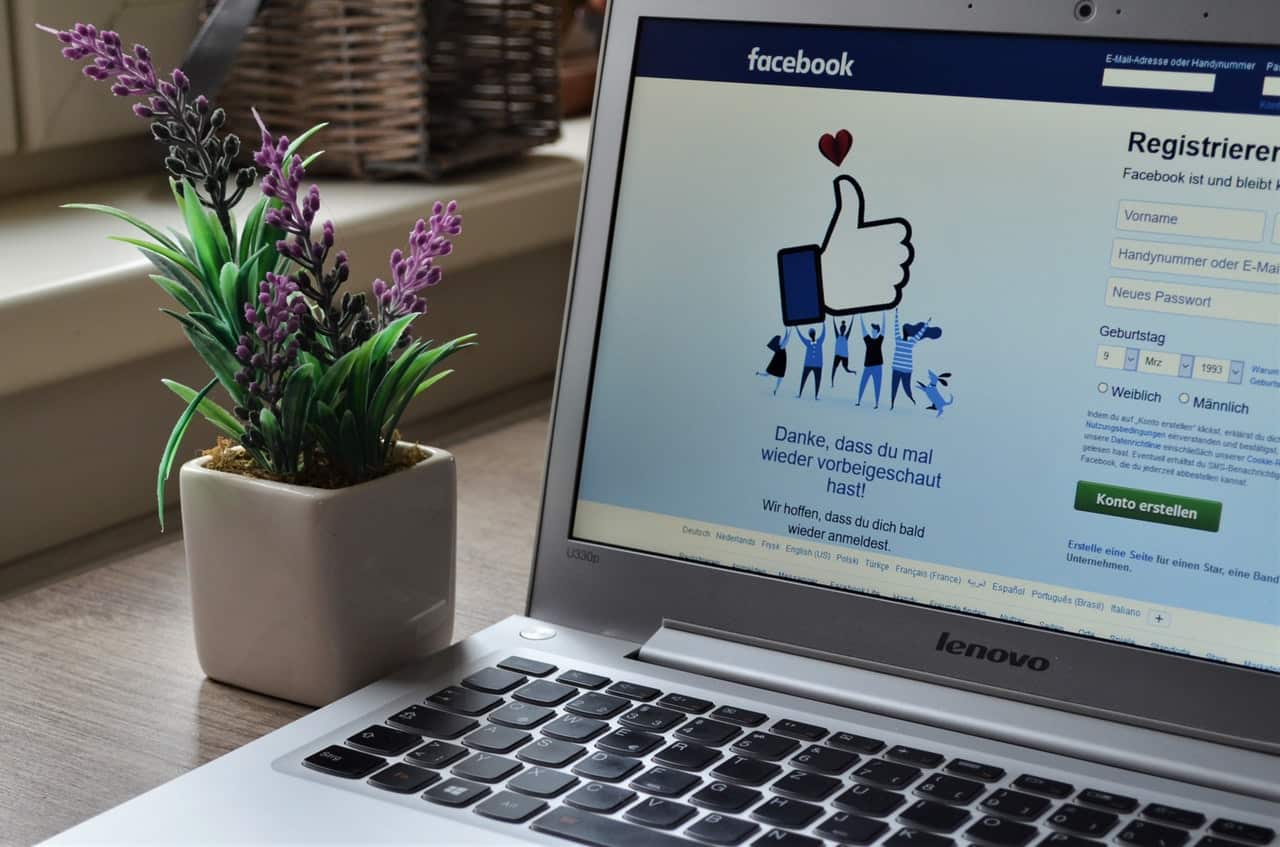 How to embed Facebook reviews on your website: a step-by-step guide
Getting reviews for your business is a great way to show potential customers what it's like to work with you. Facebook is one of the biggest platforms on the internet, so gaining reviews on your Facebook Business Page can be extremely helpful.
It usually takes a little work to get reviews. It's easy to win Facebook reviews if you simply ask a client to leave you one. You can use a reputation management tool such as Broadly, which makes sending these requests to customers easier. Broadly also has a great program that helps promote your Facebook reviews.
To help you get even more eyes on those reviews, we wanted to show you a savvy way to get the most out of your Facebook review efforts. Since not everyone sees your Facebook Business Page, we'll show you, step-by-step, how to embed the Facebook reviews you already have on your company's website. This way, you don't have to ask for reviews twice, and you can spend more time improving your business!
Free Guide: 10 Tips To Get More Customers From Facebook
What does it mean to 'embed' a review?
Embedding a review is showing the review directly on your site rather than linking to it, so potential customers can see it without having to navigate to another page. You can choose a current, positive review to display on your website for people to see when they search for your business. Showing a Facebook review on your website acts as a customer testimonial and can help build trust with potential customers. 
How to embed Facebook reviews on your website
Below is a complete guide on embedding your Facebook page reviews on your website.
Go to the Facebook reviews section of your Facebook account
Find a review you want to embed on your website
Click the "Embed" option
Copy the embed code that pops up
Paste the embed code into the backend of your website
Get more Facebook reviews
Manage your online reviews
Step 1: Go to the Facebook reviews section on your Facebook page
The first thing you'll want to do is find the reviews section on your Facebook Business Page. Go to your page as you usually would when posting something, and to the left of the publishing box, you'll see a sidebar menu. 
This menu should be below your Page's profile picture. Depending on how you have your homepage setup, the location of the "Reviews" tab may be slightly different than our example, but it should be in the general area.
Step 2: Find a good review and click the three dots in the upper-righthand corner
Once you click on the "Reviews" tab, your reviews should appear. There are tabs that categorize them: "Most Helpful," Most Recent" and "Star Rating."
If no one has voted any of your reviews as helpful, you probably won't see any reviews come up at first. Try clicking the "Most Recent" or "Star Rating" tabs to find your reviews. Once you see the list, find the review(s) you would like to showcase on your website. These would be your most impressive reviews.
Once you pick one, you will see three dots in the top right corner of the box. Click those.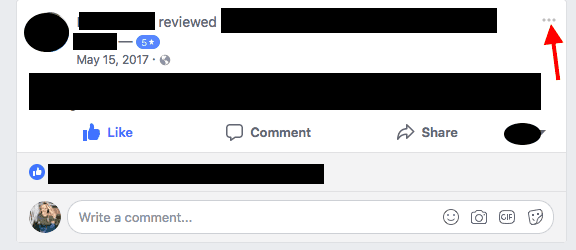 Step 3: Click the "Embed" option 
Once you click the three dots, a menu will drop down with the option labeled "Embed." If you cannot see it in the drop-down menu, try clicking "More Options," and embed should become an option. Select the Facebook embed button.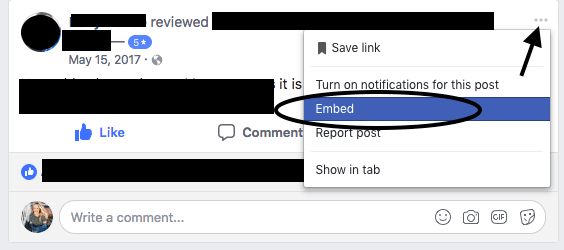 Step 4: Copy the embed code  
After you click the "Embed" button, a window should pop up. In this window, you receive the embed code. The embed code is what you need to copy these reviews onto your website.
Highlight the entire code simply by clicking it once, then right-click and choose "Copy" to Copy it. You can also use keyboard shortcuts to Copy the code — it's Command+C for Mac computers and CTRL+C for PCs.  
Select Facebook Review Embed Code  

Make sure you don't copy anything else during this process, or you will lose your embed code and have to do it all over again!
Step 5: Paste the embed code on the backend of your website
How you update your website depends on the website builder you use. For WordPress, you can add widgets that support code. Wherever you add code to the backend of your website is where you will want to paste your embed code. You may want to create a whole new page to show off your Facebook reviews, or maybe you just sprinkle them in on the sidebars. 
Play around with the design to see where your Facebook reviews pop on your website! 
Step 6: Get more Facebook reviews
Embedding your Facebook reviews on your website helps you market yourself to a larger customer base while taking less time. As long as you embed your Facebook reviews on your website and share them elsewhere, there's less need to garner additional reviews using other platforms, such as Google reviews or Yelp. You can keep it much simpler if you just choose one review platform and make those reviews readily visible just about anywhere your company appears online.
So, if you choose to stick primarily to Facebook reviews, you may want to know how you can keep getting more great reviews. Below are some of our favorite methods of gathering Facebook reviews:
Add a link to your email signature
Promote your existing Facebook reviews
Send out a personalized "ask" email
Give incentives to customers (get 10% off your next visit if you review us on Facebook!)
Include a call-to-action (CTA) in blog posts/marketing materials. 
Of course, there may come a time when a fake or spammy review hits your Facebook Page. Don't fret — you can remove Facebook reviews as well. There are a lot of reasons to start gaining Facebook reviews. Not only will they help increase client trust, but they will also help you win more customers. 
People would much rather choose a company with 10 reviews than a company with none. Learning how to embed them on your website is just one way to get the most out of those reviews when you earn them. Work smarter, not harder!
Step 7: Manage your online reviews
Using a reputation management tool like Broadly allows you to check and respond to customers' feedback from several platforms all in one place. Also, the Broadly platform helps automate asking and promoting customers' positive reviews to platforms such as Google reviews, Yelp, Nextdoor and Tripadvisor.
Tips for getting more Facebook reviews
It's important to continually get Facebook customer reviews to show social proof to potential customers that your excellent service is current. You can ask for Facebook reviews directly; some customers who had positive experiences might happily leave reviews. Send an email request with a link to your Facebook reviews. 
Make sure you respond to every review to show customers to care about their experiences and value their feedback. Place CTAs asking for reviews on your website and link to Facebook reviews. Be consistent in asking for reviews, use several methods to encourage customers and make navigating to your review page easy. 
Manage online reviews with Broadly
Want to see how Broadly can automate getting and managing reviews?
See what Broadly can do for your business in just 30 days