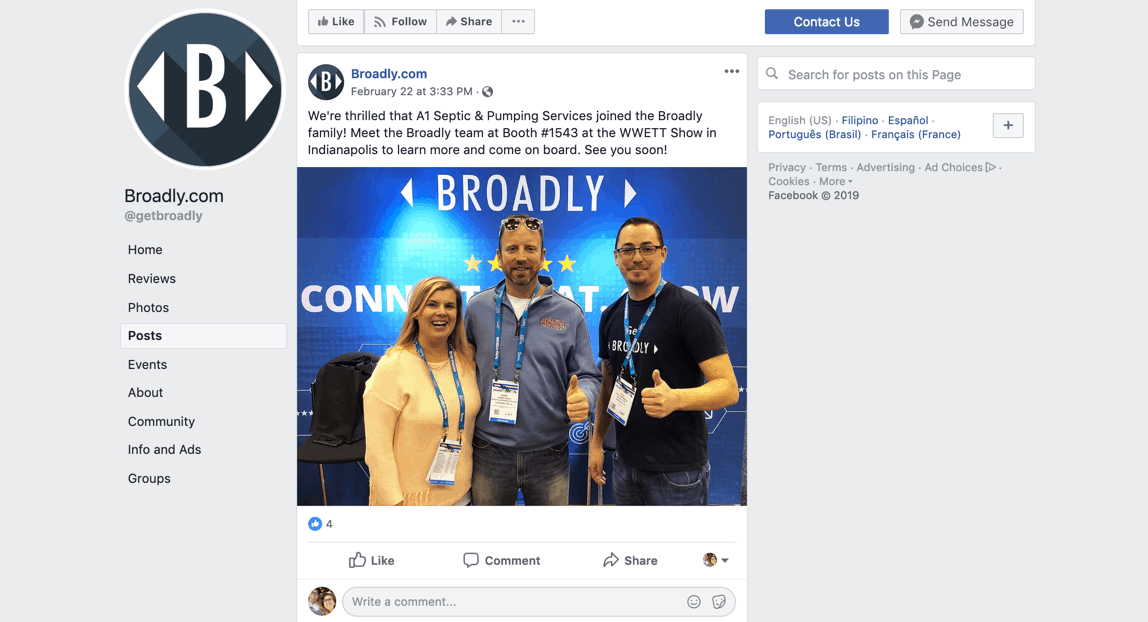 How to Make a Business Facebook Page
Facebook can be a great platform for small business owners because it allows them to reach a large audience and even re-engage existing customers.
If you're looking for information on how to get your new Facebook page going, start by reading this blog! We'll take you through how to set up your business page so you'll be ready to get started on this next step in your business's marketing plan!
Step 1: Create Your Page
It starts here. Simply open up Facebook to create a business page. Choose which page is appropriate for your business. You'll need to have a pretty good handle on the kind of business you'll be launching to choose a category.
When you're creating your new business page, you'll need to make sure you have your business type selected. Your options include:
Local business or place.
Company, organization, or institution.
Brand or product.
Artist, band, or public figure.
Entertainment.
Cause or community.
This selection will help shape the other options provided for you when customizing your page.
Facebook Business Tip: Iron out the details ahead of time. This isn't something you want to go back and finish later. Make sure you have your business type, business name, phone number and/or email address, and a professional synopsis ready to go. This is people's first impression of your business—you want to make it a good one.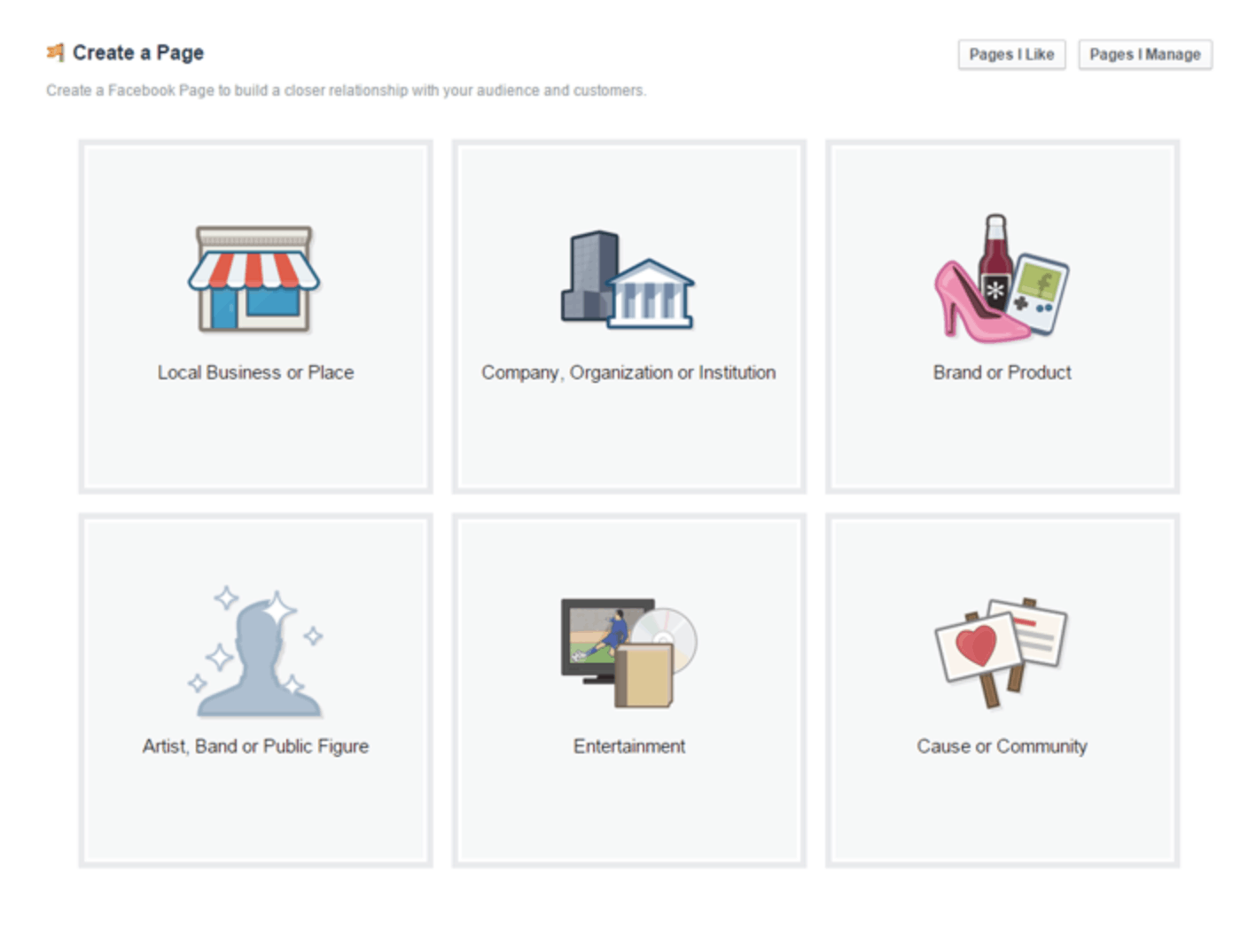 Step 2: Complete Your Basic Information
After creating your page, Facebook will prompt you through the following sections of your business page. Don't skip them in an attempt to get through more quickly. All of this information will give your prospective clients a compelling reason to work with you.
The About Section
This should work as a quick recap of your business. It's a synopsis of your products and/or services, so aim for providing two or three sentences here that really capture your goals and personality of your business.
Don't slack on marketing here! You won't have your audience's attention for long, so make sure to capitalize on it. Link your website here and include how your business is different from others.
Facebook Business Tip: Choosing a unique Facebook domain name here? A unique domain name (your custom Facebook URL) can be a great way to give your business's name visibility. Aim for something short and catchy that will be easy to remember and will fit easily on any marketing materials.
Make sure you have your Facebook domain name just the way you want it. It can be difficult to change at a later date and you don't want to create any confusion for your customers.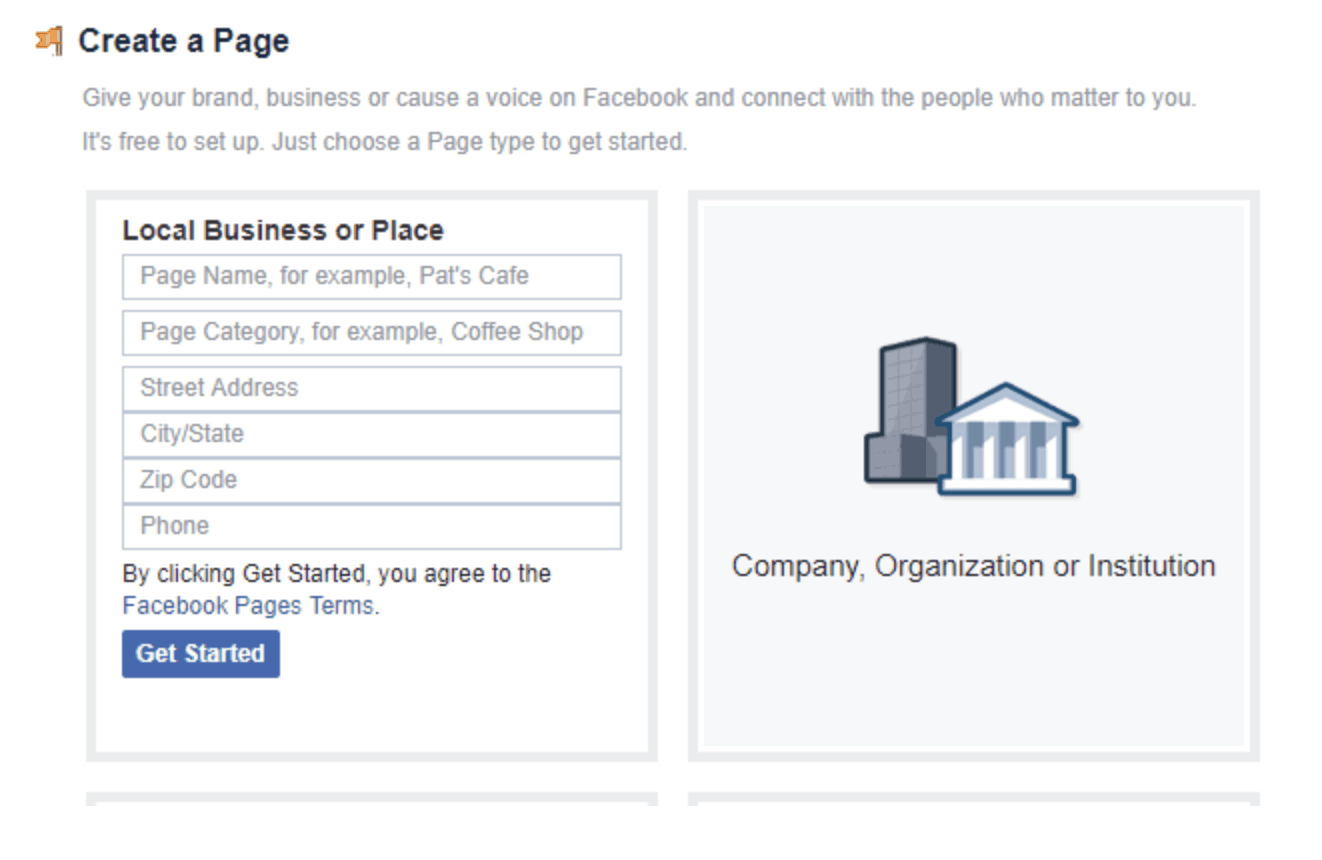 Upload a Profile Photo
Nothing says amateur more readily than not including a profile picture. Make it look professional by choosing a photo of your product, storefront, or another relevant image.
This photo will be your future consumer's first visual of your work. Make sure it's a positive one, even if it means investing in a photographer or a photo editor. You want to be considered by your target audience as a successful professional. It's imperative that your profile photo supports that.
Facebook Business Tip: A square image will work best for you here. While any size can do, the recommended size is 180 pixels by 180 pixels.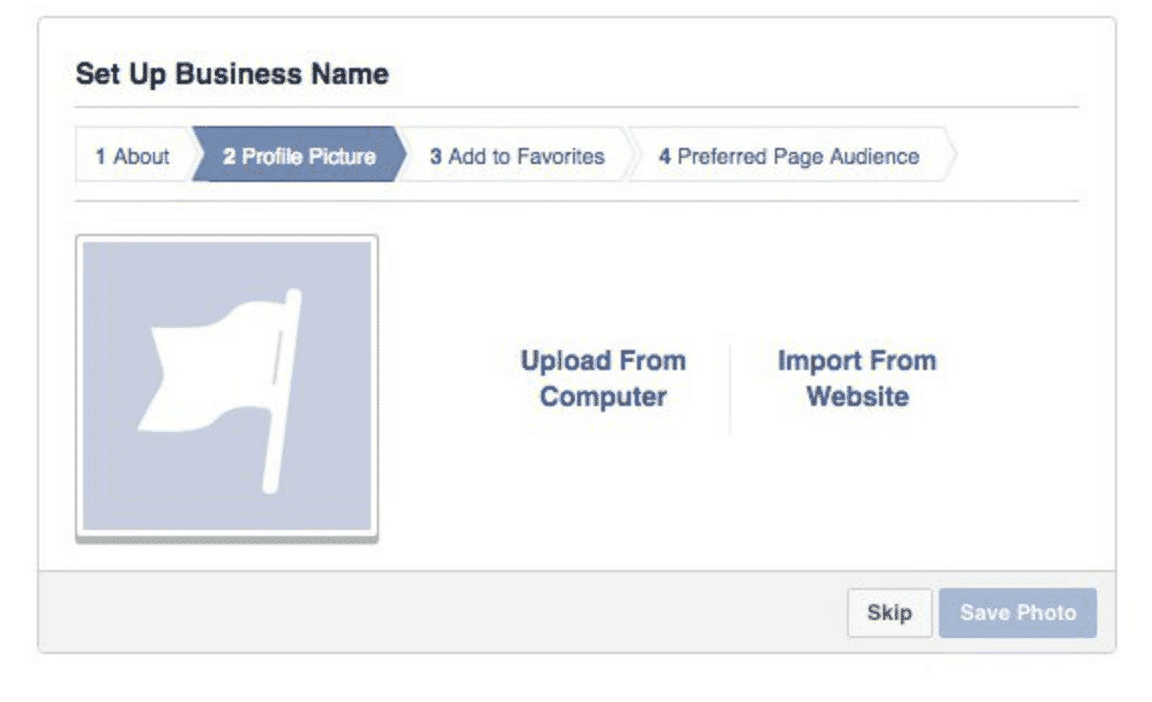 Reach More People
This is where Facebook will prompt you to create and share an advertisement. I generally don't recommend skipping steps, but this is one you can pass on.
Your Facebook page is still in its fledgling state, and likely won't draw people in at this point. Launching into sharing too early can waste a great opportunity to build traffic for your business's page.
Facebook Business Tip: Once your page is up and running and you've gained some audience traffic and traction, head back here to gear up your Facebook marketing.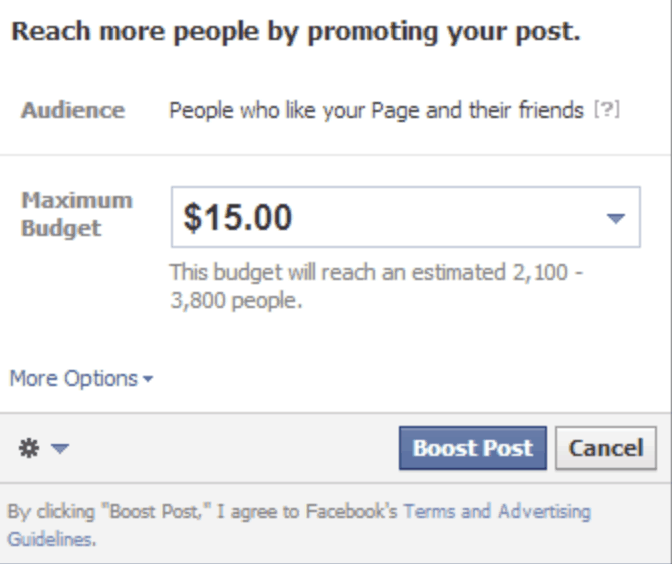 Step 3: Navigating the Admin Panel
Once you've gotten to this point in your page creation, your business page is fully created. Congrats! Now you need to fill your news feed page with information that's going to draw your audience in.
At this point in your page setup, you'll want to move on to address your notification settings. This is where you'll set up how frequently you want to receive notifications. Factor in your marketing goals and online presence when navigating this piece.
You should also pay some attention to the Page Roles section. This is a great feature for businesses that have multiple people with access to the Facebook business page. If you have outsourced a media relations or marketing strategist, you'll identify them and give them permissions here.
Facebook Business Tip: Don't reach for that "like" button as soon as your new Facebook page has taken shape. Once you like your new page from your personal profile, everyone on your friends' list will receive a notification. Wait until your business page is ready to go in order to make the most of that traction.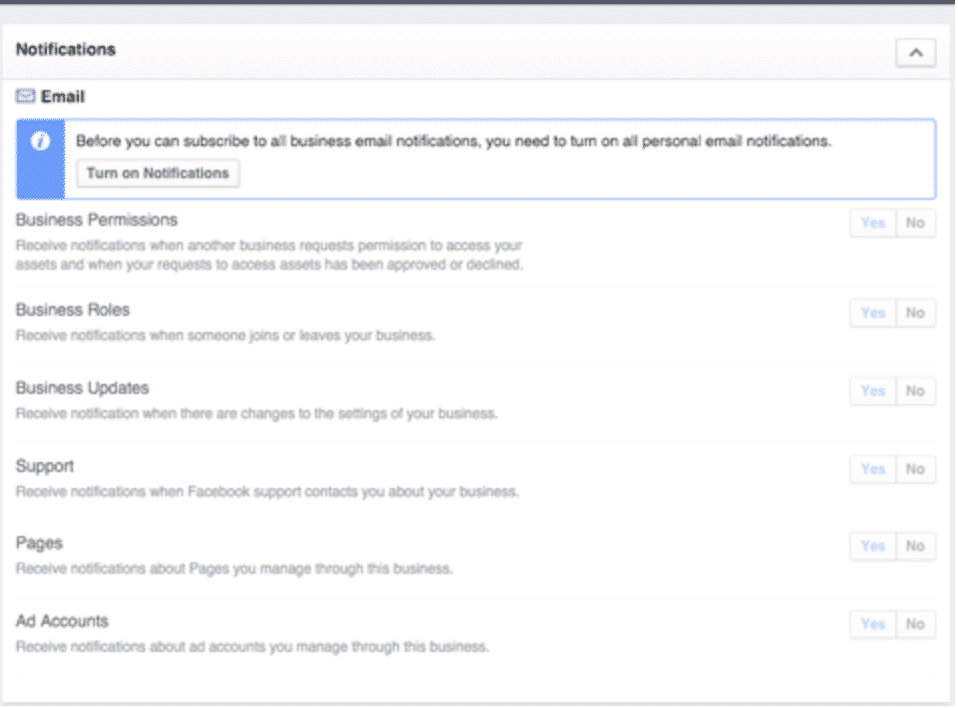 Step 4: Ramp up the Content
Start posting relevant content to your page and reaching out to people you want to help spur your growing business forward. Remember to use posts that prompt a response and give you the opportunity to engage with your audience.
You need to be present to make social media work for you and your business. Create and commit to a media schedule that won't leave you wasting time or missing out on opportunities.
Post relevant information as well as personal posts. When posting via your business page, you'll be able to choose from six different kinds of posts:
Plain text status update.
Photo with a caption.
Link with a caption.
Video with a caption.
Event page.
Location check-in.
Facebook Business Tip: Mix it up to keep your audience interested in scrolling. You'll want to use a variety of these post types on your business page. Look for quality sources and vet them thoroughly before sharing—what you post will reflect on your and your business.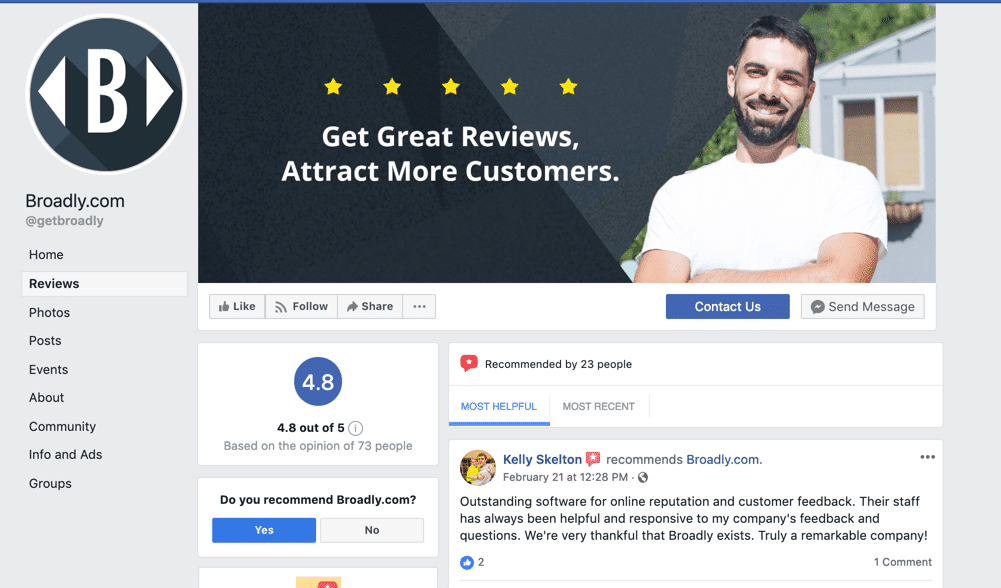 Step 5: Get Facebook Reviews For Your Business
With your business's Facebook Page you're able to collect Facebook reviews from people who have visited your business by asking for a recommendation. Having a plan to ask for reviews and how to handle negative Facebook reviews will help your business keep a positive online reputation.
Once you gain enough Facebook reviews you can show these off on your website by embedding your Facebook reviews.
Step 6: Market Your Business on Facebook
Now that your Facebook page is in shape, you're ready to begin targeting your audience. Plan on inviting people in waves. Begin with those you know and trust to support you. Let them grace your page with the initial likes and comments required to give your business footing.
Once that happens, reach beyond that circle to friends of friends, acquaintances, and business contacts. Each like you gain gives you a little more credibility for your next wave of marketing.
Finally, reach out to potential customers. By this time, you should have a good amount of interest and content. It should look like you've been around a while and have a legitimate business structure to move forward with.
Facebook Business Tip: Don't forget to have your cover photo in place before "going live" to your audience. This is usually a branded image that further strengthens your image. Use an 851-pixel by 315-pixel image for the best results.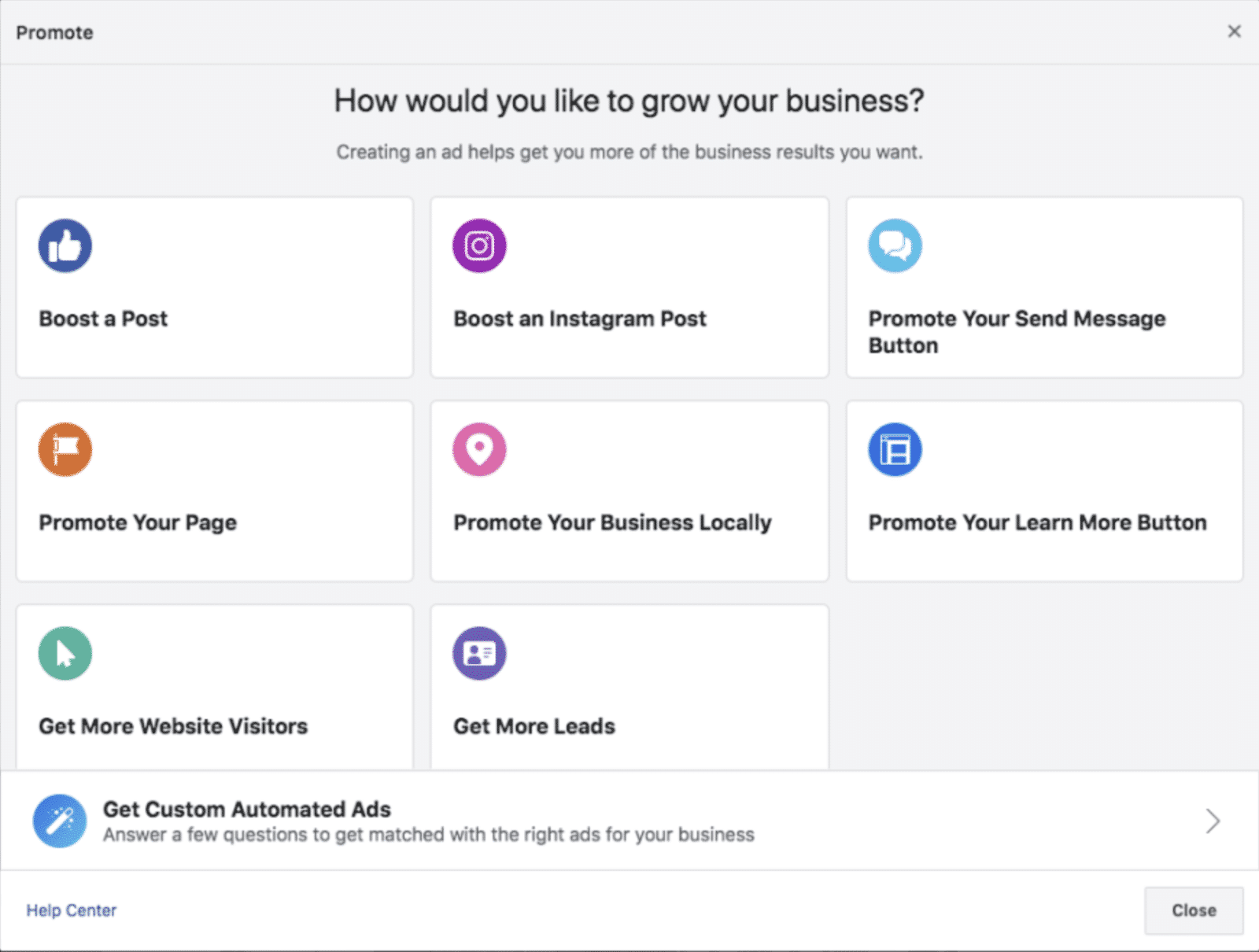 Use Facebook to Further Your Business Goals
Facebook can be a great tool for your business. Originally a social network, it's now so much more. With 2.27 billion monthly users, a marketing strategy that uses your Facebook profile and Facebook ads can be highly effective.
Make Facebook work for you. Get your new page underway and ready for public viewing. You may see your business grow in leaps and bounds with just a few clicks.