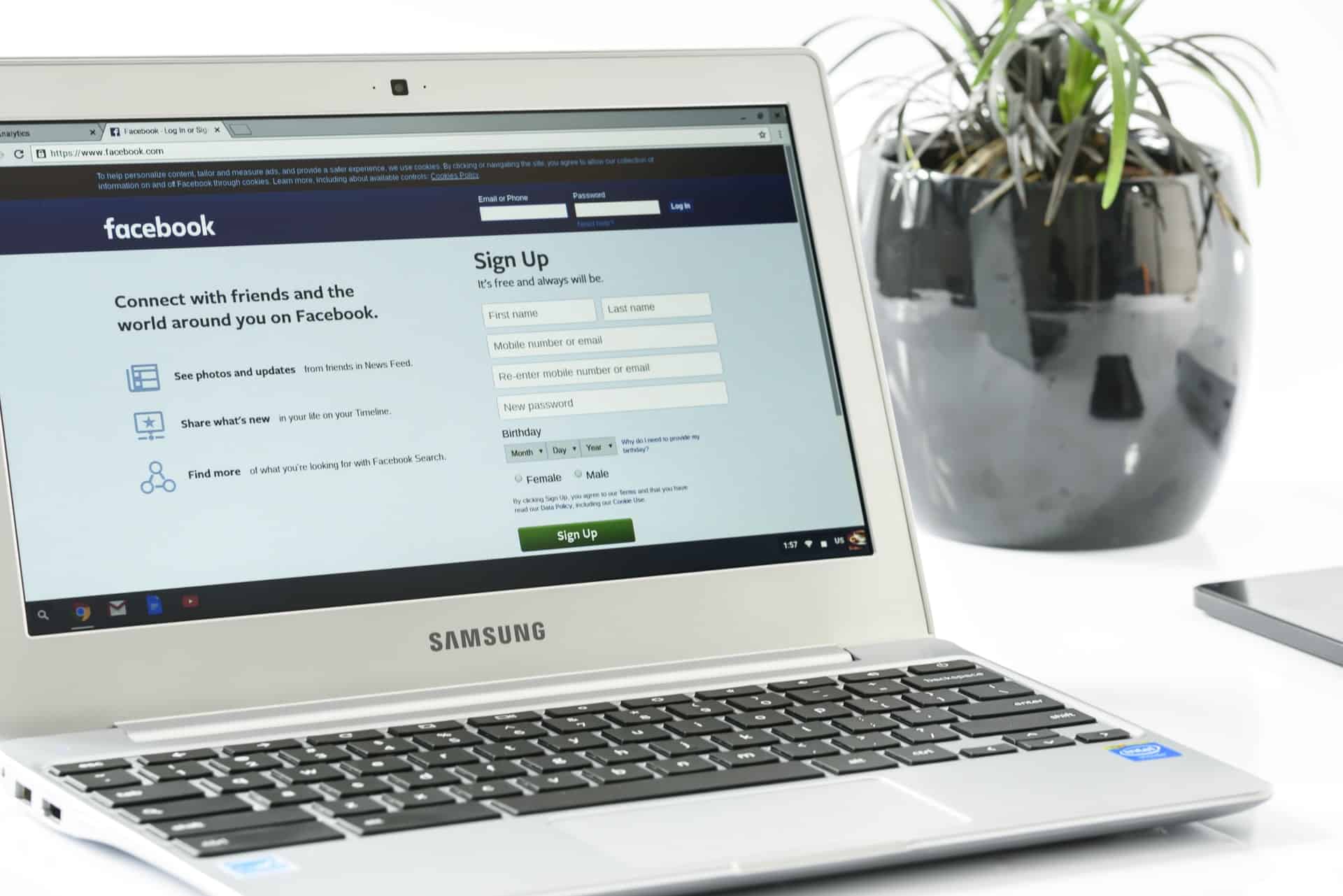 How to Remove Reviews from Facebook
If you have a Facebook business Page (and if you don't, you should), you have probably made good use out of the reviews feature. Facebook reviews allow consumers to give you a 1-to-5-star rating, with or without an added explanation.
As you've been monitoring these review, you may have noticed that some poor reviews have trickled in, and they've hurt your overall star rating… uh oh. Today we're going to show you why online reviews matter and the options you have for removing bad reviews on Facebook. After reading this article, you should have a better handle on how to manage your company's image on Facebook.
How to Remove the Review Section from Facebook
While removing Facebook reviews might seem like a good option for someone who's received numerous negative reviews, keep in mind that you also won't have positive reviews to show, either due to the methodology. In order to remove all negative reviews, you have to remove the entire reviews section from your Facebook Page. We don't recommend doing this since having online reviews (good or bad) still increases your chances of landing customers. Nevertheless, we will teach you how to remove the Reviews section from your Facebook business Page.
To disable Facebook Reviews, follow these steps:
How to Remove the Review Section from Facebook
Go to your Facebook Page
Click on "Settings"
Click "Edit Page" in Facebook settings
Scroll down to "Reviews" and click "Settings" next to it
Move the slider to OFF
Click "Save"
Remember that disabling your reviews does not delete them, it just hides them. If you decide to enable your reviews again, the same reviews will come back up.
How to Delete Negative or Fake Facebook Reviews
If you're like us, chances are you don't want to remove ALL the reviews from your Facebook Page. After all, you probably have some really great reviews there! So you may be wondering how to only delete the bad or fake/spammy reviews. Well, as of right now, that is unfortunately not an option on Facebook.
You cannot pick and choose which reviews you delete. While it is frustrating, just think about how much it is helping honest businesses like yours from being in the same group as frauds who only publish positive reviews. In the long run, the bad guys will get weeded out, and you'll rise above if you continue making customers happy. One or two bad reviews won't kill your street cred.
However, you do have one option: Reporting reviews. You can report a fishy review to Facebook so they can investigate whether or not it should be taken down.
How to Report a Facebook Review:
Go to the review
Click the ". . ." in the upper right-hand corner
Click "Report post"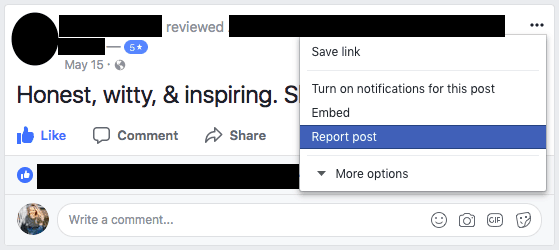 Impact Online Reviews Have on Businesses
Public sentiment can have a big impact on your company's success. No matter what type of service or product you provide, if people talk about it, others will listen. Obviously,  that's not good for business if you're getting bad online reviews. As a business with a website, it's important that you garner online reviews—people want to get opinions on whether or not they should give you their money, and reviews are often a big proponent in the decision-making process.
In fact, 90% of customers read 10 or fewer reviewers before trusting a business! And, to add to that, they spend about 31% more money if a business has excellent reviews. (See more online review stats here.)
While most companies would love to receive positive reviews 100% of the time, it's just not realistic. And, unfortunately, on average, one negative review can cost you, 30 customers. Ouch. So, how can you fix this situation if it happens? Well, you can start by removing reviews on Facebook. Here are your options for handling and removing negative Facebook reviews.
How to Manage Facebook Reviews
Since you can't just remove the bad ones and reporting reviews might not be effective for you, your best bet for handling your company's Facebook image is to learn how to properly manage and reply to Facebook reviews.
If a customer leaves a positive review, it is recommended that you at least "like" their review, and then possibly thank the reviewer. Doing so will encourage them to continue speaking highly of you. If you're not sure how to word your responses, we've compiled useful positive review response templates as well as handy tips.
As far as negative reviews go, believe it or not, it's still best to respond to them rather than let them fester. Responding to negative reviews not only gives you the chance to apologize but in some cases, you're also able to give your side of the story if appropriate. By handling your negative reviews with class and honesty, you're showing potential customers that you're willing to take responsibility. It also shows how great your customer service is. These negative review response templates and tips will help you navigate nasty comments with ease.
To use your positive reviews to your advantage, we suggest promoting them. Broadly has a special service that helps turn positive reviews into clickable Facebook ads, amplifying those stellar results you always promise. Let your best reviews outshine the few bad eggs.
Of course, the best way to keep managing your online reputation is to continually ask for reviews from happy customers. Eventually, you'll have so many great reviews, the bad ones won't even matter!
Whether good or bad, getting Facebook Reviews is crucial if you want to boost your customer base. Just remember that, even though you can't remove the bad ones, you can still change the narrative with a well-thought-out response. And you can get even more positive reviews with the help of Broadly.