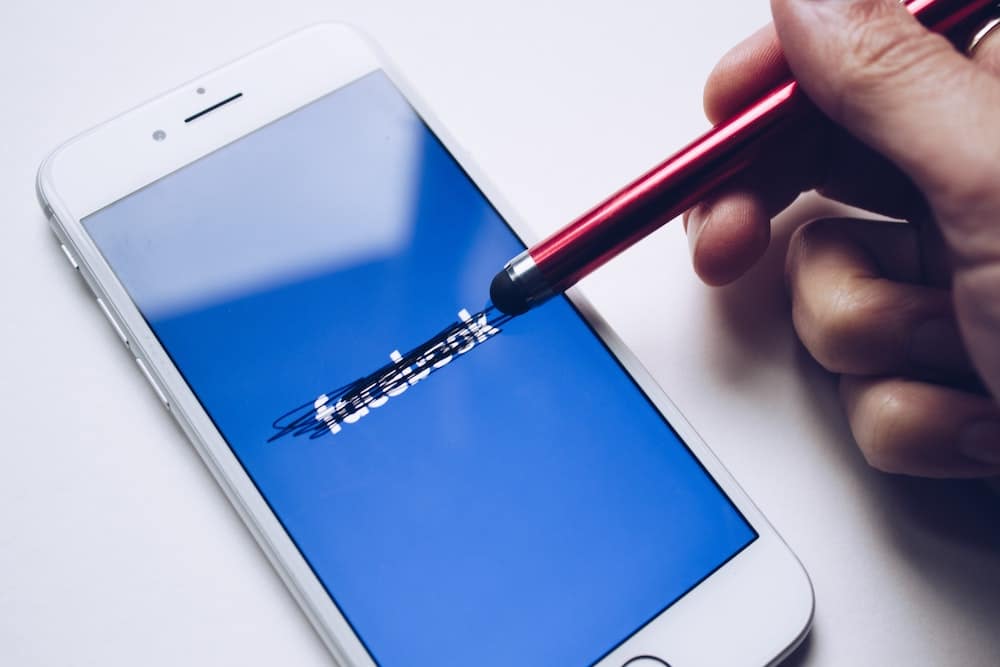 How to remove reviews from Facebook
Facebook reviews are a critical element of Facebook business pages. These pages allow consumers to give small businesses and local businesses one- to five-star reviews, with or without an added explanation or customer review. No business owner wants bad Facebook reviews. One of the first questions that may come to mind if negative comments appear is: How can I remove reviews from Facebook?
If you're a business owner or manager, maybe you've noticed negative reviews on your Facebook page and want to manage your social media reputation. You've come to the right place. We'll explain why online reviews matter and your options for removing bad reviews on Facebook. Let's dive into how to handle negative Facebook reviews and your broader online reputation.
Free Guide: 10 Tips To Get More Customers From Facebook
Can i remove Facebook reviews?
Yes, you can remove Facebook reviews from your page by eliminating the reviews section from your Facebook page. See the guidelines below on how to do this in the "How to remove the review section from Facebook."
That said, you cannot remove individual Facebook reviews. According to Facebook, you can report reviews with comments that don't adhere to Facebook's Community Standards. However, you can't report reviews that only include a star rating without customer feedback.
Individuals who write business reviews on Facebook can delete their own Facebook reviews at any time. Businesses themselves, however, cannot edit reviews.
If you don't want bad reviews with profanity showing up on your business page on Facebook, you can block comments that include swear words by turning on the profanity filter. 
Should i remove Facebook reviews?
To remove all negative reviews from your Facebook page, you have to remove the entire reviews section from your Facebook page. A business with multiple negative reviews might think it's best to remove the reviews section, but remember that removing your Facebook business reviews will also remove all positive ones. It's better to have some good reviews to show potential customers than no reviews.
Having both positive and negative online reviews still increases your chances of landing new customers. If you still want to take it down, here are the steps to remove the reviews section from your Facebook business page.
How to remove the review section from Facebook
To disable Facebook page reviews, follow these step-by-step instructions:
Visit your Facebook News Feed and click on "Pages" in the left-hand menu.
Go to your Facebook business page.
Click the "Page Settings" button on the bottom left of your Facebook page.
Click "Templates and Tabs" from the left-hand menu options.
Click to the right of "Reviews" to turn the reviews tab off, removing this section from your page.

Remember that disabling your reviews does not delete Facebook reviews; it just hides them. The same Facebook reviews will appear if you decide to enable your reviews again.
How to delete negative or fake Facebook reviews
You may have some great reviews and wonder how to delete only the bad or fake ones. Unfortunately, you cannot delete individual reviews from Facebook, even false reviews. You can report reviews that don't meet Facebook's Community Standards, including those containing objectionable content, like profanity or hate speech.
How to report a Facebook review
Go to the Facebook review you'd like to report and click the three dots in the top right corner.
Click "Find support or report recommendation."
Follow the step-by-step instructions that appear on the screen.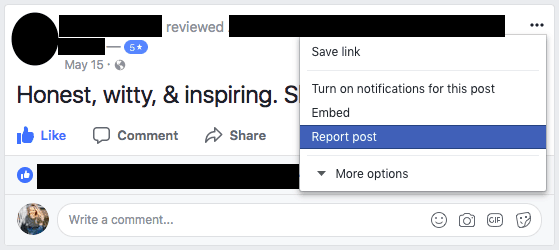 Why are Facebook reviews important for small businesses? 
Public sentiment can impact your company's success. About 90% of customers read customer feedback from online reviews before they trust a business. Plus, customers spend around 31% more if a company has positive reviews, showing that online reviews can strongly influence purchase decisions. 
How to manage Facebook reviews
So, you can't just remove bad reviews and reporting Facebook reviews might not solve your problem. What to do? Your best bet for managing your online reputation on the social media platform is to learn how to respond appropriately to Facebook reviews. Keep track of reviews and follow these steps:
Engage with positive feedback. At the very least, you should "like" your positive Facebook reviews.
Take things a step further by thanking reviewers for their positive feedback. Doing so will encourage them to continue speaking highly of you. 
Use positive review response templates if you're unsure how to engage with positive customer feedback.
Should i respond to negative reviews on Facebook? 
It's best to respond to negative reviews to show customers that you care about their experiences. Handle negative Facebook reviews with class and honesty. Apologize to customers who share bad reviews and offer to resolve the issue offline via email or over a phone call. Even though you can't remove negative Facebook reviews, you can still influence the narrative with a thoughtful response.
If you want to use negative review response templates to navigate negative comments quickly and gracefully, that works great; just remember to personalize each response to the customer to whom you're responding.
How to get more reviews on Facebook
The best way to manage your online reputation is to continually ask for reviews from happy customers. Eventually, you'll have so many great reviews, the bad ones won't even matter!
Sponsor your positive Facebook reviews. Broadly has a unique service that helps turn positive reviews into clickable Facebook ads, amplifying those stellar results you are promising. Let your best reviews outshine the few bad eggs, and encourage more customers to leave great reviews.
Let Broadly handle your business reputation management
Looking to grow your business using positive Yelp, Facebook, or Google Reviews? Broadly teams up with business owners to help both small and local businesses improve their social media presence, attract new potential customers and enhance their online customer experience.
Want to see how Broadly's digital marketing and review management tools can help you manage your online reviews on Facebook and across social media channels?
See what Broadly can do for your business in just 30 days