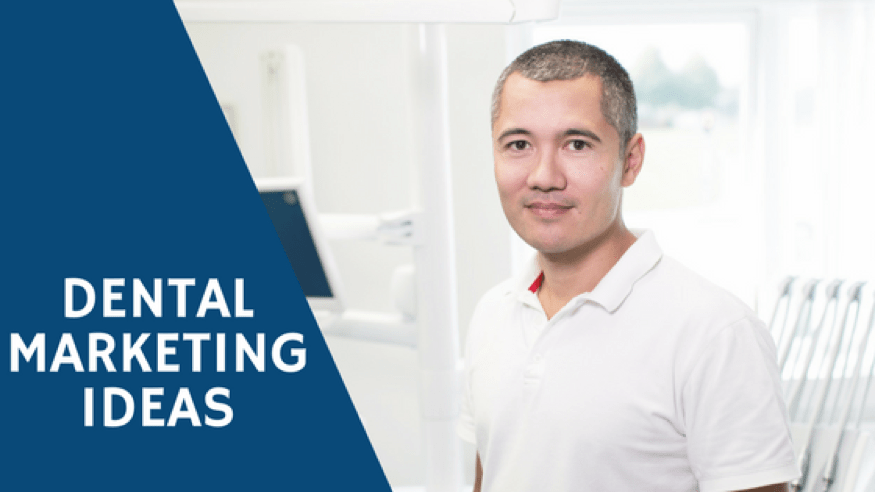 Dental marketing ideas that will get you more patients
No matter how great your dental office is, if people don't know that it exists, you won't get the patients that you need to succeed.
Fortunately, we have put together a large list of dental marketing ideas to help you gain new patients & get ahead of your competition. In this guide, we're going to highlight a few dental marketing tips so that you can start making the changes that you'll need for a surge in new patients.
Get your dental office listed on online directories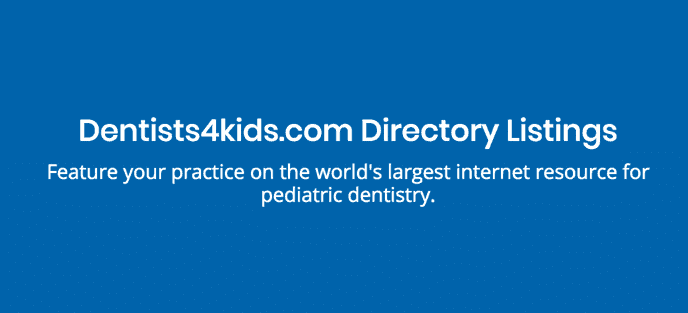 Did you know that more than 70% percent of the individuals looking for a service or a product will check online before stepping into the actual store?
See what Broadly can do for your business in just 30 days
This means that your dental office needs to show up in local search results. Using a phonebook is completely outdated, but there are some modern directories that your dental office needs to be listed on:
Google My Business – Since 83% of online searches are done using Google, being listed on Google My Business is important for marketing your dental office.
Yelp – Yelp is something that millennials are bound to check before visiting your dental office, so being listed can help them find your dental office with ease.  Even a half of a star more than the dental office down the block will help you get more patients. This makes having a strong Yelp profile very important.
Facebook – This is another important directory that you want your business to be listed on so that local active Facebook users can find your dental office.
Check out this Moz post to see all of the most important directories to list your dental office on (other than Google).
Manage your online reviews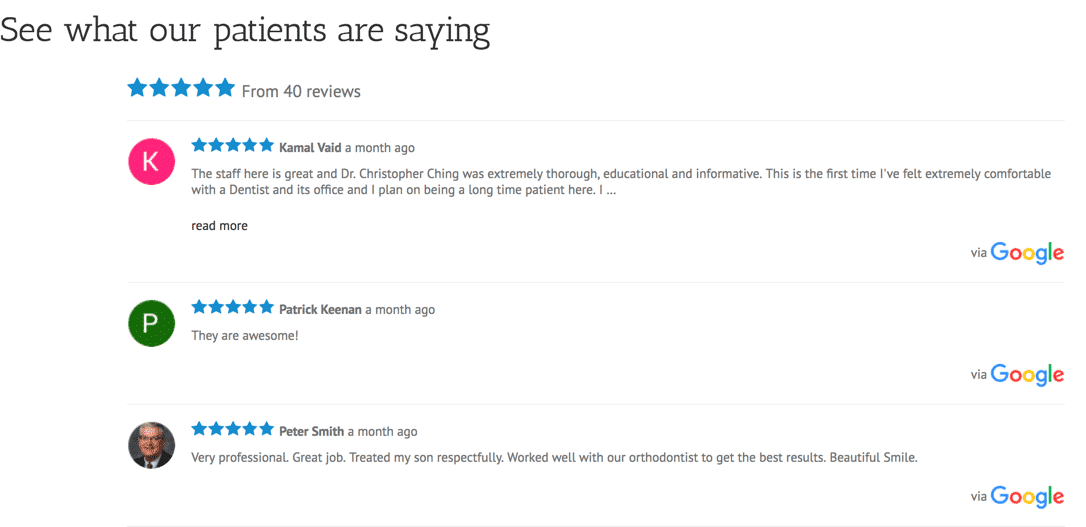 Seven out often consumers say that they trust reviews and online recommendations just as much as if a friend were to give them the recommendation.
In fact, 92 percent of all consumers look at reviews before deciding on which business to try, which means that a business with no reviews is worse than one that has a few mediocre ones.
Encourage your patients to give your dental office reviews online. You can use dental office review management software like Broadly to keep track and respond to all of your reviews in one place!
Check out this list of ways to more reviews for your online reviews
Form partnerships with other local businesses
You can also build partnerships with local businesses to provide a bit of cross-promotion. The businesses that you ally with can offer discounts to patients when they come to your practice for things like check-ups.
A few potential partnerships could be:
A local spa could give their patients a coupon for free teeth whitening at your office.
A fellow local doctor could promote half-off a teeth cleaning at your office
A local plastic surgeon could give a promo-code for 20% off of cosmetic dentistry when they visit your office
Offer referral discounts
You can also work with local businesses to give each other referrals. In other words, if the photography studio next door has a someone who wants uber-white teeth for their senior photos, they can let that person know that if they use your dental office, you will give them a discount.
Encourage patients to engage on social media
Just because you have a lot of likes on your Facebook page doesn't mean that people will see what you post.
The reality is, the more someone engages with your page the more likely they are to see when you post content.
Here are a few ideas
Caption a photo (example a puppy in a dentist chair)
Ask them a question like "What is the weirdest thing you would eat to never have a cavity again?"
Celebrate a fun holiday like National Cheese Pizza  Day OR Talk Like a Pirate Day.
Encourage in-office selfies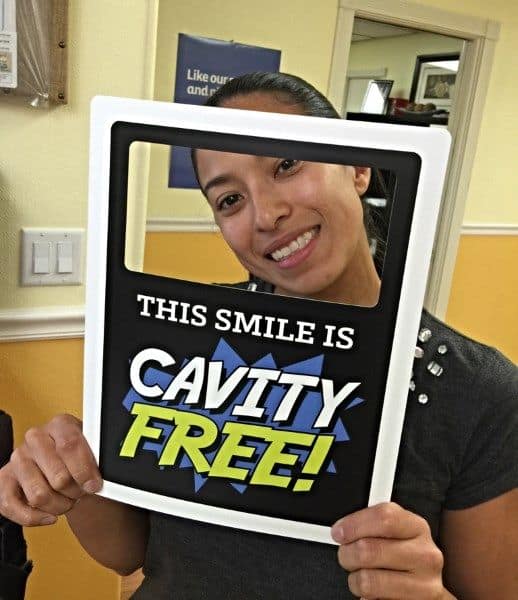 In this age of social media, people love showing off their accomplishments.This includes when they have no cavities OR getting their braces off.
Taking a selfie with your patients during these moments creates the opportunity for them to tag your dental office when they post online.
You can also print out signs like the ones in the picture by My Social Practice that encourage patients to take & post pictures.
Carry business cards
You are your best form of advertisement, so if you have a funky office that patients talk about, show a picture of it on your business card! It's something that sets you apart from your competitors.
If you don't have a business card on you, you may lose the opportunity to land a new client, so keep at least a few on you at all times.
Make use of search ads
Have you ever noticed that when you do a search, some of the results have an "Ad" box next to their URLs?
These are Google paid ads, and they can be very effective if you have a large marketing budget because your ads can help you rank for specific keywords. can quickly rank for any term you want. The downside is that this can be very expensive and you the ads disappear when your budget runs out.
Facebook ads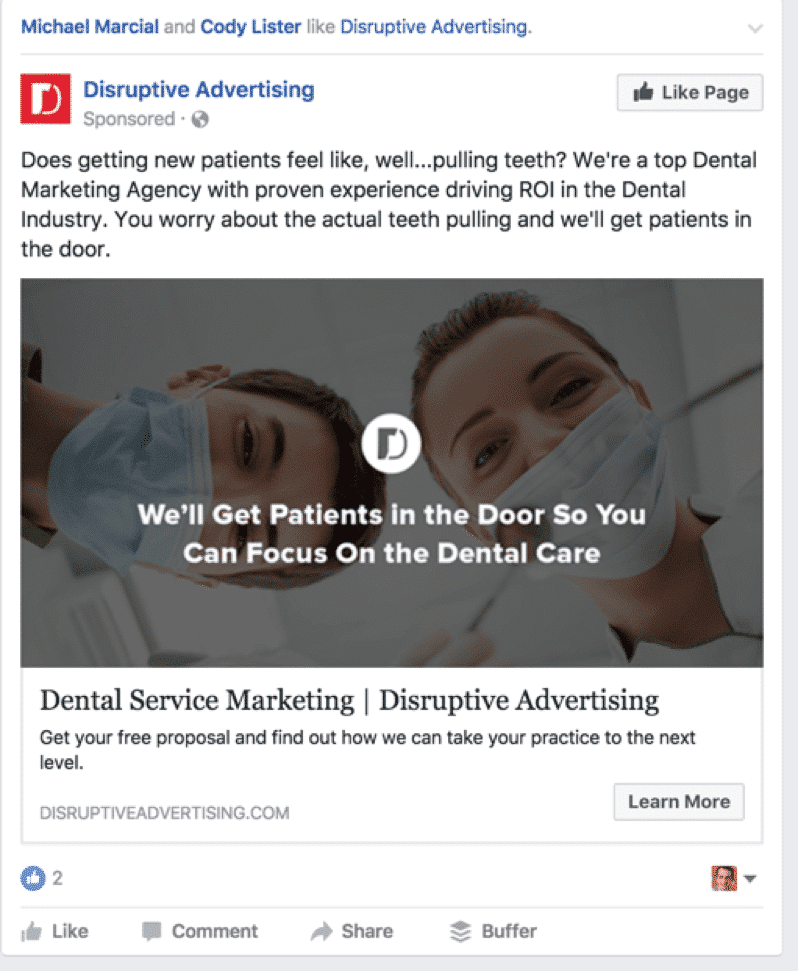 Facebook Ad campaigns are also a great very good way to get new patients. The powerful part of Facebook is that you can directly target your perfect patient. Facebook has a large database of information, which allows you to target patients looking for specific services, with specific demographics, in specific geographical areas.
Want to target parents with kids who make more than $75K a year with 10 miles of your office?
Yep, you can do that with Facebook ads!
Final thoughts on marketing your dental office
Hopefully, after reading this you got some ideas on how to help your dental office gain more new patients.
We are interested in hearing what you do to market your dental office and stand out from your competitors. What tips did you like? What could we have done better? Let us know in the comments!
See what Broadly can do for your business in just 30 days