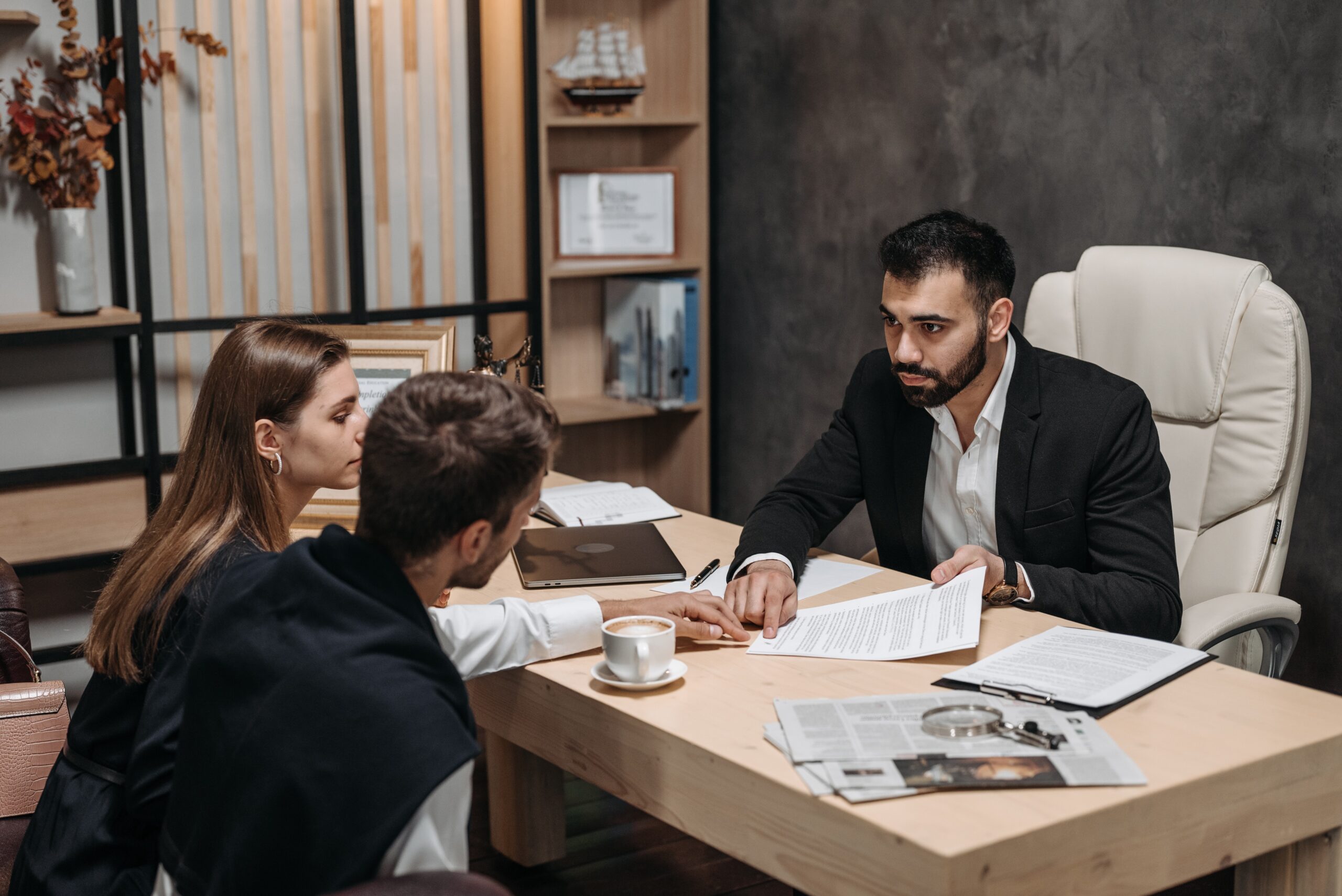 Top 7 law firm advertising ideas you can use to promote your practice & how to get leads organically
Digital marketing isn't something they teach in law school. But like every service-based business, you need a solid marketing plan to attract a steady stream of new clients. It's the only way to stay in business and increase profits.
Legal marketing tactics have changed dramatically over the last decades. People increasingly use the internet to find a lawyer rather than ask a friend or family member for a referral.
Due to this change, whether you're just starting your practice or have an established firm, you need a digital marketing strategy to promote your legal services.
See what Broadly can do for your business in just 30 days
How do law firms attract clients?
Considering more than 50% of law firms don't have a marketing budget, it's fair to assume many lawyers simply cross their fingers that clients will keep showing up. But why stress every month when you can use the following seven low-cost and free law firm advertising ideas to promote your practice and attract new leads.
1. Run pay-per-click ads on Google
Pay-per-click (PPC) ads are an affordable way to promote your law firm on search engines such as Google and Bing.
Most forms of advertising require a significant, upfront payment with no return on investment (ROI) guarantee. The great thing about PPC ads is the ability to set a budget to keep your law firm's marketing costs from spiraling out of control. Further, you can do a live tracking of how well your ads are performing.
You can choose which keywords to bid on so your ads only appear when someone searches those terms. You only pay when someone actually clicks on your ads.
Make sure you pick the best keywords related to legal issues like family law, personal injury or estate planning so your ads are shown to the right people.
2. Use lead generation ads
Lead generation ads are a law firm advertising tactic to collect details of high-quality leads quickly. You can outsource it to a lead generation agency, run ads on LinkedIn or use a lawyer-specific lead generation platform such as Avvo.com.
Lead generation ads have many benefits. The most significant is that typically only people serious about working with a lawyer will leave their contact information, like a phone number or email address. This makes these leads extremely valuable, so make sure you follow up within a day.
3. Post on social media
Every law firm's marketing strategy should include social media marketing. It's free to use and a great place to get more personal with your target audience.
Plus, posting regularly on platforms like Facebook, Instagram and TikTok will keep your law practice top of mind when someone suddenly needs a lawyer.
The best types of posts to share include:
Common questions potential clients might have about your practice area
Your best client reviews
Valuable legal industry information broken down into bite-sized chunks
Keep your social media marketing fresh and fun with content like video marketing, infographics and candid photos. And use your bio strategically to link to a recent blog post or a call-to-action (CTA) to book a free consultation.
4. Sponsored content marketing
Sponsored content marketing has been around for years. However, it's morphed in the last decade from print ads to digital-centric marketing like webinars, social media influencer content and podcasts.
With millions of podcasts broadcasted daily, there's a good chance you can find one with a similar target audience in your geographic area. Take advantage of their audience and sponsor an ad to reach potential clients you may not have access to otherwise. Sweeten the CTA by offering podcast listeners a free consultation if they mention they heard about you on the podcast.
Another example of sponsored content marketing is to submit guest posts to reputable websites that publish advertorials. These are ads that read like editorials, but are ads for legal services.
Remember to track your metrics so you always know exactly which marketing efforts are bringing in new clients.
Top tactics for attracting legal clients organically — without advertising
The good news is, digital marketing has plenty of free opportunities to grow your practice. This is especially helpful for small law firms with tighter budgets. Use the following law firm marketing ideas to organically attract new legal clients.
5. Build an SEO-optimized website
Search engine optimization (SEO) will improve your organic ranking in Google search. Law firm SEO is free and can significantly impact your marketing efforts.
The following are a few things you can do to get your website working hard to attract new business:
Add web chat
Include legal industry keywords and phrases with high search volume
Ensure your website is mobile-friendly
Add a call-to-action on each landing page
Build a blog and post new content regularly
Make sure your website loads quickly
Use social proof (client testimonials) to build trust
Your website is the nucleus of your law firm's marketing strategy. The more you can dominate page one of Google and other search engines, the more potential clients you'll reach.
Broadly can help with your website design if you're not sure where to start.
6. Collect online reviews on Google Business Profile
Online reviews are essential for promoting your law practice because they show potential clients they're in good hands.
Google is the most popular platform and requires a Google Business Profile (formerly Google My Business) to collect reviews. If you still need to set one up, use this guide to Google Business Profile.
Reviews also show up in organic searches and can be very beneficial for local SEO. The more positive reviews you have, the better chance your Google Business Profile will be on page one of an online search.
You can also embed some of your best reviews on your website and use them in your PPC ads and social media marketing. If it sounds complicated, don't fret. A reputation management software can help your law firm easily collect and manage online reviews.
7. Send out email marketing campaigns
Email marketing is one of the most underutilized, yet cost-effective strategies to promote your law practice.
You may wonder how to send email marketing campaigns without an email list.
Here are a few quick and easy strategies to begin:
Add a lead form to your law firm website to collect contact information
Promote a free download in exchange for an email address
Ask your current clients' permission to add them to your email list
Run lead generation ads
If you collect email addresses, don't forget to follow up. Email campaigns are an excellent opportunity to maintain relationships with past clients and build new ones with prospective clients.
A few ideas to get you started on your email marketing include:
Thank clients for their business
Run a special referral promotion
Send out a series of educational emails on a specific legal topic
Welcome new subscribers to your email list
If you need some help to get started with your email marketing ideas, Broadly has customizable templates that you can use to send out email campaigns.
Law firm advertising FAQ
Now that you've got a list of law firm advertising ideas, it's time to get started on your lead generation! Before you do, here are a few more commonly asked questions in the legal marketing industry.
What is the best form of advertisement for a lawyer?
Every law firm is different and will require some testing to see what works best. Are you a solo lawyer who only needs a handful of clients monthly? Or a large firm with hundreds of lawyers and multiple locations?
The most important thing you can do is diligently track your metrics. You'll only know what's working best and where to focus your attention if you check the numbers.
How much should a law firm spend on advertising?
Half of all law firms don't have a budget for marketing and advertising. If you're part of that 50% with no budget for your law firm marketing plan, it's time to change that!
So how much should you allocate to legal marketing?
According to the Small Business Administration, law firms should spend between 2-15% of their revenue on marketing. Of course, this amount will vary based on external factors such as local competition, practice area and the size of your law practice.
How do law firms advertise on social media?
There are two ways to advertise on social media: You can boost an existing Instagram or Facebook post or run a Facebook Ad campaign from Facebook and Instagram Ads Manager.
The Ads Manager offers more flexibility to target a specific demographic and control where to allocate your budget and visibility.
Grow your law firm with Broadly
As you can see, there are many things you can do — both free and paid — to boost your online visibility and gain more legal clients.
If it all sounds great but slightly overwhelming and time-consuming, take advantage of Broadly's vast suite of marketing tools. We are designed to help law firms like yours get ahead of the competition.
Broadly's web designers can help build your SEO-optimized and mobile-friendly website. Easy-to-use review management software will help you collect and show off your many happy clients. And a centralized dashboard will monitor your metrics to ensure you allocate your budget to what's working.
Want to discover how Broadly can help you promote your law practice?
See what Broadly can do for your business in just 30 days