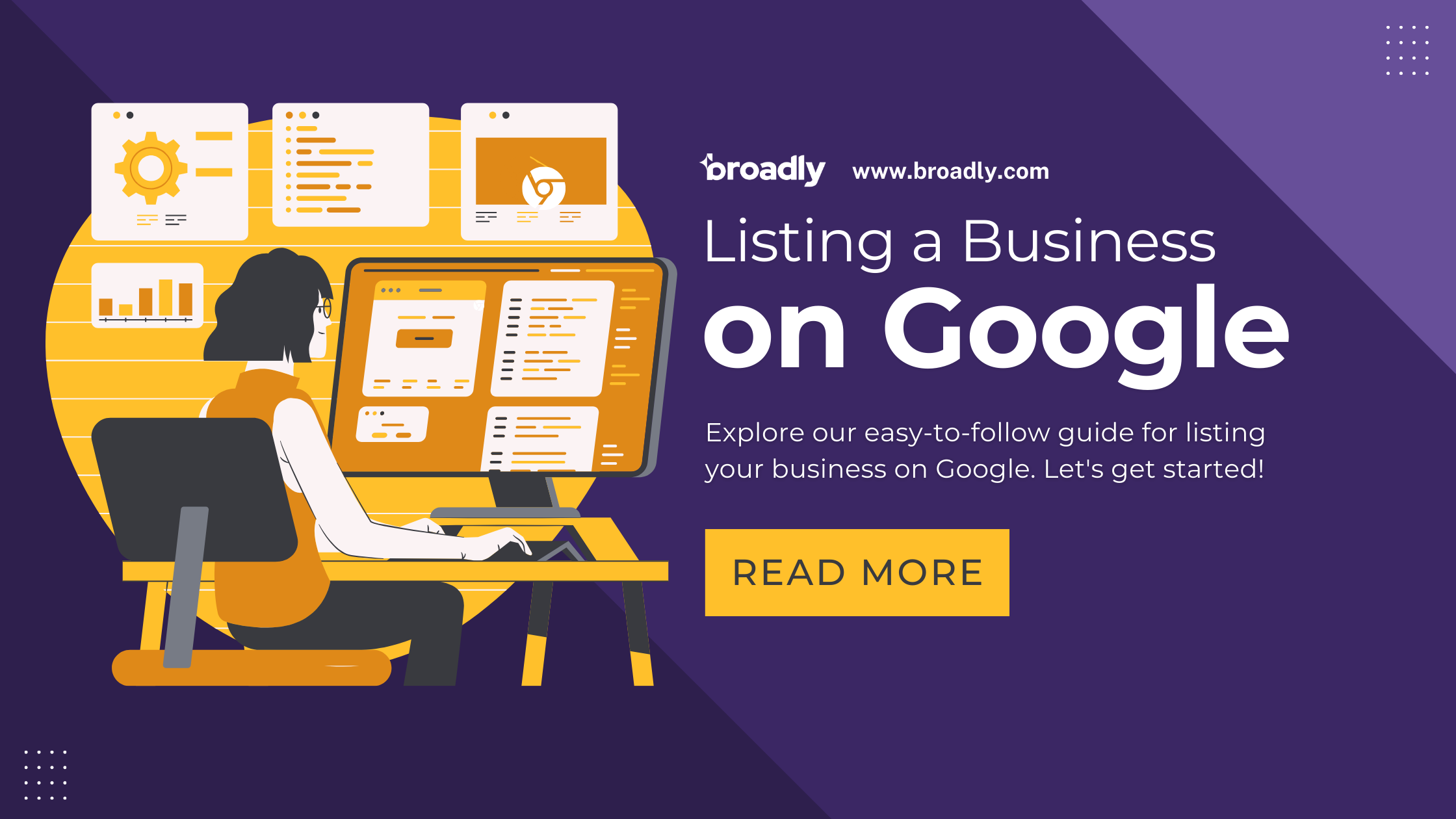 Listing a Business on Google
Where online presence reigns supreme, you can't afford to play hide and seek with potential customers. It's time to strut your stuff on the world's biggest stage—Google!
Get ready for a journey that will make your business shine brighter than your competition with our comprehensive guide to listing your business on Google. Let's dive in, shall we?
Key Takeaways
We will explore the importance of Google Business Listings, walk you through setting up your Google Business Profile, and delve into some tried and true strategies for enhancing your online presence.
Generate 5-star Google reviews for your business automatically
The Significance of Google Business Listings
Before we dive headfirst into the specifics, let's explore why Google business listings matter:
Visibility
Google is the go-to search engine for 274.49 million unique visitors every single day (Statista). With over 81.37% of search traffic originating from Google, having your business listed on this platform ensures it will be visible to the customers you are hoping to reach.
Credibility
With such a high user base and strong policy adherence for businesses, a Google listing lends credibility to your company, making it appear more trustworthy to online users.
Engagement
Having a Google Business Profile (or GBP for short) means you can better interact with your customers. Connect with them by responding to reviews, adding posts, and sharing business updates. Keeping online users engaged helps you foster a stronger sense of community between them and your local business.
Analytics
Access valuable data about your audience through Google Insights to finetune your marketing or advertising strategies for even better success.
Setting Up Your Google Business Account
Now that we have discussed all the great things about having a presence on Google, let's get you set up so you can start reaping the benefits:
Step 1: Creating a Business Google Account
If you don't have one set up for your business just yet, we'll first start by creating a Google account. This account will be the backbone for managing your business listing. Here's what you need to do:
Go to Google.com
Locate the "Sign In" button in the upper right-hand corner, and click on it.
Choose the option "Create an account."
From the dropdown menu, pick "For business or professional use."
Follow the on-screen instructions to finish setting up your account.
Pro Tip: To avoid confusion and prevent security risks, it's best to keep your personal Google account and business account separate from one another.
Step 2: Accessing Google Business Profile
Once your new business account has been created, visit the Google Business Profile website and log in using your new credentials by clicking the "Sign In" button in the upper right-hand corner.
Step 3: Starting the Listing Process
Click on the "Manage Now" button to initiate the business listing process.
Business Information and Details
Step 4: Searching for your Business on Google
If you spot your business along with its address, you're already in the game and have a Business Profile. Let's move forward.
No profile yet?
If your business listing doesn't show up in the search results, don't fret. Click on the little hamburger icon, located on the left side of the search bar. From there:
Hit "Add your business" to start creating your very own Google Business Profile.
Follow the prompts and provide some important info: your business name, category, address, service area, and, of course, your website address.
Next, you'll need to share your business's mailing address. Google calls this "verification," but it's really just one of the final steps on your profile setup journey.
Usually, Google likes to keep things snappy, and you should receive a nudge via email to complete your Business Profile and claim your listing shortly after you enter and submit all your information.
What if my Google business listing is already claimed by someone else?
It can feel really awkward when it appears that someone else has ownership of your business listing—after all, it is your business, not theirs. Google offers a few troubleshooting tips to help you request ownership of your business listing. 
Verification Process
Completing verification on Google requires a few extra steps. 
Step 5: Choosing a Verification Method
Google needs to be extra sure that you are who you say you are. And because of this, they will most likely ask you to select a second verification method, which can be through a postcard, phone call, or email.
Step 6: Requesting and Completing Verification
Follow the steps given to you by Google to request and complete the verification process. Once done, your business listing is officially claimed.
Completing the Business Profile
Now let's move on to the fun part, making your Google Business Profile listing uniquely your own. You can enhance your listing with valuable information such as:
Detailed Business Descriptions: Craft a comprehensive business description, highlighting your products, services, and unique selling points.
High-Quality Visuals: Upload high-quality photos and videos that showcase your business's offerings and ambiance.
Setting Business Hours: Define your operating hours and holiday hours, ensuring customers have accurate information.
Location and Service Area Settings
Help Google recommend you to local customers by setting up your location and the areas you serve. You can do this by:
Specifying Your Service Area: If your business serves a specific location, include your service area to target relevant customers more effectively.
Defining Delivery Options: If this applies to you, define your delivery options or service preferences (i.e., in-store pick-up or free delivery)
Managing Business Reviews and Ratings
Why not leverage customer feedback to your advantage? Some ways you can increase your star power on Google include:
Encouraging Customer Reviews: Ask your happy customers to leave a review. Genuine feedback can significantly impact your online reputation and give prospective buyers an extra nudge to do business with you.
Responding to Customer Feedback: Engage with customers by responding to their reviews, addressing concerns, and showing appreciation for positive feedback.
Elevate your Google review game with these helpful resources:
Posting Updates and Posts
Keep your audience regularly engaged with your business by posting relevant updates about what you're up to. Some ways you can achieve this include:
Sharing What's New: Share news, upcoming events, and special offers to keep customers informed and excited to stop by.
Highlighting Products and Services: Keep users in the loop on the kinds of things you offer. Seeing is believing, so make sure to include eye-catching professional photos and compelling descriptions that encourage them to click.
Adding Additional Users and Managers
As the saying goes, many hands make light work. When you are tied up in the weeds, it can greatly ease your mind to know another person can take up the helm. That's why you should consider: 
Granting Access to Team Members: Add team members to help manage your listing collaboratively.
Setting Roles and Permissions: Define roles and permissions for each team member to ensure secure and efficient listing management.
Pro Tip: Remember, when adding people to your Google Business Profile, it's smart to get everything in writing and signed by everyone involved before granting any permissions. Don't hesitate to seek advice from a legal expert, especially if you're handing over duties to an outside person or a freelancer.
Google Smarter, Not Harder, with Broadly
If you want to make managing your online presence on Google easier and improve the way you connect with customers, Broadly has you covered.
With Broadly, you won't have to keep checking lots of different places for reviews, gather information the hard way, or remember to ask each customer for reviews one by one. We offer simple automated tools that do the heavy lifting for you. Start your journey to success with Broadly today!
See what Broadly can do for your business in just 30 days