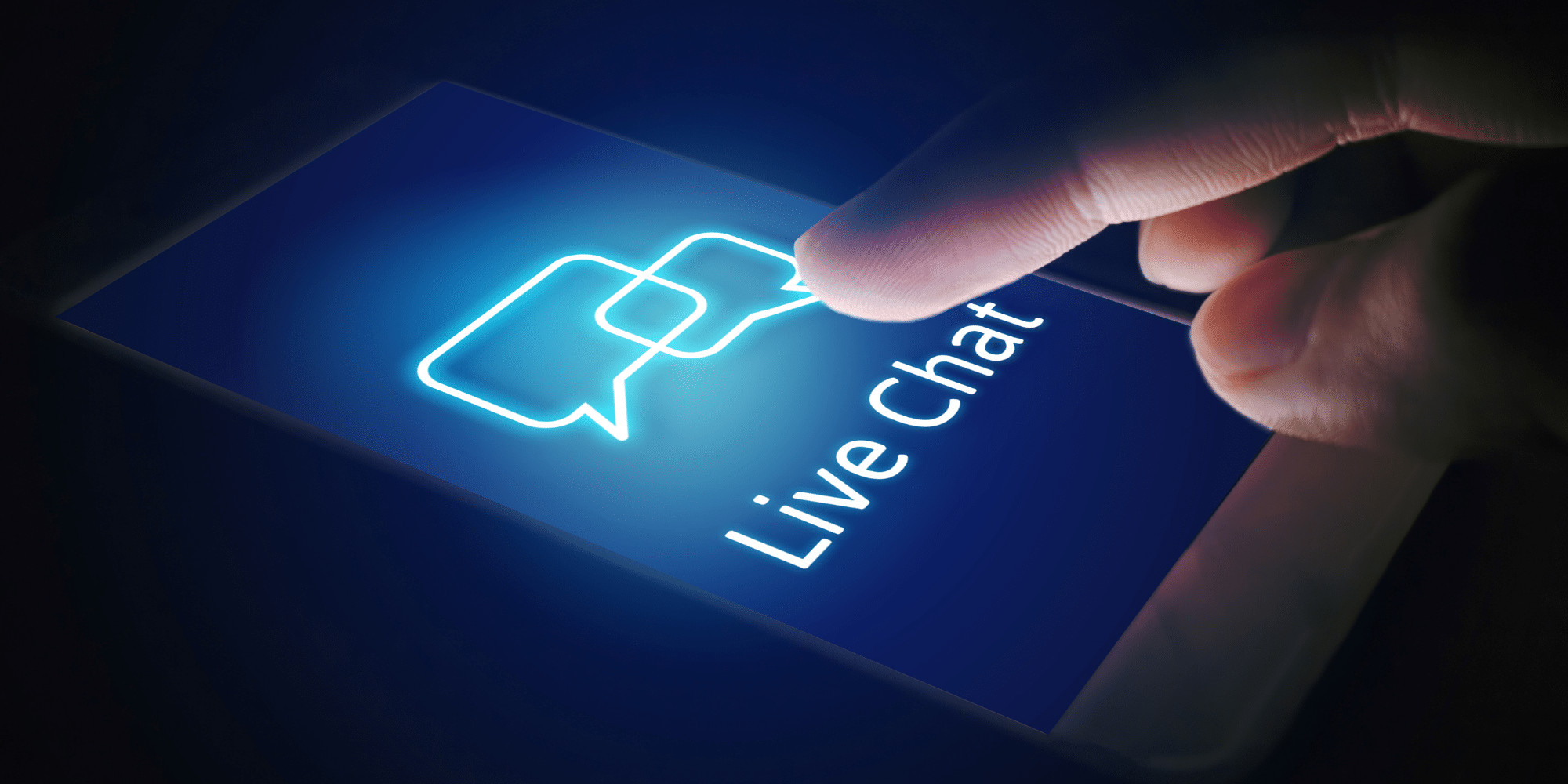 Live chat for sales
Using live chat for sales is an effective way to engage website visitors in real time, improve conversion rates, increase sales, acquire new customers, boost customer satisfaction and support your broader customer experience strategy.
Here's everything you need to know about what live chat software is, how live chat can help businesses and how to use live chat for sales growth.

What is live chat software and how can it help businesses?
Whether you're a solopreneur, a savvy salesperson or service provider with a team of one, or part of a broader ecommerce website or company, your business could benefit from using live chat for sales. 
But first, what is live chat software? Live chat software is a powerful tool you can add to your business website to allow website visitors and potential new customers to send a private, instant message to your brand. 
Live chat software works similarly to messages sent via social media messaging apps like Facebook Messenger and WhatsApp. It connects customers directly to a member of your team, without them having to call or email your company.
Four reasons companies use live chat for sales
Here are some of the top benefits of using chatbots and chat widgets on your website:
See what Broadly can do for your business in just 30 days
1. Communicate with customers one-on-one
Adding a simple chat box allows potential customers and existing clients to connect directly with your customer support or sales team easily and quickly, which can help them get answers to important questions right away. 
2. Acquire new customers, increase sales and improve conversion rates 
You may find from your metrics in Google Analytics, Salesforce or other platforms that your website visitors spend time browsing your product pages and adding items to their cart without successfully completing their transactions. That can affect your conversion rates as well as your overall customer experience and customer satisfaction scores.
The average website landing page conversion rate is 4%, which means most businesses are losing out on generating sales from 96% of potential customers. The good news is, insights from McKinsey Digital indicate that using digital communications tools like web chat and chatbots can: 
Improve customer satisfaction by 15-20%
Reduce customer support costs by 20-40%
Increase conversion rates and sales growth by 20%
Separate research has found that live chat software can strengthen sales and lead generation by:
Increasing leads generated by 4-8X
Driving site visitor customer engagement by 10-50%
3. Relieve the burden on customer support teams and boost customer satisfaction 
Because fielding inquiries over the phone generally has higher response times than other channels, customers know they can reach out to get questions answered over social media and other faster channels. 
That's why some brands add chatbots, technology backed by artificial intelligence, to address simple customer questions and reduce response times. 
Compared to traditional customer service offered over the phone, live chat powered by support agents can increase efficiency since support agents can handle multiple chat sessions at once. Reducing support wait times will not only improve operational efficiency but boost customer satisfaction as well.
4. Support broader CRM efforts
Given that more than 40% of customers prefer live chat as a channel, since they don't like having to wait on hold on the phone, live chat is an increasingly important part of customer relationship management (CRM) strategy for businesses.
How can I use live chat to grow my online sales?
Here are the steps to take to add live chat to your website and increase your sales:
1. Find a live chat software that meets your needs
Gather input from your sales team and customer support team about what they're looking for in a live chat software. Then, determine what pricing fits your budget, and assess which platform will enable your team to have effective live chat conversations.
2. Add your live chat software's chat widget to your website
Web chat support software such as Broadly helps companies add instant messaging capabilities to their website using a web chat widget that can be added to every webpage, including:
Knowledge base, customer questions, and help desk pages where customers may be looking for answers to frequently asked questions. These are ideal web pages for having a web chat pop up to field questions from potential customers.
About us/follow us on social media/contact us pages where customers are be looking for your contact information (such as your business phone number or LinkedIn page) or the best way to get in touch with someone from your company.
Checkout pages, pricing pages, and product pages where customers may want to open a chat window and have a chat session to ask questions before completing a transaction.
3. Train your customer support and sales team on using your web chat tools
For the best results, make sure your customer support and sales teams answer incoming customer questions in a timely fashion, communicate clearly and address potential customers with empathy. 
4. Follow up with potential customers ASAP
Nobody likes a long response time. In the amount of time your site visitors are waiting for an answer from you, they may be considering moving forward with the competition instead. 
Using live chat for sales with Broadly
Searching for the best live chat tools for your sales team? Connect with Broadly and learn how our web chat software helps ecommerce companies, small businesses and sales reps manage chat messages, increase sales and improve customer experiences for site visitors. 
Broadly's live chat for sales seamlessly integrates with your checkout pages, FAQs page, product pages, contact information pages and other sections of your site.
With our real-time live chat software you can have a proactive chat window pop up so your sales reps and other team members get the conversation started with potential customers. From there, the chat will transition to SMS (for the customers) and to our all-in-one integrated messaging Inbox for your customer support and sales team members.
See what Broadly can do for your business in just 30 days