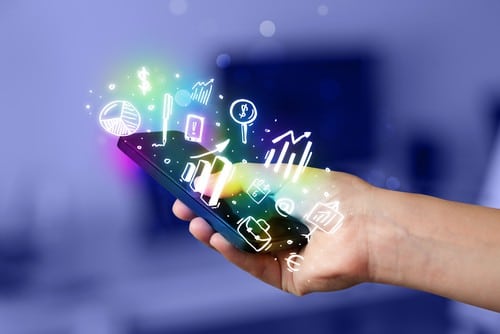 Web analytics: mobile devices
In recent posts, we discussed the importance of tracking both
organic traffic
and the
most visited pages
on your business' website using web analytics
. The type of mobile devices matter in today's economy. These are the devices that your visitors are using when they are reading online reviews and decide on purchasing a service.
It's crucial to be aware of how your prospective clients are interacting with your business's website
.
Here are three data points that deserve your attention:
Mobile device info
With Google's web analytics you can find a list of the most common mobile devices used by your website's visitors. Here's an example: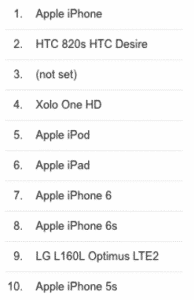 Does your business's site cater to people who use these devices? Does it look as good on an Android device as it does on other devices? If your website design isn't mobile-responsive, it's time to upgrade your design.
Sessions and % new sessions
It's one thing to know that people are visiting your business's website from a mobile device. It's another thing entirely to understand how many are visiting your website on a mobile device, and how often.
In this example, Apple iPhone users make up more than one-third of all mobile visitors to a site: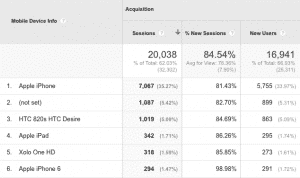 Keep tabs on both the number of sessions and new sessions, by device, as this can help you create a more targeted marketing plan going forward.
Bounce rate, pages per session, and average session duration
This is all about the behavior of your site's visitors using mobile devices. Here's an example that corresponds with the two examples above:

With this data in hand, you can compare the numbers to traditional desktop visitors. Is the bounce rate higher or lower? What about the average session duration?
Keep this in mind: mobile devices now account for 56 of traffic to top websites. For this reason, your business website's mobile experience must be on par with its desktop experience.
Conclusion
There is no two ways about it: the more people that visit your business's website, the greater chance you have of earning more customers. Make sure your business's website is as appealing to visitors on mobile devices to maximize your chances of success.
Need help with your website and customer feedback strategy?
See what Broadly can do for your business in just 30 days