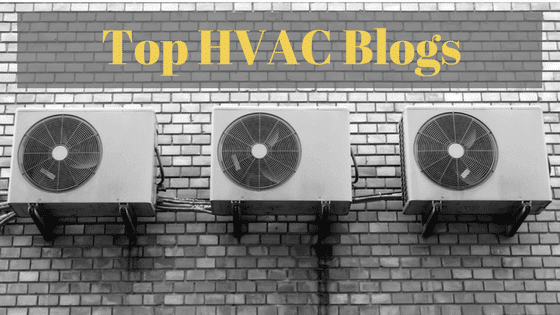 The top HVAC blogs of 2023
The HVAC (heating, ventilation, and air conditioning) industry is always evolving with new technology and products coming out in the field.
We've identified helpful blogs for HVAC professionals so that you can stay on top of what is going on in the industry.
If we didn't include one of your favorite HVAC bloggers, let us know in the comments!
The top HVAC blogs in 2023
Arista's blog focuses on industry change, guides for homeowners on HVAC service, and providing news for their own commercial HVAC company. It's easy to see that Arista is a quality resource; they earned a top 100 HVAC Blog medal, so the material on their blog is quite useful for homeowners and professionals alike.
Not only can you find information on the industry on ACHR News, but it's a crucial resource for the contractor that wants tips to stay competitive. Some of the content features new technologies like mobile apps and computer software for HVAC professionals.
A great resource for homeowners that are looking to install an AC unit, choose the best HVAC company, or replace a furnace, the Central Heating Blog is based in Cleveland and is an extension of a local company's website. The blog even features checklists and troubleshooting guides so that private owners can have an optimized HVAC experience.
This blog is a great option for both homeowners and professionals in the HVAC business. Not only does it feature articles that can give great energy-saving advice and suggestions for holiday HVAC gifting, but it also can teach HVAC professionals how to build their brands and retain clients.
There is an abundance of information on the Sherlock Air Blog. The site is specifically dedicated to the homeowner experience with articles focusing on energy myths, how to treat HVAC professionals, and even some of the top apps that can boost HVAC performance and efficiency.
This blog is dedicated to the customers of Canoga Park Heating and Air Conditioning, but the advice and articles presented on the page can be used by any homeowner. This is a great resource for anyone looking to save cash on their energy bills, looking to maintain their HVAC systems, or learn about new technologies like smart thermostats.
This blog is based in Indianapolis, but the advice that they offer is valuable for a wide variety of HVAC applications. Primarily, the site focuses on HVAC upkeep, but it's not uncommon to find information about HVAC pricing specials and how to find system repairs.
HVAC systems are complex, and the Sila Blog understands this and presents easy-to-understand articles that help you improve air quality, reduce humidity, and reduce the money spent on your energy bill. While the blog does have some focus on drawing up business for Sila, it still is a very valuable HVAC resource.
Need in-depth buyer's guides for your HVAC experience? Action Air's Energy Blog is a great option because it can assist you in finding the right components that will provide comfortable conditions in your home and may also help you save some cash on your utility bills.
This Florida-based blog has a wide array of articles that are regularly updated for those looking for advice on their HVAC experience. While many articles like "How much does it cost to install a heat pump in Florida?" are region-specific, there are also more than a few posts that can provide more generalized and useful advice.
Maintaining your HVAC system is important, and Roth Heating's blog is designed to help you keep your system up to date. While they do attempt to drum up business with their posts, the articles are more than helpful enough in order to help you avoid potential HVAC issues.
Not only does this blog helps homeowners maintain their HVAC systems, but it also provides practical advice on how to stay safe and actually troubleshoot potential faults before they become problematic. In fact, the blog is presented as a "knowledge center," and has almost 200 articles to peruse.
If you need advice on how to find an HVAC specialist, need an answer to some common questions about HVAC systems, or which brands deliver the best heating or cooling experiences for your home. There's even advice and resources for professionals, which means that the HVAC Blog is a great all-around resource.
For those looking for a good HVAC company, the Shavitz Heating and Air Conditioning Blog is a great resource that has more than one post on the subject. Additionally, the site also can help homeowners identify heating and cooling faults and even helps you find the best product for your home.
This blog has numerous posts going back to January 2013; as a result, there's a lot of content to pick from if you're looking for some best practices for maintaining and upgrading your HVAC system. The blog itself is an extension of the Fort Collins Heating and Air Conditioning company, but the resources on the site extend well past just providing info for their customers.
Not quite sure if your HVAC components need to be replaced? Are you looking to increase efficiency? Then, the Bob Boldt blog can help you and your home. The blog even features some preventative posts that will help keep your system in good repair.
Bounds has been in operation for 20 years and has become one of the more well-known HVAC companies in the Gainesville, FL area. Their blog has been making posts on their blog since 2013, and their posts include articles about ductless HVAC options and even using plants to bring cleaner air in your home.
For an in-depth knowledge of components and industry practices, Richmond's Air blog is a great resource. In their HVAC Parts 101 series, you'll find articles about air filters, expansion valves, and thermostats. The blog even has articles about respiratory health and how having a good HVAC system can help.
Russell's blog has a wide array of informational articles that can help you answer questions like, "Why is my ductless AC wall sagging?" In addition to this, the site also provides resources that can help you avoid damage from weather and troubleshoot symptoms.
When you have questions about your HVAC systems, you can rely on this blog because Pacific Heating and Cooling have been in business for over three decades. The company is based in Cali, but their blog is full of information that can be used anywhere.
Air-Tro has been in operation for almost 50 years, which means that the company's blog can serve as one of the best resources for HVAC information. Their blog serves Los Angeles and has earned several awards for their top-notch service in the San Gabriel Valley.
Another recipient of the Top 100 HVAC Blog Award, Edison Heating's blog has hundreds of articles that feature tips, readiness advice, and general HVAC info that can help you have the best heating or cooling experience in your home.
Advent Air has been awarded the Better Business Bureau's Torch Award for Ethics, and their blog is often considered a leader in the field. The site features news and updates for homeowners looking to optimize their HVAC home setups – you can even find info on the best houseplants for cooling and heating.
Based in Phoenix, Simply the Best provides a no-frills blog that is designed to help you maintain your HVAC systems and provides cost-saving techniques and advice for cleaning your system. The site updates fairly regularly and also has health-related posts about air quality.
Final thoughts
All of these blogs have value for just about anyone looking to understand the industry or just keep up with the maintenance of their home HVAC systems.
If you have any additional information about some useful HVAC blogs to share, then please feel free to post them in our comments section.
If you need help with your reputation management software or Facebook business reviews please contact us and we will be happy to help.
See what Broadly can do for your business in just 30 days