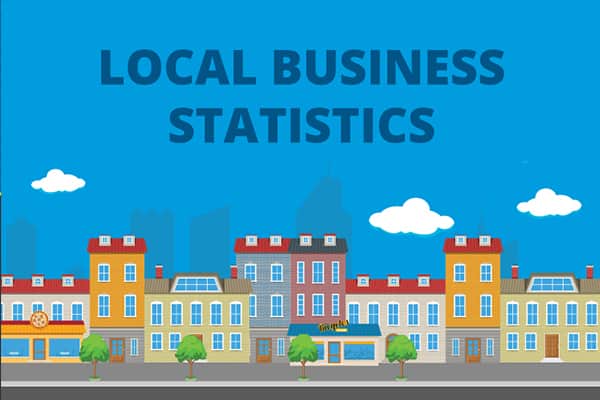 Local business statistics
A local business is any business that serves a local market and is not part of a national chain, and they are essential. In fact, local businesses are often the backbone of the local economy. This is especially true when you take the time to look at this infographic on Broadly for a better explanation of how vital these types of businesses are to economies. 

Local businesses versus the chain stores
It might be surprising for you that nearly 66% of the population is willing to pay more at local stores for the same things that would cost less at other stores. The fact that many are willing to spend more for the convenience of not going too far to get the things that are needed can help local businesses in a community thrive.
The power of local search
When an individual needs something, they often use the internet to search for a local store that provides it. Roughly 72% of the people who execute a local search will visit a store that is located within five miles of their current location. Did you know, there has been a 900% growth in recent searches for shops that end with "near me tonight/today". 
The impact of mobile and the internet
With nearly everyone carrying around a cellphone in their pocket there is a big opportunity for driving those people into your local business.

Mobile searches with the words "open near me now" have also increased by nearly 200%. This is a simple search that shows that individuals are looking for local shops to find what they need. Many of these searches result in a visit to the local shop within a period of 24 hours, and it has been determined that nearly 82% of all consumers check their phones while they are shopping to see if the purchase is a good one. 
In the US alone, 36% of the small businesses that exist do not have websites of their own. This is extremely hurtful for business because …. 
Having a good mobile SEO will help because…. 
Here are some interesting statistics about local businesses in this space:
84% of consumers will treat an online review that they read just like a personal recommendation from a friend.
A few bad reviews on the company's site will make the reviews seem more reasonable for most consumers.
Negative reviews must be handled properly by the store management for it to draw in customers.
Only about 30% of the customers that you would normally get will allow one negative review to prevent them from doing business with a local business owner. 
About 70% of your customers are likely to leave a review when asked.
Reviews from existing customers are expected to boost the business by about 30% more sales, which can be a lot for a local business.
See what Broadly can do for your business in just 30 days