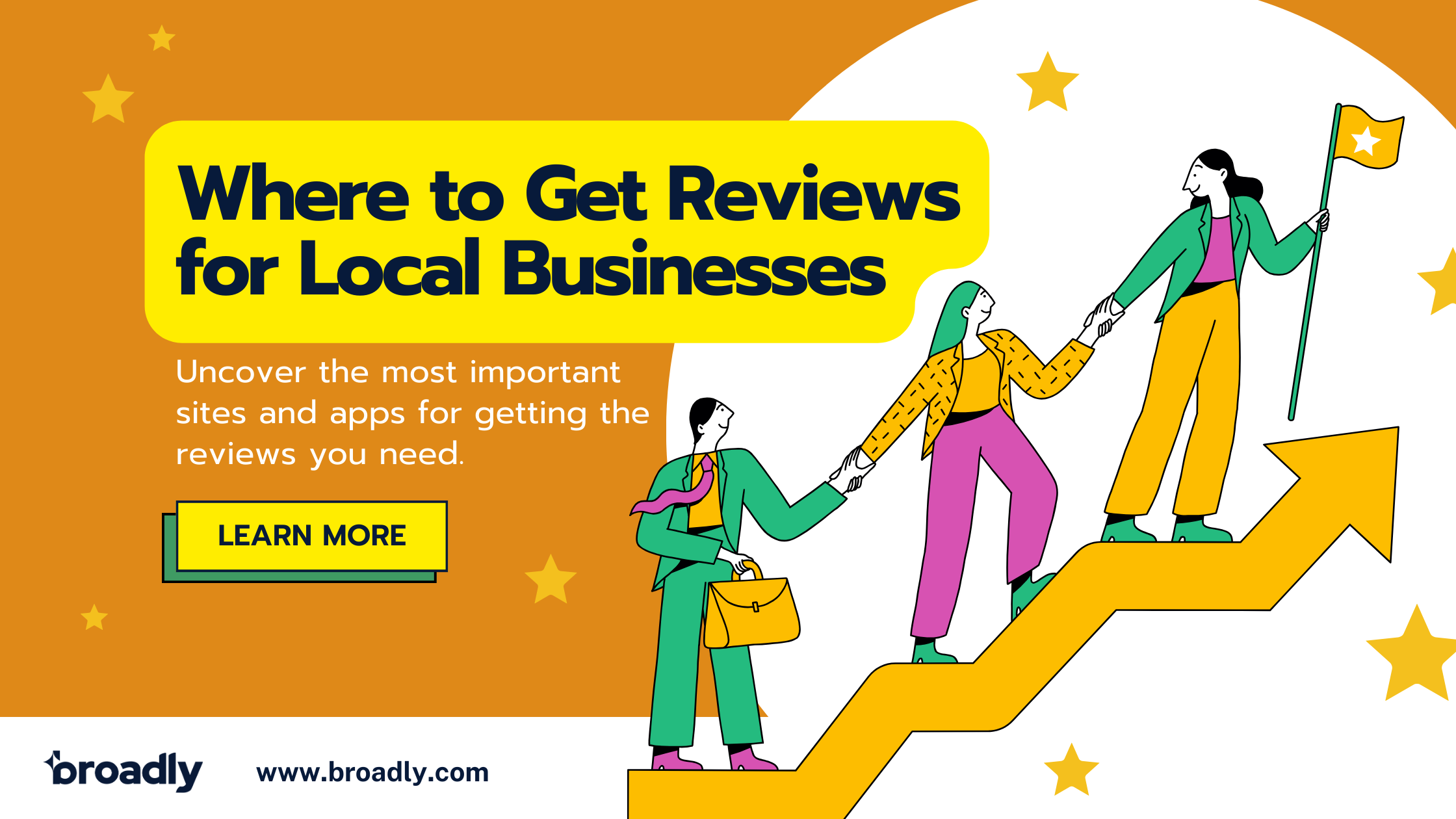 Where to Get Reviews for Local Businesses
Welcome to the ultimate guide to mastering the art of collecting reviews for your local business. Here, we won't just tell you why reviews matter—we'll show you how to get them like all the pros do.
Why Reviews Are Your Local Business's Secret Weapon
In the fiercely competitive world of owning a business, reviews are your golden ticket to success. They're not just customer feedback, but also the ace up your sleeve that can skyrocket your reputation and drive more customers through your door.
According to a survey conducted by Bright Local:
Google remains the favorite choice for evaluating local businesses, with 87% of consumers using it, up from 81% last year.
When it comes to the importance of reviews, industries like Healthcare, Automotive Services, and Service Businesses/Tradespeople are leading the way, according to consumers.
Nearly all consumers, a whopping 98%, read online reviews when checking out local businesses.
If you're still on the fence about how influential reviews can be, it's time to clear up any misconceptions. Check out the benefits of Google reviews to see why they're the secret ingredient for local business success.
Generate 5-star Google reviews for your business automatically
Where to Get Local Reviews
We've curated a collection of top-tier local business review sites and apps that every business owner should know like the back of their hand—but we didn't stop there. We've also gathered industry-specific review platforms for: 
Automotive services
Pet services
Legal services
Home services

Dental practices
Each review site is accompanied by a handy description highlighting their expertise and a direct link to their website. Let's dive in!
Also see: How to Get 5-Star Google Reviews
The Heavy Hitters: Top 10 Review Platforms
When it comes to reviews, there's a top 10 list you need to be a part of. These are the platforms where consumers flock for local business insights, according to BrightLocal. Check them out:
The holy grail of local business reviews, Google's own platform is where millions every day look for products and services they need.  
Yelp, a trusted source for restaurant, retail, and service reviews, is a go-to for customers seeking opinions and insights.
Connect with customers and let them share their experiences on your Facebook page to leverage the power of social media and reviews.
This is one of the largest travel platforms where travelers share experiences, making it perfect for businesses in the travel and hospitality industries.
The BBB sets high standards for trust and integrity, making it a trustworthy source for business reviews. Gain credibility and trust with a BBB listing.
This is where Apple users discover local businesses. Don't miss out on the iOS audience.
This is a trusted source for healthcare provider reviews, which makes it ideal for medical practices aiming to establish trust with patients.
This digital version of the traditional phone book provides a trustworthy platform for local business information and reviews.
Formerly known as Angie's List, it is a home services platform that connects homeowners with professionals—essential for contractors, repair services, and more.
Trustpilot is a global platform for customer reviews that collects customer feedback for various businesses.
Drive Your Auto Business with Reviews
Automotive services shouldn't miss out on the specialized review sites tailored just for them. Buckle up and discover platforms such as:
A reliable resource for auto repair and maintenance, Repairpal links car owners with top-rated mechanics.
Known for vehicle history reports, Carfax also offers a review platform for automotive service providers.
A review platform for car dealerships and service centers that helps customers make informed decisions about their automotive needs.
Master the World of Home Services
For home service providers, there's no shortage of platforms to boost their presence. Uncover gems like:
The site, formerly known as Angie's List, is crucial for connecting homeowners with the best nearby home services providers.
Known as Angi's Canadian partner, it is the country's largest home services review platform. It's the go-to source for service providers looking to connect with homeowners across the border.
Backed by the reputation powerhouse that is Angi, HomeAdvisor is a great place to list your home service business.
Also see: 
Win the Hearts of Pet Lovers
Pet service providers, turn those wagging tails into glowing reviews from dedicated platforms, such as:
Rover connects pet owners with trusted pet sitters and dog walkers in North America and Europe. Their directory makes it easy to receive reviews from happy pet parents.
A global platform for finding and reviewing animal caregivers. Build trust with pet owners looking for your services on the platform that backchecks all its businesses.
Do more than walk or pet sit? Petbacker is for you. This platform connects groomers, pet taxis, boarding facilities, and much more to the clients they are looking for in over 50 countries. 
This is a trusted source for veterinary clinic reviews. Build credibility with pet owners seeking reliable vet services for their furry friends.
Reviews for Law Firms
Legal services, we've got your back with specific review platforms designed for your industry, including:
Justia is an invaluable platform for legal information, offering an opportunity to enhance your law firm's online visibility and bolster its reputation with helpful lawyer reviews.
A prominent source for lawyer reviews, Martindale-Hubbell is a well-trusted name in the legal services industry.
Represents 97% of lawyers in America and is a leading legal services marketplace where clients can review and connect with lawyers across scores of different practice areas.
Also see: Market Your Bail Bond Business
Smile with Dental Reviews
For dental practices, it's time to shine on specialized review platforms such as:
According to the website, Healthgrades is used by half of Americans today to discover reliable healthcare providers in their local area. This platform is particularly well-suited for dental practices looking to build trust with patients who are actively seeking care.
With over 8 million ratings and reviews, WebMD is a popular health information platform for dental practices.
With an average visitor count of 50,000 monthly, it's a dedicated platform for dental service reviews. It has all the ingredients for creating a strong online reputation in the dental industry.
Explore the Rest of the Review World
Couldn't quite find what you're looking for? We've got your back! Dive into an assortment of review sites that can cater to various types of local businesses. Take your pick from:
Microsoft's local business platform enhances online visibility. Don't underestimate the potential of Bing's audience.
Yahoo's local business directory for reviews and business information. They collaborate with The Real Yellow Pages, which can help you kill two birds with one stone. 
Does your business not quite fit into a specific niche? Merchant Circle has what you need. It's an online platform dedicated to connecting local businesses with customers. It's a valuable resource for business reviews across industries ranging from recreation to retail and lodging.
A well-known platform for restaurant reviews, this is a must-use for anyone in the dining industry.
A comprehensive platform for local business info and reviews, it's a valuable resource for businesses across different industries.
As a trusted source for real estate and rental property reviews, Zillow is the go-to platform for those in the real estate industry.
A consumer-focused platform for reviews and advice on various services.
A popular city guide and review platform. If your business is a brick-and-mortar establishment, consider Foursquare.
As a leading business directory, Manta has been connecting small businesses to customers located in their communities for over 20 years.
Incorporating the power of AI to best support businesses listed on the side, Sitejabber is a consumer protection platform designed for reviewing and rating online businesses.
Focusing on helping people connect with exciting things going on in their own backyard, Local.com is a hyper-local business directory and platform for business reviews.
How Broadly Supercharges Your Success
We're wrapping up this guide, but if you seek to simplify your online presence and cultivate strong customer engagement on leading listing platforms, consider Broadly as your trusted companion.
Broadly eliminates the need for constant monitoring of multiple platforms to unearth reviews, manually gather insights, or send separate review requests. Our suite of automated solutions is here to help you shine brightly—so you can power through even the rainiest day. With Broadly, we make reputation make sense.
See what Broadly can do for your business in just 30 days