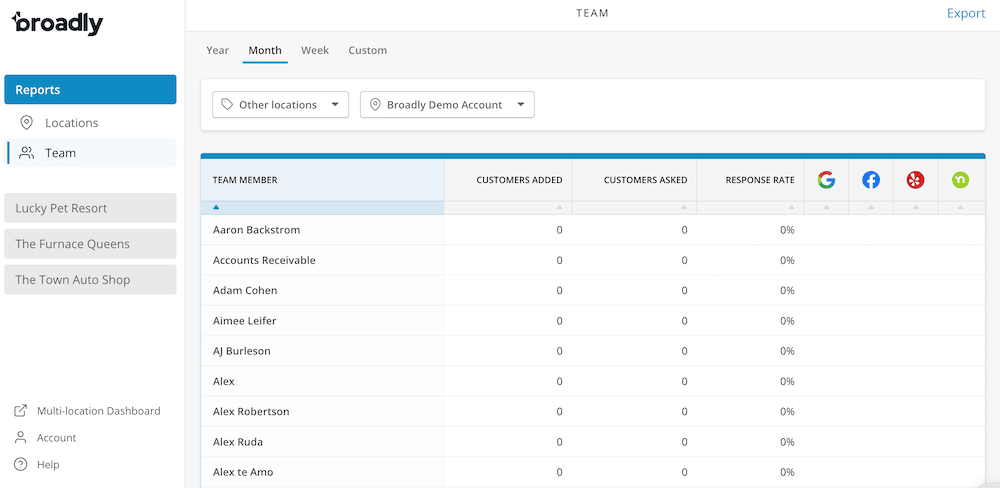 Team report: Now available in the Broadly app
If you're a local business owner, you know that managing a team, and keeping tabs on their performance, can be challenging–particularly if you're already wearing multiple hats in your business. 
Monitoring team success means constantly staying up to date on what's going on, keeping track of your team members ability to achieve goals, and ensuring your customers are happy. No small feat when you've already got a ton of responsibilities on your plate.
This is where Broadly comes in!
With the new Team Report feature, you can easily track performance by team member. That way, you can focus on those mission-critical tasks that only you can do.
The Team Report is now available on the Broadly App! If you're already a customer, login here to begin using it. If you're not already using Broadly Premium, stay tuned for more on this ultra beneficial new feature. 
Team reports core features
As a manager, you need real-time updates on how your team is doing and the health of their customer interactions. This can be difficult for many reasons. 
Maybe you don't have time to constantly check in with team members or are unsure of how to create performance reports. With Broadly, you can see all of this information in one place.
Broadly's Team Report is a new feature that gives you an overview of how your team is performing. You can see how many customers each team member has added to the Broadly app, their average star rating, and average customer response rate to review requests by team member.
Here are the core features of Team Reports:
Real-time data updates
Team member performance metrics such as:

Customers added
Review requests sent
Customer response rate
Customer sentiment
Review generation breakout

Visual, user-friendly interface
Year, month, week, or custom time frames
Benefits of team report
Along with Broadly's extensive suite of features, using Team Report will help you in the following ways:
One-stop solution for team management: With the Broadly App, you can now see everything happening with your team in one place. For instance, if your team members sit in multiple locations, you can now track their progress from the same page.
Informed decision making: With real-time data, you can see how your team is performing and identify any areas that need improvement. For example, if you see that one team member has a low customer response rate, you can address this issue before it becomes a problem.
Save time: You can now get all the information you need about your team without chasing them down for updates. This eliminates the back and forth thereby saving both your and your team valuable time. 
Establish best practices: You can identify which team members are doing well and model their behavior with Team Report. This way, you can improve the performance of your entire team.
Increase positive reviews: By keeping track of your team's progress, you can identify opportunities to generate more positive reviews. For example, if you see that a team member has a high customer response rate, you can encourage them to request more reviews from their happy customers.
Empower your team and monitor their progress with Broadly
Broadly works with local businesses to help them build a strong, lasting online presence and reputation. We offer tools to help businesses get more reviews, communicate with customers and leads from a single mobile app, and put their business growth on auto-pilot. With Broadly, you can focus on your business while we take care of your online reputation.
Team Report is just one of the many features we offer to help businesses improve their online reputation. With Team Report, you can now focus on your services and leave the team management to us.
Already with Broadly? Login now to begin using the Locations Report. 
Want to learn more about Broadly?
See what Broadly can do for your business in just 30 days