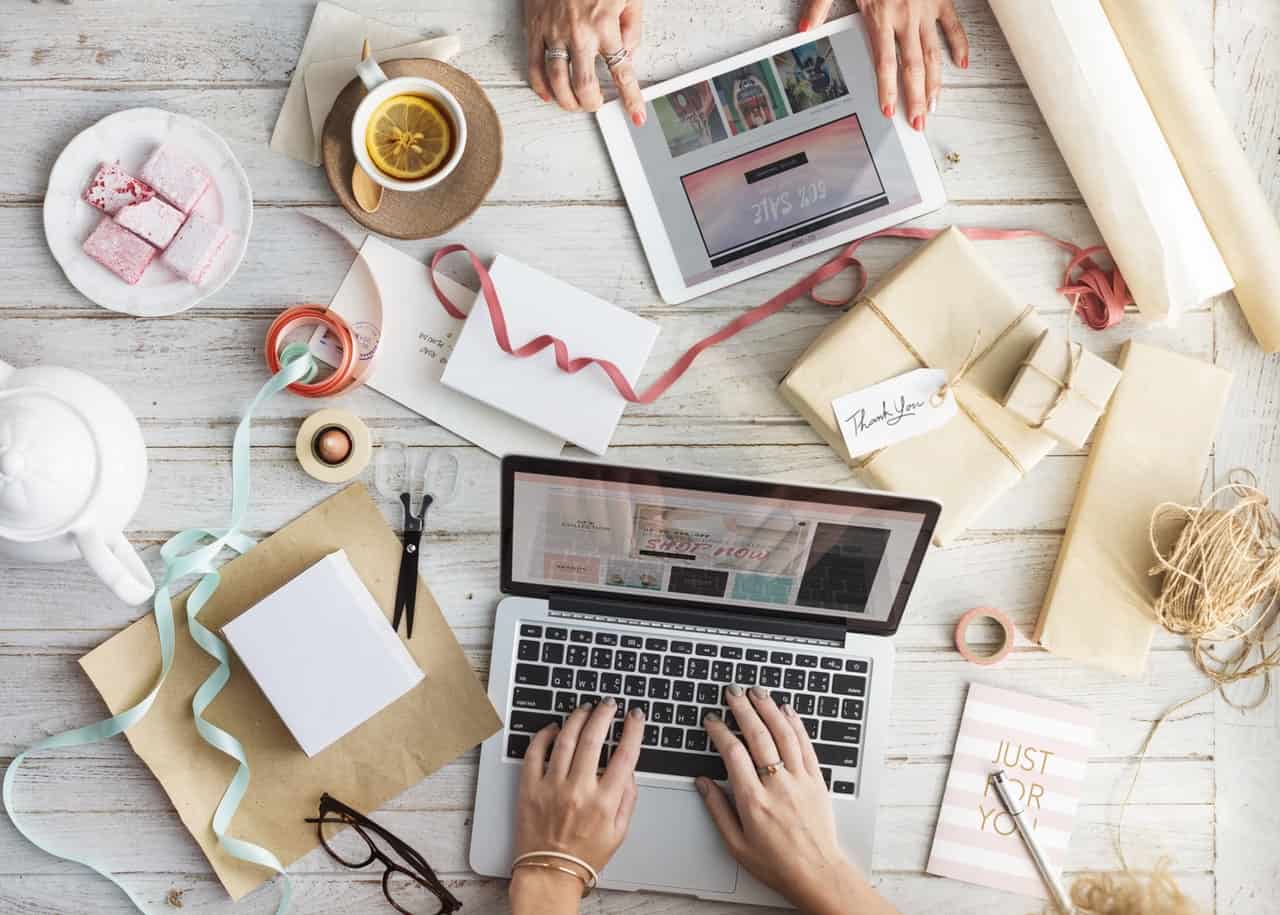 Average cost of website for small business
For local businesses today, it is critical that your company has a website. More people are going online to research an organization before doing business with them. In this article, we will look at why a website is critical in driving potential clients to your business, costs associated with it, and how to decide the layout and functions of your particular business website.
Need a Professional Website For Your Business?
Why websites are important for business
With the ease of smartphones and the internet, we have become accustomed to searching for things online rather than leaving your house and driving around town. A company's website is a critical component to a successful sales funnel that can drive clients and customers to your door. It doesn't matter whether you have a small or large business, people still need a way to find you and what you offer! Every thriving company needs well-designed, easy to navigate website that can be accessed from anywhere around the globe.
According to Statistica, in the year 2017, 46.8 percent of the global population accessed the internet. This figure is projected to grow to 53.7 percent by 2021.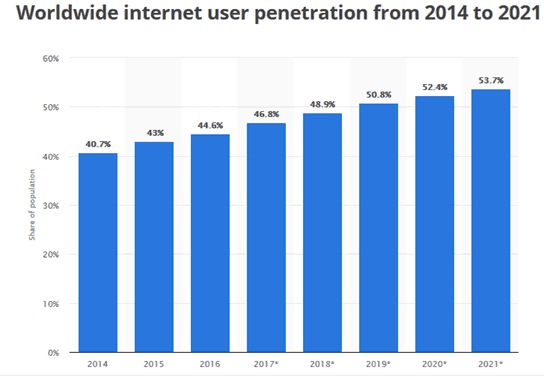 This means almost 4 billion people are going to be on the internet by 2020! Can you imagine the scope of your potential clients (locally and globally) that can be reached with the help of an online website?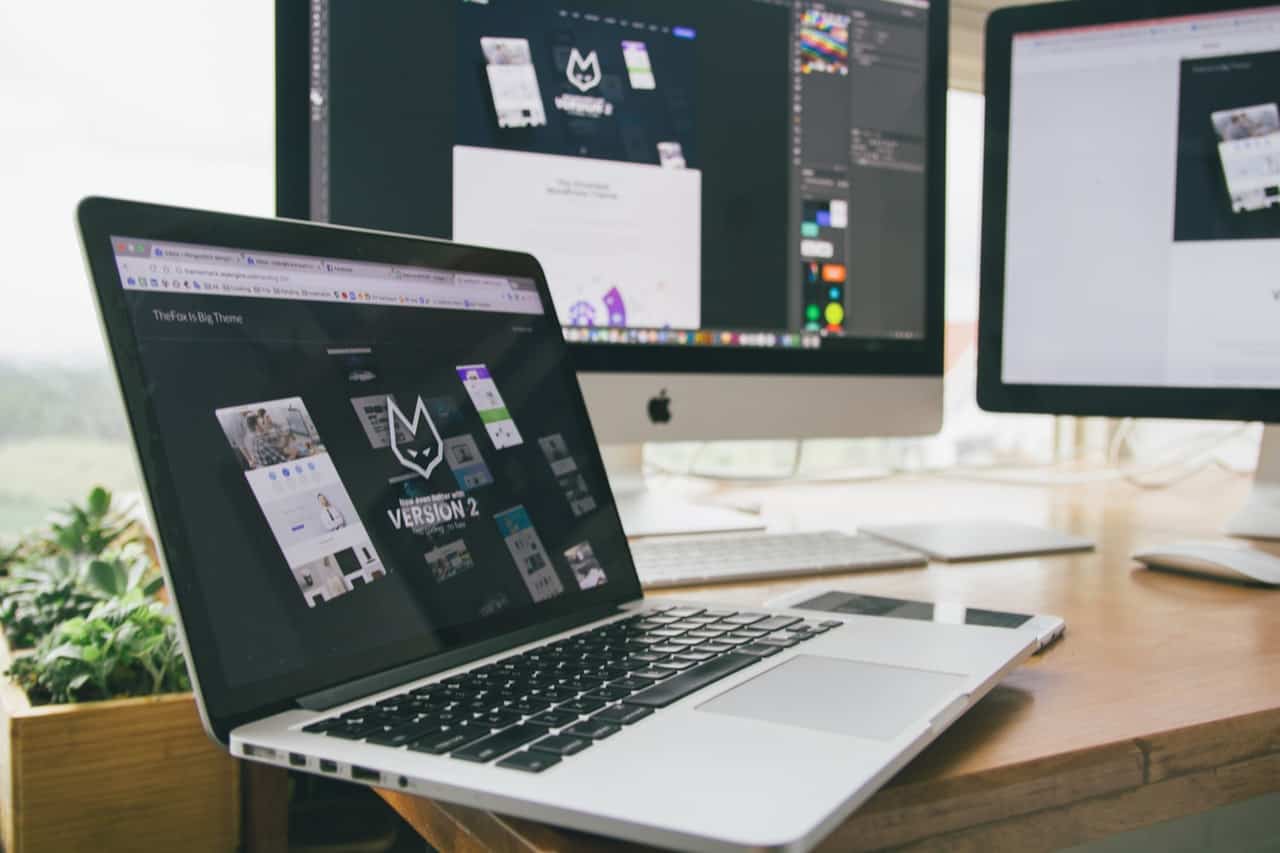 Broadly takes the hassle out of designing your business website
There are a lot of costs around designing a website and customizing it for your business.  Here at Broadly, we know your time is valuable and we want to help! We do a lot of the hard work of building your business's website. We can take care of the following:
Customized Web Design
Hosting
Mobile-friendly Website
Optimization for Search Engines
Transferring of Content
Logo Design
Website Updates
Annual Audit & Redesign
Free Support
Access to Your Website for Customization
If you are interested in Broadly doing this work for your company, just request a demo! If you want to take on the challenge of designing your website we have a list of what to consider and the costs associated with them. 
Things to consider when designing a website
Some questions to consider before creating or updating your website are:
Is my website well designed and attractive enough to keep my potential customers?
Is it always online and readily available to my clients?
Are my clients able to contact me through my website?
Is the content on the site relevant, up-to-date and convincing to promote my business?
Does my website appear well on the search engines?
Is it well optimized so that the pages, images, and videos load at a high speed for the visitors?
How does my website look to the clients when they are accessing it through a mobile device or an older operating system?
Can my customers create orders to my services and products and make payments through the website?
Can my customers trust my website when making purchases?
A poor or outdated website designed can hamper your company's image. You only have about 10 seconds for online lookers to be engaged. If there are broken links, an outdated design, or difficult navigation, you will most likely lose a customer to a better website. That point in the sales funnel is crucial for the consumer's journey.
Costs of designing a website
Let's look at the essentials for building and maintenance of a website, and what it all costs.
Domain name
A domain name (also known as your URL) is like naming your online product.
The domain name is what your clients type into their browsers, in order to access your website online. These can be purchased online through companies like Namecheap.com or Godaddy.com. Having an easy to remember/easy to type domain name will help people locate you for business. Stay away from funky spellings, numbers, or symbols.
Other things you must consider when buying a domain name for your company:
It should match or resemble your company's name.
It should be short and easy to remember.
It should have an appropriate extension like .com, .org, .info, .us etc
Average cost of website domain:  $10-$20 a year.
Website hosting
Now that you have named your product, you need somewhere to sell it! Rather than being in a physical store, you have it in an online store. This is what your web hosting is. You have to register your domain name and have it "hosted" or stored through a hosting company. These would be companies like Bluehost or WP Engine.
Buying a domain name provides you with a registered website address, and the hosting company can help with the layout of your site, and what people see when they type in your domain name.
The cost of website hosting can vary depending on whether you want a shared hosting or a dedicated hosting.
Shared hosting
Shared hosting is a web hosting in which the hosting provider serves multiple websites through a single server. Although each website will have its own domain name, each of the websites are hosted on the same server. You will be provided with a Control Panel with a restricted usage to the hosting server.
Potential Cost of Shared Hosting: They are cheaper than dedicated hosting and usually start from as low as $3 and can go up to $20.
Dedicated hosting
Dedicated hosting is a web hosting in which the hosting provider provides you with complete access to the hosting server. You will not be sharing the resources with anyone else and you have full control over it.
Potential Cost of Dedicated Hosting: The cost of a dedicated hosting plan usually starts at $20 and can go up to $150 or even more.
There could be other costs depending on other resources you could use like: CPU processor, storage capacity, memory, bandwidth etc.
The hosting fee is an annual recurring cost and tends to be cheaper if the fees are paid in advance for the whole year or multiple years.
Average cost of web hosting: $3 – $150 a month with annual renewal rates.
SSL certificate
Another optional item your website could use is a Secure Socket Layer (SSL). This is lock symbol before your domain name. This indicates your website will encrypt sensitive data like credit card numbers and personal information when entered. It gives people peace of mind before they purchase anything. So, an SSL certificate is a good idea if you run an e-commerce website.
You can get an SSL certificate for free with Let's Encrypt a. The price varies depending upon the certificate providers. Highly secure algorithms usually fall towards the expensive range. A website for a bank would use an expensive SSL certificate while a DIY site can work with a cheaper one.
Average cost of SSL Certificate: Free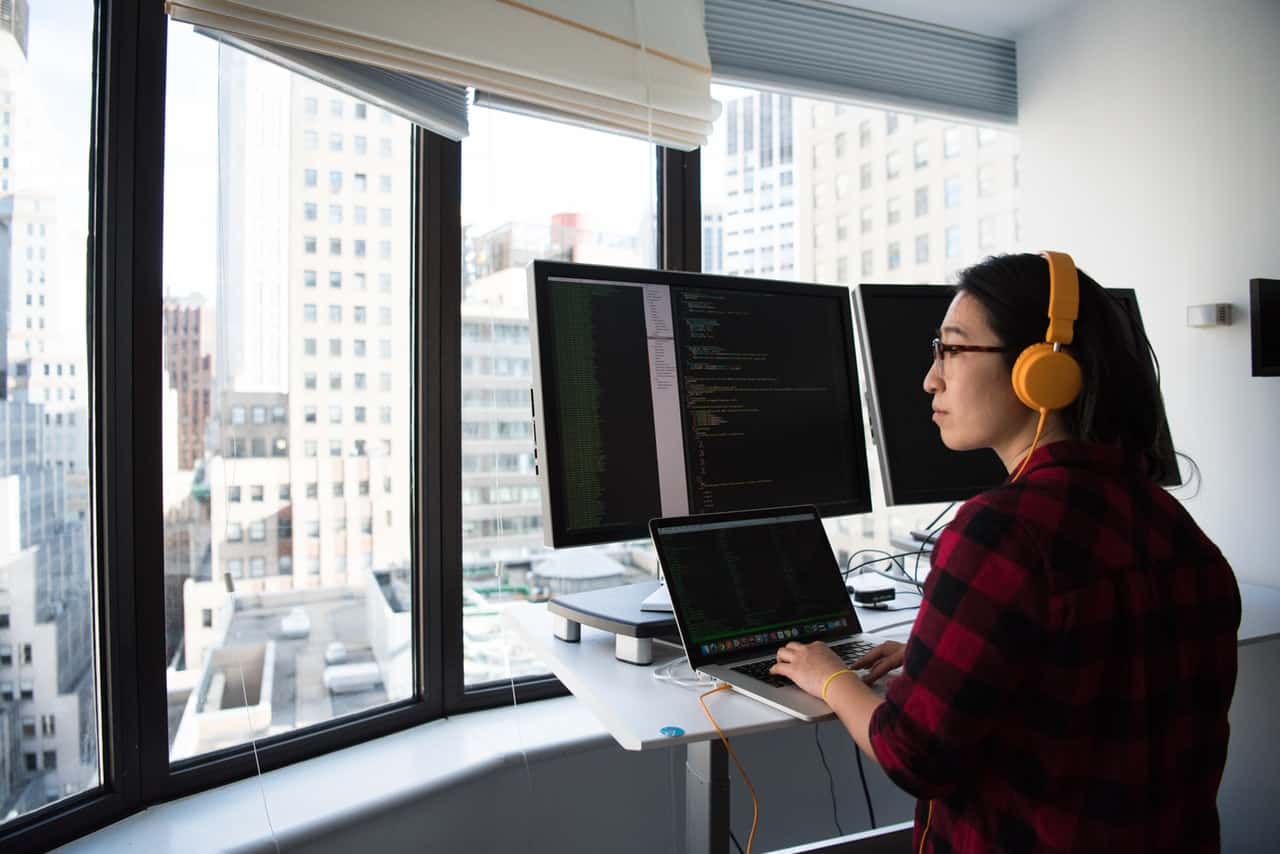 Website development cost
The cost of a website design really depends on if you want a customized website or a template based website. Both have pros and cons.
Customized website
A custom website is something that is built from scratch, just for you. This is great as you can make it exactly what you want! However, developing a customized website usually takes longer and costs more compared to developing from a template. Think about this like building your own home from the ground up.
Template generated website
A templated website has premade features that you can customize. This could be compared to buying a "premade" house and decorating it as you like. It's nice because you can buy it instantly, but you can't customize it as much as if it were from scratch. There are many popular templates, and template providers like Wix, WordPress, and Weebly. It is quite cheaper to design a website from a template and one can find many free templates as well to start with.
The downside to a template based website is, they can be very rigid and difficult to add or change features based on your vision.
Within this frame of a customized v/s a templated website, let's talk about the two different types: Static and Dynamic websites.
Static website
A static website is something you create once, and do little updating or changing. These usually have little to no costs associated with them except the yearly hosting fee. The number one thing to be worried about when creating a website that won't be changed is that Google may penalize your site for having little to no activity. When there's no activity on the site, both Google and potential buyers might assume you've gone out of business and discredit your site.
Dynamic website
The content on a Dynamic website changes frequently and programmatically. The dynamic websites are highly interactive and users can perform various actions like searching for products, creating requests and orders, making payments etc.
All e-commerce sites, online stores and content management system (Blogs) fall under this category. Usually, larger businesses choose to have a dynamic website but small businesses can also have a dynamic website depending upon their needs.
Building a dynamic website can be a more complicated process as compared to building a static website. Therefore the cost of designing a dynamic website is going to be more expensive and take high amounts of resources to create and maintain.
The cost of designing a dynamic website can start from as little as $1,000 and go up all the way to $20,000. Then you have all the features you could add which also increases costs. Broadly offers affordable dynamic websites for $99/month when you use their review software which is a great bet.
Average website design cost: $300 to $20,000.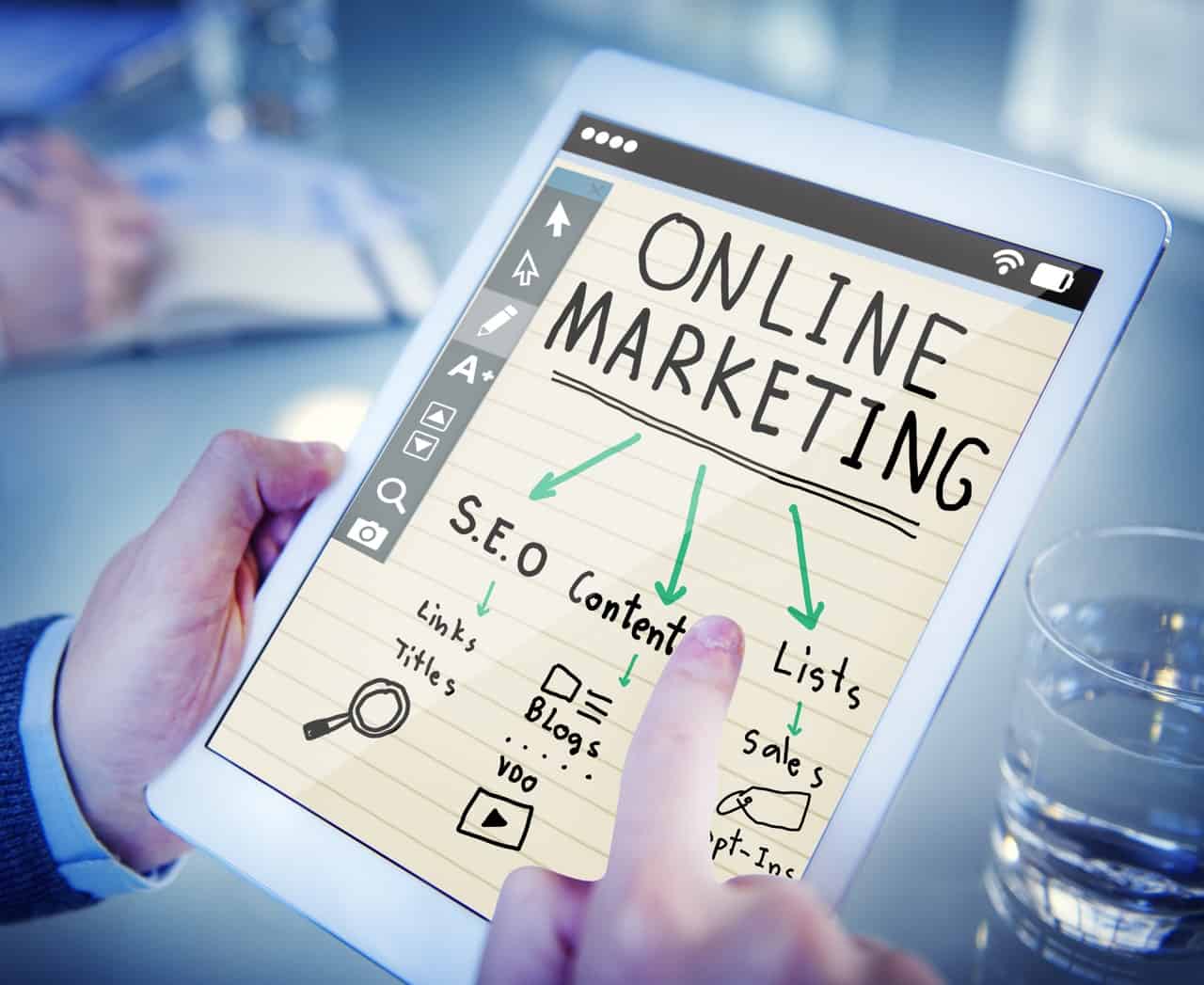 Website marketing
Now that you have your domain name, hosting website, and website design, it's time to start marketing! There are many forms of website marketing. Three of the most important forms are Search Engine Optimization, Pay-Per-Click Advertisements, and Facebook Marketing.
Search engine optimization (SEO)
Search engines like Google and Yahoo crawl websites on the internet on a regular basis and use their algorithm. This enables search engines to list new websites on their search results. It is very difficult for a website to appear on the first page when first created. There are other companies competing to be on the front page so be patient!
For this purpose, it is considered a good practice to perform frequent SEO to each page of your website. There are many factors that play a vital role in making a good "SEO" so getting some advice from an expert who provides optimization service on a paid basis. While some SEO experts charge by projects, some others also charge clients on an hourly basis.
According to a survey performed by Ahrefs, $500-$1,000 per month is the most popular monthly rate for SEO services.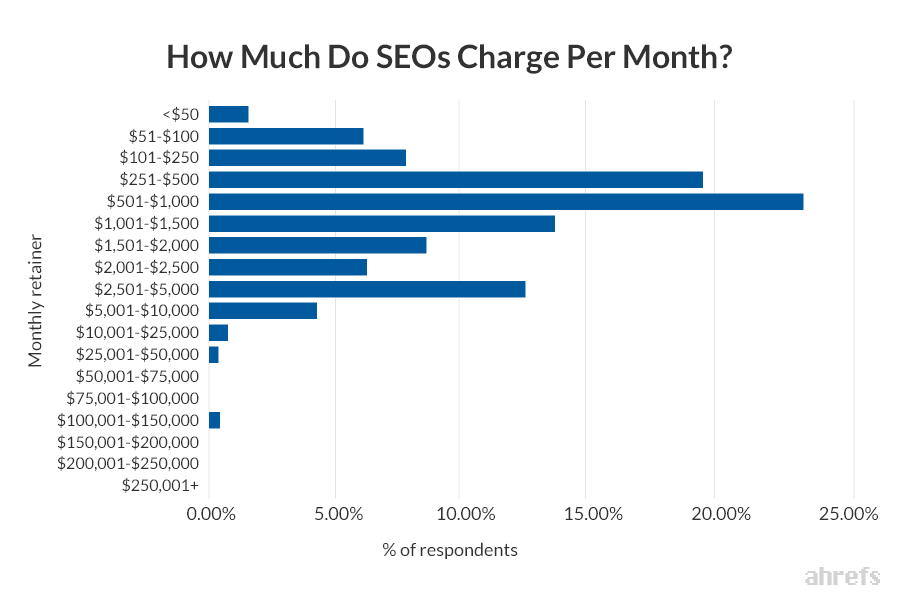 Average cost of SEO: $500 – $10,000 a month.
Pay-per-click (PPC) advertising
PPC (Pay-Per-Click) advertising is a when you pay a fee each time one of your ads is clicked. Basically, it's a way of buying visitors to your website, rather than "earning" those visits through organic search.
The most popular type of PPC ad you see are on search engines like Google, Bing, and Yahoo. Below are examples of ads for carpet cleaning companies.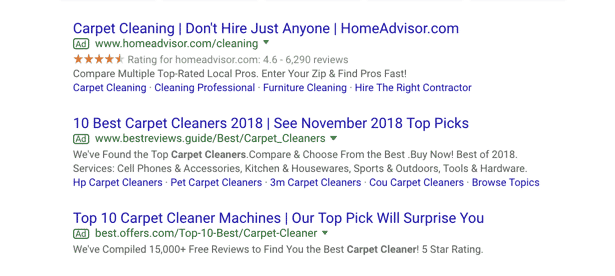 These ad campaigns can be incredibly effective because overnight you can rank for any keyword you want! The downside is the cost, everytime someone clicks on your ad it costs you money and once your budget runs out all of your ads disappear.
Having a solid PPC strategy allows you to quickly increase the potential customers coming into your company.
Average cost of PPC advertising campaigns: $500 – $10,000 a month.
Facebook marketing
Another very popular form of online marketing is through Social Media. As a lot of people use social media platforms like Facebook, Yelp, Twitter,  and Instagram. Unlike PPC ads when you promote your business through these platforms, you will be able to create ads that target your primary audience.
With Facebook Advertising it is possible to target people by age, gender, interests, and even income levels. These ads can be so customized that it makes them a lot more effective.
Average cost of Facebook advertising:  $50 – $10,000 a month.
Summary of ballpark costs for a small business website
The chart below summarizes all of the costs that we looked into for designing a small business website.
Each of the expenses is broken down by cost, expense type, and need basis.
| | | | |
| --- | --- | --- | --- |
| Factors | Costs | Need Type | Expense Type |
| Domain Name | $10 to $20 | Mandatory | Annually |
| SSL | Free | Optional | Annually |
| Web Hosting | $3 to $150 | Mandatory | Annually |
| Website Development  | $300 to $20,000 | Mandatory | One-time cost |
| SEO | $500 to $10,000 | Optional | Monthly |
| PPC Advertisements | $500 to $10,000 | Optional | Monthly |
| Facebook Advertising | $500 to $10,000 | Optional | Monthly |
 Conclusion
Having a well-designed website is essential for any kind of businesses in this digital age. Through a website, even a small business can target customers from around the world. Many things need to be considered when designing a website and hopefully, this article has given you some good direction!
See what Broadly can do for your business in just 30 days