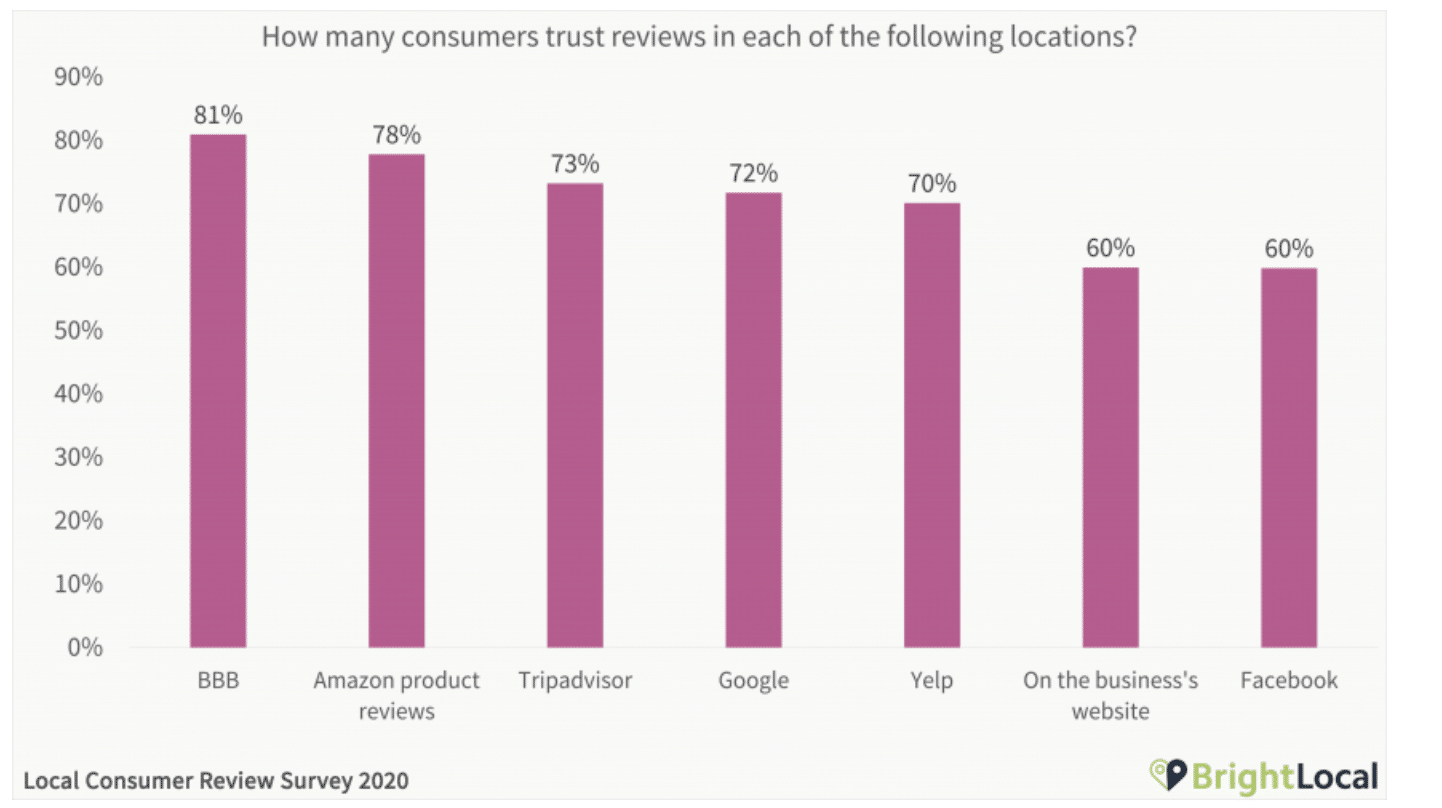 How to use business review sites to acquire new customers
You probably already know that most people use the internet to find and compare local businesses (93% according to a 2020 survey). That's why you're reading this article.
The real question is how to best use your online presence to win new business:
Where are your customers looking for you?
What sites do they trust?
How can you stand out on these sites to beat your competition?

In this piece, we'll look at why you should prioritize platforms with built-in customer reviews and how to use them to acquire new customers.
See what Broadly can do for your business in just 30 days
There's a new breed of review sites
Historically, sites such as Yelp, Trustpilot, or TripAdvisor were built exclusively as a platform to support anonymous, impartial customer reviews. They were the go-to places to compare local businesses. 
Review sites featuring the reviews of local service providers, restaurants, vacation spots, and more — became an essential part of the consumer's buying decision process.
Now, however, major platforms like Google and Facebook offer local listings and customer reviews in addition to their many other services. They have taken away the market share of traditional review sites like Yelp and Angie's List had.
You can now simply do a Google search and see everything you need to know about businesses in your area.
And yet, as a local business, you need to consider all of them: major online platforms like Google and Facebook, general review sites like Yelp, and platforms unique to your industry. 
Potential customers will prefer and trust different platforms when making purchase decisions, so if you limit yourself to having a presence on just one or two, you'll be missing out on new business.
Why you should prioritize managing your reputation on review sites and actively seek out new reviews

Local business owners and their teams are almost always spread thin when it comes to marketing. There are way more marketing strategies than you'll ever have the time or budget for.
So why focus on review sites?
In 2020, 87% of consumers read online reviews of local businesses — and this number is growing every year. Most folks won't decide on a company without first reading reviews or customer testimonials.
It doesn't matter which other physical or digital marketing strategies you're using — whether you run a Google Adwords campaign or invest in billboards or yard signs — the leads you attract will very likely search online for reviews before reaching out.
And simply having reviews is just the start:
Consumers look for recent reviews to ensure that the quality of the business hasn't changed.
Consumers compare businesses to see who has a higher rating and a more significant number of positive reviews.
This is why it's so important to actively seek out new reviews. Having one of the highest amounts of five-star reviews is what will set you apart and win you business on review sites. 
But where will new reviews make the most impact? Let's take a look at the top review sites for local businesses.
Top general sites for customer leads and reputation management
The strength of general review websites is that most consumers already use them and are comfortable with them. They'll have the highest traffic numbers and, in most cases, will bring you in the most leads.
1. Google My Business
It doesn't matter what market you're in — Google is the number one place customers look for information about a business, including reviews. In fact, according to a recent study, on average, a local business's Google listing is viewed 1,260 times each month.
Google reviews also help improve your search engine rankings (local SEO), and make you stand out in the Google maps area on any local search related to your business.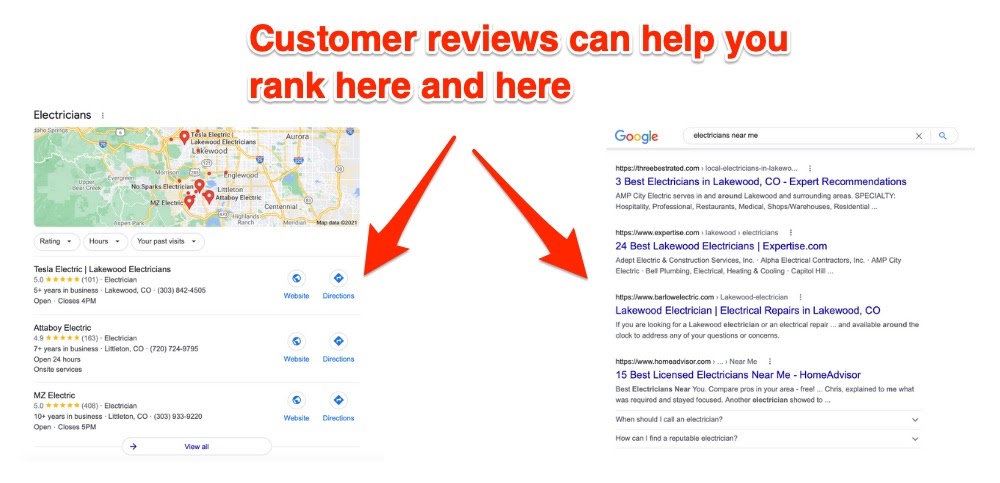 With our customers, we've found a direct correlation between increasing the number of Google reviews and getting more unique website visitors. 
So, if you don't already have a competitive presence on the number one search engine, we recommend starting here.
2. Facebook
Creating a presence on Facebook is a crucial way to build up local brand awareness, market your goods or services to new customers, and maintain relationships with existing customers. 
People want to follow and check in on local businesses they love. According to Facebook's research, two-thirds of users visit a local business page at least once a week.
Even if people aren't visiting your Facebook page specifically to read reviews, having a high star rating and several good reviews on this social media site will help build trust and positive brand associations.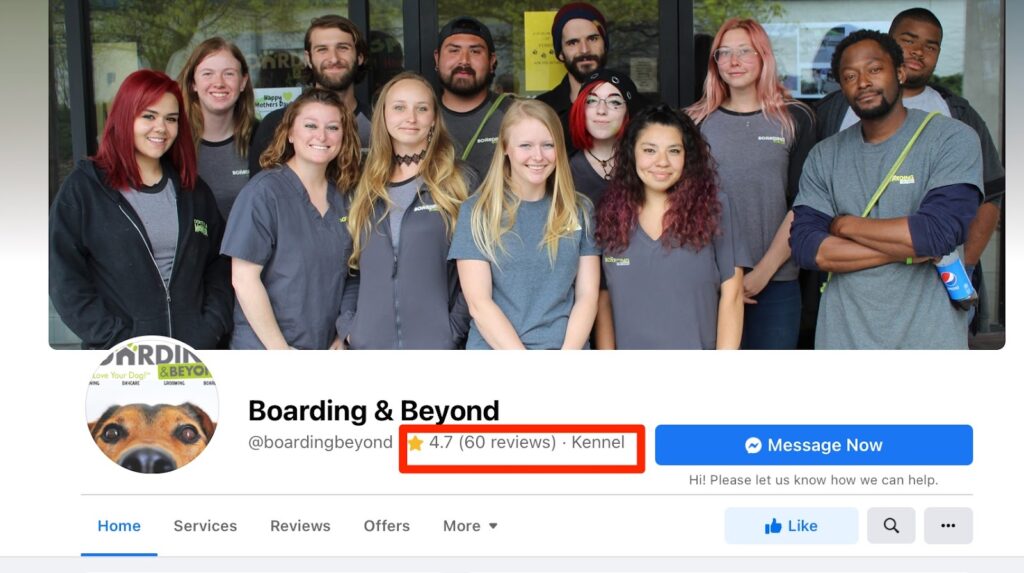 3. Yelp
Many local businesses have a love/hate (or maybe even a hate/hate) relationship with Yelp. The platform doesn't have the best reputation when it comes to working with small businesses. But it's still one of the main sites customers go to seek out anonymous opinions.
Even if you're not interested in advertising on the site, it's still important to claim your business and respond to Yelp reviews.
4. NextDoor
NextDoor is a website and mobile app where folks can connect with others in their neighborhood. There are built-in forums and groups for neighborhood conversations. Users can also review local businesses. Businesses can set up a local profile, offer deals,  and post business updates.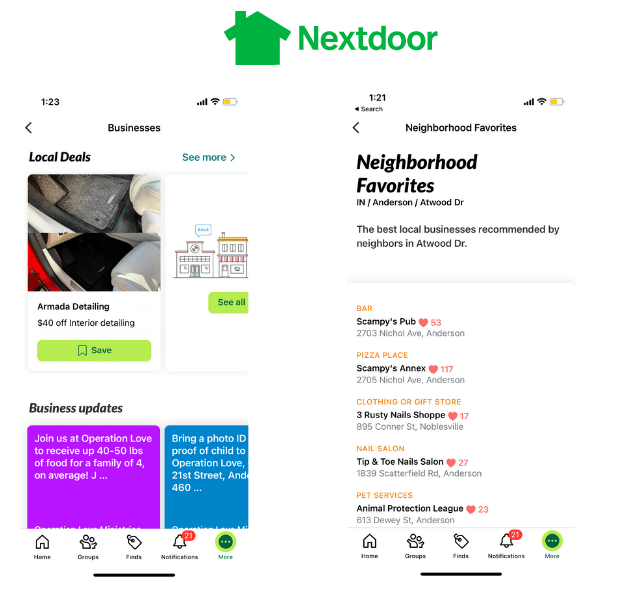 5. Better Business Bureau
While fewer consumers may visit the Better Business Bureau's website looking for consumer reviews, according to a BrightLocal survey, it is the most trusted among online review sites.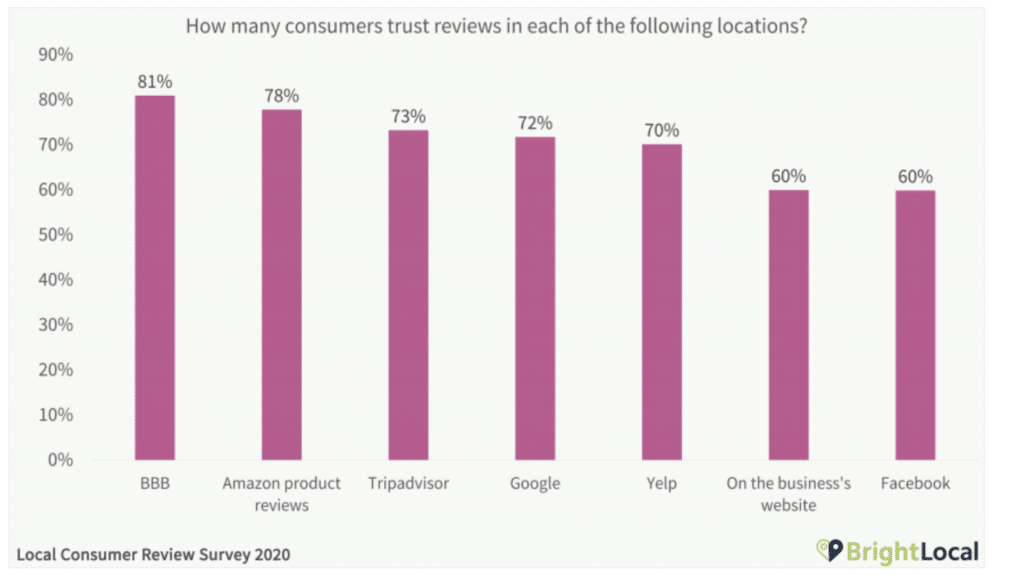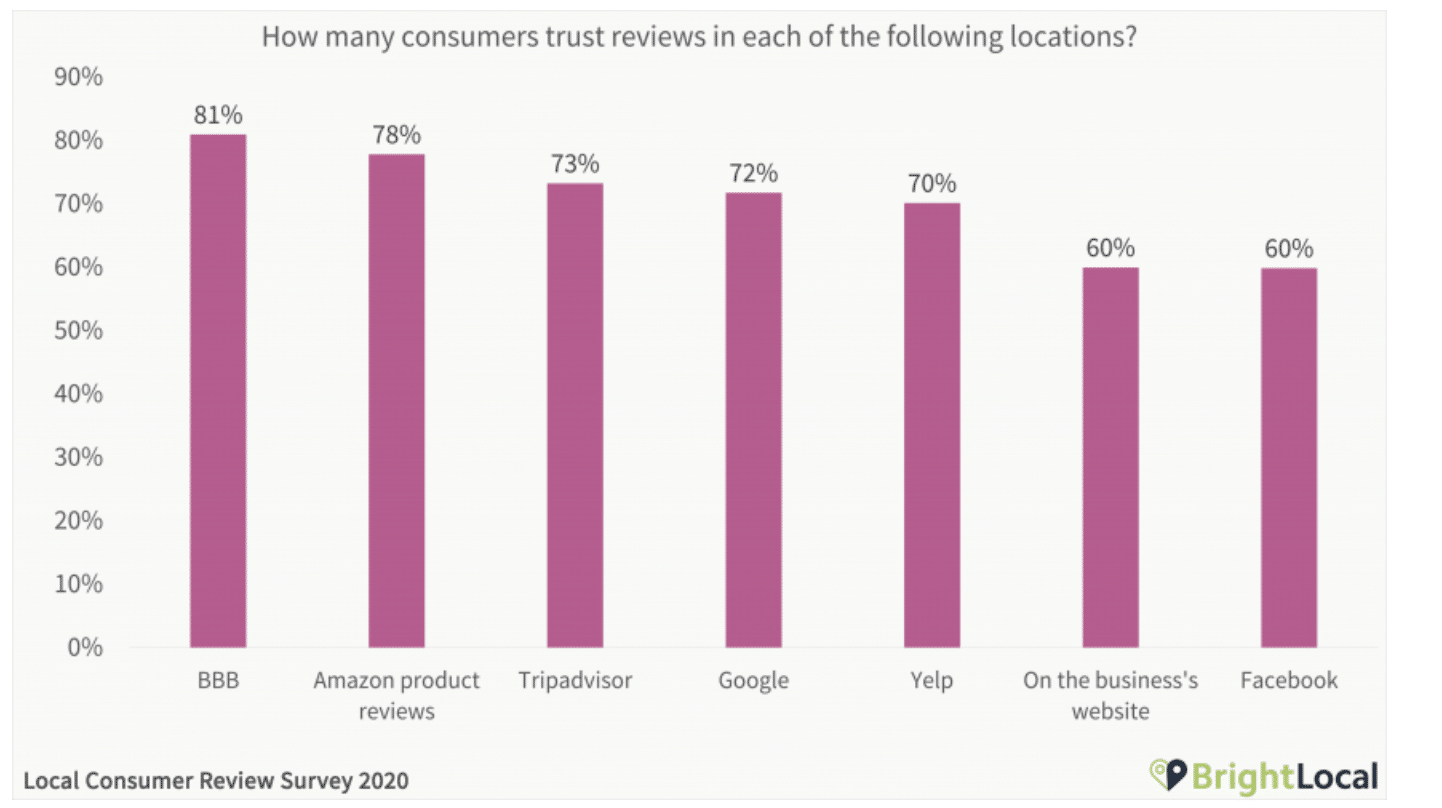 If you have a strong BBB rating and good reviews, you can earn trust with potential customers by adding your BBB score and a link to your profile on your website.
Niche review sites
Some prospects will prefer to seek out business information on industry-specific sites. Often these business directories will use verified customer reviews or screening processes to only show verified businesses.
Otherwise known as lead generation platforms, these sites usually rely heavily on user reviews to decide which business listings to show first. (Note that many of them also charge for this, as well). We'll cover a few of the industries that we know best.
Auto Mechanics and Auto Body Repair
RepairPal 
RepairPal runs a certified network of repair specialist shops that guarantee repairs at a fair price. They also have a Fair Price Estimator, which gives consumers an idea of what their repairs should cost.
AutoMD
AutoMD uses a similar model as RepairPal, with a database of over 400,000 shops that have been assessed by AutoMD's team of service shop specialists. They also have a built-in price estimator tool.
DriverSide
DriverSide's tagline is "The Website for Car Owners" and has a mechanic finder tool specific to the model of the car. Users can sign up for notifications about recalls, value estimates, and other news for their particular vehicle. 
AutoBody Review
AutoBody-Review.com boasts reviews from verified customers in the collision industry. Unlike others on this list who attract users with multiple tools and services, the entire website is dedicated to customer reviews. 
Carwise
Carwise is similar to Autobody Review with verified reviews and resources around autobody repair. Carwise has over 9 million customer reviews. Carwise allows users to book an appointment or get an online estimate.
Home Services
Angi
Angi, formerly Angie's List,  is one of the oldest service provider directories in existence. Angi's reputation is built on its extensive store of vetted customer reviews — well over ten million reviews. With so much new competition cropping up, Angi doesn't have the same market share it used to, but there's still a segment of the population for whom Angi (or Angie's List) is the first brand that comes to mind when they're looking for trusted businesses.
HomeAdvisor
HomeAdvisor — For consumers, the appeal of using HomeAdvisor is not having to do the research to find a qualified, vetted service. They fill out their requirements, and HomeAdvisor sends them several companies to choose from. On the company side, this means you're paying for the lead, which can add up fast. 
Thumbtack
Thumbtack — Although a lesser-known directory, according to a 2020 report from our partner company Housecall Pro, Thumbtack offered the best return-on-investment (ROI) for HVAC, plumbing, and electrical companies. 
Porch
Porch is similar to Thumbtack, allows consumers to search for individuals or companies with specific projects. Smaller businesses looking to fill their schedule tend to do better than larger businesses that need larger jobs and repeat customers.
Houzz
Houzz positions itself as the Pinterest for home improvement where homeowners can get ideas for remodels and other projects. The platform also includes a directory of home service professionals and gives awards for consumer favorites.
Review sites for pet services
There are few active pet service review sites. And we suspect that pet owners are more accustomed to using general review sites, such as Google, Facebook, and Yelp. However, there are a few you should be aware of.
Rover
Rover is like an Airbnb for dogs. It's a crowdsourcing app for individuals who provide services for pets and relies heavily on customer reviews. It's well known with over 277K reviews in the Apple App Store, but it's not set up well for businesses.
BringFido
BringFido is the number one site and app for folks who like to travel with their pets. Users will report and review pet-friendly hotels, restaurants, and more. The site and app also have a services section for pet stores, veterinarians, doggie daycare facilities, sitters, groomers, trainers, and other pet professionals.
Dog Boarding
Dogboarding.com runs a directory of dog boarding facilities, dog sitters, walkers, trainers, and groomers along with their customer reviews. While the site isn't as well-known as Rover or BringFido, it's a better fit for boarding or grooming facilities than freelancers.
Tactics for getting reviews on big review platforms
The most crucial step in earning new business on review sites is consistently earning new reviews. Here are a few do's and don'ts to do just that:
Do ask in person for a review
You can start simply by making sure customer service reps always ask for a review at the end of a transaction. If a customer has had a positive interaction and is personally invited to leave a review, they'll be more inclined to take the time.
Do send links to specific platforms when sending a review request
Make it easy for happy customers to leave a review where it's going to matter most. We recommend prioritizing Google reviews first and foremost. But if another platform does well in your area and your market, link to that platform in an email to encourage customers to leave a review there.
Check out our free review templates and more tips on how to ask for and receive the best reviews.
Do maintain an accurate business profile
Ensure your profile is accurate anywhere your business is listed, including website address, company phone numbers, address, owner name, etc. This will ensure customers know how to find you and that they're looking at the right business. 
Don't buy fake reviews
It's important not to buy fake reviews or even offer an incentive for someone to post a review. Learn more about the dangers of posting fake reviews here.
Don't sweat the occasional negative review
The occasional bad review can be good for business. It allows you to show how you handle customer feedback. Customers are also attracted to companies with a mix of reviews because it shows it's a real business with genuine reviews.
Broadly helps small businesses manage their reputation
If you're ready to actively work on your online reputation and reviews, we're here to help.
Broadly can help you manage your reviews and more, with services like: 
We can also help you better communicate with your team and your customers, revamp your website, and more.
See what Broadly can do for your business in just 30 days