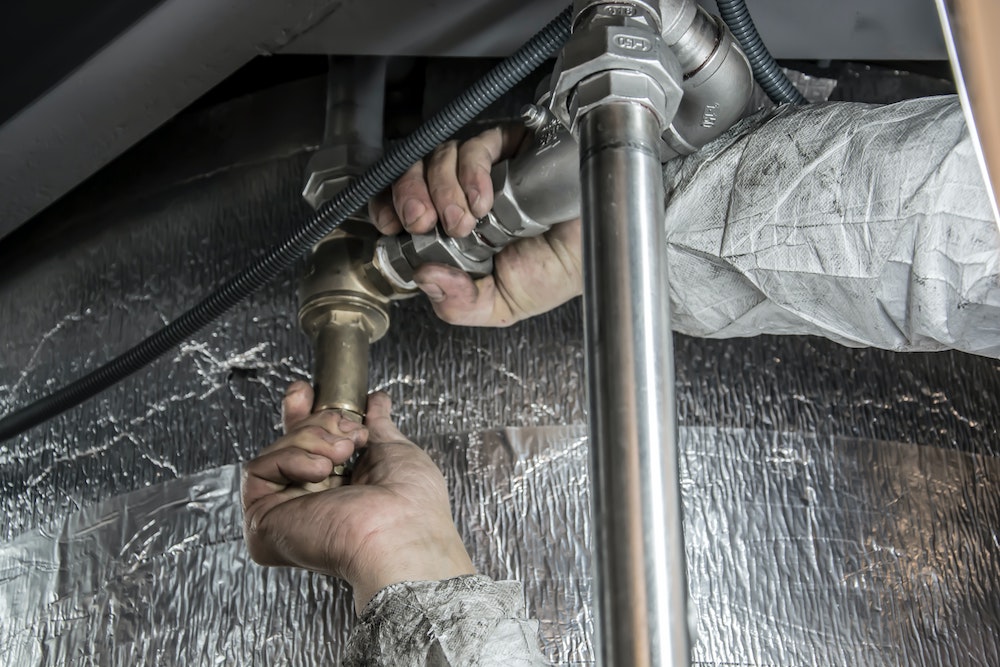 Plumber email marketing best practices
Email marketing is a reliable form of direct digital marketing that lets you engage with current, past and potential customers. 
By using email to promote your services, you can build your plumbing business and fill your appointment schedule. Since email marketing is affordable, it's an excellent addition to your plumber marketing strategy and can be a rewarding investment for your plumbing company.
How email marketing can help you get plumbing customers
See what Broadly can do for your business in just 30 days
There are several ways that you can use email marketing campaigns to get plumbing customers. 
By sending service reminders or seasonal promotions to current customers, you can encourage them to schedule appointments and fill your schedule while boosting customer retention. You can also send promotions and offers to plumbing leads and prospective customers, converting them into customers and keeping your business top of mind.
Plumber email marketing helps you re-engage with past customers, encouraging them to schedule an appointment to fix that leaky faucet they've been ignoring for a while. It also can effectively promote your plumbing services to homeowners in a new service area as you expand your business. 
Best practices for email marketing for plumbers
You can increase the effectiveness of your email marketing efforts by following these best practices. 
Set your email goals
Start planning your email campaigns by determining your goal for each campaign. Having a set goal will help you evaluate the effectiveness of your plumbing marketing campaigns so you can use your results to improve future email marketing efforts. 
Email is a versatile tool, so your goals may vary greatly depending on the type of campaign you're running. Here are a few tips to consider: 
Encourage past customers to take advantage of a new offer or coupon
Upsell services to current customers
Promote a new service to potential and current customers
Gather customer feedback and request reviews via email to boost brand awareness and your online presence
Encourage current customers to provide referrals to new leads so you can expand your customer base
Your goal will determine the content of your email and the call to action (CTA), or the expected steps you want readers to take after opening your message. Your goal will also define how you measure the campaign's success.
Use email segmentation
Sending a single email to all of your email contacts can be ineffective. Those contacts might include customers who haven't scheduled an appointment in years, customers you see regularly and new customers you haven't yet met. Broad messaging might not apply to many of your contacts, and they might delete your emails or even mark them as spam.
When you segment your contacts into different lists, you can send much more targeted and relevant emails. You can segment email lists by factors like the customer's status, location, and the services they used in the past. 
Segmentation ensures that every email you send applies to the customers who receive it so that you can engage with your customers in a valuable way.
Customize your emails
Whenever possible, customize your emails with the recipient's first name for a personalized touch. Recipients are more likely to open emails with personalized subject lines.
Remember: someone's email address doesn't always indicate their first name. As you collect email addresses to build your contact lists, remember to register their first name so you can easily customize your emails. 
Make emails easy to read
The design of your email affects how much of it your customers will read. No one wants to study a giant block of text, so it's essential to make your emails user-friendly and easily scannable. 
Try to keep your emails short and break down the text by using small sentences and brief paragraphs. White space makes an email more inviting, and you can also use elements like bold words and bullet points to help readers scan through your message. 
Strategically using graphics can also help to draw readers down through your email. Including a brightly colored button can encourage readers to take the action that you want them to take, like scheduling an appointment. 
Carefully schedule your emails
When it comes to plumber email marketing, less is often more. You might be tempted to send out weekly emails, but it's critical to consider the frequency that works best for your recipients. 
Email fatigue is real, and if you bombard your contacts with too many emails, they will get tired of seeing them. Your open rates might decrease, and your contacts might unsubscribe from your emails. 
Try sending a monthly email first, or only send an email when you have a specific reason to. Monitor your frequency and make sure that you're not suddenly losing subscribers. If you are, try sending out fewer emails and see if that solves the problem. 
Use A/B testing
After you put so much effort into designing and sending your emails, it's essential to understand how well they perform and how you can improve them. 
You can use A/B testing, or split testing, to evaluate how different emails perform. With A/B testing, you send two similar emails with distinct differences. You might experiment with a long and a short version, different CTAs or varied subject lines. 
You can determine which email performed better by evaluating metrics, such as open and click-through rates. Then, you can include those elements in future emails, split test more variables and continuously improve your plumber email marketing performance. 
Create a custom email marketing campaign with Broadly
With Broadly, it's easy to create a custom email marketing campaign for your business. Broadly makes it simple to create emails with curated templates, communicate with contacts through Inbox, and build valuable relationships with your customers. 
See what Broadly can do for your business in just 30 days