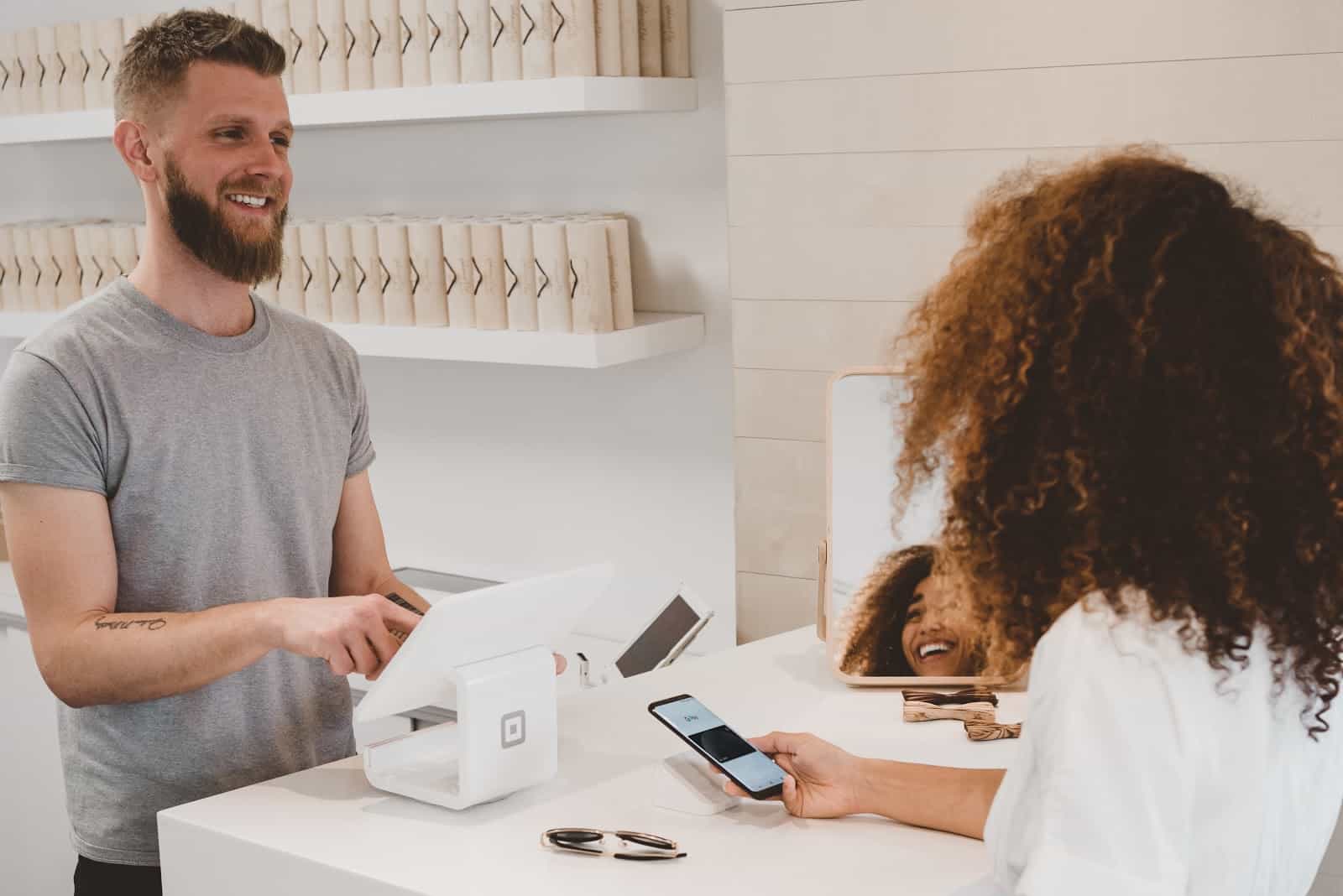 Why customer service chat matters in business
In this era of instant gratification, customers want information quickly and easily. That's why web chat widgets are a must-have tool for any customer care team and why customer service chat matters in business.
Whether you have a team of customer support agents or handle all communications for your small business on your own, web chat services allow you to provide assistance and troubleshooting via seamless chat messages that users initiate right from your website.
Web chat reduces customer wait times and boosts the bottom line, resulting in more business and higher customer satisfaction.
See what Broadly can do for your business in just 30 days
What are customer service chat tools and how do they work?
For many people, the idea of making a phone call to ask for help is horrifying. It's stressful and time-consuming to find the correct phone number, navigate the automated system, wait on hold and then deal with an unhelpful operator.
Live chat support tools allow companies to deliver answers when and where website visitors need them in real-time via live chat conversations directly on your website. The convenience factor is clear. With a single click, your clients can open a web chat session. No wasted time on the phone or waiting for an email response.
Web chat minimizes effort and inconvenience, making it the favorite choice for anyone who wants their interactions kept to a minimum and their problems solved quickly. With online web chat, most questions are answered within the first minute. Customers get the answers they need and get on with their day.
Chat messages can be powered by:
Small business owners who need a streamlined solution for customer communications
Customer service agents and customer service representatives
Chatbots backed by automation, artificial intelligence, templates and canned responses
The typical workflows of live chat tools can be used to:
Answer simple questions faster in real-time to reduce wait times
Transfer more complicated issues to a phone call, text message or email for enhanced support
What are the benefits of using online chat tools for customer care?
Study after study shows the value of customer service chat:
Reducing response times: Keeping customer response times down is a huge competitive advantage.
Live interactive support at the touch of a button, with the fastest possible response times compared with any other format — phone, email and social media platforms — is rapidly becoming the standard all businesses need to meet to ensure their customers return time and time again.
Improving the overall customer experience: Aberdeen reports that live chat is one of the top 10 technologies best-in-class customer experiences (CX) leaders planned to use in 2019, with 38% reporting they already have live chat in place and 26% saying they plan to implement it.
Boosting customer satisfaction: A Zendesk Benchmark study found that live chat drives the highest customer service satisfaction compared to other common forms of communication.
Enhancing the website user experience: Only 9% of customers can resolve issues via self-service, according to Gartner.
How customer service chat improves customer satisfaction
Customer satisfaction breeds customer loyalty, an outcome every business aims to achieve. So how does using real-time chat on your website improve customer satisfaction?
Using live chat features enables companies to:
Demonstrate they appreciate their customers. By giving instant access to an agent within your company who is able to answer questions personally, you show the customer they are valued and that their business matters to you.
Strengthen connections with website visitors. By using this unique method of direct communication, your live chat agents can build immediate personal rapport with your customers.
Solve top customer problems to meet and exceed customer expectations. You can also ask for immediate customer feedback to get ahead of negative customer reviews.
How customer service chat tools increase sales
Here are several advantages of using live chat technology as part of your website.
Get ahead of the competition. If your customer care agent is available when a question arises, the wait time shifts to mere seconds. When customers can't find the answers they're looking for, and help is not available, they look elsewhere… to your competitors.
Maximize productivity and save time, not just for the customer, but for your company too. One web chat agent can cover multiple inquiries simultaneously, and average web chat operators can deliver ultra-fast answers in under a minute. Many operators can handle up to 60 separate encounters per hour.
Increase conversions. Each chat conversation dramatically increases the chances of closing a sale. The high rate of customers needing support while making online transactions makes chats the most effective tool to drive conversion to sale.
What our customers say about Broadly's web chat
Our customers love Broadly's Web Chat features and functionality. Here's what our clients have to say are the top benefits of our live chat features.
Delivering business growth: "We love Broadly and can definitely see how they help a business grow. We've connected with 80 new customers through their web chat feature in less than two months, and our reviews have jumped 31% in the same time period!" – Ed Sieber Sr., Glass Doctor of Charlotte
Connecting with customers: "The chat box on our site helps us connect with leads and bring in new business. They've been a great partner for us!" – Melissa Thomas, Mr. Electric of Land O' Lakes
Improving the customer experience: "We've been using Broadly for a year now and couldn't be happier! Broadly's software is very user-friendly, which makes it easy for our customers to provide us with feedback and leave reviews. We also love the chat service! It's efficient and allows us to offer our customers another way to communicate with us. Broadly has been a great fit for us!" – Renee Lucas, LCS Heating & Cooling
Five best practices for using live chat for customer service
Here are our top tips for maximizing your web chat customer experience.
Reduce customer effort. Add your live chat widget to every webpage to make getting in touch with customer care a breeze.
Train your team. Your live agents must be caring, supportive and knowledgeable about your products and services. Roleplay different scenarios that may arise and offer strategies for handling difficult situations.
Optimize your live chat experience for website visitors across devices and browsers.
Use chatbots to answer frequently asked questions (FAQ) to speed up response times and provide links to handy tutorials.
Assign customer care agents areas of expertise so that workflows can direct questions to specialists.
The return on investment (ROI) of great customer service
Investing in good quality customer service may sound expensive, but research finds that there can be a big payoff in the form of higher sales and revenue:
Customers with the best customer experiences spend 140% more compared to those with the poorest customer experience, according to Harvard Business Review
Improving the customer journey can boost revenue by as much as 10 to 15%, while reducing the cost to serve by 15 to 20%, according to McKinsey
Minor improvements to the customer experience can result in tens of millions of dollars of revenue by lowering customer churn and increasing share of wallet, according to Forrester
97% of customers say customer service influences brand loyalty, according to CustomerThink
Avoid the high costs of a poor customer experience by adding web chat tools to your website
Unhappy customers are costly. They call more often, make more demands and are more likely to damage your brand's online reputation. Even after your competition has lured them away, they may continue making negative comments on social media.
Providing good customer service is a no-brainer for business growth, and web chat tools enable a faster, more efficient experience.
When your brand consistently offers superior customer service, most clients are prepared to spend a little extra on the product or service to ensure they will benefit from the convenience of great service.
If you're ready to grow your business and build lasting customer relationships, enhanced customer service with live chat software will make a tremendous difference!
Use Broadly's customer service chat tools
Looking for customer service chat functionality for your website? Broadly provides live chat technology to help companies offer customer support in real-time, improving the overall customer experience for website visitors.
See what Broadly can do for your business in just 30 days