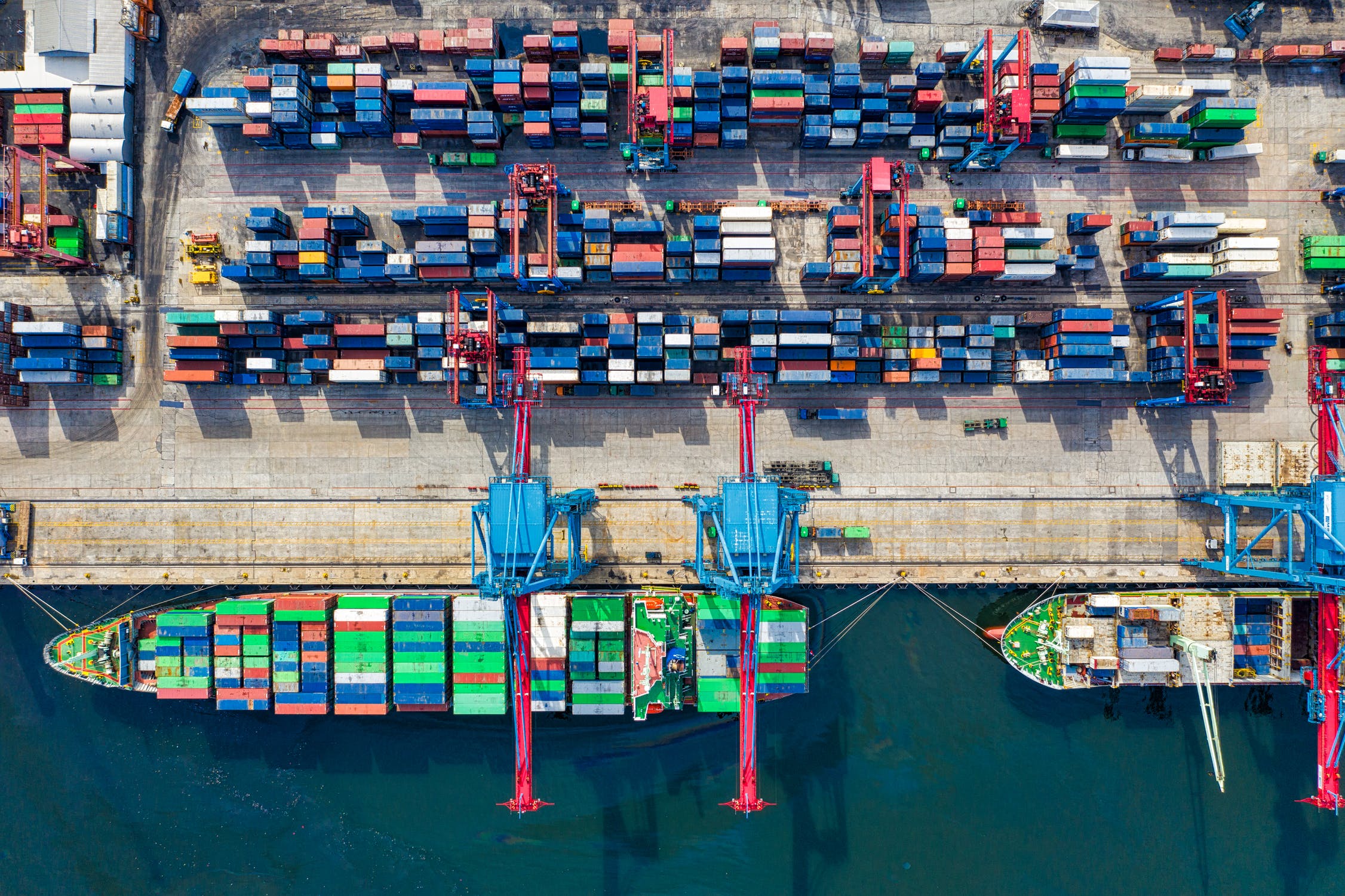 How to manage customer expectations when the supply chain is slow
When we order items from Amazon, we don't often appreciate that online shopping might be one of the most complex and advanced logistical feats. We've come to expect that two-day delivery is the norm. 
We don't often think about the logistics of bringing tons of goods from across countries and oceans. We don't realize the organizational feat in massive distribution centers and the mobilization of thousands of delivery vehicles to bring parcels to your doors or stock inventory at retailers.
However, recent events have shaken up this illusion. Global disruptions have revealed the inherent faults of our supply chain, like wind blowing across a house of cards.
Disruptions in our supply chain are causing deep unrest and anxiety in a consumer base that is used to extreme convenience, and it's up to businesses to alleviate them. 
This article discusses how your business can help manage customer expectations in the face of unpredictable supply chain disruptions and ultimately drive customer loyalty.
6 ways to manage customer expectations during supply chain slowdowns
Supply chain management, inventory management, and order management aren't the only things you should focus on whether you are a brick and mortar retailer or an e-commerce business.
We've prepared six tips for managing customer expectations during supply chain slowdowns.
Be transparent with customers
The first thing you can do is start creating a culture of communication and transparency for your customers.
When customers don't know what will happen, they become more anxious about the future. The best way to combat this is by being transparent with them about lead times and the state of your inventory.
Here are some tips on how you can be more transparent with customers.
Assign a customer relations team. Outfit your establishment with the right teams and protocols to talk to customers about their concerns. When your customers feel heard, they are less likely to develop negative feelings towards your brand.
Post announcements wherever you can. Whether you have an on-site bulletin, website banner, or a social media account, make sure you're actively announcing the expected arrival date of in-demand products.
Use SMS. Another announcement channel that often gets overlooked is SMS. Using this mode of messaging makes you more likely to reach a broader percentage of your customers at little cost.
Communicating about extended delivery times or labor shortages will become more valuable in the long run, as the post-Covid economy will most likely never be the same as before. Significant events such as the pandemic and the Ukrainian conflict have revealed how fragile our current supply chains are.
To adapt to this new environment, the entire industry must implement drastic measures. This includes real-time updates and communicating potential delays to your customers as early as possible.
Provide alternative options
When facing shortages, you still need to be able to meet customer demand to keep your customer base.
Supply chains might be slow in delivering the exact supplies you need, but this doesn't mean that you have nothing to offer your customer. 
If you want a competitive advantage in your industry, you must thoroughly assess what onhand products can be good enough substitutes for the delayed ones. You just have to ensure that you provide a similar service or product.
Employees should be briefed about these alternative options, as they'll be in charge of communicating the availability of these options to address customer needs.
Add new services
Alternatively, you can also choose to expand your offerings to fill in the gap. Do you remember when Amazon just sold books? Some taxi apps deliver packages, in addition to people. 
Creating new offerings is particularly useful because it gives you additional flexibility. As supply chain shortages evolve, you have the choice to keep the new offering or discontinue it. 
Get creative. Look at your current capabilities and think about how you can diversify your offering with minimal investment. 
Develop new products and services derived from more accessible materials.
Create combinations and bundles to make procurement more convenient for customers.
Contract with a local handyperson to provide installation or repairs. 
Respond to negative feedback
Despite your best efforts, not every customer will respond reasonably when their favorite thing isn't available. When you inevitably encounter these kinds of customers, maintaining your professionality and brand image will rely on how you handle the situation.
When customer satisfaction is down due to supply chain delays, you need to know how to respond. Here are some essential tips that we call the four As.
Acknowledge. First, give your customers immediate assurance that you understand their concern and that you're on the problem. This will only take a few seconds and goes a long way to make the customer feel heard.
Apologize. Although it may not technically be your fault, make sure you sincerely and politely apologize for your customer's inconvenience. This will help them recognize that you're bearing your responsibility for the situation.
Answer. For this part, your representative will explain the situation in a necessary level of detail or that you are comfortable with. You should also answer any other questions they may have to the best of your ability.
Advise. Give your customers alternatives. This may be from your own product offering or even from a competitor. 
Throughout everything, empathy is vital. Recognize that everyone in the scenario is inconvenienced, and convey to your customers that you'll do your best to accommodate their requests. 
Responding to negative reviews and feedback quickly and appropriately can often turn an ugly customer situation into an opportunity to grow customer loyalty.
Incorporate small business marketing tactics
Improve your customer engagement by doubling down on your small business strategies. Marketing can be tough with limited resources and reach, but that doesn't mean you can't do it.
Here are eight actionable strategies that you can use to help manage customer expectations.
Properly and professionally define your target customer to communicate with them better.
Reach out through tried-and-true methods such as email and SMS marketing.
Create an email list for willing customers.
Establish a robust online presence by creating an optimized professional website that can be used to access product information, important announcements, and more.
Create content related to your industry, especially those that shed light on current supply chain deficiencies.
Partner with local influencers and groups to build awareness about your brand and reinforce announcements that you may have for your customers.
Build a network with local businesses to help address each other's supply deficiencies.
Offer competitive promotions to draw attention to other offerings.
Those eight items are just a small sample of small and medium business strategies that you can implement to position yourself as a transparent business with your customers' best interests at heart.
One of the advantages of being a small business is that you are more flexible than large corporations in implementing creative marketing ideas. Thus, it's more doable for you to try multiple strategies to see what might work.
Use a reputation management tool
A reputation management tool will help you establish your presence online without the inconvenience and cost of having to develop everything yourself. A solution such as Broadly is more efficient and cost-effective, so you can focus on running your business.
Broadly's Customer Experience Monitoring helps you take quick action on customer feedback and measure business performance. Advanced features and automation help drive customer reviews to improve your online ranking. 
A reputation management tool provides various features to track and manage the customer experience.
Online presence. A reputation management tool will work with you to create a website, social media page, or mailing list, which increases your reach and helps you convey announcements better.
Customer analytics. Advanced tools will help you monitor customer experience and create better responses to negative feedback, such as offering alternatives or creating new services.
Convenience. Subscribing to a reputation management tool with automation features means you free up enormous amounts of time and resources that would have otherwise been spent ineffectively.
How Broadly can help you do more with less
Modern technology and forecasts allowed us to perform magic tricks: when customers wanted a product, it was there instantly for them to purchase.
However, recent events have shown us that this magic trick is nothing more than smoke and mirrors. Just-in-time global supply chains are fragile, and disruptions can have shattering consequences.
As business owners, it's our responsibility to keep our customers happy. We can't solve international issues on our own, but we can continuously improve communication to manage customer expectations.
Broadly is a robust reputation management tool that will help you grow your business. Communicate more effectively with customers and build customer loyalty. Consolidate inboxes from multiple apps to monitor online reviews and messages efficiently. 
Save time and resources with webchat and mobile payments. Your team can collaborate seamlessly with all customer interactions consolidated in one place. 
Sounds like what you're looking for?
See what Broadly can do for your business in just 30 days