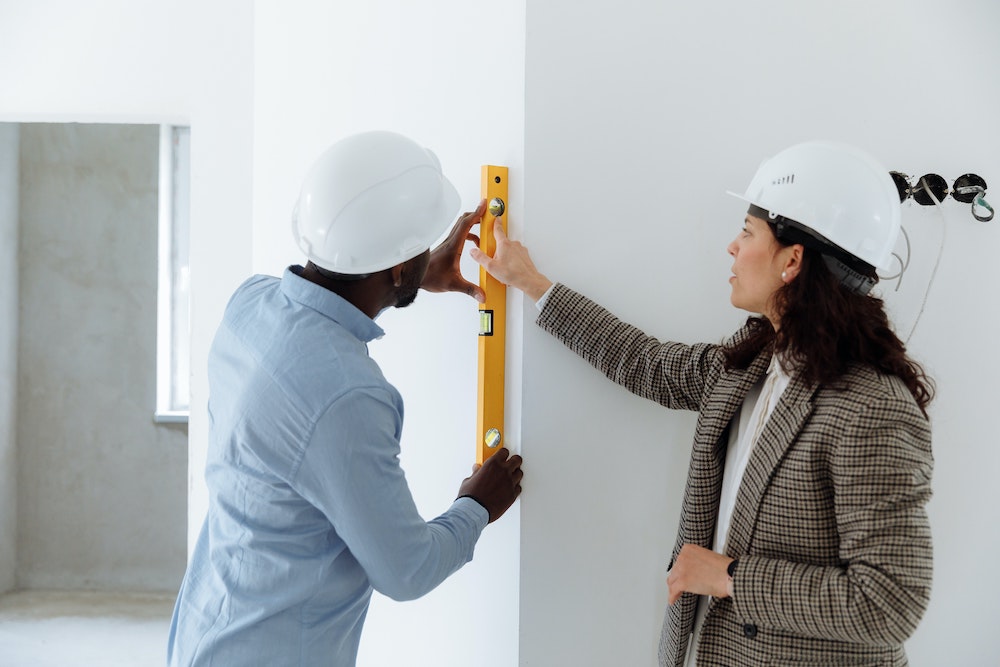 Marketing ideas for contractors that will grow your business
No business—contracting businesses or otherwise—can stay open for long without being able to attract new customers and retain existing customers. That's why construction companies that achieve the greatest success have one thing in common: they have solid marketing strategies. 
They leverage a mix of traditional and digital marketing efforts to stand out on social media, improve search engine rankings, grow their email marketing list, get more customer reviews and, above all, win over potential clients within their target audience. 
You can too, with these seven marketing ideas for contractors that will grow your small business. 
How can marketing strategies help contractors get more customers?
See what Broadly can do for your business in just 30 days
Within the broader home services and contracting industry, the majority (74%) of remodeling business comes from referrals and repeat business. Similarly, 85% of small business owners say word-of-mouth referrals prove to be the best method to draw new customers. 
Only 15% of small business owners say that local paid ads, social media ads (like Facebook ads) and direct mail are the top marketing channels for bringing in new clients. 
Specific marketing strategies help contractors get more customers by increasing their word-of-mouth referrals to draw new customers for small businesses. These strategies can also increase the volume of potential clients you're able to reach. 
By generating more qualified leads and converting a portion of these leads into bookings, you will naturally grow your contracting business with more new customers. 
Top 7 marketing ideas for contractors
Step up your contractor marketing strategies for success with these top marketing ideas for contractors. 
Start with maximizing your owned online presence, your website, email marketing list and SMS marketing list. Then, optimize your presence on review platforms and social media channels. Give paid channels a try to see which ones have an impact. And of course, remember traditional marketing strategies that can make a difference. 
1. Invest in a modern website design to convert website visitors into paying customers
Every contracting business needs a high-quality website, an online presence where new clients can learn more about your business, the services you offer and how to get in touch.
Be sure your web design includes:
Your company's contact information (phone number, email and location)
Content marketing, such as video content that showcases that type and quality of work clients can expect
Testimonials from satisfied clients
Lead generation forms for potential customers to share their contact information and project details, along with the option for new leads to join your email marketing list
Keywords and content that will help your company's online presence rank higher in search engines, such as Google Search
Links to follow your company on social media, such as Facebook, LinkedIn and Instagram
2. Prioritize search engine optimization (SEO) 
If your local business website doesn't show up on the first page of search engine results based on relevant keywords, then you're missing out on reaching most online searchers looking for contracting businesses like yours. 
To improve your local SEO rankings and optimize online presence in line with local search engine algorithms, Broadly recommends:
A mobile-friendly website
Keep your website up to date with fresh content, such as video marketing, blogs and testimonials
Generate customer reviews on your Google Business Profile (formerly Google My Business), Yelp and other review websites
Use the same contact information across your various online business listings 
Check out Broadly's SEO checklist to make sure you don't miss a thing.
3. Leverage email marketing and SMS marketing campaigns to keep in touch with potential customers and existing customers
Once searchers have landed on your website, you can use lead generation forms to collect their contact information, encourage them to keep in touch with your business or even book their first project estimate. 
Once they've opted in to receiving updates from your local business, you can use two effective marketing tactics — email marketing and SMS marketing campaigns — to encourage your new leads to do business with you.
4. Get customers reviews to increase your brand awareness and use these testimonials to attract potential clients
Once you have customers that have opted into your SMS and email marketing lists, you can run marketing campaigns. Follow up to see if they are pleased with the service they received and ask them to write online reviews about your business on social media, Google Search, Yelp and other review platforms. 
5. Create and maintain a presence for your contracting business on social media
Just as potential clients use local search results to look for general contractors and construction businesses, many also search on social media channels to find local businesses. That's why it's important to build a social media marketing strategy, create business listings on key channels, such as LinkedIn and Facebook, and post regularly on your accounts. 
To support your broader marketing plan, use your profiles to share engaging video content, testimonials and other high-quality updates to educate prospective clients about your business. 
6. Use paid channels to target your audience, increase your client base and grow your small business
If you can't sustain your business through organic marketing efforts alone, then you may want to branch out to paid marketing tactics. Google Search and social media channels, such as Facebook and LinkedIn, offer both pay-per-click (PPC) and pay-per-lead (PPL) options to expand your digital marketing strategies.
While PPC ads are great for raising brand awareness, PPL ads are more effective in driving lead generation marketing efforts, as you only pay when customers share their contact information or take an action, such as scheduling a service or on-site estimate. 
7. Think beyond online marketing—don't forget about business cards
Old school marketing tactics, like handing out business cards and brochures, can help you increase your brand awareness right in your community when you're running errands, networking and attending community events and meetings. 
How much should contractors spend on marketing?
Marketing fuels business growth, but it's important to keep spending in check in relation to the revenue you're bringing in. The U.S. Small Business Association recommends allocating around 8% of your total revenue toward your marketing efforts if you own a small business with annual revenues under $5 million. 
That said, 2021 data from the consulting firm Gartner finds that annual marketing budgets have dropped to 6.4% of overall company revenue, down from previous highs in the 10 to 12% range in the mid-2010s. This reduction is because businesses are leveraging opportunities to gain free organic traffic and affordable advertising on Google and social media.
Let Broadly help you streamline your marketing 
Broadly's suite of digital marketing tools are go-to platforms for all types of local businesses and professionals, including general contractors, small business owners and construction businesses. The tools include:
See what Broadly can do for your business in just 30 days