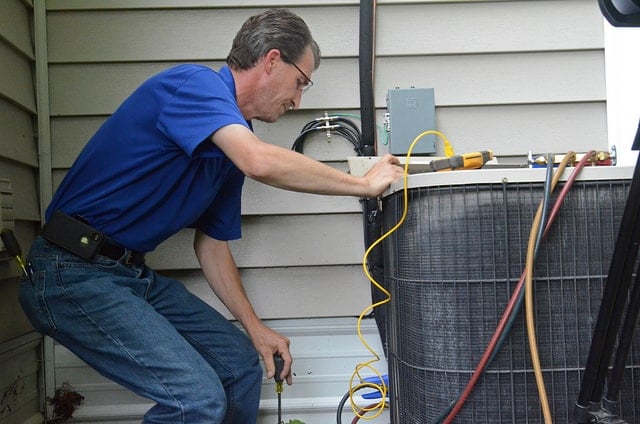 How online reviews impact your HVAC business
Anyone that works in the HVAC industry knows that word of mouth is the lifeblood of the business. When you have happy customers, they'll gladly recommend your business to their family, friends, and anyone else who needs your services.
These word-of-mouth recommendations are very important to your company's bottom line. Also, with the introduction of the internet, many conversations about your business have moved online. This "digital word-of-mouth" can be as powerful, if not more for your business because of the large audience seeing it.
Right now, over 50% of customers search for services using online search engines like Google. The sites that rank most often are online review sites like Yelp, Google Reviews,  Facebook Reviews, and NextDoor. Online review statistics say that 84% of users value these digital words of mouth reviews as much as they would value a personal recommendation from a friend.

Effects reviews have on a HVAC business
As you can probably understand, these reviews can mean a lot to your bottom line; they make the difference between a customer selecting your business or selecting the services of your local competitors.
It can be hard to find a good contractor, and with so many customers using the net to find reliable ones in your area, it's important that you seek out online opportunities to provide business leads.
Often, the reviews that appear online for your business will be your customer's first exposure to your HVAC business. As a result, you need to ensure that the overall experience provides a good first impression. Effectively, you'll want at least a positivity rate of at least 75% in your reviews so that your business looks attractive to new customers.
See what Broadly can do for your business in just 30 days
Embrace all reviews
It's imperative that never delete any negative reviews because doing so will make your business appear inauthentic. These reviews will happen, and you can address them to minimize the negative effect these events can have on your HVAC business. Negative reviews can be problematic, but even negative reviews can help you drum up extra business; it's when you have no reviews at all that a customer may just avoid seeking you out as a contractor for their HVAC needs.
When you see them, address them as try your best to remedy any issues that have occurred. As long as you have between a three and five-star rating in Google, you will benefit from the reviews because 87% of the population looks for contractors with primarily positive reviews.
How to ask for reviews as a HVAC business
Did you know that 70% of customers will leave a review if you just ask? This is a statistic that many contractors are simply unaware of but can have an effect on your company's bottom line. This is precisely why it's crucial that you know how to ask for reviews from your clientele; it simply won't do to waste the opportunity that delivering good service can provide for your company's online reputation.
There is a right and a wrong way to seek out a review. Never ask for a positive review because many customers will consider this disingenuous. Instead, always frame your requests for reviews as seeking feedback; your happy customers will see this as you attempting to improve your service offering for future clients and will almost invariably help you receive some positive feedback on the review sites.
Check out these templates on how to ask for reviews.
Seize the opportunity
Additionally, it's always a good idea to seek out your positive reviews shortly after service has been rendered; you don't want to wait too long because the job won't be as fresh in the mind of your customer. Additionally, if any incidental issues crop up, the last thing you want is any negative aspects making their way into what you want to be a positive posting.
Be as attentive as possible
It's also important to be able to gauge a customer's satisfaction level. If a customer appears happy, then this is a good time to ask them for a review. Happy customers, as a rule, will leave a good review. Conversely, if a customer appears tense, annoyed, or seems busy, wait until the job is done to a satisfactory level before asking for online feedback. Simply waiting for the customer to seem less preoccupied or unhappy is a great way to secure some more positive digital word of mouth.

How to respond to positive reviews
Once you've received the positive review that you're looking for, your job isn't over. You should always follow up with your reviews so that you can appear engaged with your client's needs, whether they are positive or negative reviews.
A positive review is a beautiful thing, and they provide your potential new customers with some evidence that the HVAC services that you offer are top-notch.
Acknowledge
That being said, when you acknowledge the presence of a positive review, it'll make your business seem attentive, and it will also help potential clients understand that you appreciate the business that your customers provide your company.
Additionally, this can help provide a good reason for your customers to seek out your business again when they need HVAC service. When making a response, ensure that you mention the type of service that you provided for their heating and air conditioning needs and make sure that they understand that it was a pleasure providing them with the work that they needed.
This will help your business in two ways: it'll help potential customers understand the types of HVAC services you provide, and it will help show that you take the time to understand and remember what the needs of each of your past customers were.
Additionally, once you've responded to their positive feedback, you should attempt to keep the lines of communication open. Since you've executed the contract work, you know whether or not the client has additional heat and air needs that are separate from the work that you've completed. If they need additional work done, mention these additional needs in your responses and try to set up future appointments when possible.
If there's no need for further work, you can also attempt to suggest setting up follow-up appointments shortly after so that any potential issues can be resolved.
Check out our list of positive online review response examples.
How to respond to negative reviews
As mentioned, it's important to be responsive and proactive no matter the type of review that you receive. Sometimes, things happen, and you may have missed something, your client may be picky, or even is just having a bad day and wants to vent. Not to worry we will show you how to respond to negative reviews.
Your first step should be to make the negative reviewer understand that you hear them and understand their problem.
Be understanding and humble
A good way to do this is to thank the customer for bringing any issues that they may have had to your attention. This will help promote the idea that you want to improve and that you're understanding of the problem and willing to help the customer find a solution to the problem. In many cases, the issue isn't your fault, but the simple effort to meet the disgruntled customer halfway can work wonders.
Say sorry
Never forget to apologize. This will help your customer feel more at ease, and it will also show potential customers that you're willing to own up to any issues that may crop up. This also shows that you're willing to take responsibility for any mistakes that occur during your heating and air conditioning service process. Make an effort to reach out to the customer with your apology offline if you can; this way you can even address the HVAC mishap and turn their negative response into a positive one.
Finally, since these things happen, it's also a good idea to offer up an explanation of the mishap. This not only can put the customer at ease, but it can also help potential customers understand that this part of the process may not entirely be your fault.
Final thoughts
As they say, it's all in the marketing, and finding new clients using new techniques is simply part and parcel of running a successful business. Digital word of mouth is imperative for finding new customers, and the only way that you can expand your HVAC business is finding new clients. Marketing your business properly by monitoring online reviews and following up with your current clients will help your business succeed, and following the tips in this guide can help your business become go-to for individuals looking for HVAC contractors.
See what Broadly can do for your business in just 30 days
Image source provided from Flickr.