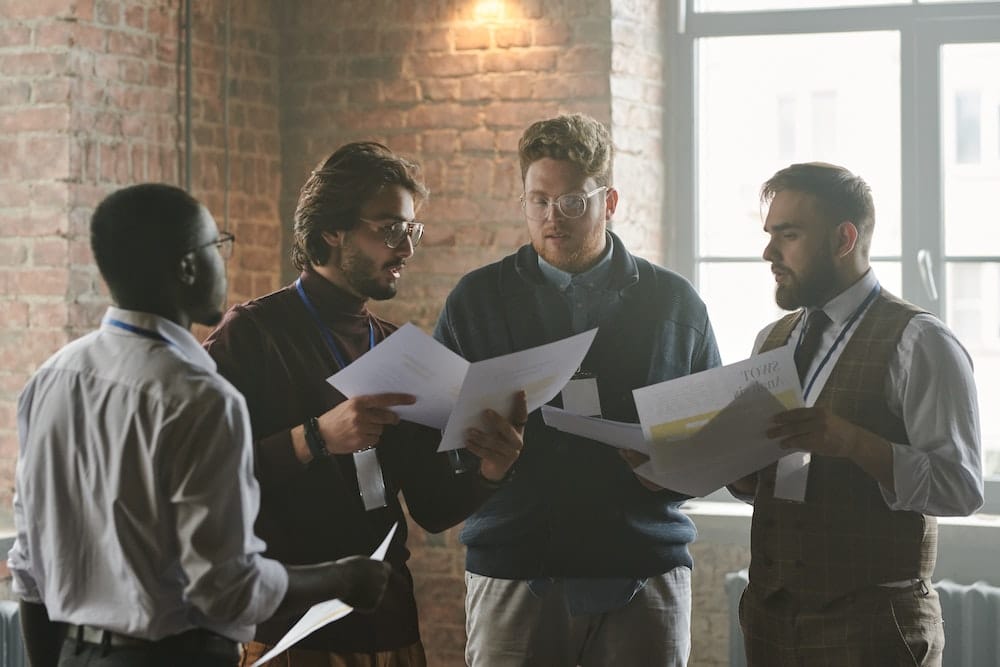 5 Solutions to improve team communications for small businesses
In any organization, communication is the key to success. Even if your small business has established a strong relationship with customers through marketing channels, a company needs effective internal communication to truly thrive. 
Purposeful communication among team members leads to increased productivity, optimized workflows and higher morale among colleagues who feel connected to their fellow coworkers.
How can small business owners improve team communication?
Take a moment to assess the internal communication tools currently used at your company. Identify particular features that prove especially useful for your small business and any areas for improvement. 
This analysis will help you recognize existing limitations and search for an appropriate solution. For example, perhaps one of the team communication tools you're working with at the moment could benefit from better task management or file sharing functionality.
To establish a successful plan to enhance employee communication, consider the company culture as well. It would be difficult for staff members to do their best work in a highly stressful and unengaging environment. Foster a productive workspace by encouraging a steady communication style and sharing wins, such positive customer reviews.
In addition, consistently requesting feedback from employees and actively implementing suggestions can be a game-changer. When individuals and teams understand their input and satisfaction matter to the organization, they can perform better not only in the short term, but over the long run. 
5 effective team communication solutions
Whether you operate a home repair business, pet daycare, and auto repair shop, each type of company has unique needs and challenges when it comes to internal communication. Staying connected with field techs and regional store managers can become difficult if multiple time zones are involved. 
Despite the differences across industries, there are basic guidelines on best practices for team collaboration and communication. 
1. Take advantage of user-friendly communication platforms
Many successful teams at organizations of all sizes use video conferencing and instant messaging (IM) software such as Zoom, Microsoft Teams, Slack and Skype. These mobile apps boast additional features, including custom notifications, screen sharing and group chat, which make it easy to collaborate as a team, especially in remote work. 
Plus, with the capability to integrate with Google Calendar, Dropbox and other collaboration tools, real-time video chat and IM software allow staff members to effortlessly share files and work together on projects from anywhere. Many of these apps are free, and the pricing for premium versions is reasonable for local businesses.
2. Create and update internal documentation
Maintain consistent business communication among staff with updated documentation shared internally. Lay out clear protocols, such as whom to contact for issues regarding IT or customer service, to reduce confusion and redundancies. 
It may also be helpful to create an organizational chart and process flowcharts, so team members can seek out proper points of contact in a specific department.
3. Establish an agenda for one-to-one and team meetings
With a clear agenda, meetings will stay focused and on track, whether it's one-to-one video calls or a conference among department heads. Share agendas as editable docs on Google Drive ahead of the meeting, so team members can review and add any relevant talking points, such as a new product launch or an upcoming email marketing campaign. 
4. Celebrate milestones and weekly wins
Recognition of a job well done goes a long way in promoting a supportive company culture. Grow your small business by creating a positive workspace. Plus, when an organization encourages employees to share wins and progress on projects they are proud of, this boosts team spirit and transparency within the organization. 
5. Build morale with monthly all-hands meetings 
Especially for a small business with remote teams, all-hands meetings give staff members a chance to communicate with fellow coworkers they may not interact with regularly. Additionally, an all-hands meeting presents the ideal opportunity to spread the good news about weekly team wins. 
What are the benefits of implementing strong team communication?
From video calls on Zoom to instant messaging on Slack, collaboration software improves daily workflows and bolsters employee engagement. Small businesses will enjoy greater productivity and efficiency among team members. As more companies move toward supporting remote work, team communication solutions make teamwork and collaboration a breeze.
Let Broadly help improve your team's communication
Simplify the process of tracking team performance based on customer feedback with an all-in-one communication platform by Broadly. Take advantage of Broadly's intuitive internal team chat functionality, which consolidates business communication onto a single user-friendly platform. 
Promoting efficiency and transparent communication, Broadly streamlines project management and collaboration, whether team members work remotely or convene at an office regularly. Plus, the pricing structure for Broadly's software solution suits the needs of any small business. 
See what Broadly can do for your business in just 30 days