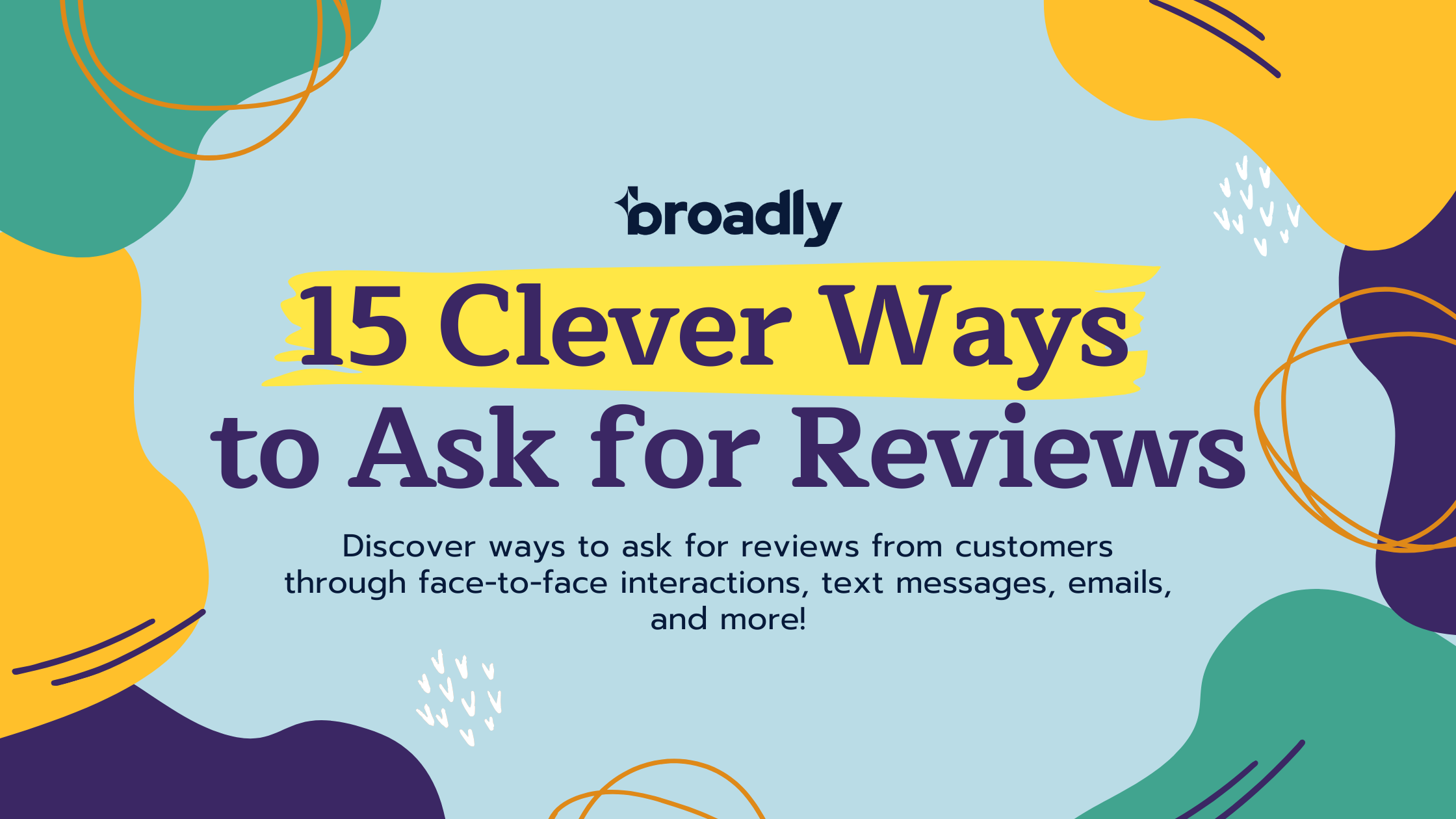 15 Clever Ways to Ask for Reviews
Today, more than ever, online reviews play the biggest role in shaping a business's reputation. Positive reviews can be a powerful tool for attracting new customers and boosting trust. So, how can you ask for reviews in natural and effective ways? 
In this blog, we will explore 15 clever ways to ask for reviews that will encourage your customers to share their experiences and leave valuable feedback.
Automatically request reviews to amplify your online reputation
1. Highlight the Importance of Their Review
Whether in person or online, take a moment to genuinely convey to your customers how much their reviews matter to your business.
When a customer provides valuable insights or leaves a positive review, respond by expressing your sincere appreciation and letting them know that their feedback helps you serve them better in the future. This personal touch not only fosters goodwill but also encourages further engagement from your satisfied customers.
2. Craft an Uncomplicated Review Process
Make it easy for your customers to leave a review by providing clear, step-by-step instructions on where and how to leave a review. Keep it straightforward and remove any unnecessary or confusing steps. The simpler the process, the more likely your customers will leave a review.
For example, you could follow this email template we made for a fictional dog grooming business:
Hi [Custom name]

Thank you for choosing Happy Tails Dog Grooming! How did our team do today? Your feedback is important to us.

Click this link: [LINK] and it will take you to our review page on our website.

Rate your experience with a single click, from 1 to 5 stars.

Share a brief comment about your dog's grooming if you'd like—it's optional.
Click "Submit," and you're done! Your review will help us improve and better serve our furry friends.

Thanks again!

Sincerely,

The Happy Tails Team
This straightforward process makes it hassle-free for customers to share their feedback and encourages more reviews for the dog grooming business.
3. Use Personalization in Review Requests
You can improve your review requests by making them sound more personal. A great start is to use your customers' first names. You can also try going the extra mile and talking about specific things from your past interactions with them. A little extra effort can go a long way toward making your requests feel more customized to each customer's experience.
4. Include a Review Appeal in Your Follow-up Emails
Add a review request to your post-purchase or follow-up emails. Express your gratitude for their business and kindly request a review. Provide direct links or buttons for leaving reviews to make the process as convenient as possible for them.
5. Organize Review Competitions
Why not take a stab at making reviews feel fun and rewarding? Encourage customers to participate in review contests for a chance to win prizes, such as for the funniest review or best description of your product or service. Set clear guidelines and deadlines for the competition to ensure everyone is following the rules.
6. Incorporate Review Requests on Receipts
Whether printed or digital, make sure to include a review request or QR code on your receipts. Customers can quickly forget to leave feedback after leaving your store, so prompt them to share their feedback immediately after a purchase, offering them a quick and convenient option to do so.
7. Request Reviews in Face-To-Face Interactions
Train your staff to politely ask for reviews during in-person interactions. Create a script or guideline for employees to follow, and encourage a personal and friendly approach. Never be pushy, and do everything in your power to make the interaction as organic as possible.

For even more tips on asking for reviews in person, check out our guide on the best tactics for asking for reviews on Google.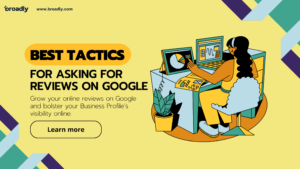 8. Highlight Your Current Reviews
Embed Google reviews on your website and share them on social media pages. After a fantastic customer interaction, ask your most loyal customers for testimonials to build trust with online visitors. By sharing success stories and experiences from happy customers, you create strong proof of your expertise.
9. Send a Handwritten Note
Do you have a regular customer who always goes out of their way to support your business? Show them how much you care by sending a handwritten note along with your review request. Express your appreciation for their business in a tangible and memorable way.
10. Call Them Directly
Call your most satisfied customers directly for their valuable feedback. Engage in a short and friendly conversation, express your appreciation, and kindly ask for their feedback. Remember to contact only clients you are absolutely confident would be okay with a phone call and respect their time and preferences.
11. Swap Reviews With Other Businesses
Team up with neighboring business partners to trade reviews. Share your honest experiences as partners and provide authentic feedback. This collaborative approach fosters a sense of community and mutual support.
12. Ask Whenever Customers Express Their Satisfaction
Pay attention to positive comments or compliments from customers, and seize those moments to capture feedback while the customer is happy. Train your employees to ask in these moments as well, keeping the request light and enthusiastic.
13. Write a Review Template for Your Customers
Provide your customers with a review template or guide for those who might need help getting started. Include prompts and examples to simplify the process for them. Remember, it should be entirely optional, and customers should be made aware they can always write their own unique reviews if they prefer.
14. Ask for Reviews via SMS
Send a polite and concise review request via text message. Include a link to the review platform for quick and easy responses. Keep the message brief, below 160 characters, and follow the Telephone Consumer Protection Act (TCPA) guidelines.
Here's an example of what this request might look like:
"Your opinion matters! We'd love to hear about your recent experience with [Company Name]. Share your thoughts, and you could win [Incentive/Giveaway]. Click here to review: [Review Link]."
For more examples and templates you can use, check out these 40 sample text messages to delight your customers.
15. Utilize Social Media Mentions
Are happy customers talking about you on platforms like Instagram or Facebook with their friends and followers? Don't let this feedback get away! Tag or mention these extremely satisfied customers on your social media platforms and request reviews in a public and engaging way. While you're at it, encourage others in the conversation to share their experiences as well.
And there you have it, 15 clever ways to ask for reviews that can significantly impact your local business's online reputation. Whether it's through personalized interactions, contests, or using the power of social media, encouraging your customers to share their feedback can be both effective and fun. Start implementing these strategies and watch the magic happen.
For more strategies to enhance your online presence, check out our article on even more creative ways to ask for reviews.
Automate Review Generation with Broadly
To make the process even more efficient, consider automating your review acquisition strategy with Broadly. We offer easy-to-use solutions to make managing your business's reputation easy.
Ready to revolutionize your review-gathering process? See what Broadly can do for your business in just 30 days. Start a 30-Day Free Trial today!
See what Broadly can do for your business in just 30 days