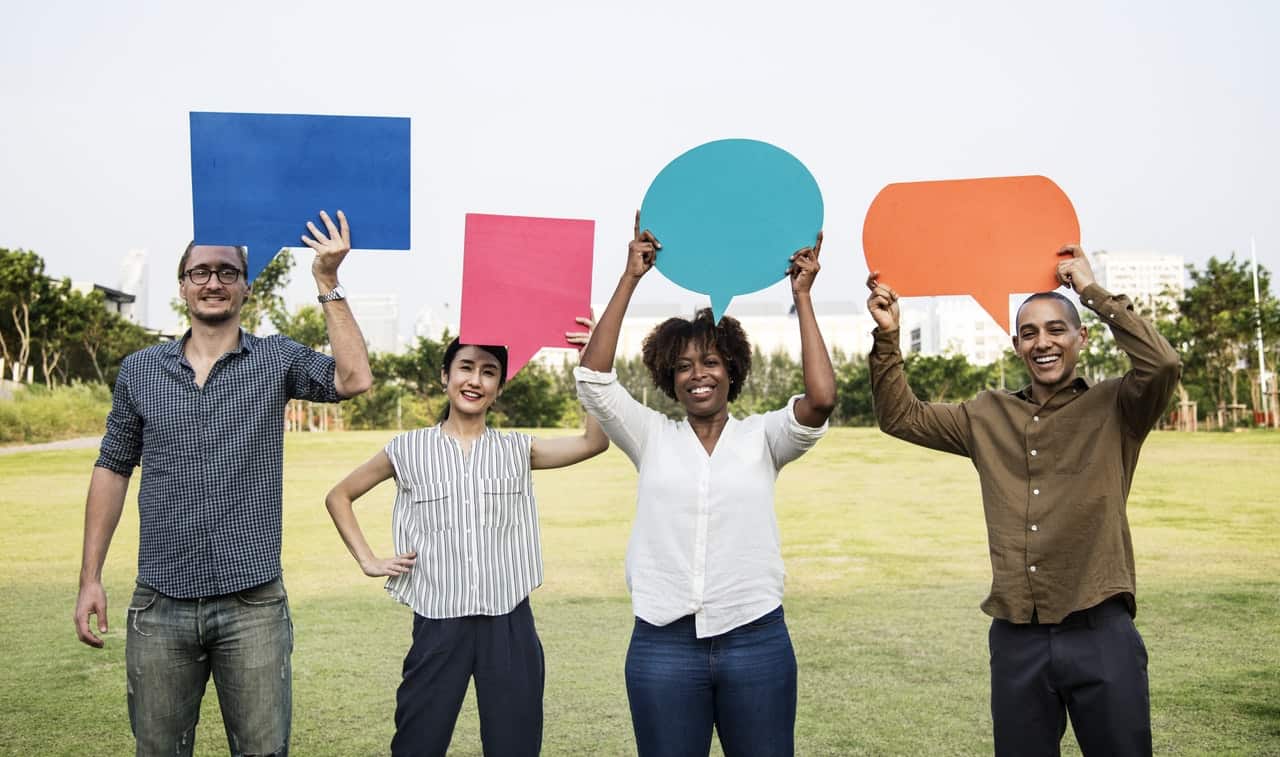 How to get customer feedback
It is extremely easy to focus on your day-to-day and forget to listen to your customers, but without them, you wouldn't have a business. There are infinite things that you can learn from customers. In fact, 35% of marketers consider customer feedback the top analytic that they need to monitor. Since only 4% of customers actually complain, the fact that you are not hearing complaints does not necessarily mean that customers are totally satisfied. Here are some reasons that you should monitor customer feedback and how to listen to your customers.
Why small business owners should be seeking customer feedback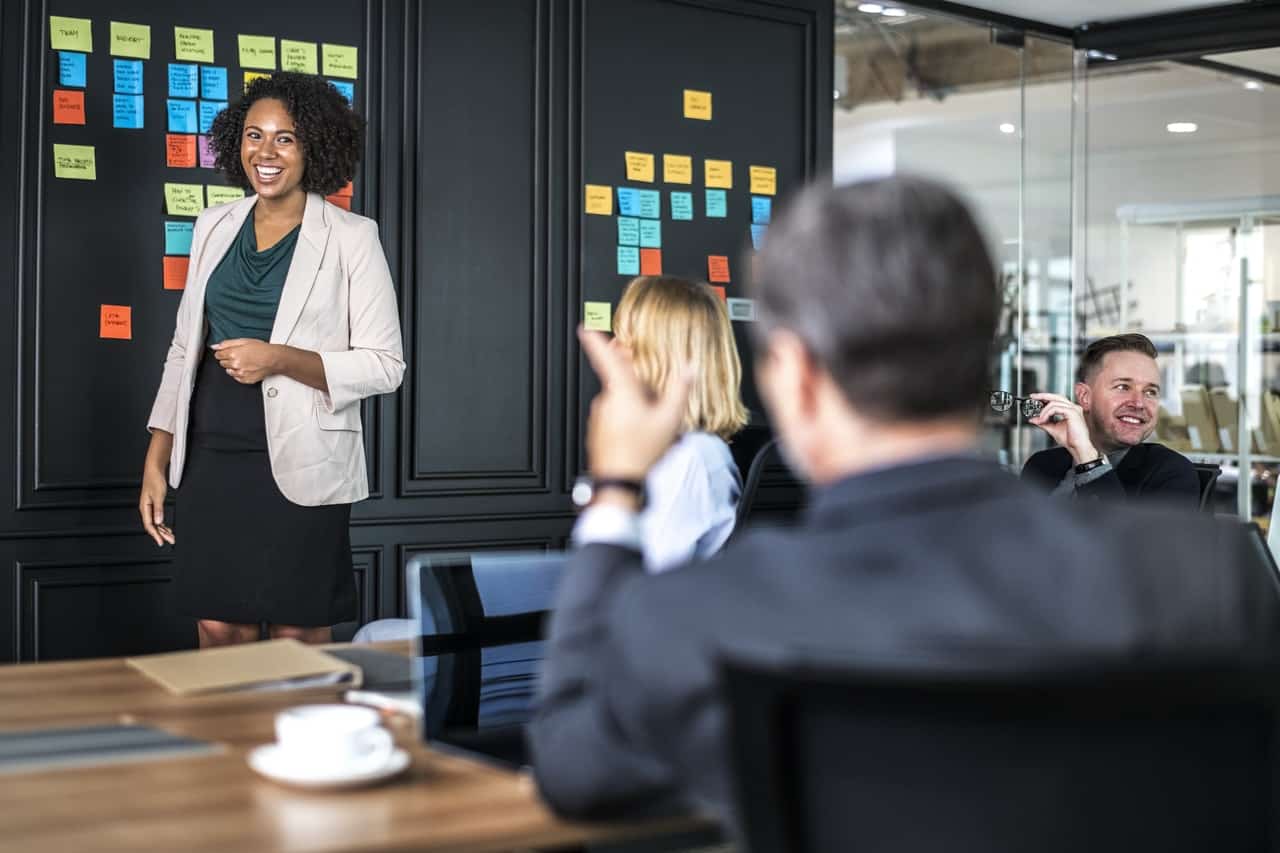 There are many reasons that small business owners should be listening to their customers. Your customers can have some of the best ideas for your business because they use your service or product first-hand.
Helps to save time
While it does take time to listen to customers, it actually saves you time in the long run. In its early days, Starbucks created a website called Mystarbucksidea.com to allow customers to share their feedback and ideas with the company. Many ideas that have been implemented were all originally customer ideas, like free coffee to loyalty club members on their birthday and even their frequent buyer program. You can simply listen to your customers, instead of spending hours doing the research yourself.
Likely to recommend your business
Over 71 percent of customers who feel that a company has listened to them are likely to recommend that company to others. Once they choose to share their review publicly, then 88 percent of people trust their reviews as much as if a personal friend had made the recommendation. Additionally, they are likely to spend an average of 30 percent more with your company.
See what Broadly can do for your business in just 30 days
Let's you know what customers are thinking
One of the greatest marketing fiascos in modern times was when Coke tried to reformulate their product in 1985 after they were losing market share to their competitors. Despite doing blind test trials, when the company introduced the new sweeter Coke, people hated the taste, so they had to hurry to do reputation management. It only took the company three months to decide that they had made a mistake and switch back to the original formula.
Make sure to test ideas on a small sample of potential customers and gain feedback before rolling it out to all of your customers.
Build customer trust
When customers feel that a company is listening to them, then they are more likely to trust the company. For example, a study PhoCusWright study using data collected from TripAdvisor found that customers who had their positive or negative feedback answered with a comment from the company were 87% more confident in their decision to book with the entity again while 57% of other customers said that the feedback was vital in helping them make a decision to buy from the entity.
Understand what customers value
It is impossible for you to align your company's values with those of your customers until you understand what they value the most. While you can sit behind a desk and draw up a list of values that you think your target audience may have, it is not until you listen to your customers that you will truly know. Alcoa Aerospace ran an experiment where they assigned their salesforce to go out in the field and ask customers what steps they took before acquiring an Alcoa product, how they used that product and how they disposed of it. At the end of a three-month period, the salesforce came back together to share what they found out. The team was then able to use that data to increase sales for the company. One of the largest benefits of the experiment, however, was increased cooperation between customers and the company.
Create new ideas
Bluebell Ice Cream is a Southern staple. One of their top selling products is their cookies and cream ice cream, but the product might never have been invented except for a chance encounter between a young intern and the president of the company. (Remember, some of your most loyal customers may actually be your employees.). One day the intern was spotted searching for cookies. The president asked him what he was looking for as the ice cream sat melting on the table. The intern told him that he was hoping to find some chocolate cookies. The puzzled president, then heard how the intern's mother had always crumbled up chocolate cookies to serve on his ice cream. The president ran with the idea and after product testing, and it was introduced to the market as a success.
15 Ways to solicit customer feedback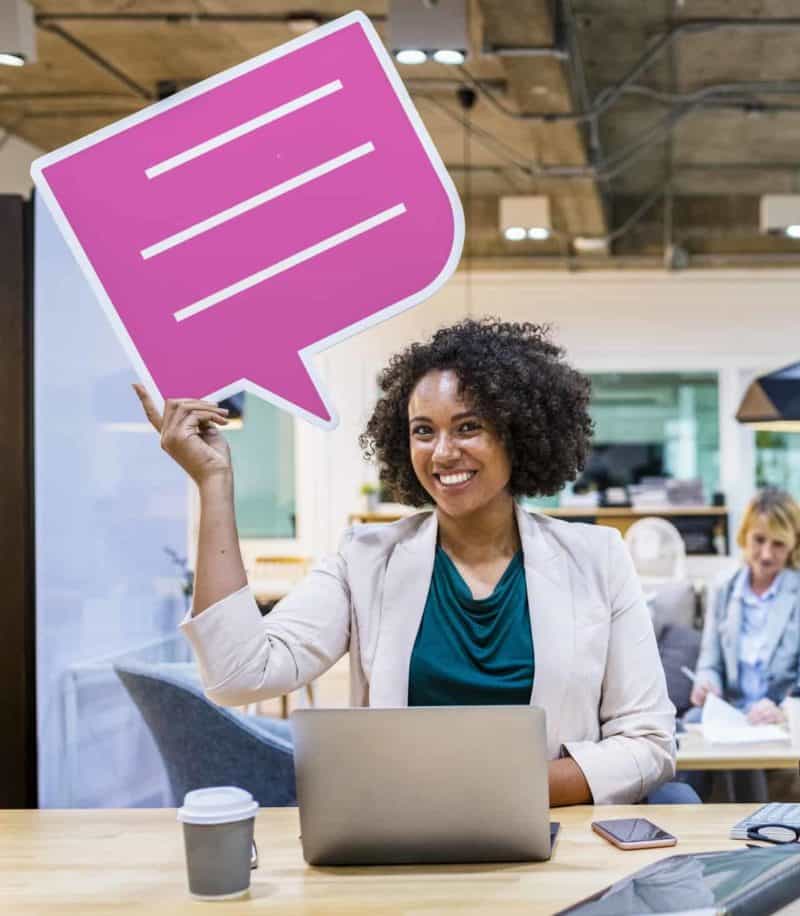 Now that you understand some of the reasons to listen to customers, let's examine 15 different ways that you can solicit customer feedback for your business.
1. Chat with customers on your site
One of the largest conveniences that live chat offers customers is that they can talk to you right on the site, so they do not experience the inconvenience of having to hunt your company down on social media, email and wait for an answer or look up your phone number. Talking to customers on your website allows you to hear what their problems are and allows you to find solutions to those problems. According to a study done by Marketing Power, companies who offer live chat on their website are three times more likely to close a sale. Taking a look at data collected from these conversations is a great way to spot positive and negative trends allowing you to accentuate the positives while eliminating the negatives.
Do not overlook the opportunity to get feedback after the chat window has been closed as it can hold important details that the customer wants you to know but did not want to share with you or your agent during your chat. Try making a chart to see trends in this data.
2. Respond to reviews
As we already discussed, customers were 87% more likely to book again if their review was applied to on TripAdvisor and others were 57% of potential customers viewed the feedback as a vital part of their buying decision. Take time to read reviews carefully as 80% of complaints come to the attention of small-business owners through review sites.
You know your industry better than anyone else, so you know where customers are likely to leave reviews. Most businesses will want to claim their Yelp account, an industry-specific account and Google My Business. The best time to ask for a review is after you completed the sale and done a follow-up visit to make sure that everything was satisfactory. Then, ask them to write a review.
JetBlue did an outstanding job of responding to customer Esaí Vélez about his television not working on a four-hour flight. The representative immediately asked him to send them a direct message with his ticket code number so a refund could be issued.
3. Respond on social media to customers
It is important that you listen to customers on social media. 20% of all page views on the internet are on Facebook, and Instagram is the fastest growing social media platform. It may help to think of yourself as the conductor who is directing customers to leave honest reviews.  Let's look at some examples of how different businesses handled a customer's concern.
Facebook- Justin Blanchard who operates ServerMania, a cloud computer and web-hosting company, warns that you do not want to find yourself dragged into a long and public debate. Instead, address the issue as calmly as you can and move on to other issues.
Google- Miriam Ellis says that you are likely to see five types of customers leave reviews on Google, and your response should be different for each one. If you get the customer who cannot wave enough about you and your business, then respond briefly, but avoid repetition by saying thank you in many different ways. The customer who chooses to leave a three-star review should be thanked for having some great things to say while you assure them that you have heard their concerns. If you get a one-star review, then accept responsibility and a willingness to learn what you could do to make their experience better. If you get a fake review, then let Google know. You may also want to politely point out that you have reported the review to Google. The fifth type of review that you may see is a review citing you for doing illegal activities. This is the one time that you do not want to respond before contacting your attorney.
TripAdvisor- With over 200 candid reviews posted every hour, it is smart to pay attention to TripAdvisor as the site already has more than 320 million reviews from around the world. Keep in mind that your reply is as much for other people reading it as the person who wrote the original review, so make sure to represent your business so that others will see that you are a dedicated owner or manager. After all, most people realize that you cannot please all of the people all of the time.
Yelp- You should respond to all reviews on Yelp, but try to do some
research before responding to a negative review on Yelp. Regardless of what your research unearths, the first words should be "I'm sorry." If the screw up belongs to your company, then accept responsibility and share what steps you are taking to remedy the situation. If your research indicates there was no problem, then ask the reviewer to contact you with further details as your research failed to discover a problem. In either case, end your review with an invitation to visit your business again very soon.
Nextdoor- A user can post three types of reviews on Nextdoor. They can post it where everyone can see it and mention your business giving you a chance to respond. Take the opportunity to politely thank the customer for their feedback and address any concerns politely. If the user chooses to direct message your business, then you have the opportunity to find out details and work to resolve any issues in a mutually beneficial way. Finally, a customer can leave a comment on your business page giving you an opportunity to publicly and professionally respond.
4. Send emails
At a bare minimum, you should have a dedicated email that you share prominently on your website where customers can email you with suggestions, complaints or ideas. In an experiment carried out by Marketing Experience, they were able to increase their conversion rate by 200% by focusing on a single call-to-action. Use personalization tags so that users feel that you are addressing them in particular and eliminating the bystander effect. Share with readers why you need the information and what you will do with it. Tell the receiver exactly how you want them to respond. Consider having users respond by:
Survey- More than 41% of surveys are completed on mobile devices, so make sure that your survey is mobile-friendly.
Phone- Use an automatic scheduler allowing people to schedule their call according to your availability.
Email- You may choose to have recipients simply email you back. Be sure to create a system that allows you to collect responses for easy analysis.
5. Call customers
One of the most convenient ways to receive feedback from a customer is to call them. The most effective calls are usually focused on customer attitudes towards your business followed by asking them for specific examples of why they feel that way. Additionally, ask about habits so that you can develop easier ways to perform a task related to your product or your ordering process.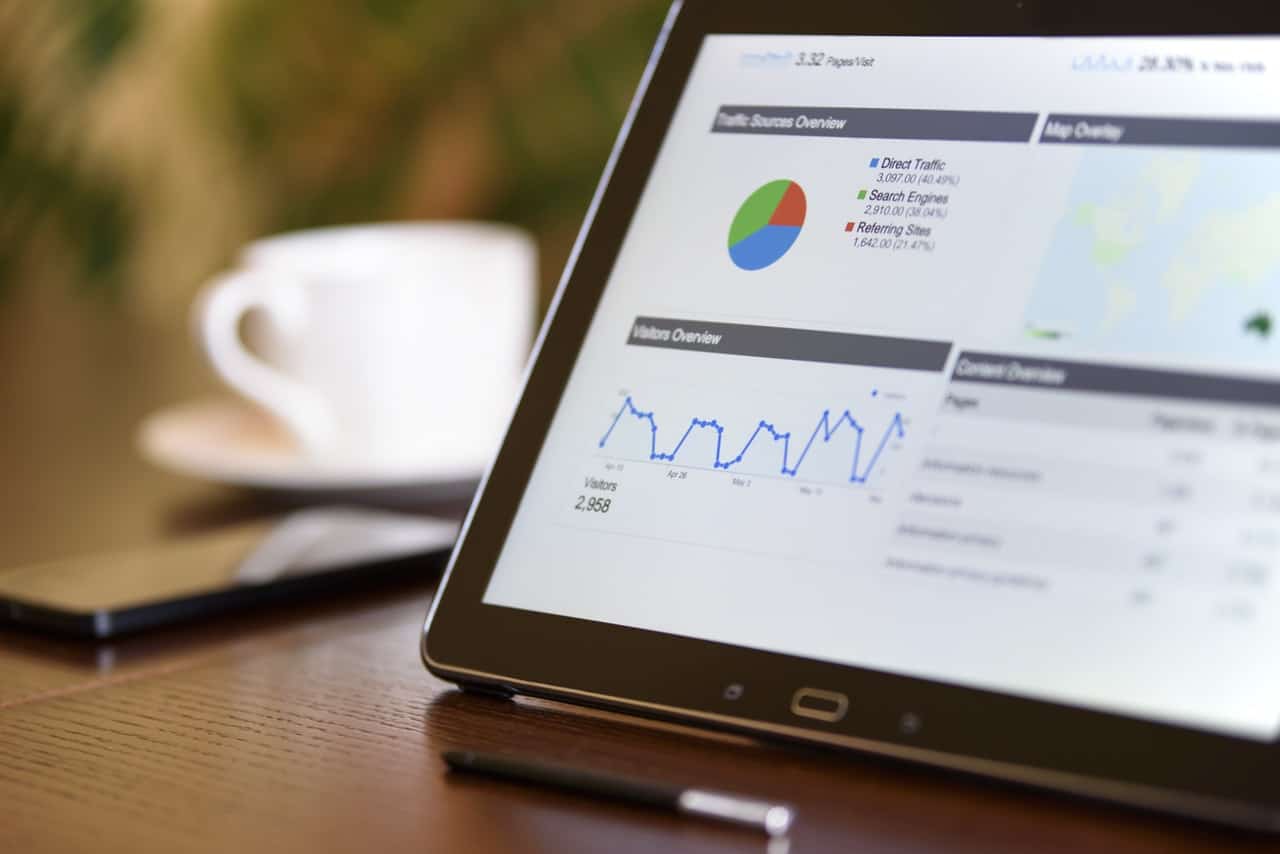 6. Review sales funnel data
There are several analytic services that you should be collecting and analyzing on a regular basis to determine where problems exist within your company. These include:
Customer attrition
Number of cancellations
Number of complaints over time
Number of returns
Support call volume
Warranty claims
7.  Review website analytics
If you do most of your business on a website, then you may also want to look at your site analytics. Consider these statistics:
Bounce rate- Consider the acceptable bounce rate for different types of web pages because a higher than normal bounce rate may indicate a problem with a particular page.
Exit rate- Look for web pages that have high exit rates that should not have them.
Page links- Knowing which links that users click on can show you what users consider most important and allow you to move them around for easier access.
Site search- Collecting information from this box allows you to understand what customers are looking for
Navigation screen- This allows you to analyze customer's journey through your website.
8. Get out in your business
While it can be very easy to get tied up behind the scenes, but you should make yourself visible to your customers. Walmart founder Sam Walton was famous for this as he drove his red pickup truck many miles to visit his various locations. When Walmart finally got large enough to have too many locations to visit in person, then he flew an airplane to various Walmarts. He only knew how to get there by following the highways, so it was not unusual to see his plane flying low over highways. Sam lived by the quote that he often said, "There is only one boss. The customer. And he can fire everybody in the company from the chairman on down, simply by spending his money somewhere else."
9. Provide a dedicated form
You may want to create a page on your website where users can leave feedback for your company. Additionally, you may want to incorporate a survey into your feedback form allowing you to gather more information from the customer leaving the feedback. These surveys generally fall into three broad categories:
Net Promoter Score– Developed by Bain and Company, these surveys ask how likely the customer is to recommend your business to a friend or family member on a scale from one to 10.
Customer Effort Score– These surveys focus on how easy it was to do business with your company.
Customer Satisfaction Score– These surveys focus on how happy the customer was with the product.
10. Seek feedback when orders are delivered
You may also want to incorporate a short questionnaire that users can fill out once an order arrives. You may want to include only four to seven multiple-choice questions. Consider asking:
Why did you buy from us?
How did you find our store?
Are you satisfied with the quality of the products in your order?
Did your overall experience as a customer meet or exceed your expectations?
What other items would you like to see us offer?
What is your preferred method of interacting with our company?
11. Popup survey when abandoning cart
During the first quarter of 2018, cart abandonment rates across all industries reached 75.6%. This is a great time to ask customers why they are choosing to not continue through with their purchases through the use of a popup window. You may want to give your lost customers the chance to say if they are abandoning their cart because of:
Unexpected/added costs during the checkout stage
A better deal at another site,
Lengthy processing times
Unsuitable delivery options
You may also want to include a box where they can leave you a message along with ways to contact your customer service team.
12. Monitor online review sites
There are tools available that let you monitor the internet for mentions of your company name and that of your key employees. You may want to monitor social media sites like Facebook and Twitter along with popular review sites like Yelp and TripAdvisor.You may also want to set Google Alerts for your company name.
13. Post reviews on your company's web page
You already know that people are more apt to follow the lead of others whether than being the leader. Encourage others to send you their reviews by posting some that you receive on your website. There are generally four reasons that people post reviews:
Emotional appeal- Customers are more likely to write reviews when the company has elicited good or bad emotions in their souls
Empowerment- Customers feel a sense of power when they write reviews.
Increased Sense of Self-worth- Customers feel like they have helped others when they write reviews
Creates a Sense of Stewardship- Customers feel good when they help good companies become better.
14. Gather in-app data
If your company offers customers an app, then it is relatively simple to collect customer satisfaction data from that app. There are several advantages to using in-app data. Wil Shipley says that his app went from thee-stars to 4.75 stars in a week once he started asking customers to rate his app. Enabling feedback within an app is a great way to collect case-specific data that you might otherwise miss. Giving users the choice to always leave feedback allows you to capture feedback when customers are actively engaged with the app. According to Build On Purpose, app feedback has one of the highest feedback rates.
15. Personal surveys after contacting customer support
Sending a customer a personalized survey right after they have interacted with your customer service team can be a great way to get feedback. Personalizing the survey makes the customer believe you truly care about their experience. Make sure that they only ask relevant questions. Do not ask the same question in many different ways. Keep the survey as short as possible.
Conclusion
Listening to customers is vital to the success of your company. Learn how to use feedback from customers to build a stronger business and watch your return on investment grow. Use these 15 ideas and your own ingenuity to make sure that you never lose track of your customer's voice.
See what Broadly can do for your business in just 30 days