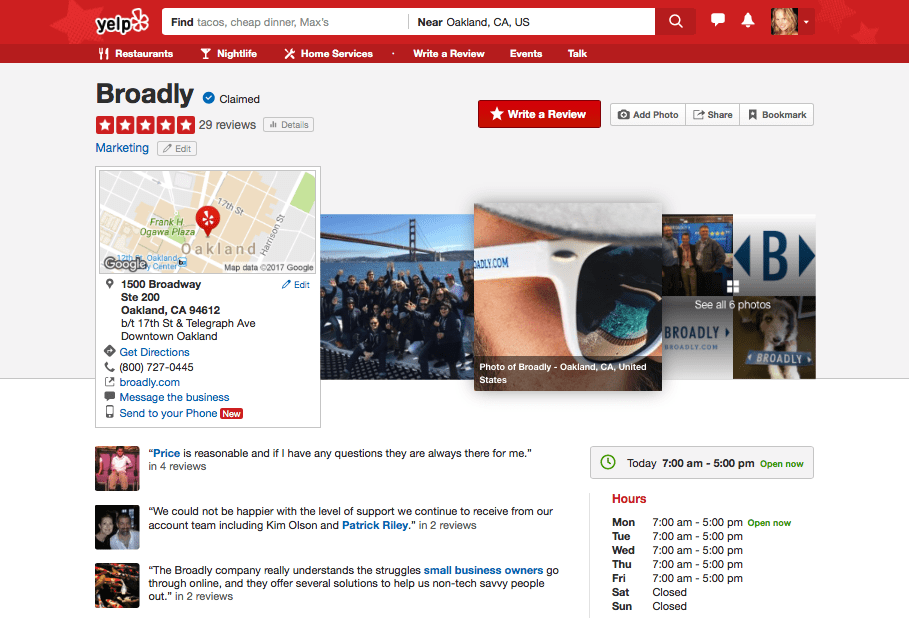 How to build a strong Yelp profile
Yelp reviews have an immense influence on the Internet with over 121 million consumer reviews and 162 million visitors each month. As a local business owner, you may be well aware of this already. Positive Yelp reviews can help you attract more customers. On the other hand, negative reviews may send prospects to your nearest competitor.
There is a common misconception that one must pay Yelp to have a strong Yelp presence. The good news is that you can improve your business's Yelp presence for free!  
We're here to clear that up for you—you don't need to pay for Yelp reviews at all! There are many things you can do to build a significant presence on Yelp. Follow these steps to take control of and improve your business's Yelp profile without spending a dime.
Free Guide: How To Use Yelp To Grow Your Service Area Business
Claim your page
Make sure that you can access your Yelp business profile. Before you can make any improvements, it's important to take ownership of—or "claim"—your page. If you haven't done so already, start on the
Yelp for Business Owners portal
, locate your business page, and follow the prompts.

If you don't already see your page listed, you may have to create one yourself. Don't worry, this is easy! Scroll all the way to the bottom of the search results, and click "Add your business to Yelp."
Verify and update your basic business information
Once you've claimed your business's Yelp page, navigate to the "Business Information" tab on the left side to verify and update your basic business details. It's essential for our prospective customers to know when you're open or on call, and the best ways that they can get in touch with you. 
Make sure that your business address (or service area), phone number, and website are included and correct. Scroll down and update your business hours. Business hours are important to people searching on Yelp. Best practice is to make sure the people searching for your business have all the information they need.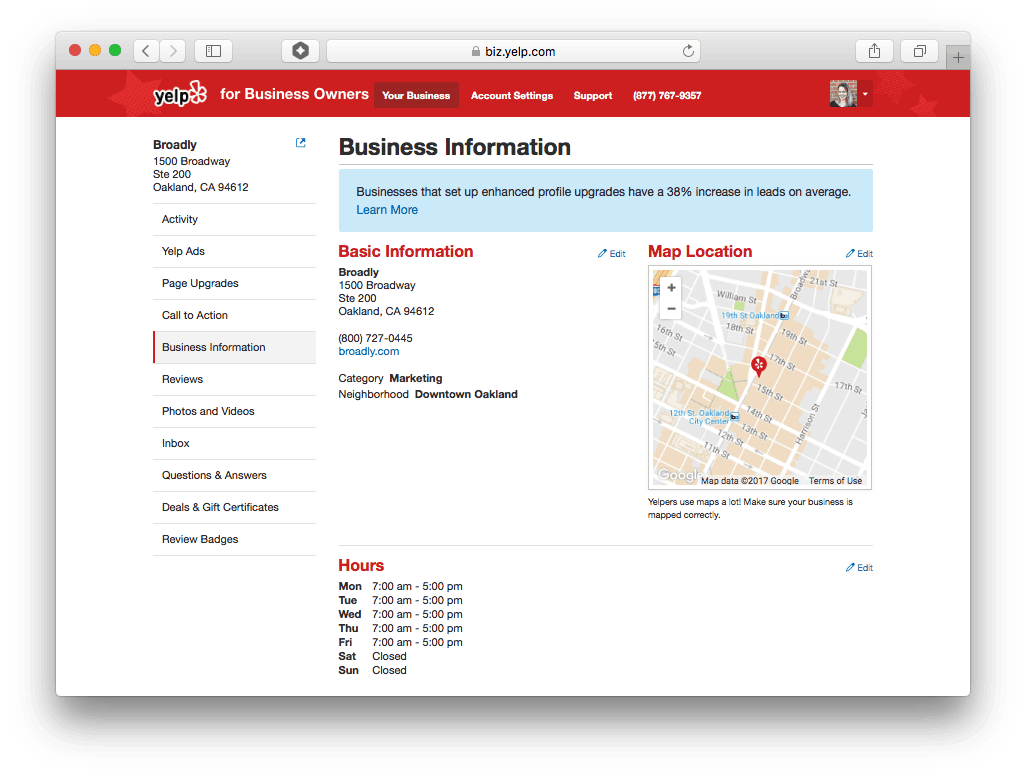 Create a business bio and add more content
Provide prospective customers with more details about who you are and how you can help them. 
In the "Business Information" section, scroll down to find the "Specialties," "History," and "Meet the Owner/Manager" sections. Here you can add more information about your team, philosophy, specialties, how you solve problems for your customers, and more. This information adds a personal touch.
Add great photos
Yelp users love photos! Bring your business and Yelp listing to life with some pictures. Navigate to the "Photos and Videos" section of your Yelp dashboard to get to the upload page, and follow the prompts. You can show examples of your products and services or pictures of your team hard at work. Many businesses showcase customers and the interior and exterior of their shop.
A good rule of thumb is to upload at least 10 photos. These should be a mix of exterior and interior shots, as well as close-ups and wide shots. And be sure to add some fun photos that capture the spirit of your business! For instance, if you have a vibrant restaurant with a unique atmosphere, show that off.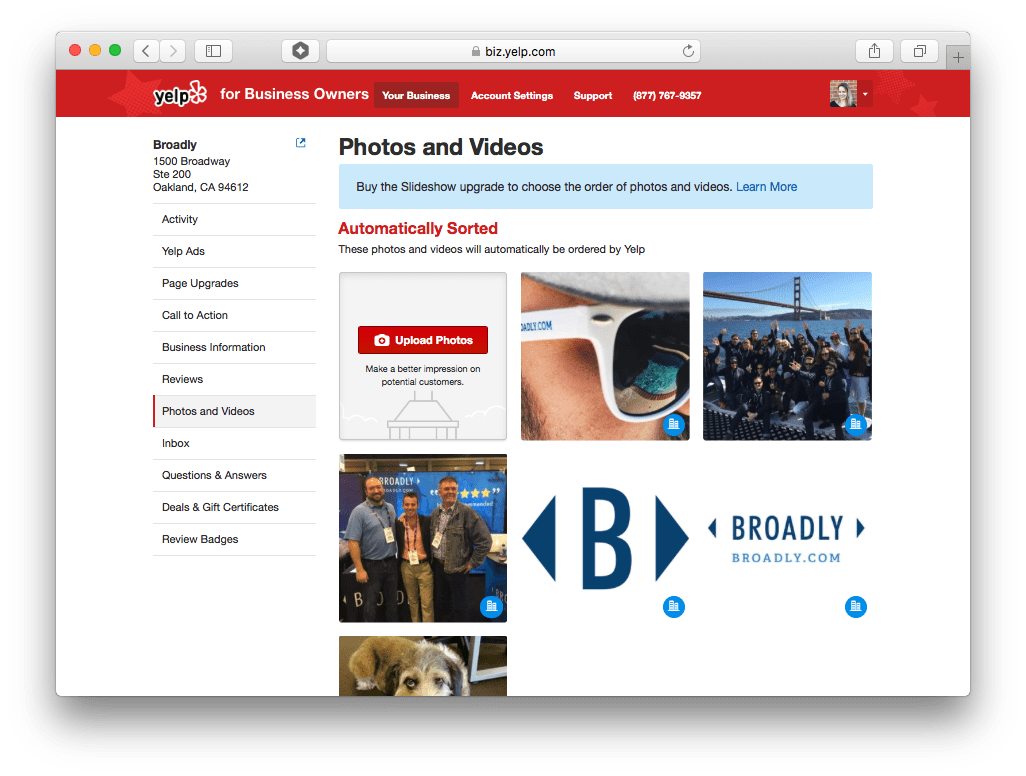 Get great customer reviews – and respond to them
Remember, reviews are the reason that people are going to Yelp in the first place! Visitors come to check out your business's star rating and read your customer reviews. You can't pay Yelp for authentic customer reviews, so you need to create a system to ensure that great feedback lands on your page.
When your customers write a yelp review, let them know ‌you appreciate their feedback by writing a response. Check out the "Reviews" tab on your Yelp dashboard and respond to your customers. Sometimes, even a simple "Thank you" will do the trick. If you're responding to a negative review, a more nuanced reply will be needed.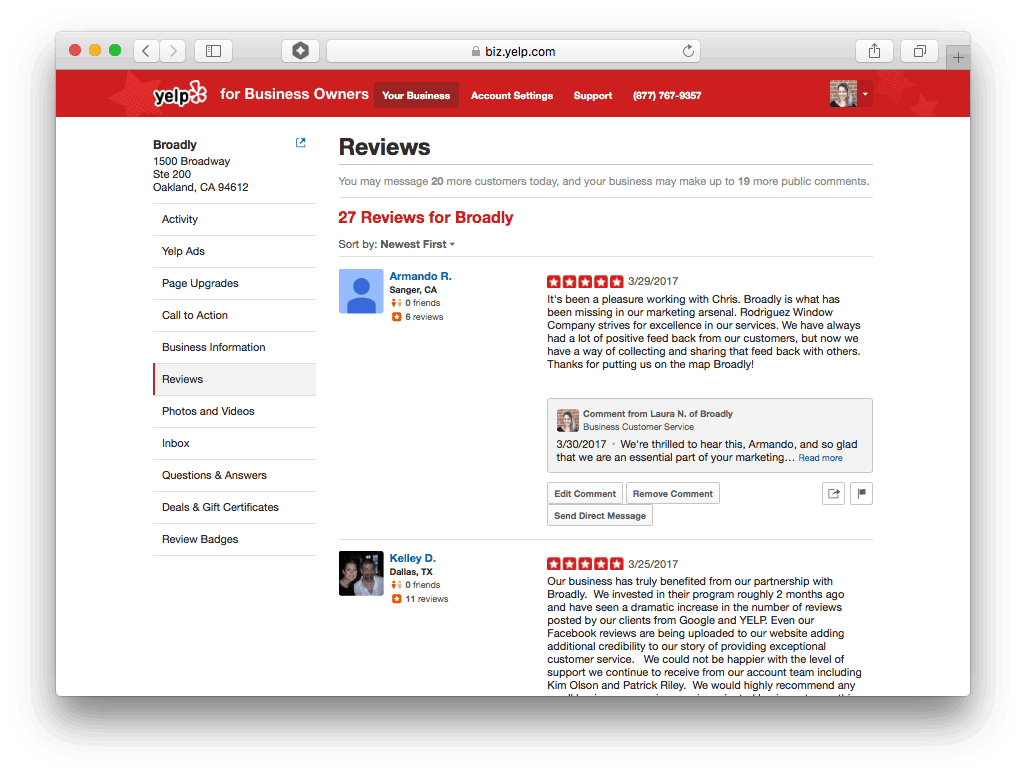 Online review management can get overwhelming, especially if you are active on multiple sites. Broadly can help your business with this! If you'd like to learn how, get in touch.
Report fake reviews
Unfortunately, Yelp's platform is sometimes abused by businesses that post fake reviews in an attempt to game the system. These businesses will often pay for positive reviews or write them themselves. As a business owner, it's important to be on the lookout for these sorts of abuse.
Here are the steps you can take to report a review:
Login to your Yelp page.
Go to the "Reviews" tab.
Locate the review you want to report.
Click on the three dots on the right and select "Report review".
Once you submit a report, Yelp's moderators will investigate and determine if the review should be removed. You can check on the status of your report by going to your "Reports" page.
Use Yelp advertising
If you're interested in driving more traffic to your business's Yelp page, you can sign up for Yelp Ads. Yelp uses targeted advertising, so your ad will appear on the pages of people who are searching for businesses like yours. Unlike organic searches, this is paid advertising.
Yelp Ads come in two forms:
Cost-Per-Click (CPC) Ads: You're charged a set amount every time someone clicks on your ad. The amount you pay depends on how much competition there is for your keywords.
Cost-Per-Thousand-Impressions (CPM) Ads: You're charged a set amount each time your ad is shown 1,000 times. These ads are best for building brand awareness rather than driving clicks to your website or Yelp page.
Experiment with Yelp deals and gift certificates
Yelp Deals are special offers that businesses can create to attract new customers. For example, you might offer a discount on your products or services. You can also create gift certificates that customers can purchase and redeem at your business.
Unlike advertising, you pay nothing upfront for Yelp Deals. You only earn a smaller profit when someone buys your deal or gift certificate because Yelp takes a transaction fee.
Frequently asked questions
We get that this is a lot of information to take in at once, and you probably have a few questions! Here are some answers to commonly asked questions about Yelp for business owners.
Do I have to pay to be on Yelp?
No, you don't have to pay to be on Yelp. You create a free business profile and take advantage of many of the features we discussed in this article.
Can I advertise on Yelp without claiming my business page?
No, you need to have a claimed business page before you can create an ad campaign. Without it, you won't be able to track your results or see how much you're spending.
What's the difference between a business page and a personal page on Yelp?
A business page is a free profile that you can create for your business. A personal page is a profile that individual users create for themselves. Business pages can't be used to review businesses, while personal pages can. Further, business pages get access to Yelp dashboard features like Insights, while personal pages don't.
What happens if I get a negative review on Yelp?
If you get a negative review, don't panic! Respond to the review in a professional and polite manner. Flag the review if you believe it violates Yelp's content guidelines or is fake. Lastly, consider reaching out to the customer offline to ‌resolve the issue.
How do I get more reviews on Yelp?
Surprisingly, the best way to get more reviews is to simply ask your customers! You can do this in person, over the phone, or through email. You can also encourage customers to leave reviews by offering a discount or other incentive. However, make sure that the incentive is not restricted to customers who leave a positive review.
How much does it cost to advertise on Yelp?
The cost of Yelp Ads depends on how much competition there is for your keywords. For example, if you're in a highly competitive market, you might pay $1 per click. If you're in a less competitive market, you might pay $0.50 per click.
Build your Yelp profile with Broadly
At Broadly, we understand that managing your online reputation while running a business can be difficult. That's why we offer a platform that makes it easy for you to monitor your business's online presence, respond to customer reviews, and capitalize on reputation marketing. 
Broadly offers a suite of services to help you build and manage your Yelp profile. Our team can help you with everything from setting up your page to responding to reviews.
See what Broadly can do for your business in just 30 days