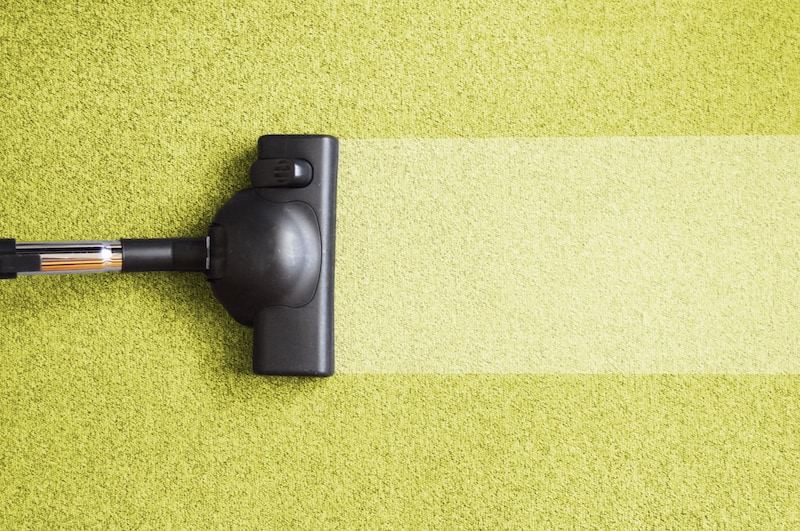 Carpet Cleaning Marketing Ideas, Tips, and Lead Gen Strategies
As a carpet cleaner, you know that a lot of people in your area need your services. Everyone needs their carpet cleaned every now and then! However, just because there's a lot of demand doesn't mean you have the market cornered. In fact, we'd be willing to bet you are not the only carpet cleaning service in your town. With that being said, you are probably wondering how to get a leg up on the competition.
The answer is marketing. Without any marketing strategies in place, you are leaving your business to chance, which isn't the most efficient way to run a company. If you're ready to grow your carpet cleaning business and get more customers, check out the below marketing initiatives we recommend you try.
Carpet Cleaning Marketing Tips
Build your online presence
Focus on local search results
Seek Referrals and Partnerships
Paid Advertising
Run Promotions
Collect Customer Reviews
Tip #1: Build Your Online Presence
Even though you are most concerned with attracting local business, that doesn't mean you should ignore the web. All those people in your town are also online looking up businesses—even if they are just down the street! Just a bit over 70% of people feel the need to search for local businesses online before actually going to them, so not having an online presence is a big missed opportunity, even for locally focused companies.
Company Website
Having a website is pretty much like having an online office, and when you consider just how many people go online—approximately 290 million American people alone—you will realize just how important it is to be in front of all those eyes. Your website is where you can showcase amazing testimonials, list your services and pricing, and answer any questions weary customers might have.
Company Blog
Many companies do not use their blogs effectively. An effective blog would ideally be updated at least twice a week with educational content that is actually helpful to readers. Using your company blog solely to promote your company and your services is not how to do it. People reading the blog don't want to feel like they're being sold to; they're coming to your blog because they believe it has helpful information that they can use.
When you provide useful information to your readers, you start to become an industry leader. Your readers will learn to trust your carpet cleaning expertise, and thus, when it comes time to purchase carpet cleaning services, guess who they'll turn to first? You, the expert that they've come to trust.
Company Social Accounts
Did you know seventy-one percent of consumers who have a positive experience with a company on social are more likely to recommend that company to others? Social media is a fantastic customer feedback tool for companies, and it helps you listen to your customers. Depending on which social platform your audience uses the most—Facebook is geared towards an older crowd and Instagram is best for millennials—you can really use your account to market your services, reach new customers, and solve any issues.
Tip #2: Focus on Local Search Results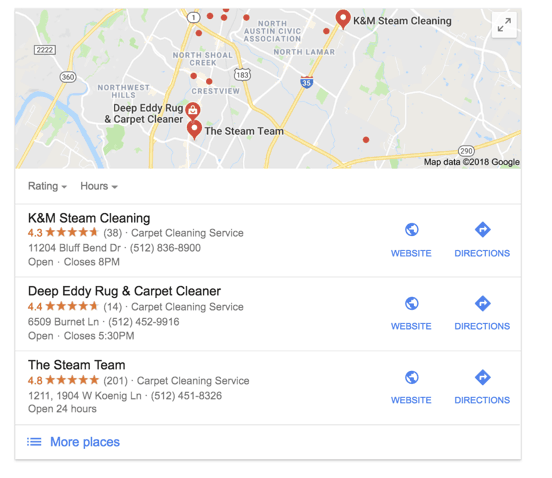 Because you probably want to market your carpet cleaning business to your local neighbors, it's important that you learn a little about local search results online. This means focusing on improving your rankings in the local search results when someone searches for a keyword phrase such as "carpet cleaning in Kansas City" on Google.
Improving your local SEO (Search Engine Optimization) rankings means making use of your website. Basically, the more quality content you have on your website, the better chance you have of showing up in Google search queries. Our advice is that you create separate website pages for the various services you offer—this way, you can set up each page to rank for specific keyword phrases. Amping up your local search results is a savvy way to corner the local market, and once you set it up, your work is pretty much done!
One other very important part of your business's local SEO is whether or not you're listed on nearby directories. Websites like your city's chamber of commerce often have helpful directories—getting your company listed as a go-to resource is a huge plus. Additionally, when other websites link to your website, it also helps your SEO ranking. Be sure to capitalize on many of the big directory platforms such as Facebook and Google business citations where you publish all the useful info about your company (phone number, address, etc.).
Tip #3: Seek Referrals and Partnerships
Word-of-mouth referrals are hugely important for small businesses. Your business thrives on the neighbor-to-neighbor chats that result in new business for you. Just imagine what would happen to your customer base if you expanded that amount of referrals across town? Seeking out partnerships with other local companies similar to your industry (but not competitors) could be a mutually beneficial situation that will boost both of your companies' sales. Perhaps you might partner with a house rental company—they can refer new renters to use your services. You can also leave business cards at local establishments that display them.
Additionally, you can boost your word-of-mouth referrals by offering a discount for those who refer new customers. To set up a successful customer referral program consider using a resource like this one.
Tip #4: Collect Customer Reviews
Our last tip for you today is to focus on getting more customer reviews. Reviews or testimonials are a very effective way to earn potential new customers' trust before they even interact with you. Think of reviews as the modern-age referral—eighty-four-percent of people trust online reviews just as much as a personal recommendation from a friend!
So, how do you get more reviews? Simply enough, all you need to do is ask! If you ask for a review from a customer immediately following their carpet cleaning, you are much more likely to receive a positive review. That's because asking when the customer is happy is key—you wouldn't ask an angry customer to leave you a review, would you?
Whether you have your reviews directly on your website or you use Facebook or Yelp to gather customer feedback, the outcome is the same: reviews will help you bring in more business (even if some are negative). Though you can't outrightly ask for Yelp reviews (their policy requires a more nuanced approach), you can ask for reviews on any other platform. If you're having trouble wondering how to word your ask, we've formulated these customizable templates to help you write the perfect email asking for reviews. Just remember that there are no-nos to asking for reviews.
What not to do to get more online reviews
Bribe customers
Spam customers
Tip #5: Paid Advertising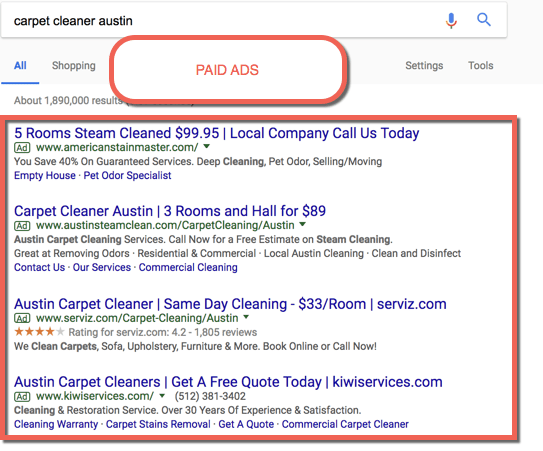 Though organic customer acquisition is effective, that doesn't always mean you should ignore paid advertising. If you are smart about where you spend your ad dollars, you can have an amazing return on your investment. One of the most popular and effective online advertising strategies is opting into the Google Adwords program. Basically, when you create your Google Ad for your company, you can choose which keywords it can show up for. Then, when someone searches those keywords, your ad automatically shows up at the top, regardless of your SEO.
Google Ads are a simple way to supplement your visibility. All you need to get started is a Google Adwords account, and within minutes, you can create your ad within the platform. You just set up your budget, and follow the steps to make your ad.
Another savvy online ad strategy is Facebook advertisements. When you run a promotion on Facebook, you are able to target very specific types of customers. You can choose the location, age, gender, and interests of your preferred audience to help ensure your ad is being seen by the right kinds of people who may need your services. And, many businesses will vouch that FB ads are a very low cost for the results. As long as you have a Facebook Business Page, you can start a paid promotion at any time, and depending on your budget, you choose how long it runs.
When your Facebook ad is over, there's one more step we recommend you take—this is where the real success happens. There is a tool called retargeting on the Facebook promotions platform that allows you to retarget people who may have clicked on your ad but did not purchase anything or take additional actions. Since you know these people are already interested in your services, retargeting them with another, a different ad can help drive that sale home. To create a great retargeting ad campaign, take a look at this tutorial.
Tip #6: Run Promotions
To market your carpet cleaning business, you can try to run promotions for special events. Offering sporadic discounts to customers via email newsletters or in-store sales will motivate on-the-fence buyers to take the plunge. Some of our favorite ways to offer promotions are as follows:
Loyalty cards: provide punch cards to customers that reward them after a chosen number of purchases
Birthday discount
First-time discount
Contests: either on social media or in conjunction with your referral program, you can run a contest that benefits your business way more than the cost of the "prize" will impact it
Holidays: take advantage of the buying frenzy that is Black Friday, Cyber Monday, and the entire holiday season
Special local events
Even if you employ just a few of these marketing tactics at first, we think you will start to see an upswing in business. Hopefully, you've found this post useful for your carpet cleaning business.