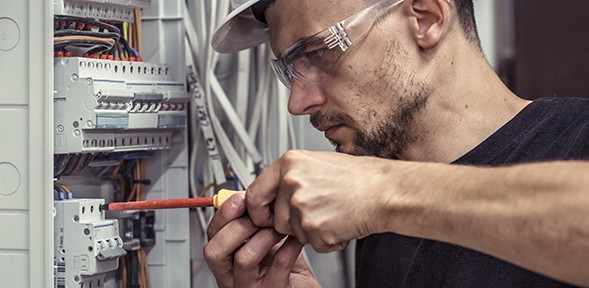 Digital advertising strategies for electricians
Building a successful electrician business relies on creating a steady stream of customers. Since the electrical industry is on demand, it's unlikely you'll have a lot of repeat business. To compensate, you'll need to focus your attention on generating leads online – which means starting with a strong online presence.
Laying the groundwork for advertising your electrician services
Before any digital marketing begins, you need to have a website with a landing page and social media accounts to send the leads to. You should also print business cards and flyers to use offline as a complement to your online marketing efforts.
See what Broadly can do for your business in just 30 days
1. Designing a website that works for you
Your website must be informative, quick to load, and user-friendly for both desktop and mobile devices. At a minimum, it should include information about how long you've been in business, the services you provide, your service area, and contact information. It should also include a contact form to make it easier for leads to email you.  Remember, your website is the basis of your online reputation, so put your best foot forward.
2. Building social media for electricians 
Social media is an important part of online marketing, regardless of niche because social signals are part of how Google determines where to rank your site. You'll want to start with a Facebook Page. You can add other channels like LinkedIn and Twitter as you become more comfortable with using social media to connect with your audience. Each platform comes with its own analytics so you can learn about how people engage with you. As you build your audience, focus on customer feedback and use it to improve your approach. 
3. Generating Leads
Once your website and social media channels are in place and populated with content, you'll be able to start generating leads to convert to new clients. Use the eight tips below to get started.
8 Local SEO marketing tips for electrical service businesses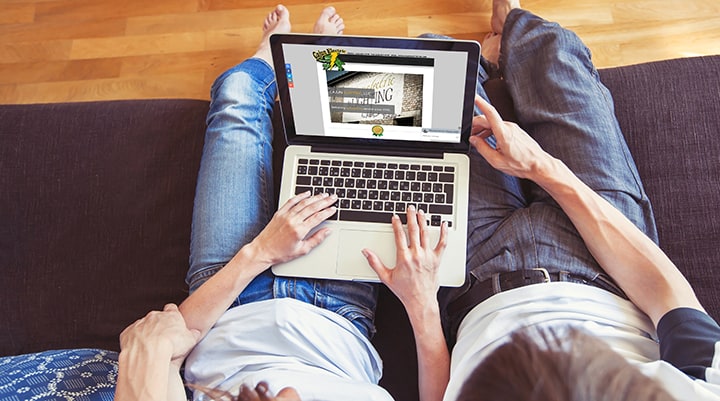 When a potential customer needs any kind of electrical service, they'll start with Google to see what businesses are available in their local area. They'll start with the first listing, so the higher you rank in local search, the more potential business you'll bring in. As such, your electrician marketing strategy needs to make ranking in local search a high priority.
1. How to rank your electrician business in Google maps
Start by adding your business to Google Maps. Use your main keyword in your business name. This approach may negatively affect your NAP (name, address, and phone number) consistency, but the rank boost you can get is typically worth it. And, because you can update all your other NAP listings to use the keyword-focused business name, you can keep your consistency and get a rank boost.
Claiming your business listing in Google also gives you verified status which provides more control over what people see when they click your listing, and gives you more opportunities to optimize your listing.
2. How to optimize your Google business listing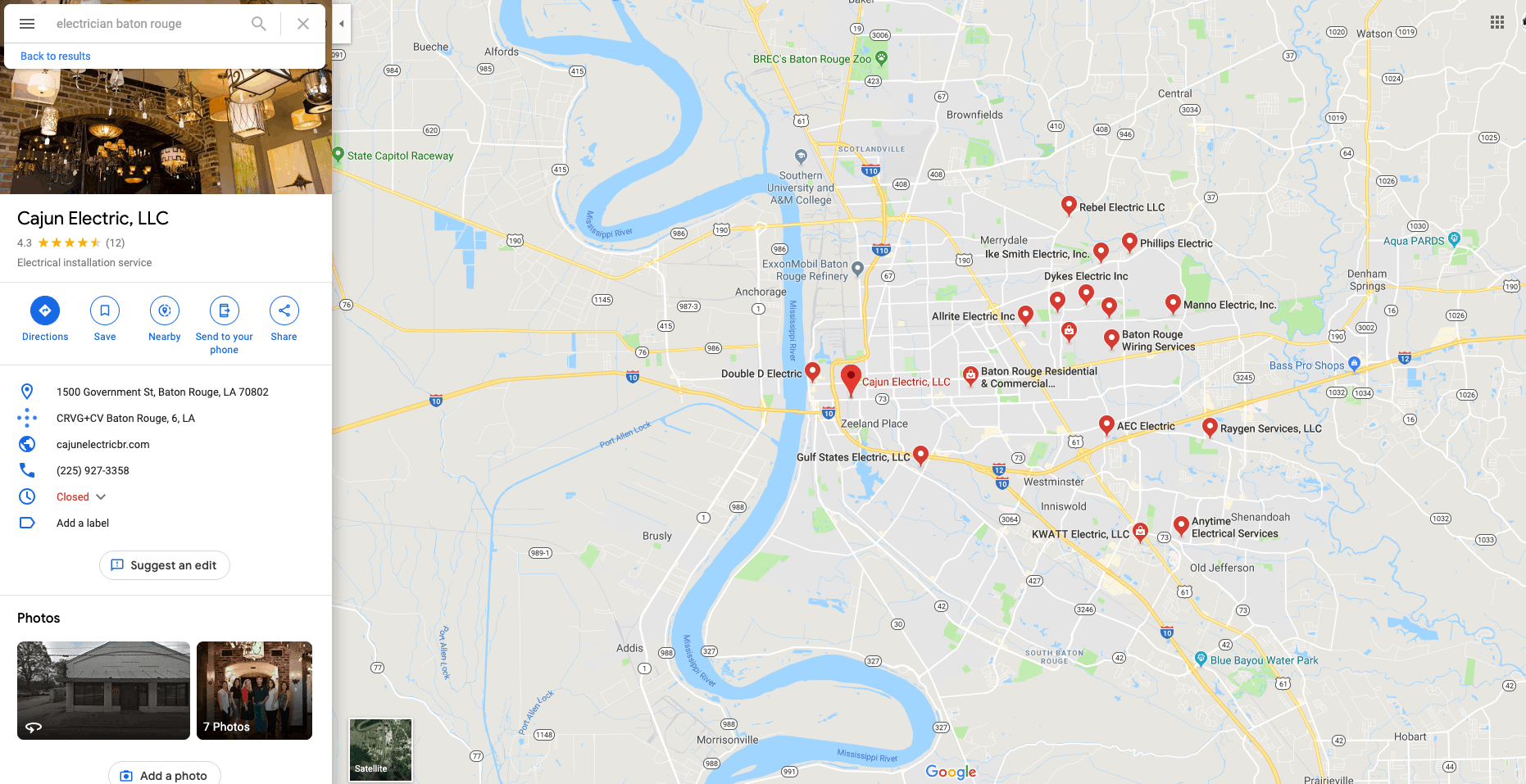 Make sure you fully answer all the questions Google asks, because the more information they have about your business, the better chance you'll have of higher rank. Ensure all the following information is complete and accurate:
Phone number
Business address
Website address (URL)
Business hours
Business categories
Details of your business
Profile images
Business description 
Reviews
Questions and answers
Good category choices in this industry are Electrician, Electrical Engineer, and Electrical Supply Store – provided you fit into the last two options.
Set up the messaging and booking feature so people can contact you without needing to leave Google. Use the questions and answers area to provide answers to your most commonly asked questions.
3. Respond to leads quickly
Your website should make it as easy as possible for people to get in touch with you. One of the best ways to do this is to add a web chat option, or if you have a mobile app, include a link to it on your site. Consider that your leads won't always go to the first company they contact, but more importantly, the first one that returns their call or email – especially if they are dealing with an emergency situation. Your odds of contacting a lead are 100x greater if you attempt to contact within five minutes, compared to waiting 30 minutes.
4. How to ask for customer reviews
Customer reviews are not only an important part of search engine optimization (SEO), but are the reason why many electricians continue to get business. They work much like word-of-mouth to recommend your business to others. Google Reviews allows businesses to ethically ask for reviews, and it's good to encourage your customers to leave reviews for your business on many websites. In addition to Google, you could ask customers to review your business on Facebook, Yelp, Angie's list, Porch, HomeAdvisor, and anywhere else you're trying to build a solid review profile. Simply ask for the review when you complete the job, either in person with a card that lists the review sites or with a follow-up email. 
When a customer leaves a review, respond promptly. If a customer leaves a negative review, respond accordingly.
5. How to build citations
Citations are mentions of your business in directories, associations, and websites. Your Google My Business listing is one of many possible citations. The top citation sources for electricians are YellowPages, HomeAdvisor, Yelp, SuperPages, Manta, BBB, Dexknows, local.yahoo.com, and Electrician Networks, so you should definitely list your business in these places. Add more citations as you can, because the more you have the better your rank chances are. Search these sites for your business, and either claim the existing profile or create one.
6. Informative content for your electrician website
Including a  Blog on your website gives you more chances to capture search rankings. You can also use the blog to incorporate content marketing into your overall strategy. Focus on training content that speaks to your clients rather than industry professionals. Write about things your audience is searching for such as Lighting upgrade, comma using a generator, and general safety tips.
7. Community partnerships and referral marketing for electricians
As an electrician, one of the easiest ways to grow your business is to create strategic partnerships with other local businesses. Consider donating your services to nonprofits as silent auction items so you can get new business from the winner, as well as publicity for your donation. Work with contractors in other industries so they can recommend your services to their clients and you can do the same for them. Join professional trade organizations such as the National Electrical Contractors Association (NECA), Independent Electrical Contractors Association (IECA), and Electrical Contractors' Association (ECA). There are also state-based organizations, and organizations specific to wind and solar energy if you specialize in one of those areas. Use email marketing to stay in contact with past customers and promote your referral program so they earn rewards for sending new customers to you.
8. How to use paid advertising to widen your reach
Paid advertising campaigns, such as pay-per-click (PPC) on Facebook and Google can help generate traffic and leads to your website. Ads display in relevant search results on Google, and in the sidebar or news feed of relevant Facebook users. When a campaign is executed well, Google Ads can earn your business $2.00 to $2.30 for every dollar you spend. 
Conclusion
Electricians can use digital marketing tactics like any other industry or trade to bring in additional clients and grow their businesses. Focus on providing a quality experience both online and off, and your efforts will be rewarded.
See what Broadly can do for your business in just 30 days