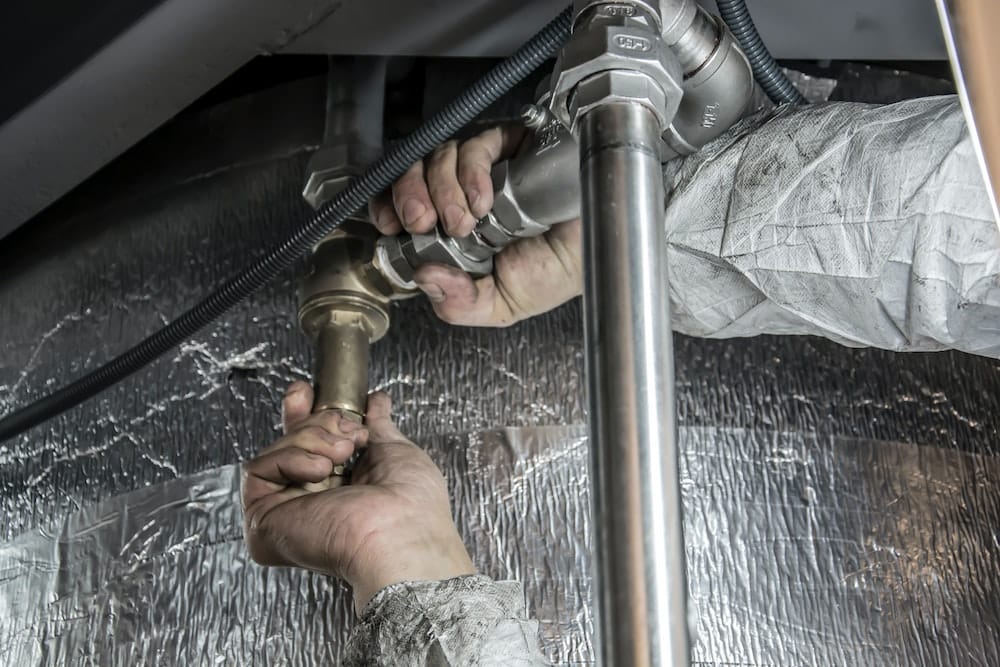 5 Powerful marketing methods for plumbers
If you want to be successful in the plumbing business, then you need to understand the business of marketing. There are plenty of advantages to investing in plumber marketing. By leveraging effective marketing tactics, your small business has the potential to:
Get more customer referrals from your current client base
Get more plumbing leads from other channels
Convert plumbing leads and referrals into new customers 
Retain new customers as loyal clients
How can marketing help plumbers get more customers?
See what Broadly can do for your business in just 30 days
Researchers asked small business owners for their insights on the best ways to get more customers, and 100% of the 7,500 participants responded with answers related to some type of marketing strategy. The majority, 85% of respondents, cited word-of-mouth referrals as their top driver for new customers and the other 15% favored local ads, social media ads and direct mail.
Marketing efforts can help your plumbing business get more customers by helping you amplify your word-of-mouth-referrals. You can also boost the number of potential clients you're able to target and convert via other marketing channels. 
By getting more plumbing leads and successfully converting a percentage of these new leads into first-time bookings, you'll grow your business quickly.
Wondering where to begin? Check out these five simple, but powerful, plumbing marketing strategies you can put into place ASAP.
Top 5 marketing strategies for plumbers
If you want to grow your small business by getting more customer referrals and plumbing leads from other channels, give these five marketing ideas a try. This cross-channel approach will help you maximize your reach while going easy on your budget.
1. Upgrade your plumbing website 
Even if you have loads of referrals from satisfied clients, many potential customers may want to check out your online presence before hiring you for a job. That's one reason why your most important digital marketing channel is your own plumbing company's website. 
When visitors land on your website, make sure it's easy for potential customers to:
Learn more about the plumbing services you offer
Look up your plumbing company's service areas 
Read testimonials from happy customers who have used your home services
Book home services, on-site consultations and free estimates
See your contact information, phone number and email
Find and follow your plumbing business on popular social media platforms
Subscribe to your email list
Be sure to add sign-up forms to your homepage and key landing pages, so plumbing leads can share their contact information, provide details about the home services they need and opt in to receiving your email marketing campaigns.
With some search engine optimization (SEO) savvy, your plumbing business can appear towards the top of search engine results in your service area, raising your brand awareness and helping you gain new customers. 
Use Broadly's SEO checklist to show up at the top of Google Search and other local search engine results:
Have a mobile-friendly website design, so customers can do everything right from their smartphones
Lean into content marketing and video marketing (think DIY blogs and how-to videos) to keep your website fresh and up-to-date
Get more customer reviews on your company's Google Business Profile (formerly Google My Business), Yelp and other online review sites
Use the same contact information for your plumbing business across online directories, social media (LinkedIn, Facebook, etc.) and your company's website
2. Grow your social media following and email marketing list
In today's digital age, no plumber marketing strategy is complete without a robust email and social media marketing strategy. Leverage both of these digital marketing channels to stay in touch with existing customers and educate new customers about your home services.
Since small businesses rely so heavily on referrals, social media is a great way to get more referrals. Email marketing helps inform current and prospective customers about specials and offers.
So what's your marketing plan for these channels? 
Get to know your customer base. Who is following you on social media? Who are your email subscribers? Are your lists made up of customers, leads who haven't booked your home services yet or a mix of both? How will you create content that engages your different customer segments?
Determine what results you want to achieve with your email and social media marketing tactics. Are you hoping to use these channels to increase your brand awareness, get more online reviews and referrals for your business, drive more visits to your company's website or encourage more bookings?
Consider your content marketing plan. What types of content will you share on these channels? Which types of content will generate strong engagement and encourage homeowners to do business with your plumbing company?
Check out Broadly's guides: 5 Email Marketing Campaigns to Engage and Retain Your Best Customers and How to Use Social Media for Small Business for even more marketing tips for using these channels effectively.
3. Ask for customer reviews to increase your referrals from Google Search and online reviews websites
Happy customers can help you get even more plumbing customers, thanks to the power of word-of-mouth marketing. Once you have followers on social media and email marketing subscribers, you can use these channels to ask your fans to write about their experiences with your plumbing company on:
Your Google Business Profile (the reviews that show up in Google Search and on Google Maps)
Yelp
Social media channels
Online directories
4. Reach homeowners looking for plumbing services via pay-per-click ads (PPC ads) and Google Local Services Ads
Many small businesses supplement their organic marketing strategies with paid marketing tactics to reach their target audience. Google offers two options that can help your plumbing company show up at the top of Google Search results when potential customers are looking for plumbing services in your service area:
Google Ads are pay-per-click ads that feature small businesses in the sponsored section of Google Search results for keywords related to their business. Companies pay a fee every time an individual clicks on these ads, whether or not the person becomes a paying customer.
Google local services ads are pay-per-lead ads that also help small businesses show up at the top of Google Search results when searchers are looking for keywords related to their business. 
What's the difference between Google Ads and Google Local Service Ads? Companies only pay when they get new leads in Google Local Service Ads. For instance, a charge is incurred when a plumbing lead shares their contact information with your company or successfully books a home service. 
5. Get business cards and keep them on hand when you're on the go
Digital marketing tactics get all the buzz, but traditional marketing tactics are also important for local businesses that rely on referrals, especially for business owners who are active in their communities. 
You can hand out business cards when you meet professionals who offer similar home services, such as real estate agents, cleaners, electricians and painters who will be happy to send business your way if you do the same.
Let Broadly help you streamline your marketing
Raise your brand awareness, grow your referrals and get new customers with Broadly's tools:
Broadly is proud to offer a range of plumber marketing services and tools for the plumbing industry.
See what Broadly can do for your business in just 30 days